Holiday USA 2010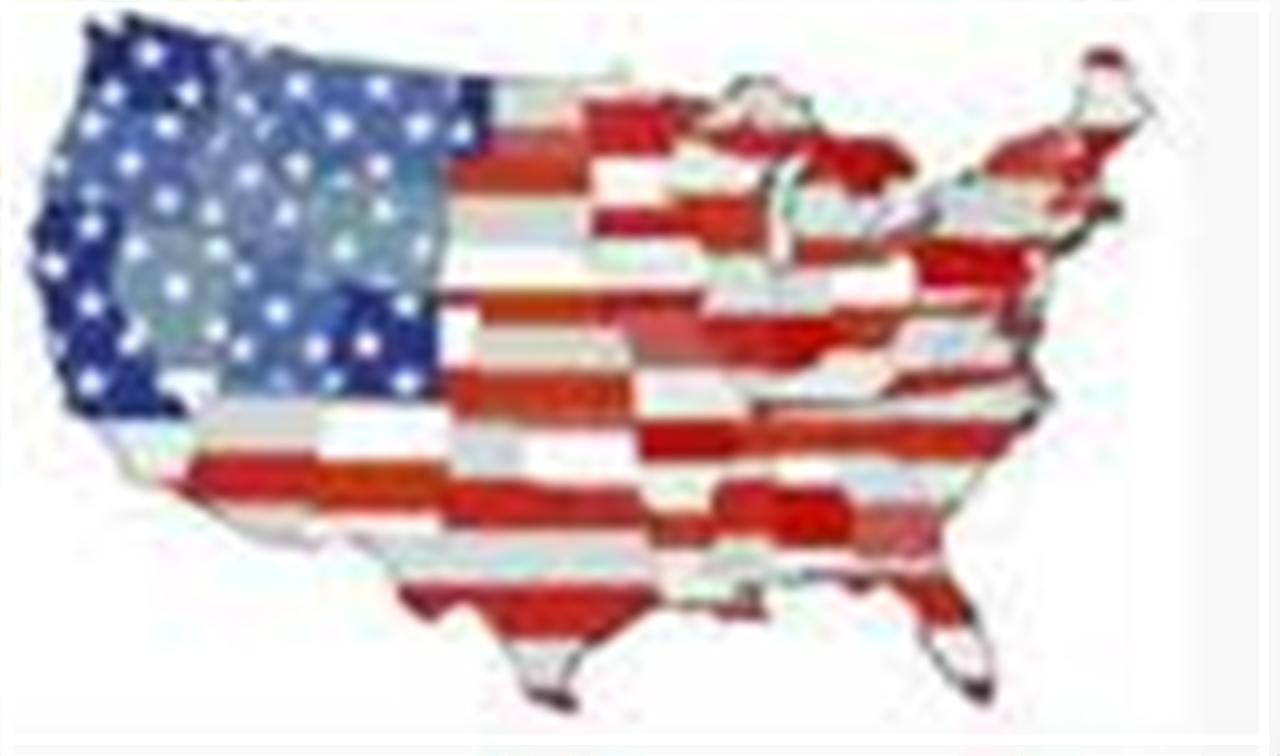 Click here for larger map
Day 1 : Houston without a problem
The flight was bumpy , our pilot dodging small storms most of the way. Our arrival in Houston was greeted with 90 degree temp but overcast skies.
we chose our hire car from a row of SUV's a joint decision from Ian on luggage & min on back seat bum comfort. We settled on a red Ford something or other & set off, Maureen the sat nav lady had a flat battery & it was almost a disaster when dispite Ians best efforts the charger refused to work..fortunately he saved the day by realizing he had plugged the wrong plug in Doh!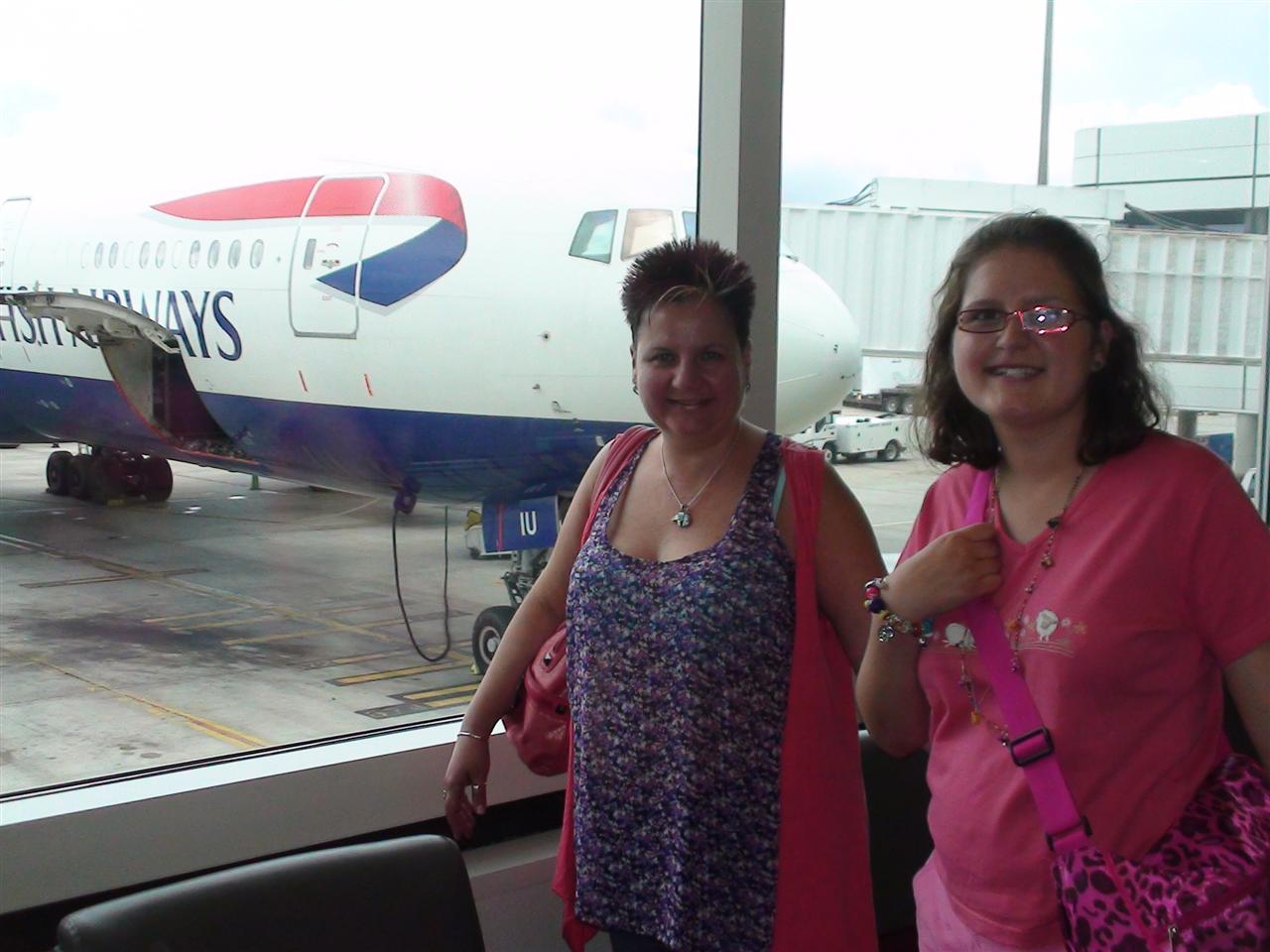 Here we are, In Fuddruckers its 1am ( your time ) we are tucking into our traditional 1st night burger.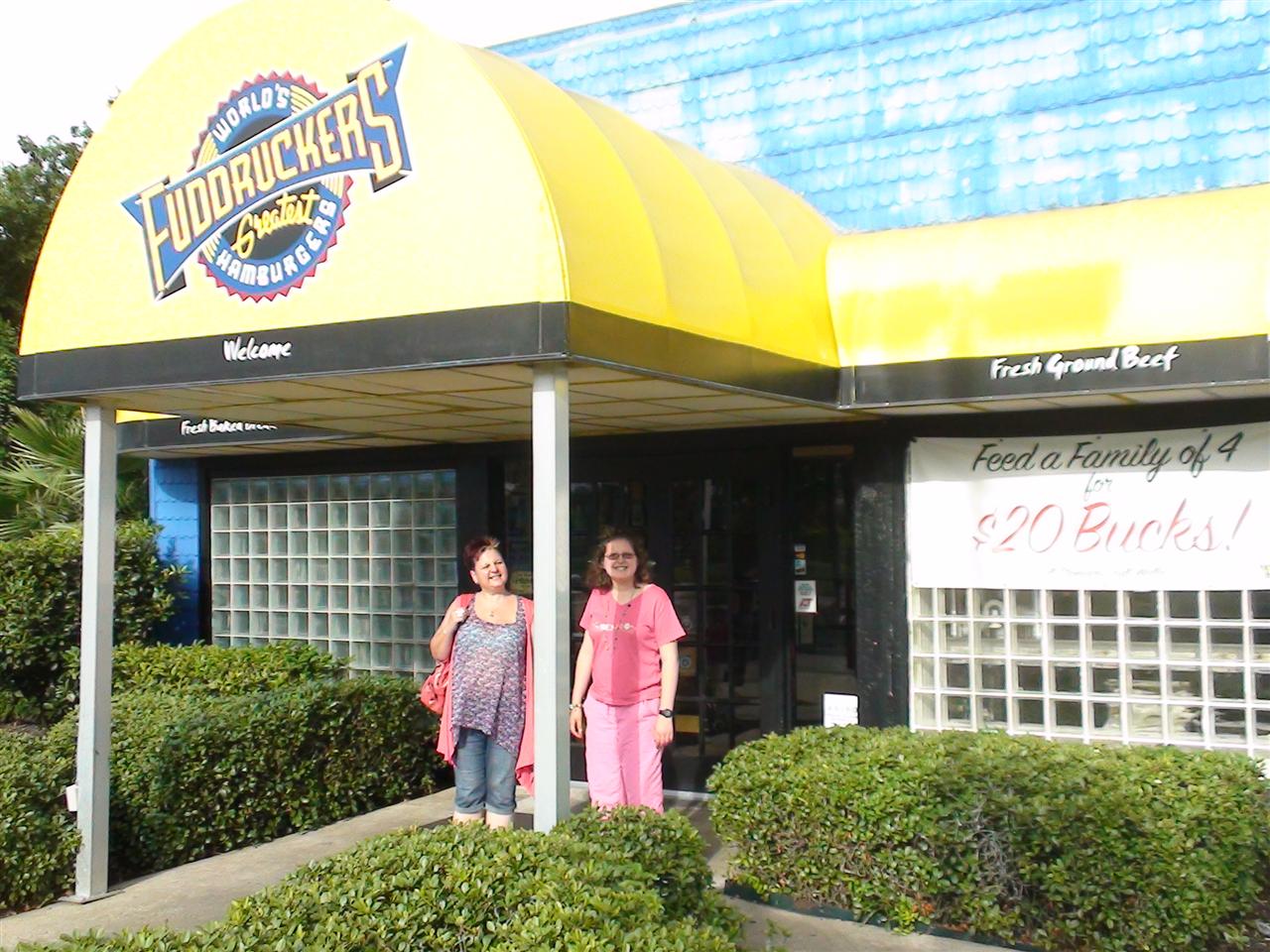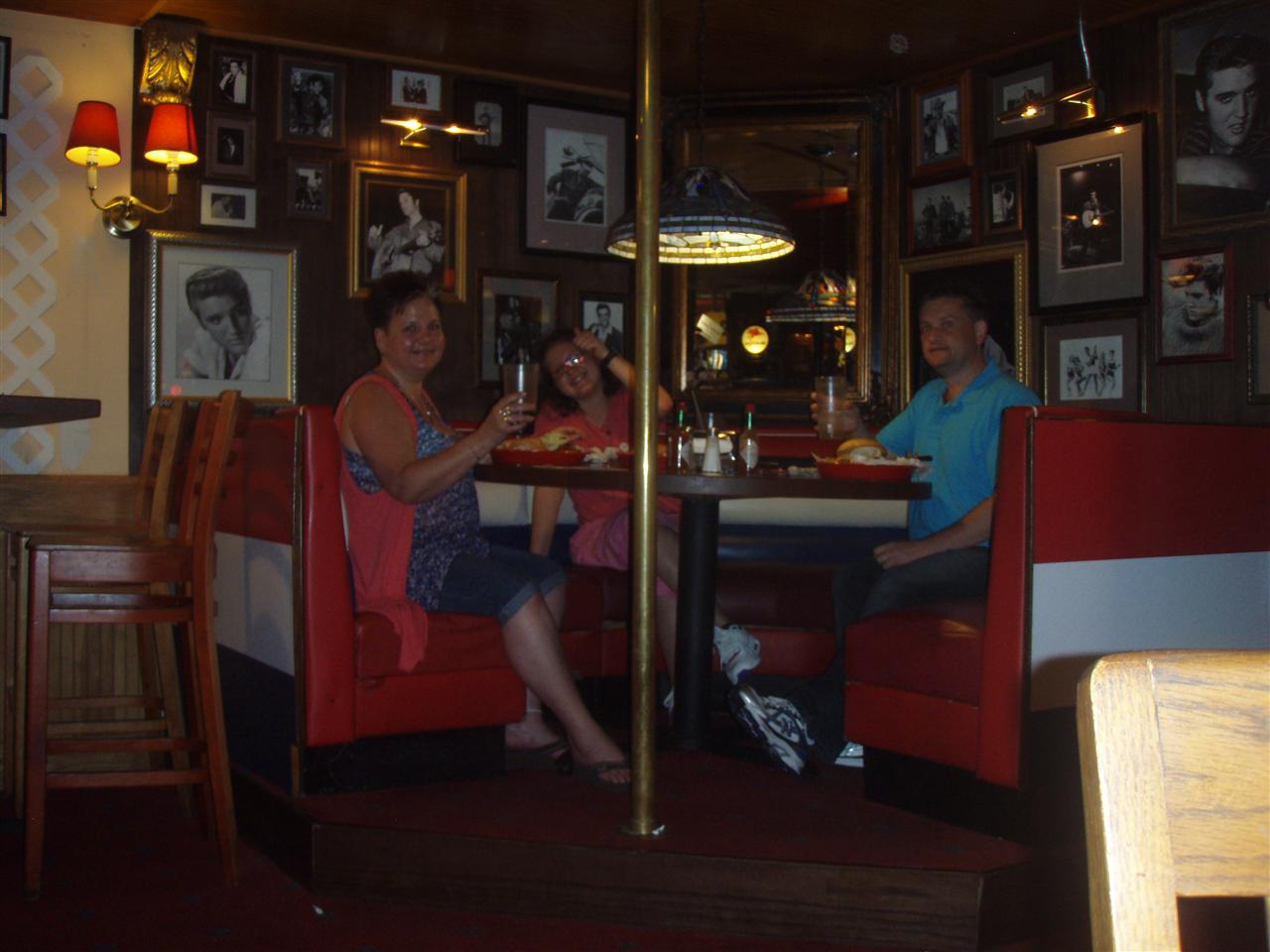 The view from our room in the Hilton NASA is great.. clear across the Lake.
We are sleepy now ...............goodnight !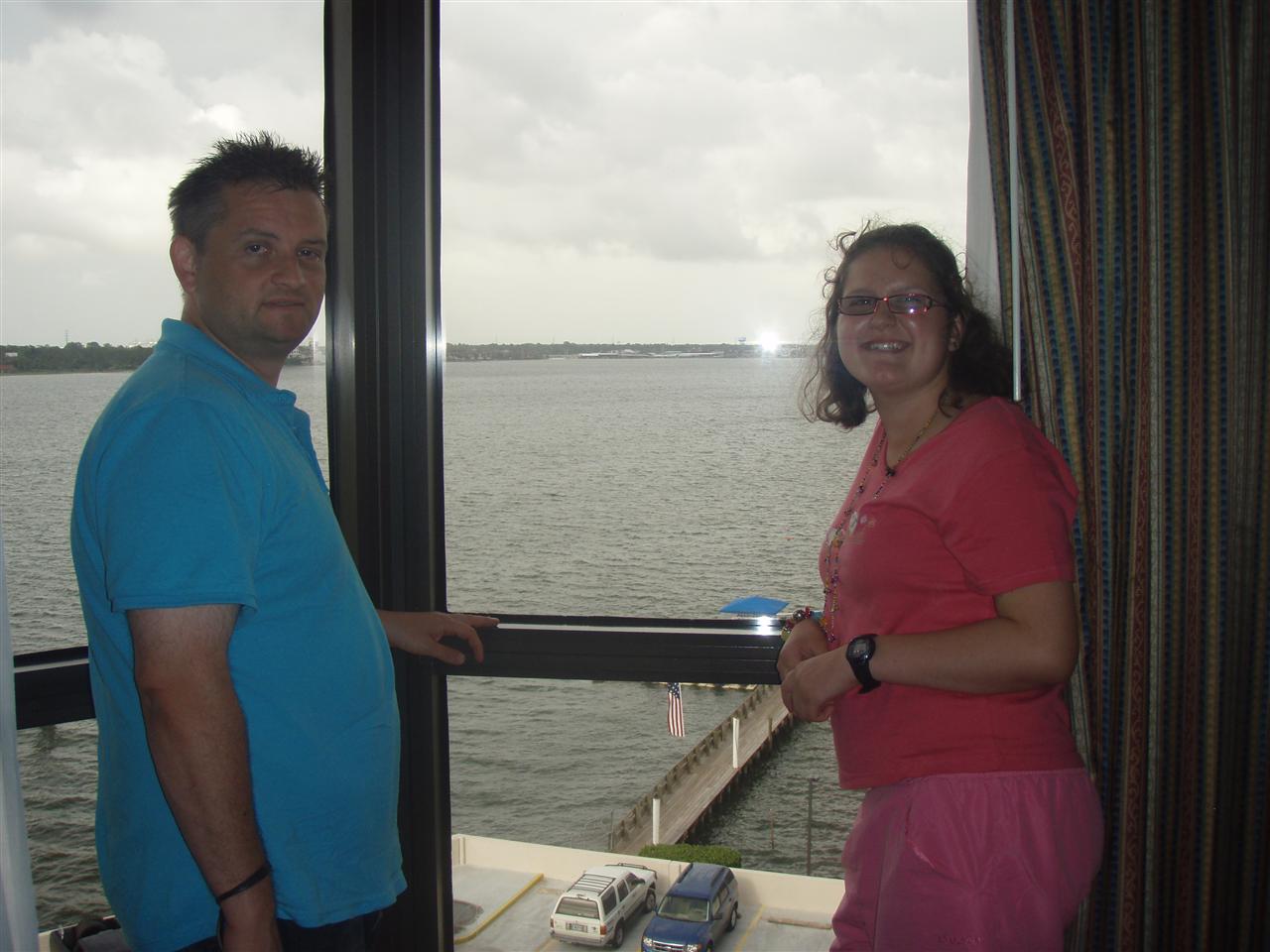 ---
Day 2 : The Vecks have landed...
Morning has broken & NASA McDonalds is the perfect start to our day.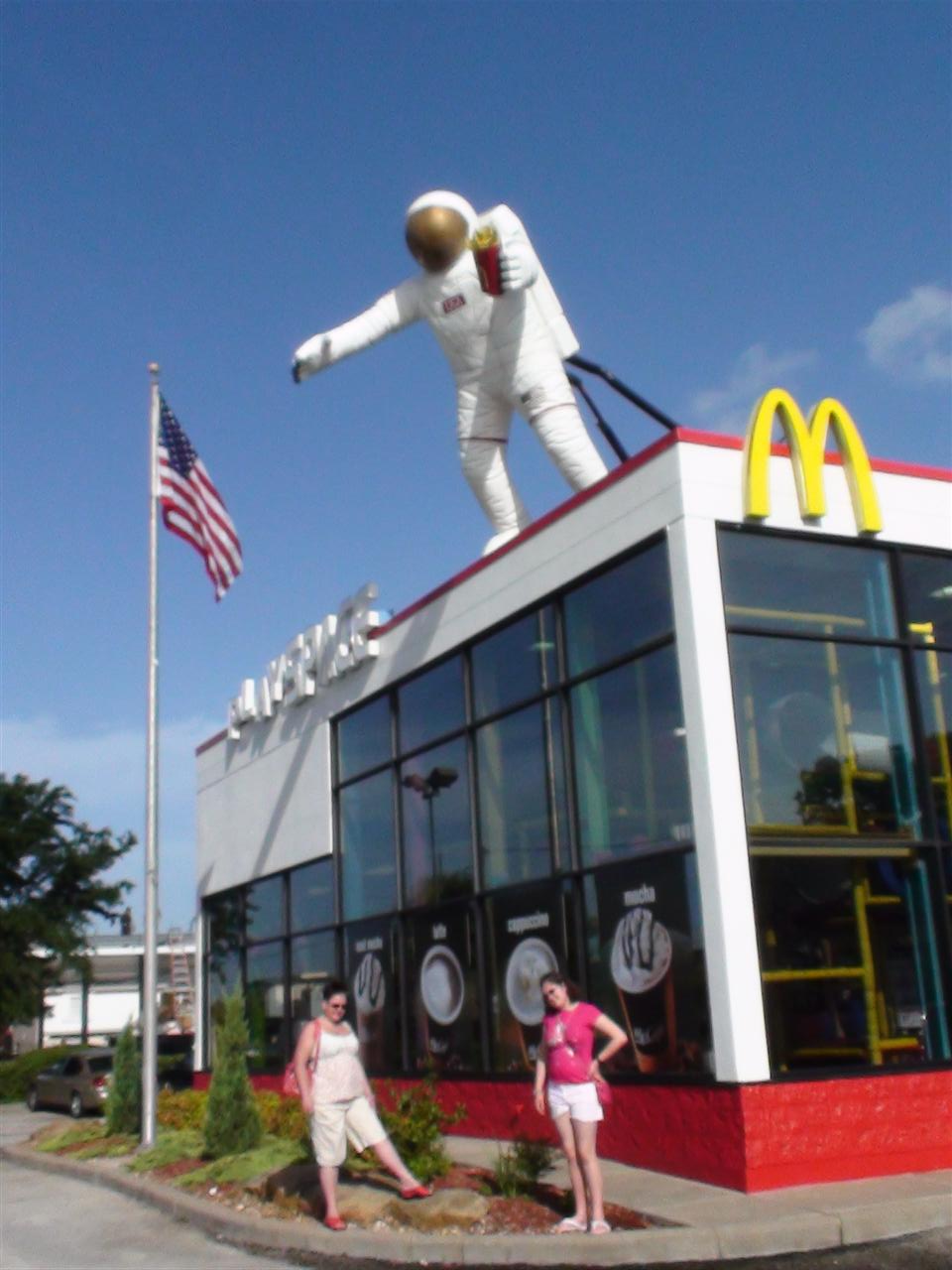 A short drive to the space centre where we joined our "area 9 " tour we have an air conditioned mini bus, The plebs have a tram affair ( resembling a cattle pen on wheels ) First stop the Zero gravity simulation pool where the astronaughts are weighted and inflated to produce a state of zero gravity ( won't float, won't sink ) allowing them to simulate activities in space.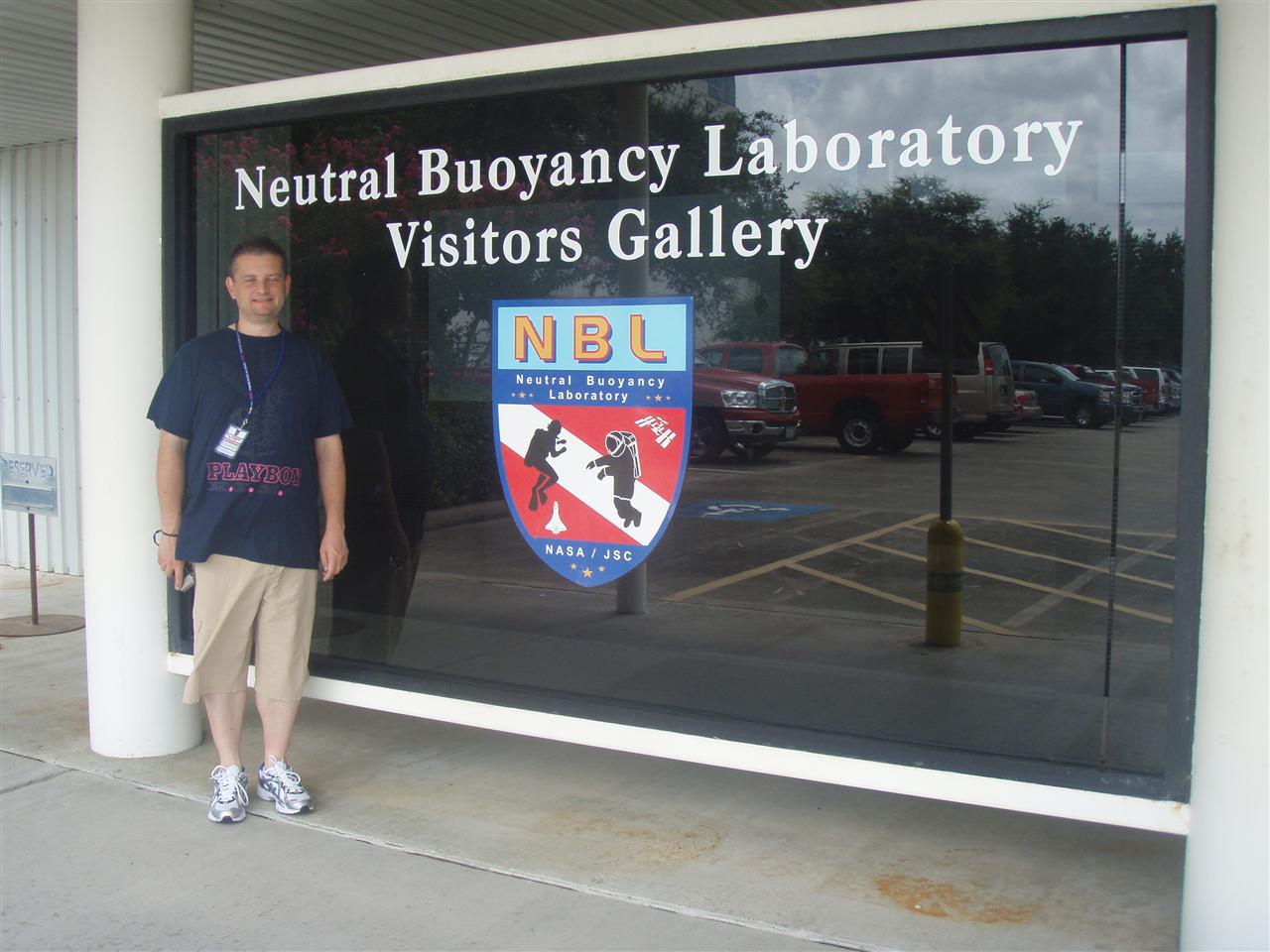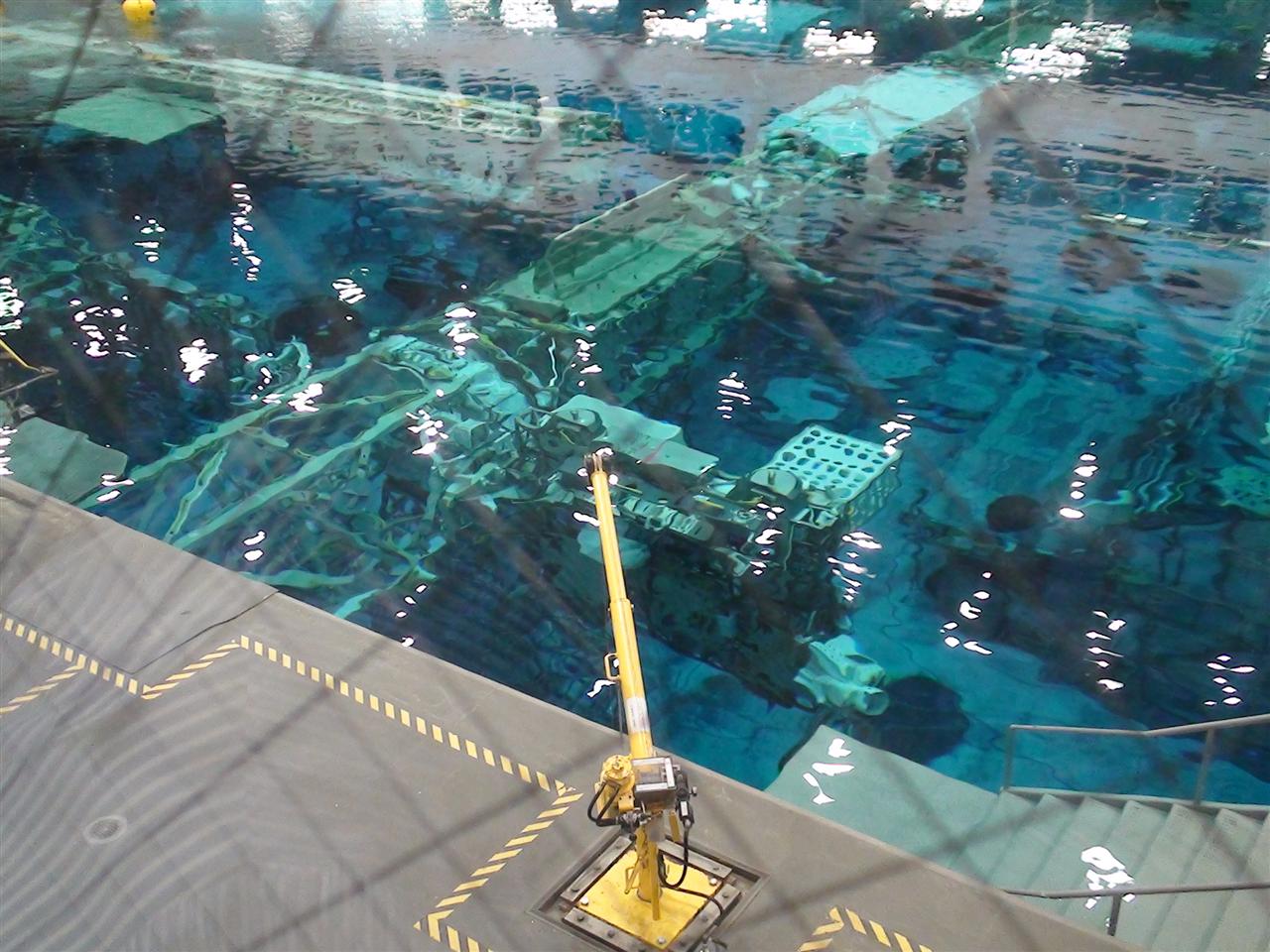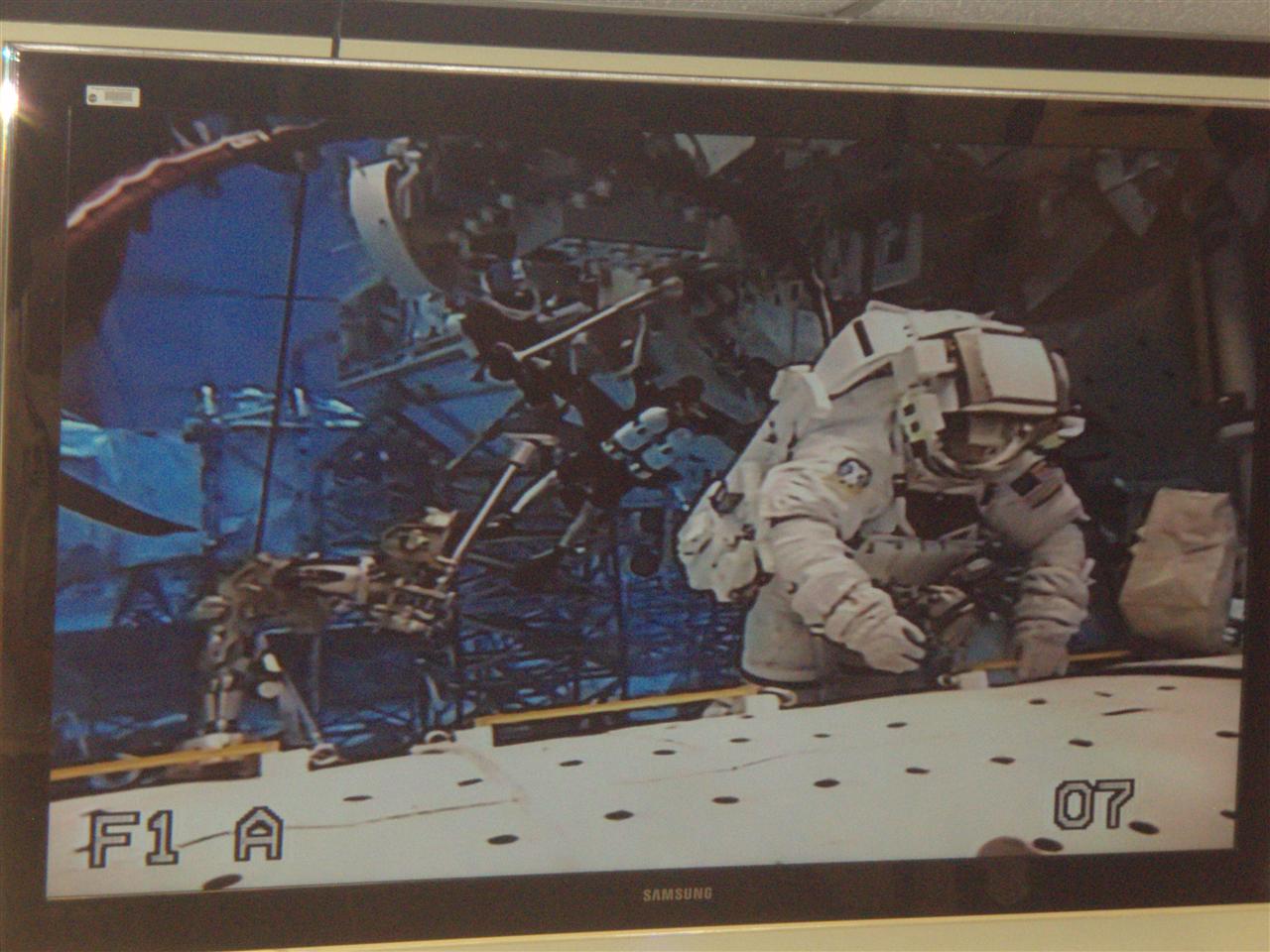 Lunch in the astronaughts cafeteria, blimey I'd work there if the choice & quality of meals we experienced were available daily!, fresh deli sandwiches, noodle bar, grill, hot main courses and a fabulous soup & salad bar..yum. I need to tell you all dear readers Min had jelly : )
2nd stop Mission control & a trip back in time from current working studio, being manned by a variety of professionals including Shannon Lucy, a real lady astronaught who has spent literally months on the International space station. we travelled through time , ending in the Mission control room used during the 1960's Apollo missions we sat at the very consol wherethe immortal words " Houston we have a problem " and " The Eagle has landed" were uttered. ian had his photo taken with Sunita L Williams, an experienced lady astronaught currently in training for another stint on the space station.
Our co Guide the Youthful David signed us copies of his book detailing his real life experiences during the 60's & 70's as a training officer & engineer ( he co designed the reflective " parasol " which saved a damaged space craft from certain overheating when it lost its reflective shield. )
Last stop the Rocket Garden..Real Rockets returned to their former glory, restored by NASA & the Smithsonian museum including the 560 ft + Apollo 14 which never flew due to the scrapping of the Apollo programme.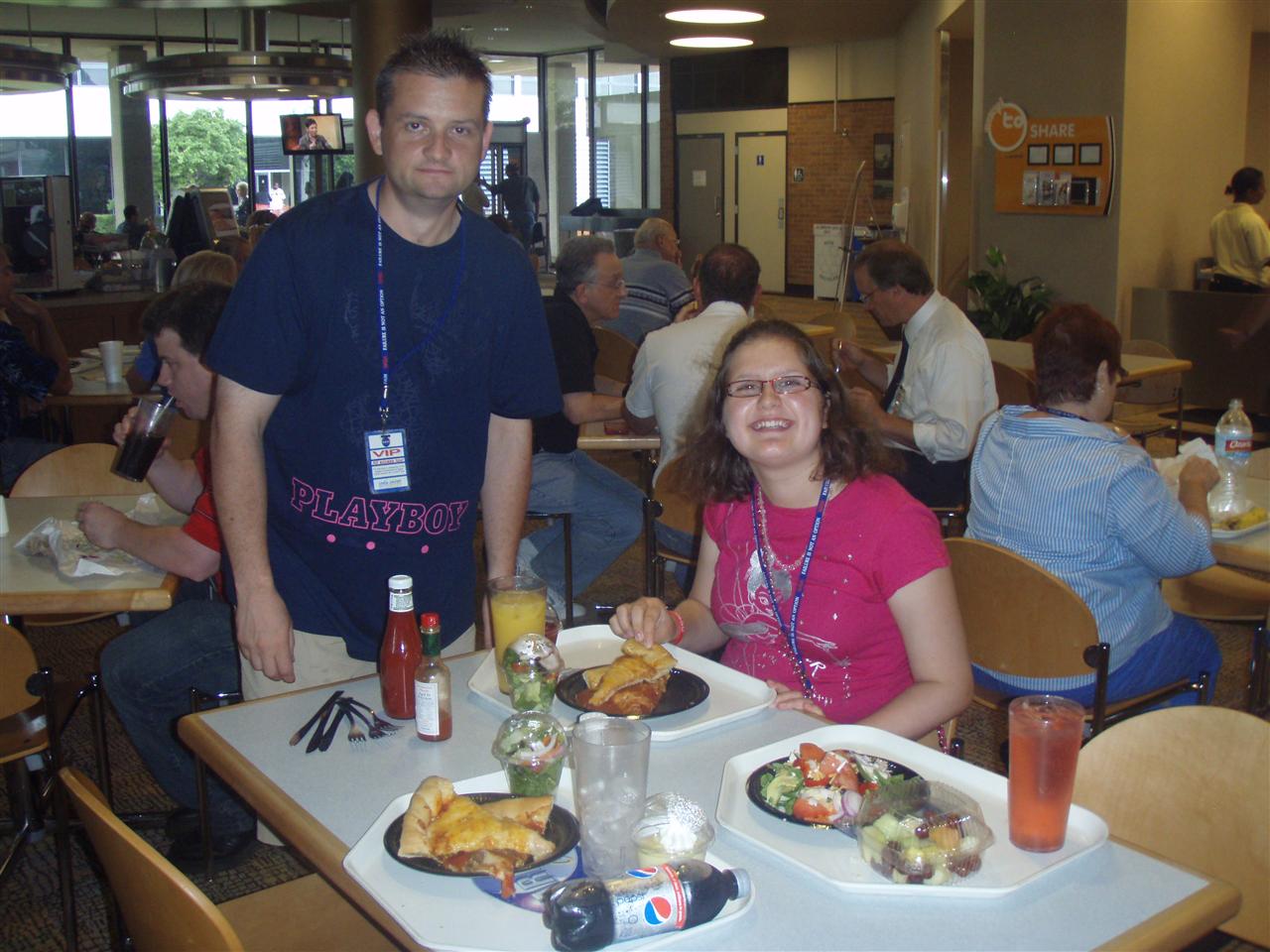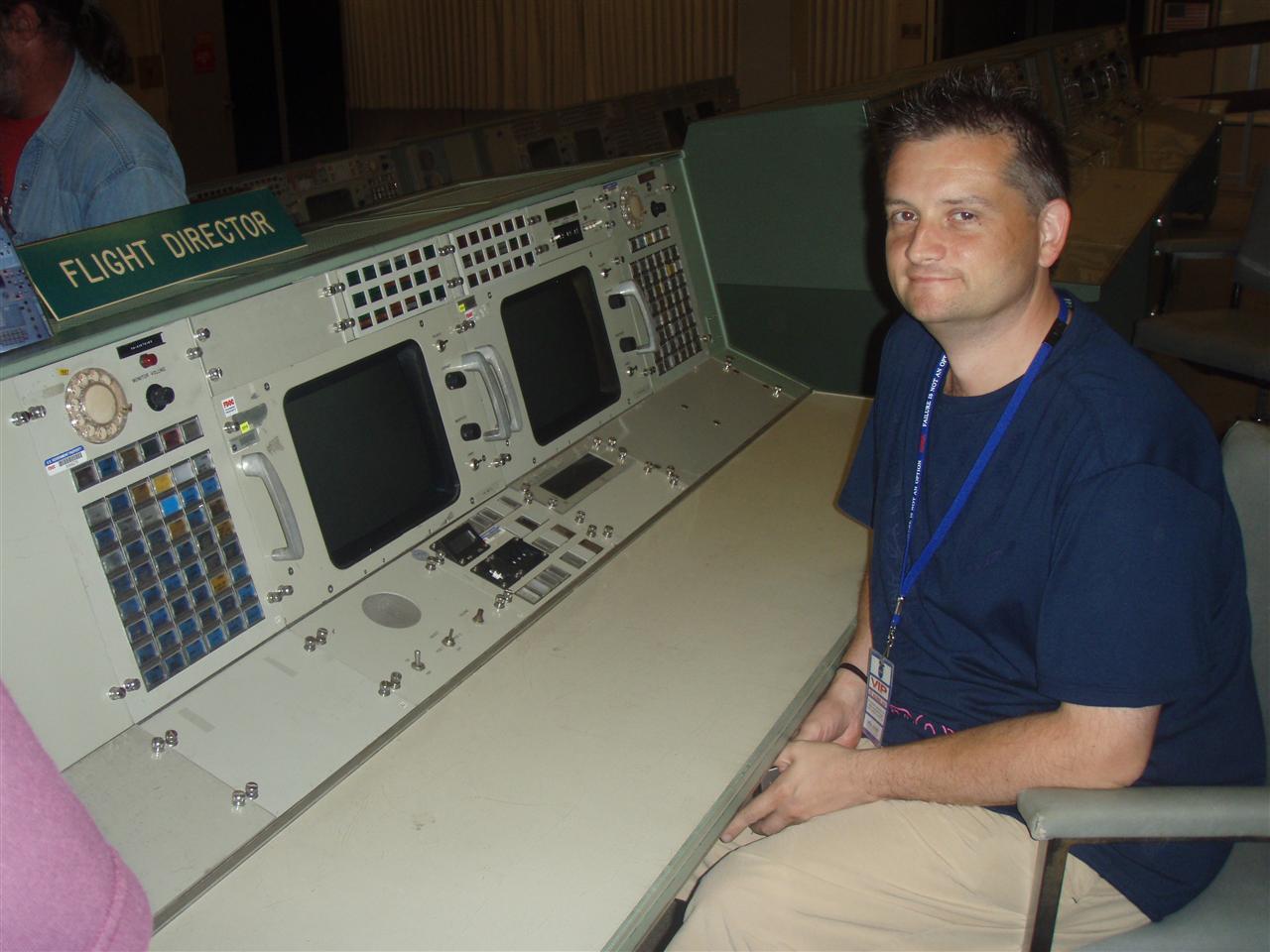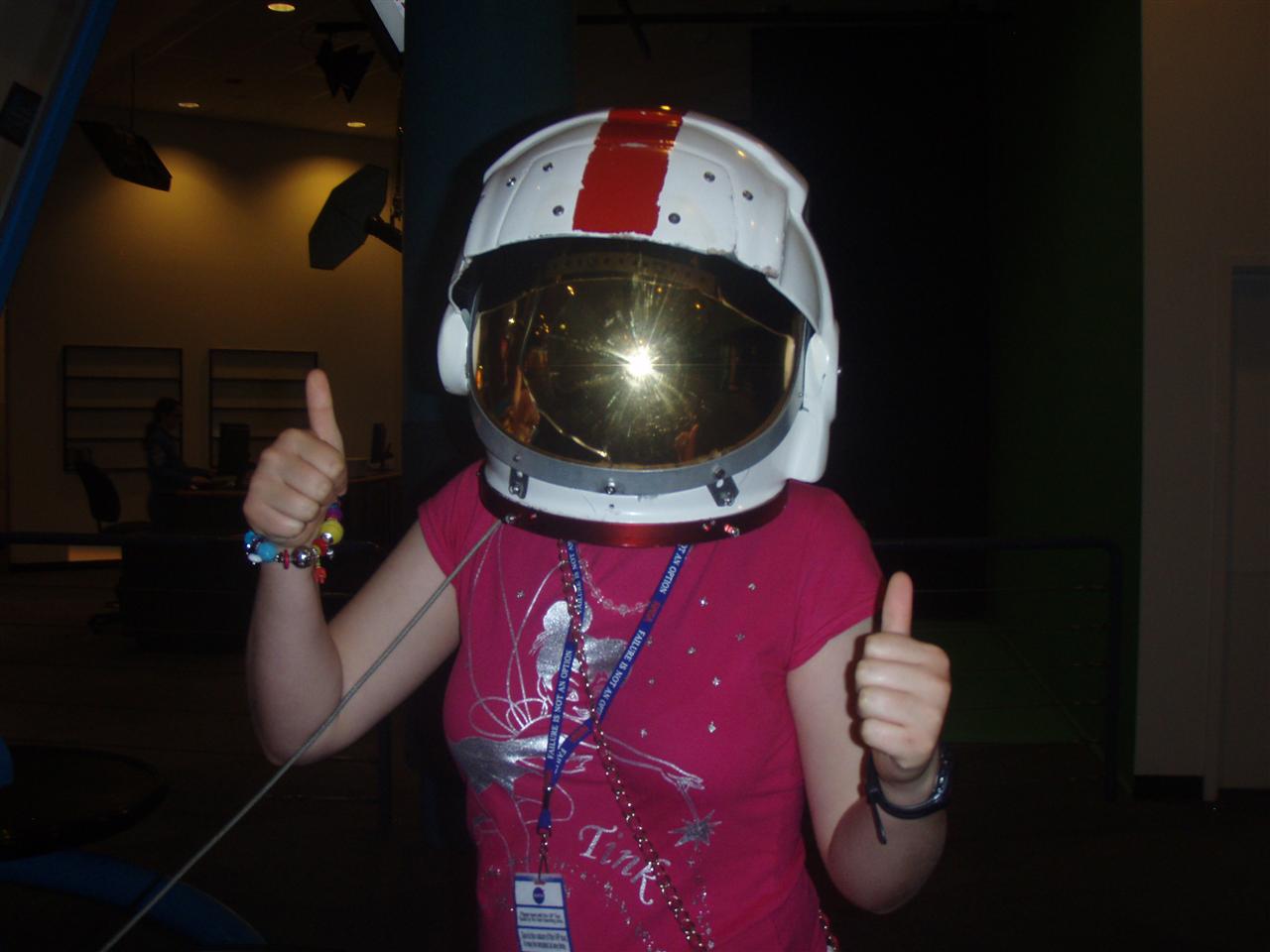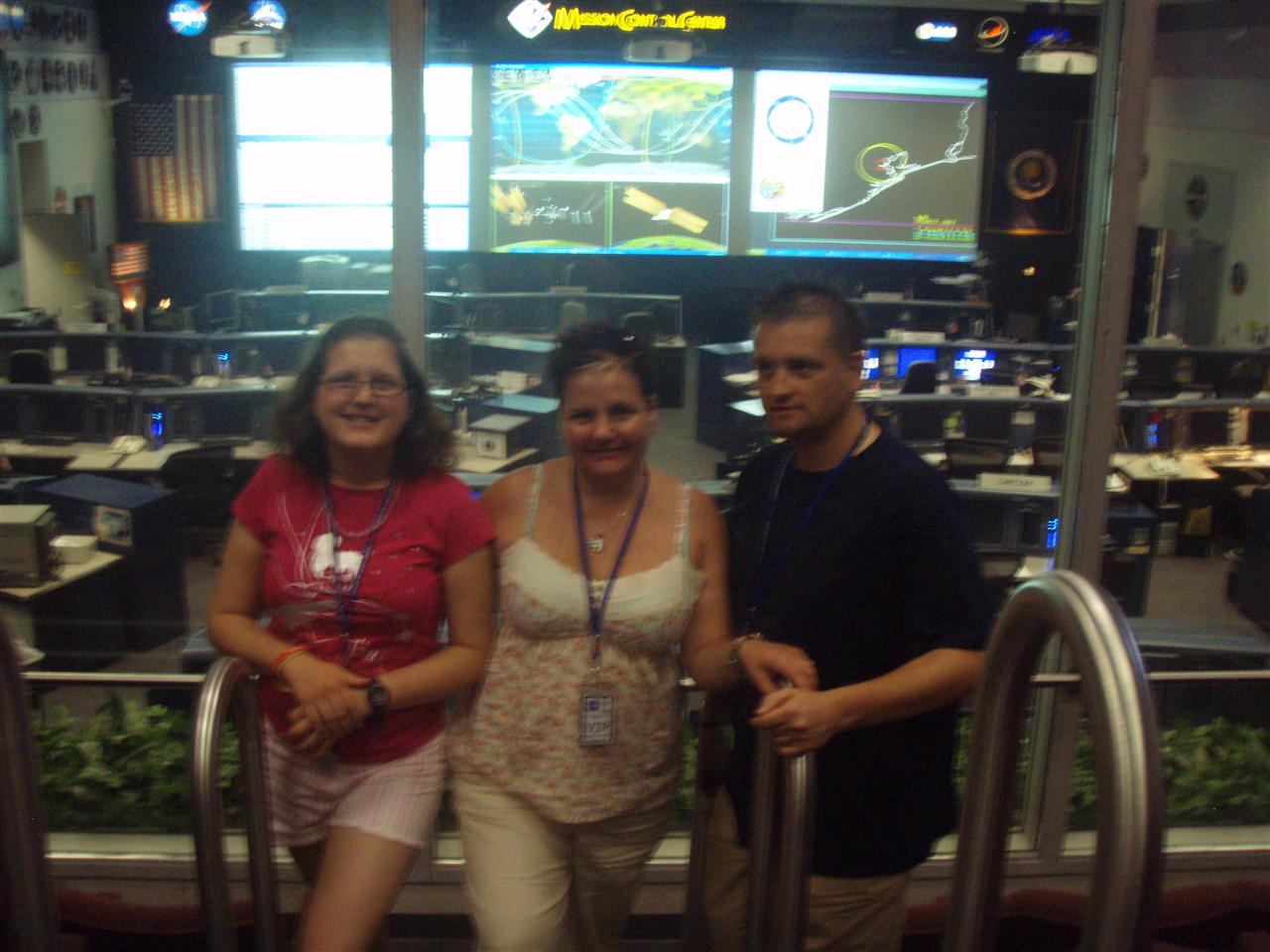 Back to the Hilton & a refeshing dip in the pool before a visit to " India Cuisine " The restraurant had Ians taste buds going into overdrive when he spotted it from the freeway! Dinner is about to arrive & it seems very nice so far..
More later...Good evening dear Reader : )
---
Day 3 : Ferry across the watery stuff
Today was a day of travel, we left Houston bright & early. Our route took us along the coast roads, Flat dead straight roads with houses supported on stilts or built with garages below. Then our first encounter with a ferry, four rows of vehicles queued for 40 minutes and were loaded for a journey roughly equivalent to a trip to the Isle of Wight, however you don't normally see dolphins skipping the waves in the solent.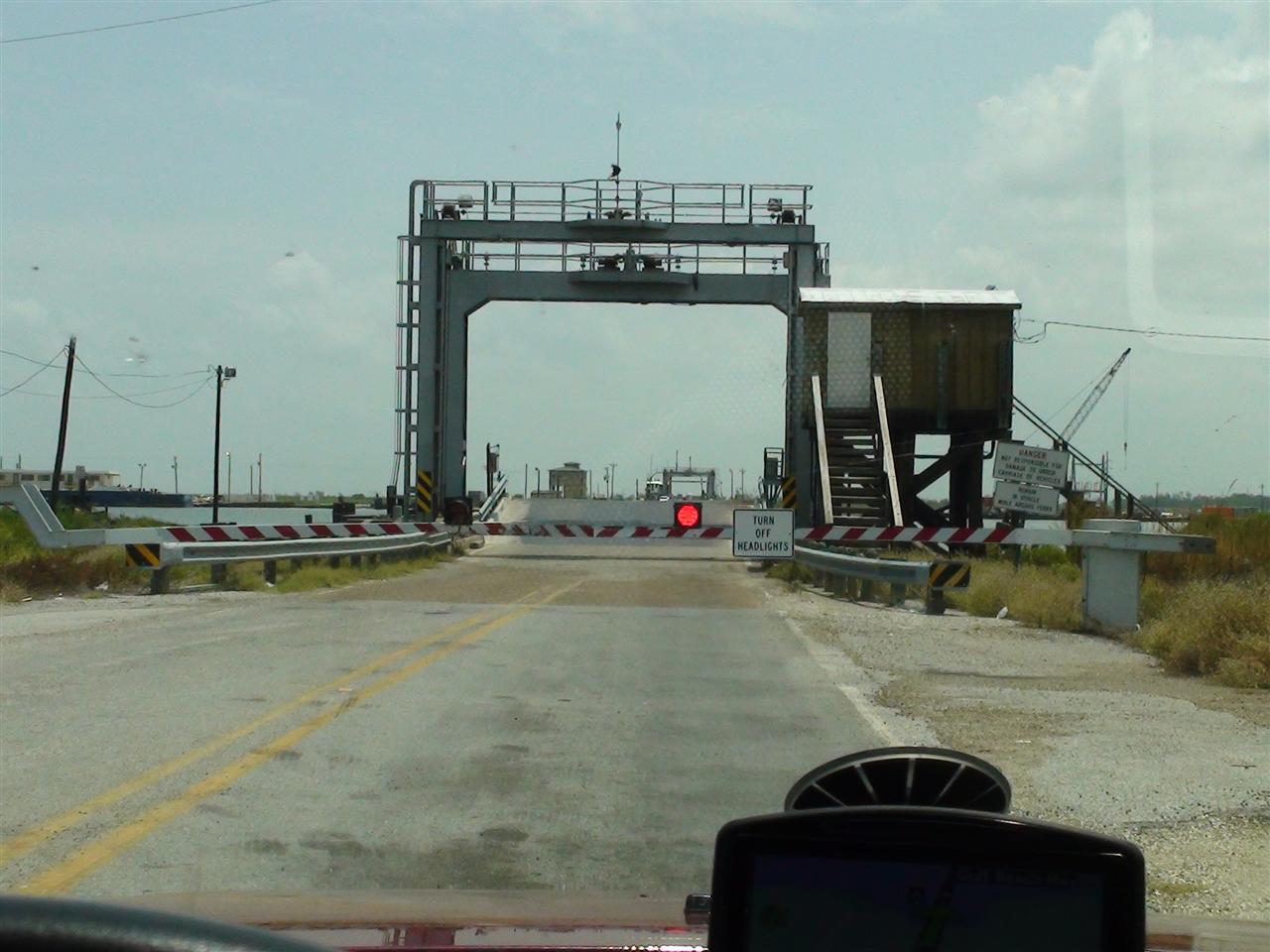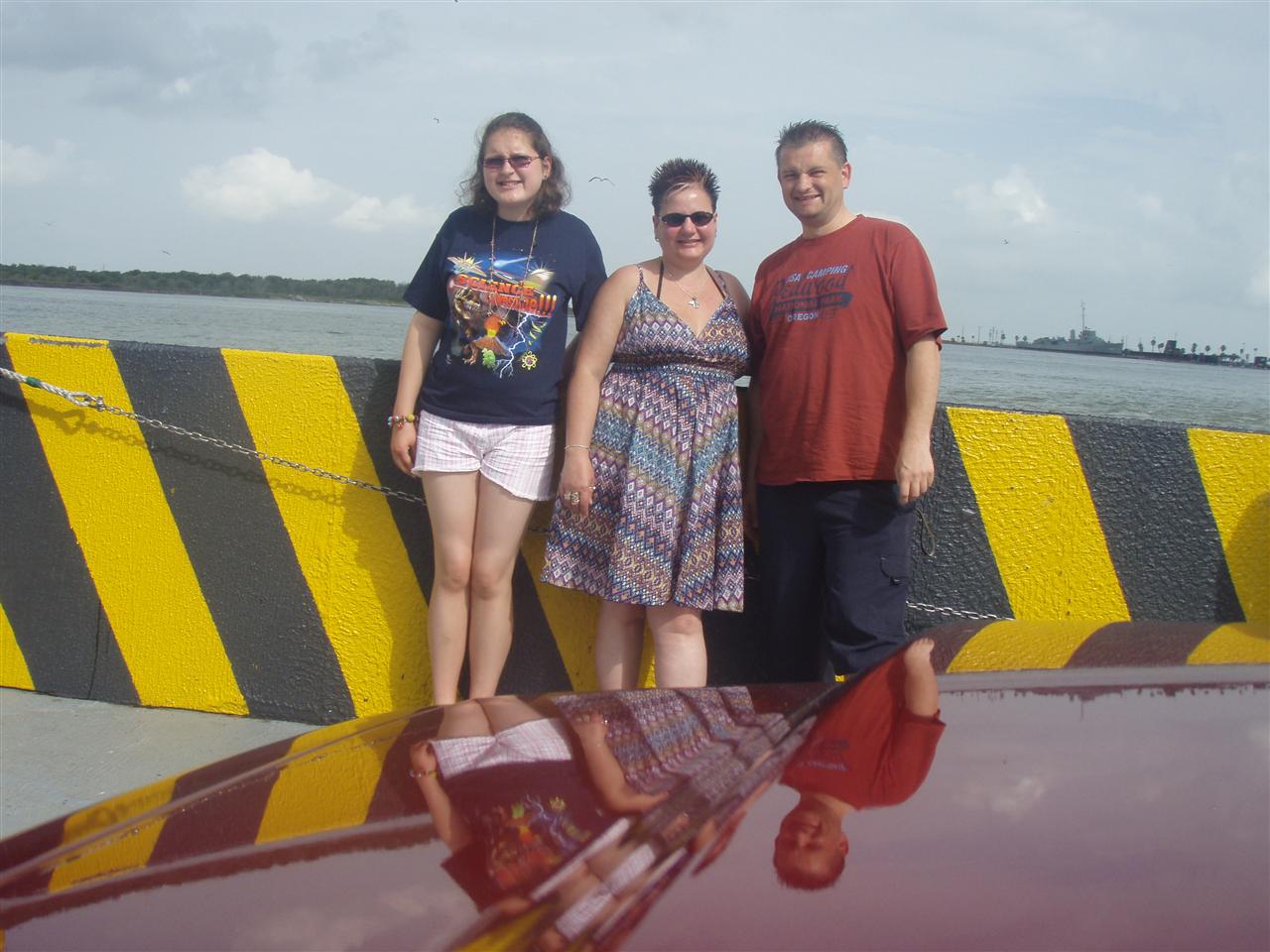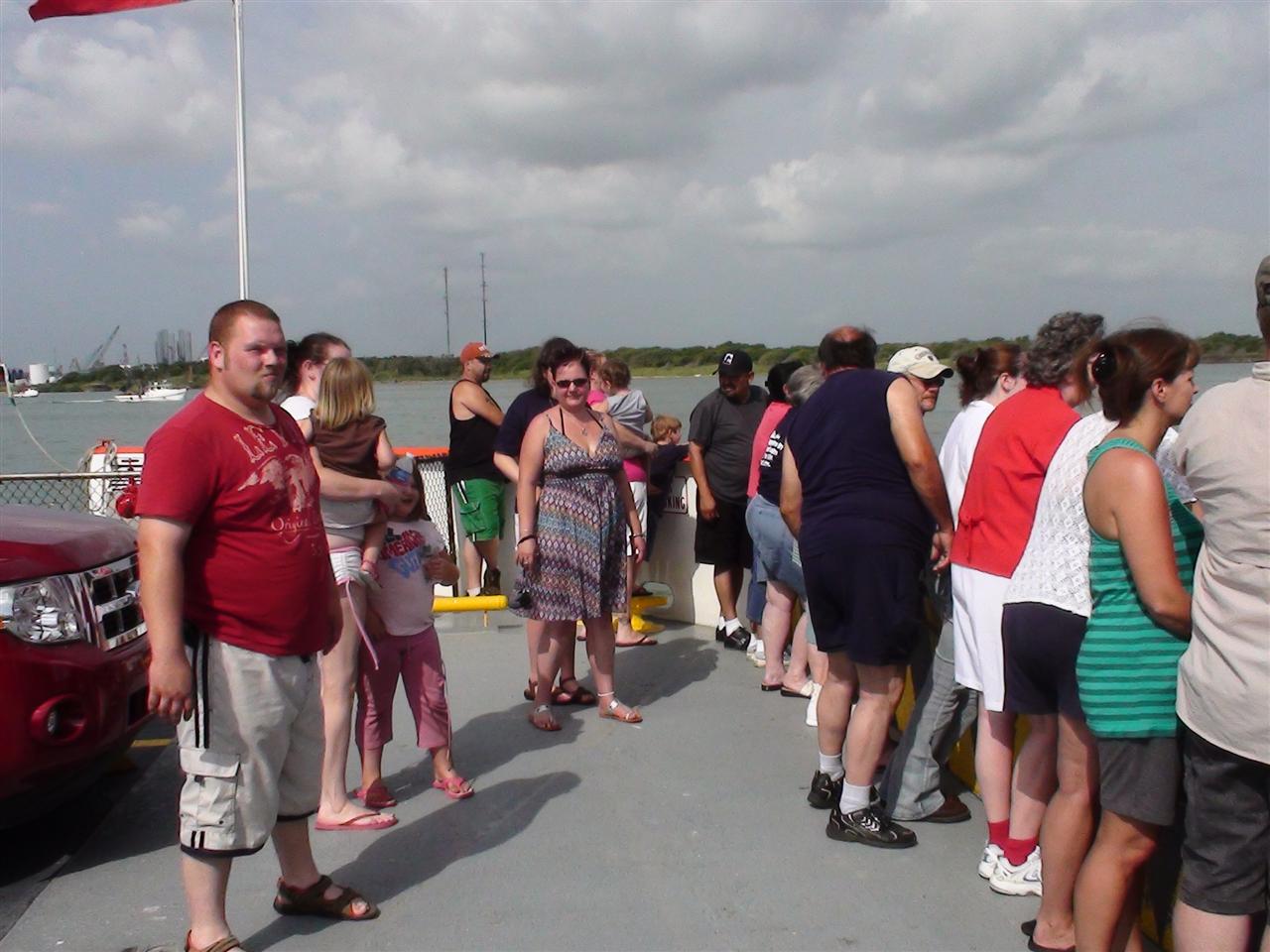 Texas gave way to Louisiana & the flat swampy vista continued , we travelled on a second ferry ( or Fairy as Ian pronounces it ) roughly the same distance as the Hayling ferry. We passed many beaches sporting an assortment of sea defences, bearing witness to the periodic flooding in the area.
We took a detour to a beach recommended by Ians new friend, The lady at the Morgan City tourist information office. On the way dear Maureen directed us down some unpaved roads towards some seaside shacks where we were literally chased off by a big black dog, ( I swear its still down stairs circling our car, teeth bared, fangs dripping )
The " beach " turned out to be a strip of sand a couple of feet wide, followed by an equal sized strip of compost, the bugs were out in force & within a minute I was sporting some spectacular mozzie bites. We abandoned this plan & settled for returning to our latest hotel.. Ian is knackered from his day driving & after a quick scout round Morgan City ( not likely to be winning any prizes for picturesqueness..is that a word?? ), its off to bed for us, Goodnight dear reader xx
---
Day 4 : Cajan Jack's Swamp and beyond..
Sunday was no day of rest for us! 06.30 and Ians alarm ( which sounds like the alarm on an imploding nuclear reactor ) woke us in good time for a hearty breakfast.
10 minutes away was the 150 year old cyprus built home of "cap'n cajan Jack" We met our legendary host and the 4 french lads & swiss couple ( avec sprog) who were sharing our adventure. Jack insisted we come & watch some TV with him on his porch , where he was anxous to tell us he is 69yrs old ( With the face & smokers lungs of a 99yr old ) , played Football USA Stylie , for 23 years..We had a look at his family photos & made the appropriate noises ( Ian didn't yawn too much ) before we travelled the length of the Bayou ( stream/creek) to join the main river, who's name escapes me ..we passed million dollar brick homes to our left & cajan shacks to our right, Jack told us tales of his cajan cousins , a dying breed who harvest Craw fish in the swamps during their brief season. Our education was completed by learning that 5 of the USA's 6 most venomous snakes are found in the swamp!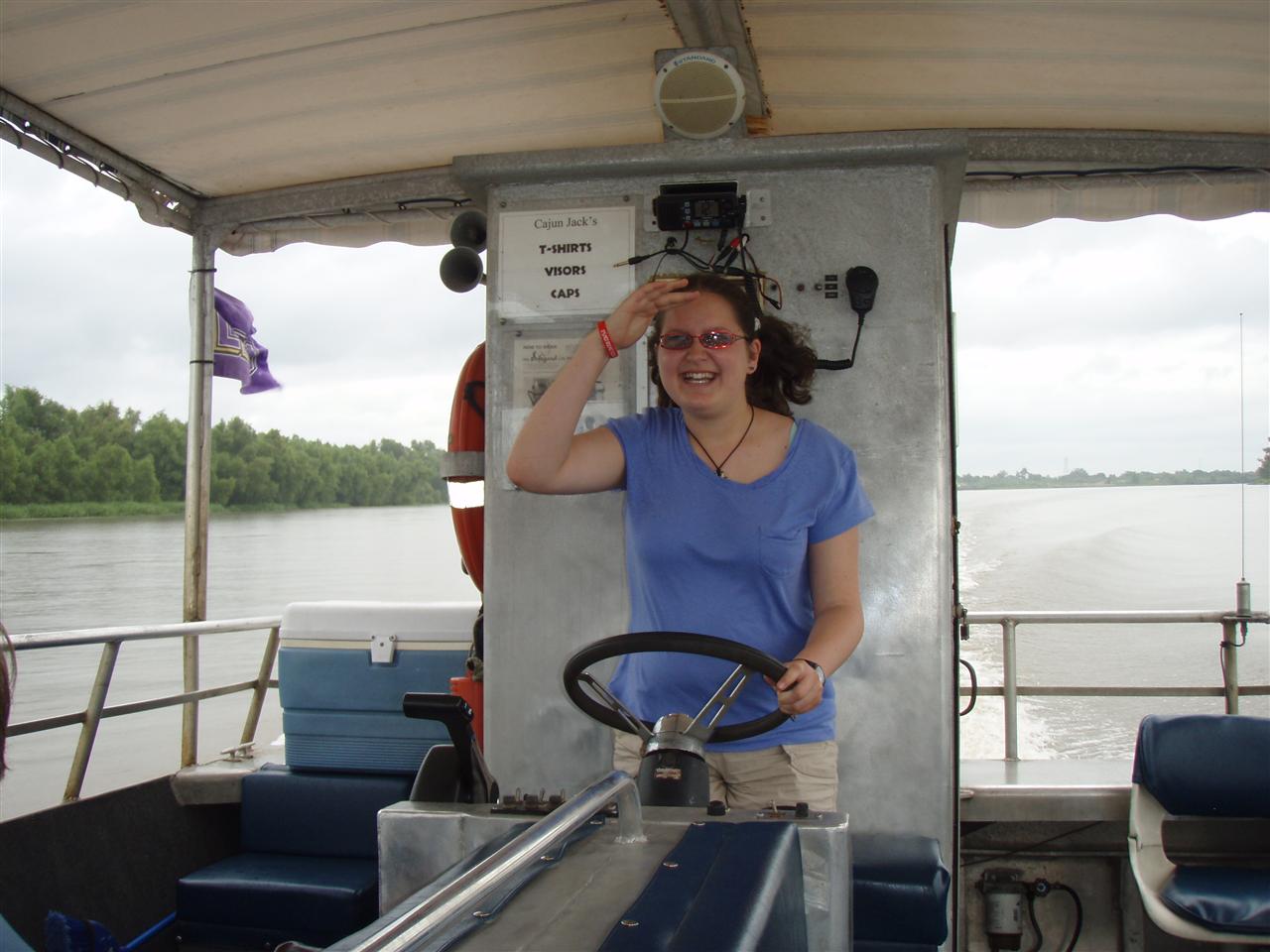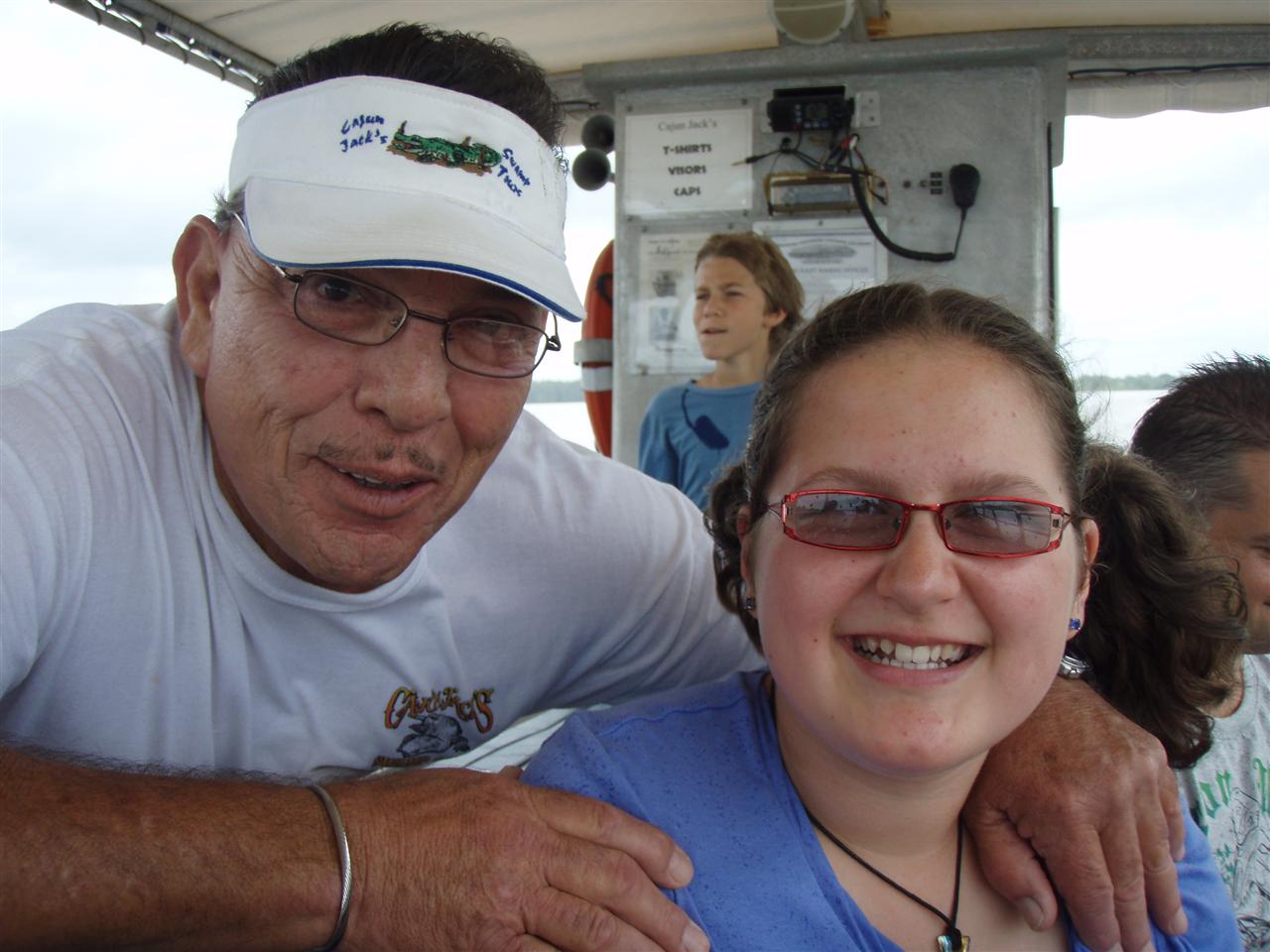 We saw some Egrets and a distant aligator who popped his head up to say hello, Jack took us through the Levees (Locks to help the flood defenses) We saw watery fields of beautiful purple flowers..Shipped in during the worlds fair by the Japs a hundred years ago & left behind to filter the muddy waters with their roots.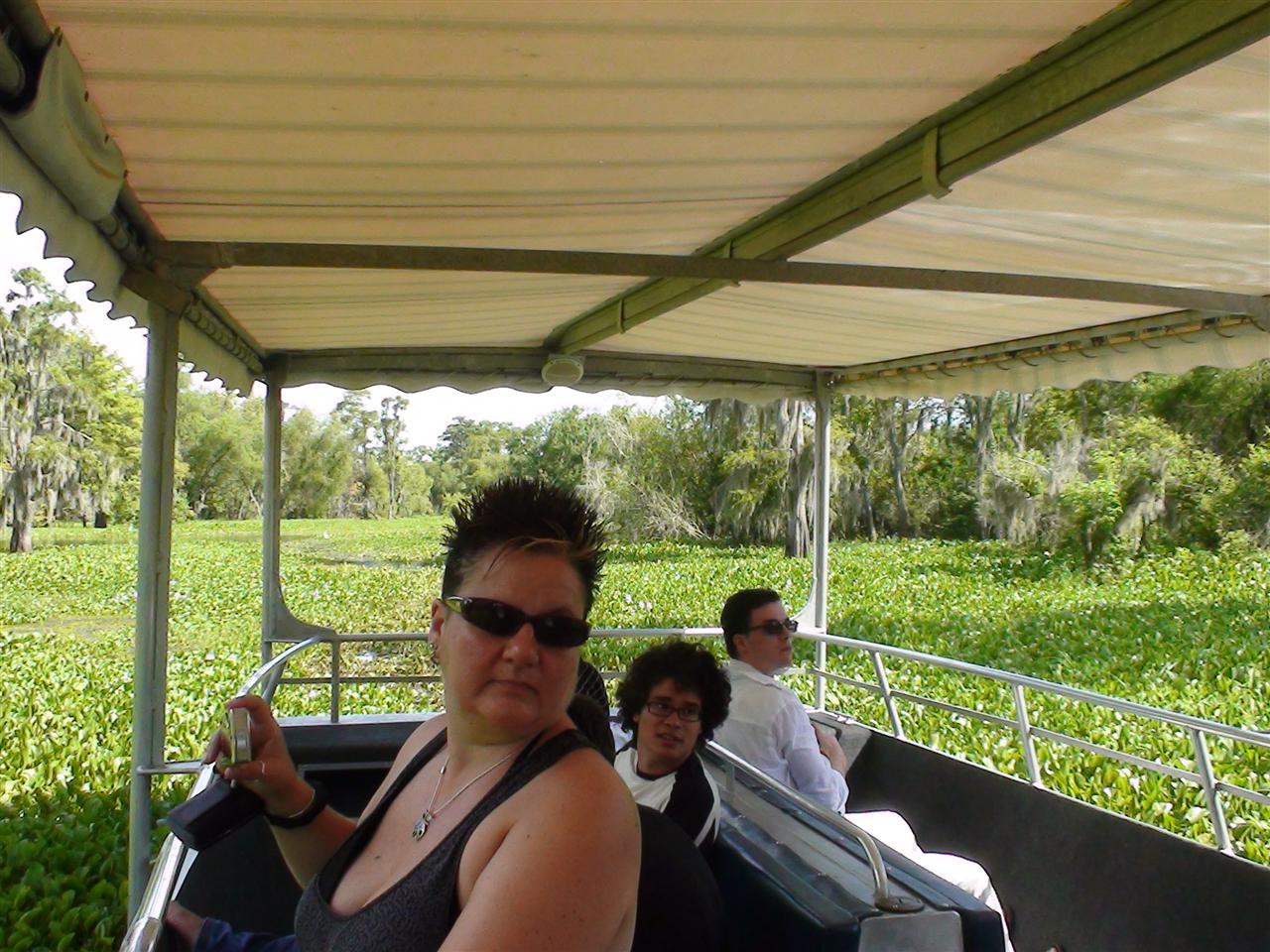 We found a lake near Morgan City for a dip, The water was body temperature & some.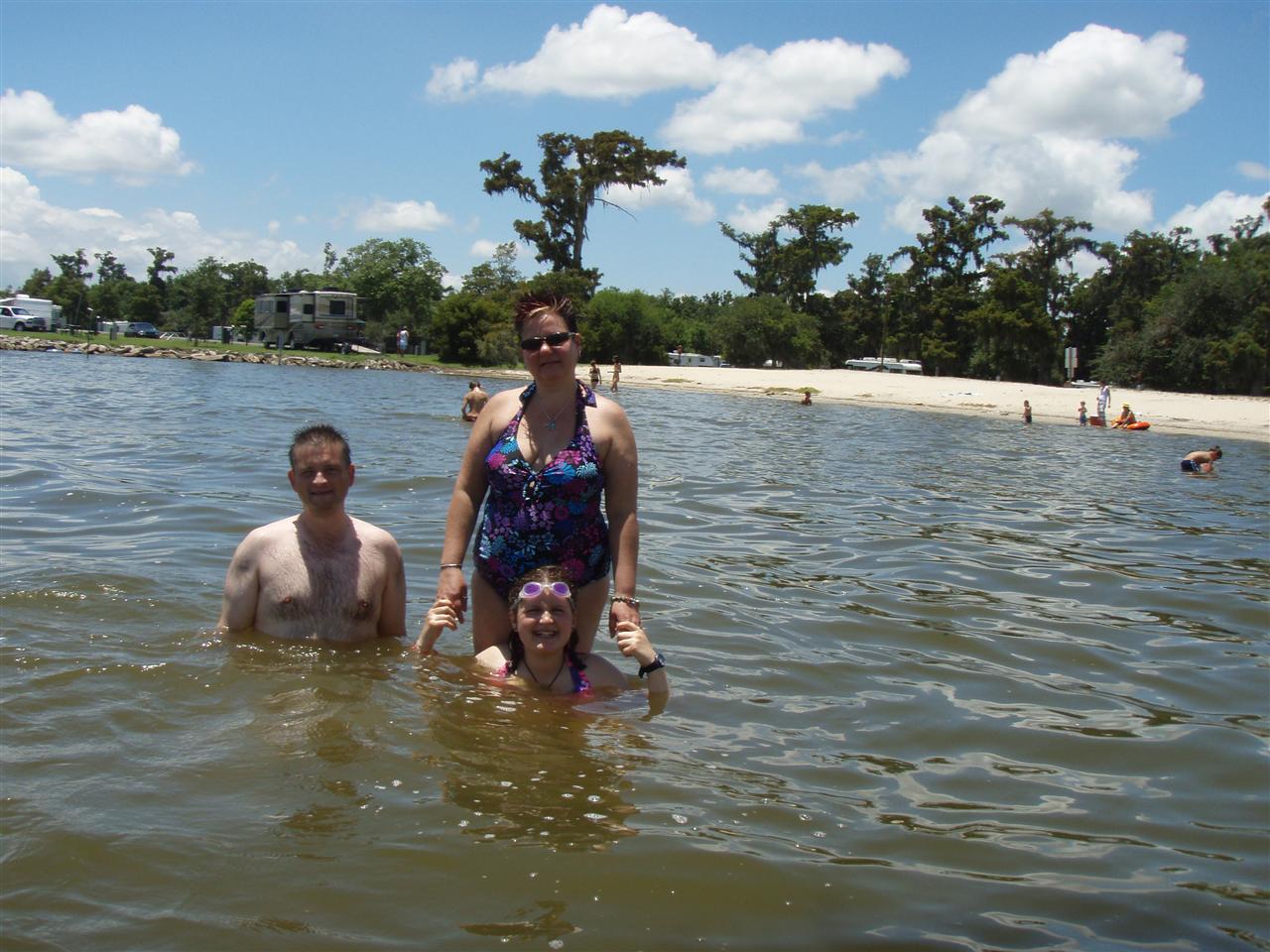 New Orleans was a short hop away, The City still bears the scars of Hurricane Katrina, The French quarter is an oasis of 19th century french/american chic & architecture, Our amazing hotel is complete with wrought iron balcony & exposed brick walls, after a shower we set off to explore.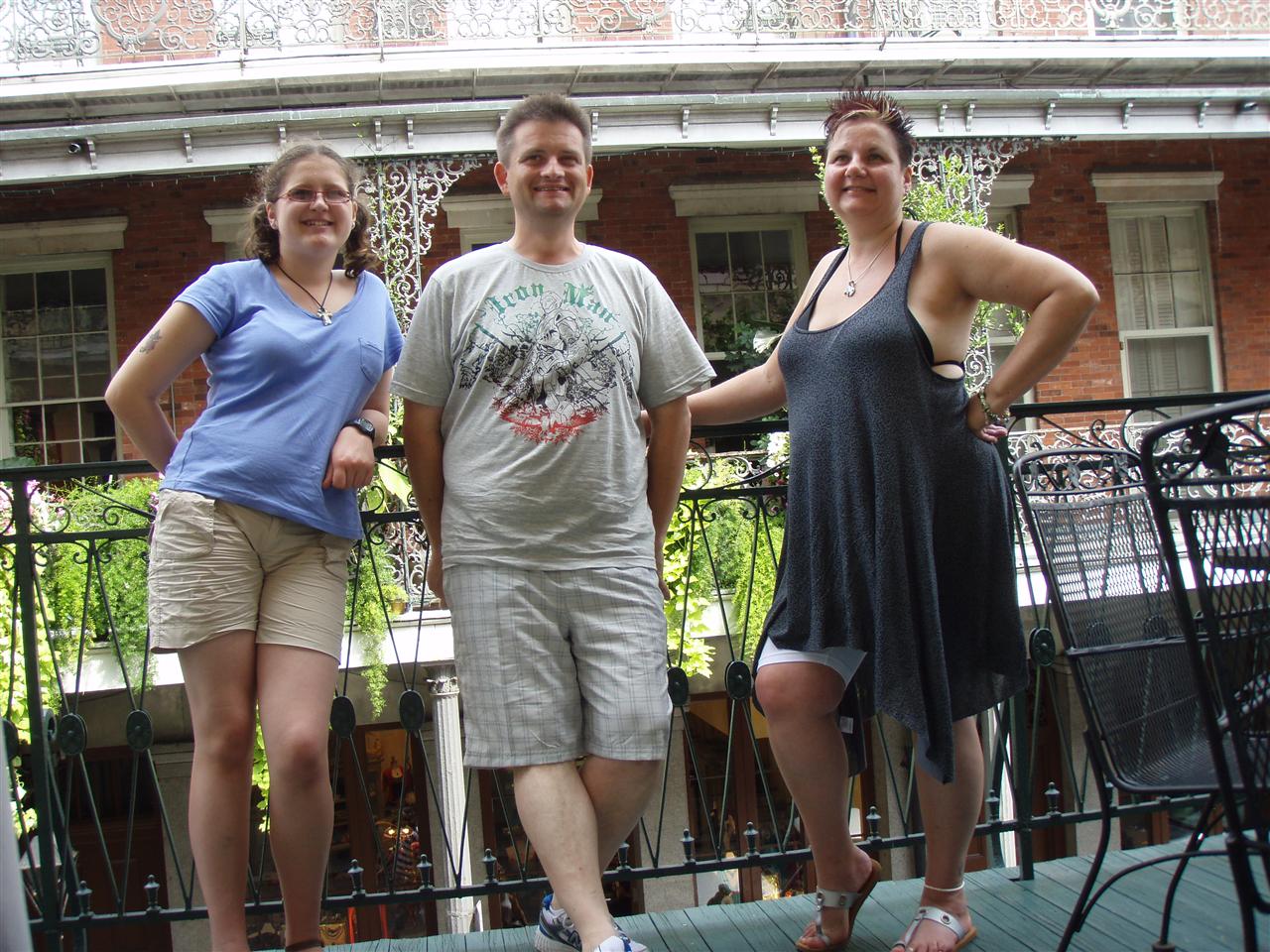 The Steam ship Nanches was our destination..Dinner followed by a cruise up the Mississippi, to the sounds of a live dixie jazz band,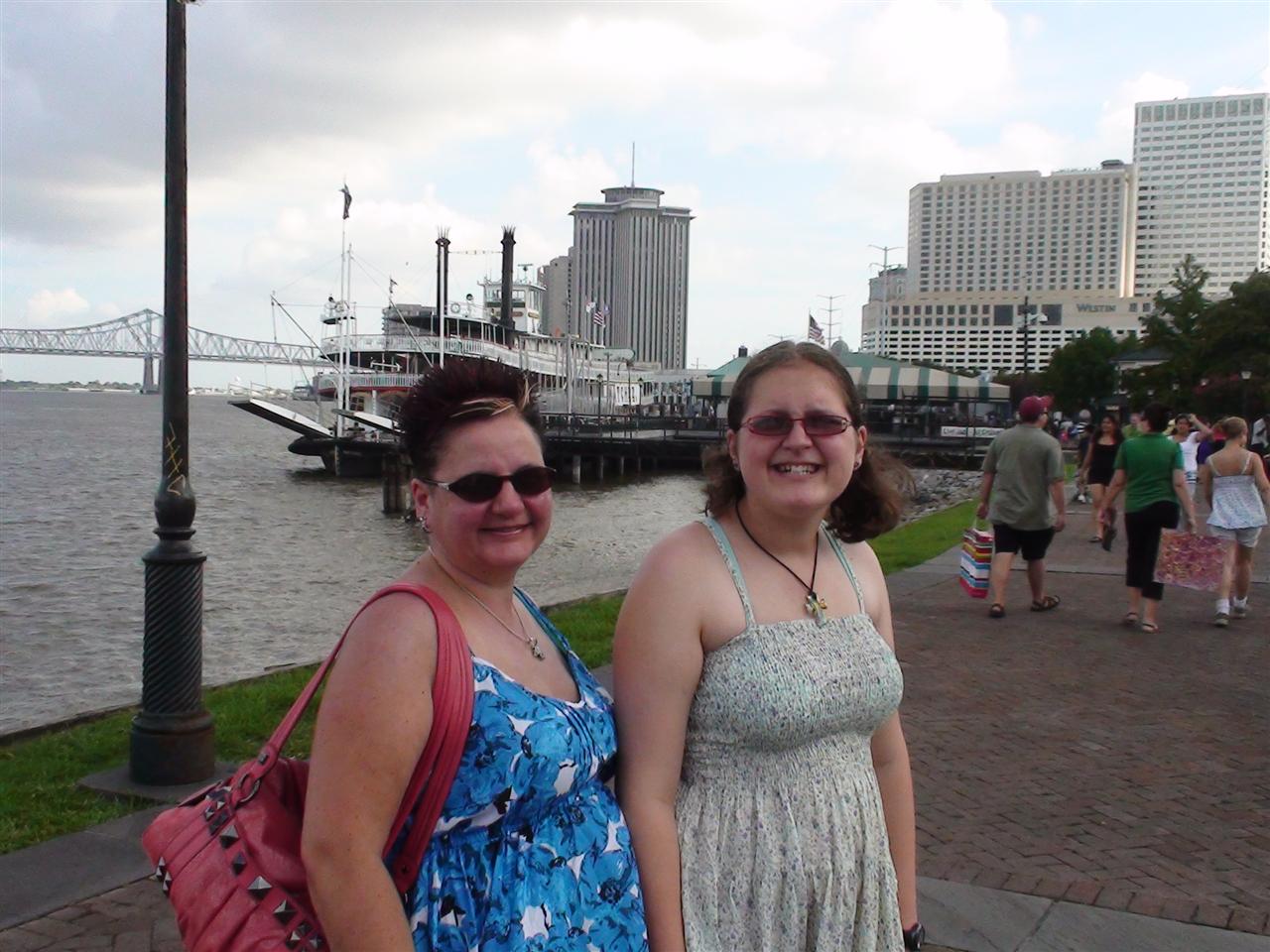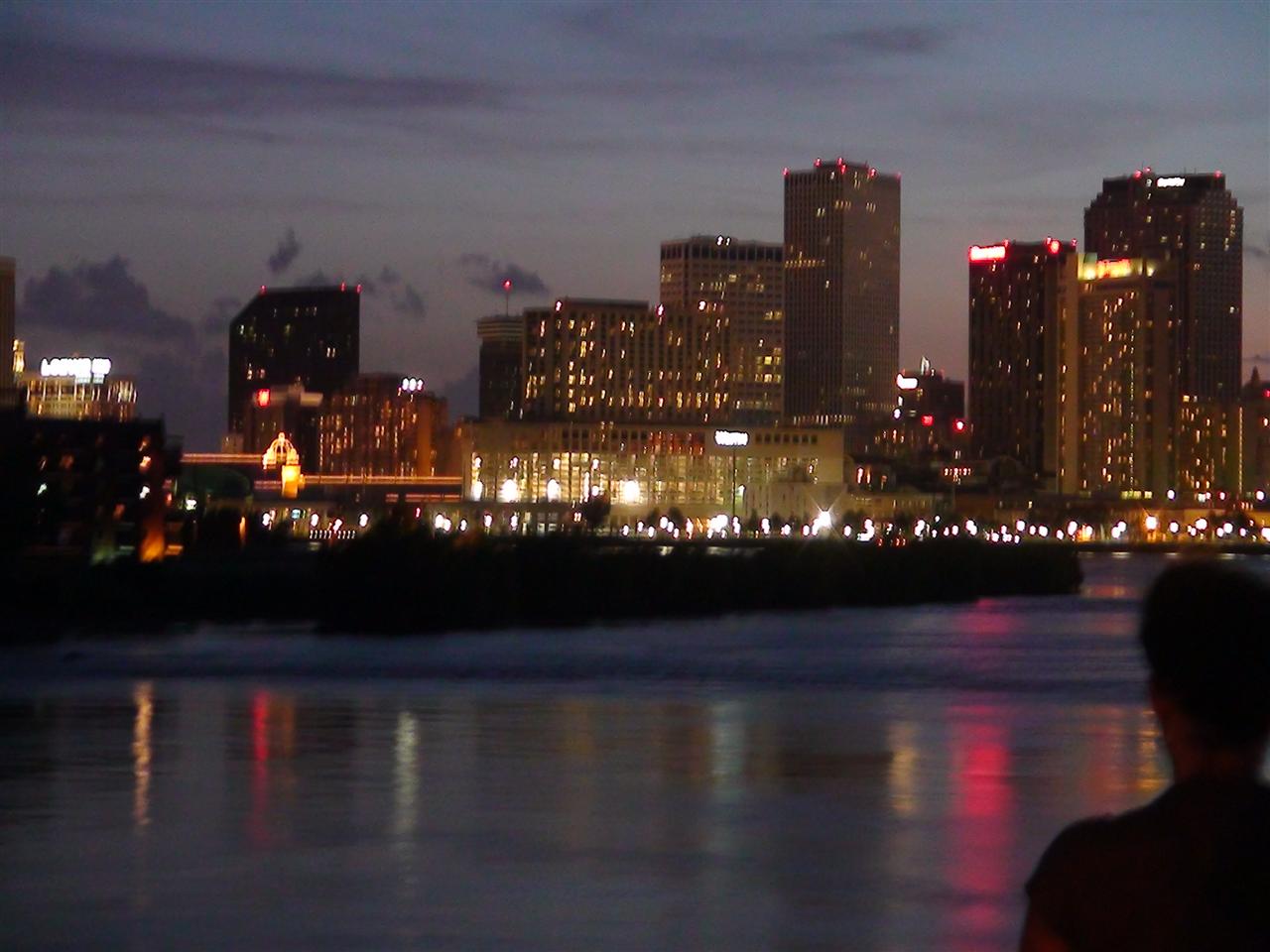 The City is still buzzing & crowds of revellers are passing our hotel, Might wait for Ian & Min to nod off & go join the party : )

Good night dear reader..more from the voodoo capital of the world tomorrow xx
---
Day 5 : Po Boy, On Bourbon Street.
A carriage ride round the French quarter started our day..Tommy & maybeline his trusty steed gave us an informative tour of historic New Orleans including the oldest pub in the USA a shack used by Jean Lafitte to conduct his illicit business when not in the war mongering trade.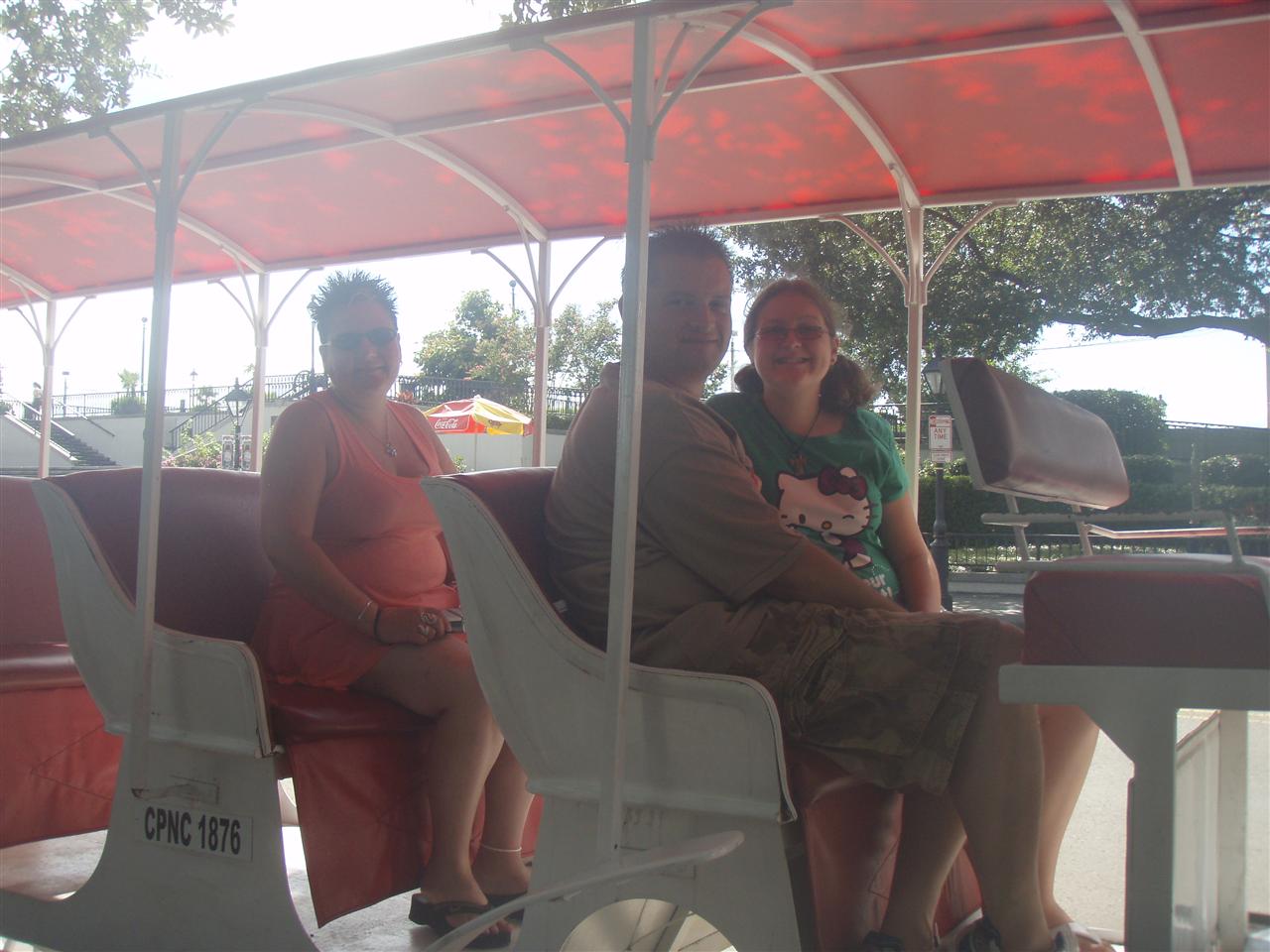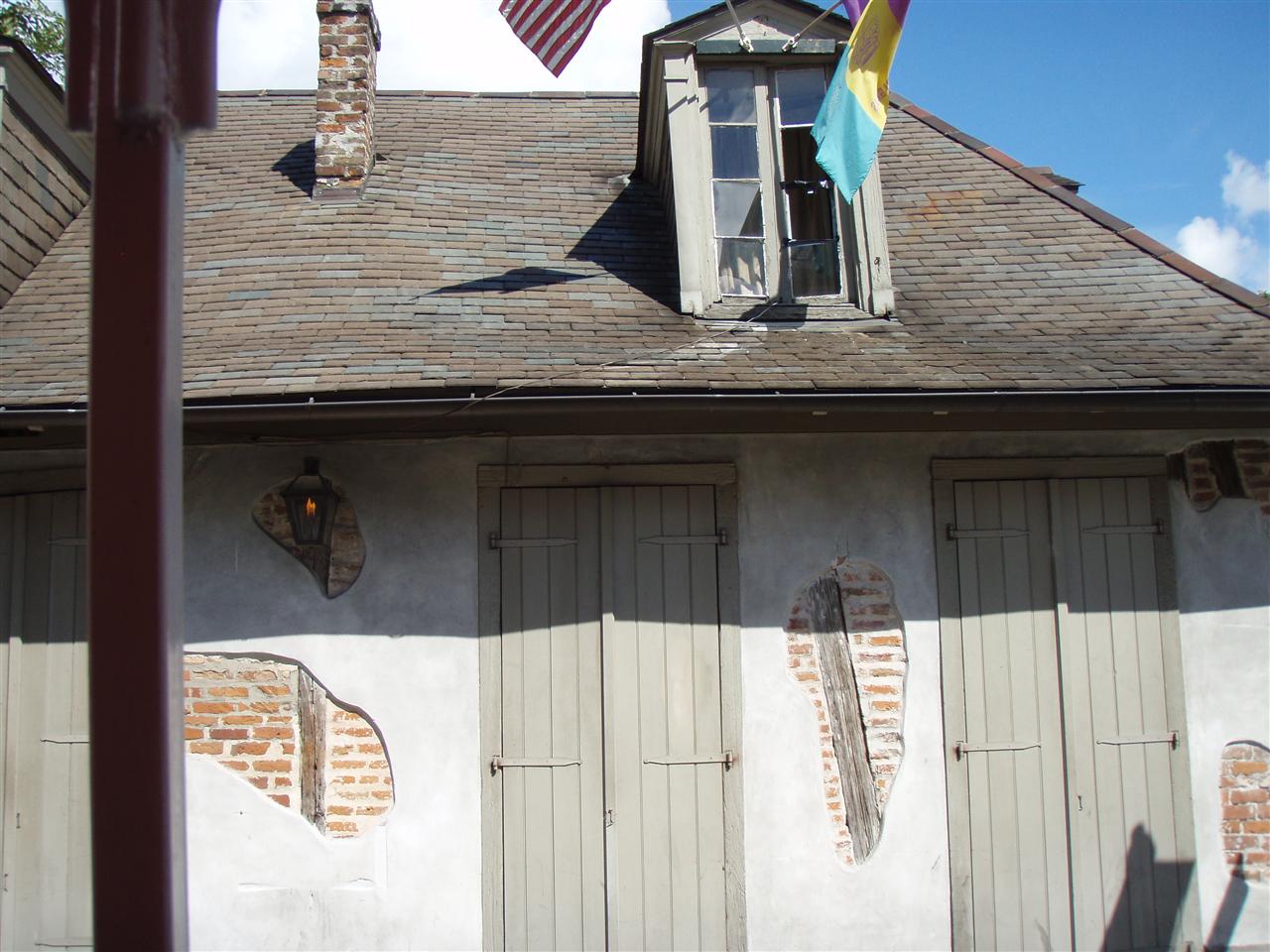 Tommy recommended the Po Boy cafe ( A po boy is a "poor boy " sandwich) Mr Tommy thought we might like this delicacy.. hmmm Ian did not like his Aligator sausage, which will live on now as POO BOY, I did not like my roast beef & Min did not like her fried chicken, Less said about that the better.. We resumed our tour on foot & visited Bourbon Street by day Even in daylight a variety of scantily clad young women ply their trade much to ians delight & mins disgust.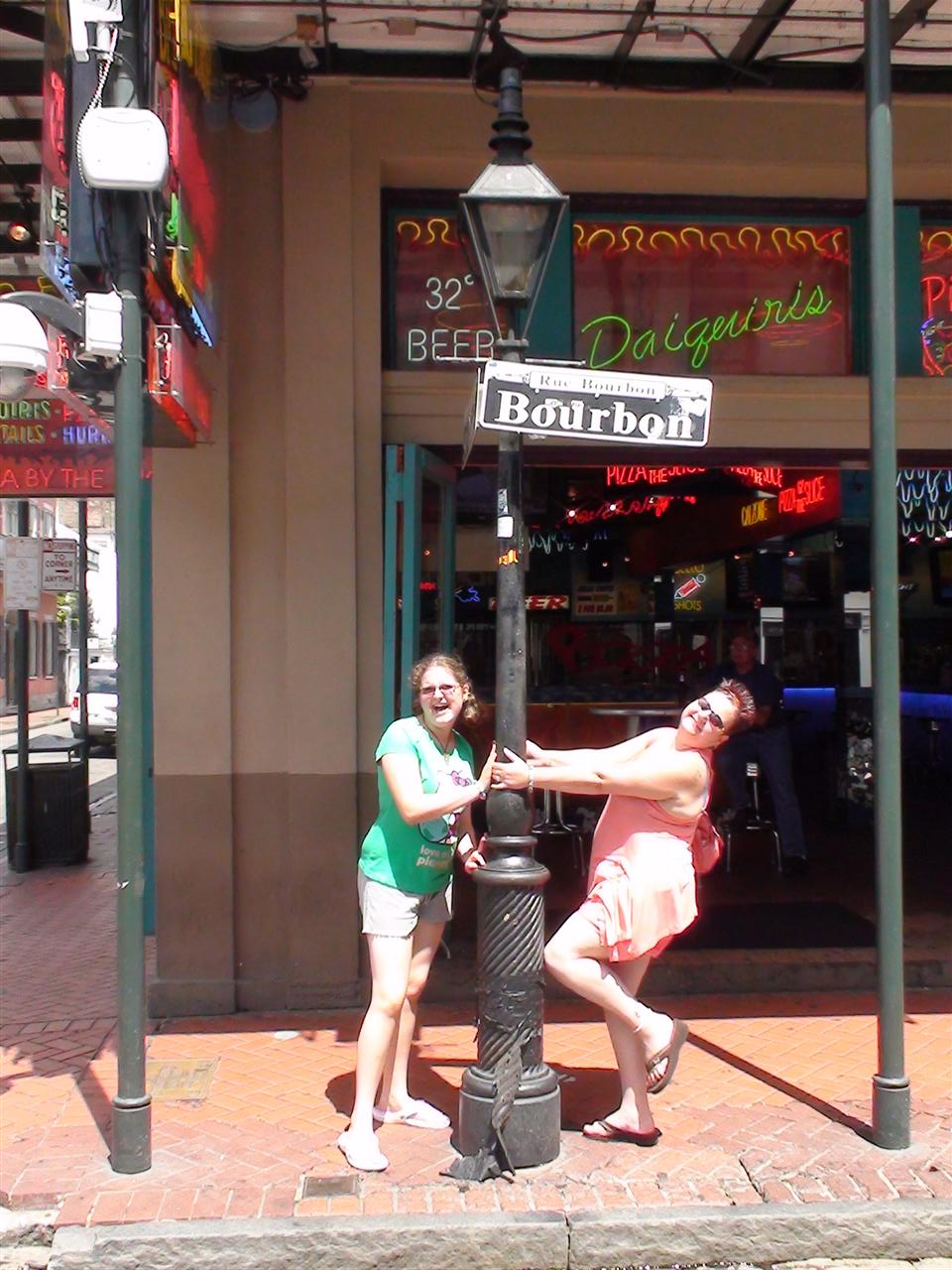 We stopped by the flea Market, No one bought any fleas, Then Min & I took a tour of the pool & chatted to some other guests, ( Who thought we had Australian accents..Min & I masqueraded as Madge & Kylie for the afternoon !)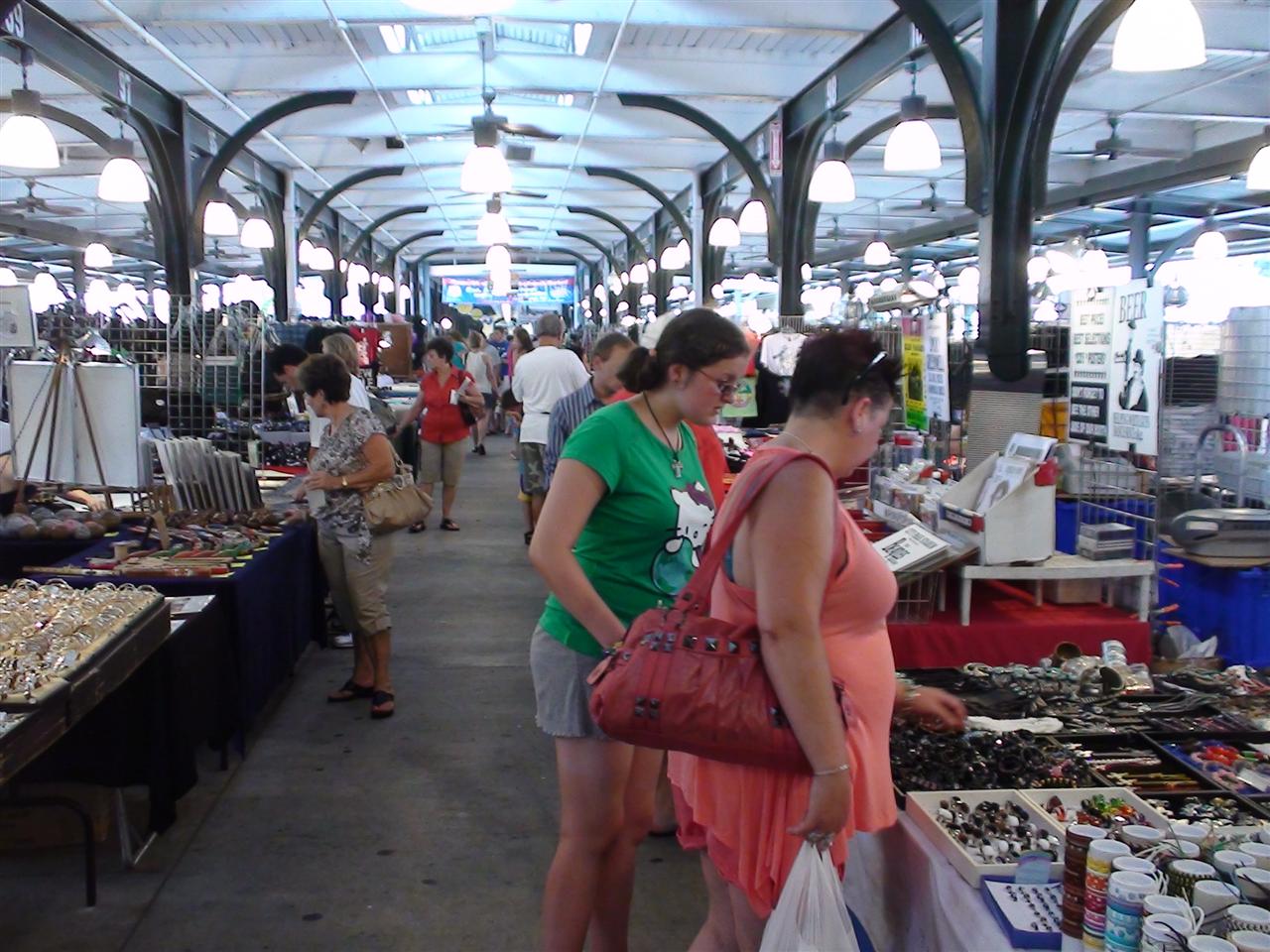 Next stop a $1.25 Street car ride, An hours trip out to the garden district to see the posh homes..Then back to Bourbon Street to The "Desire Oyster bar" for a Sea food Extravaganza..We bought Souvenirs & Cocktails " to go " on Bourbon Street & Got Min Safely to her bed before she could have herself corrupted by the Sin In the Big Easy!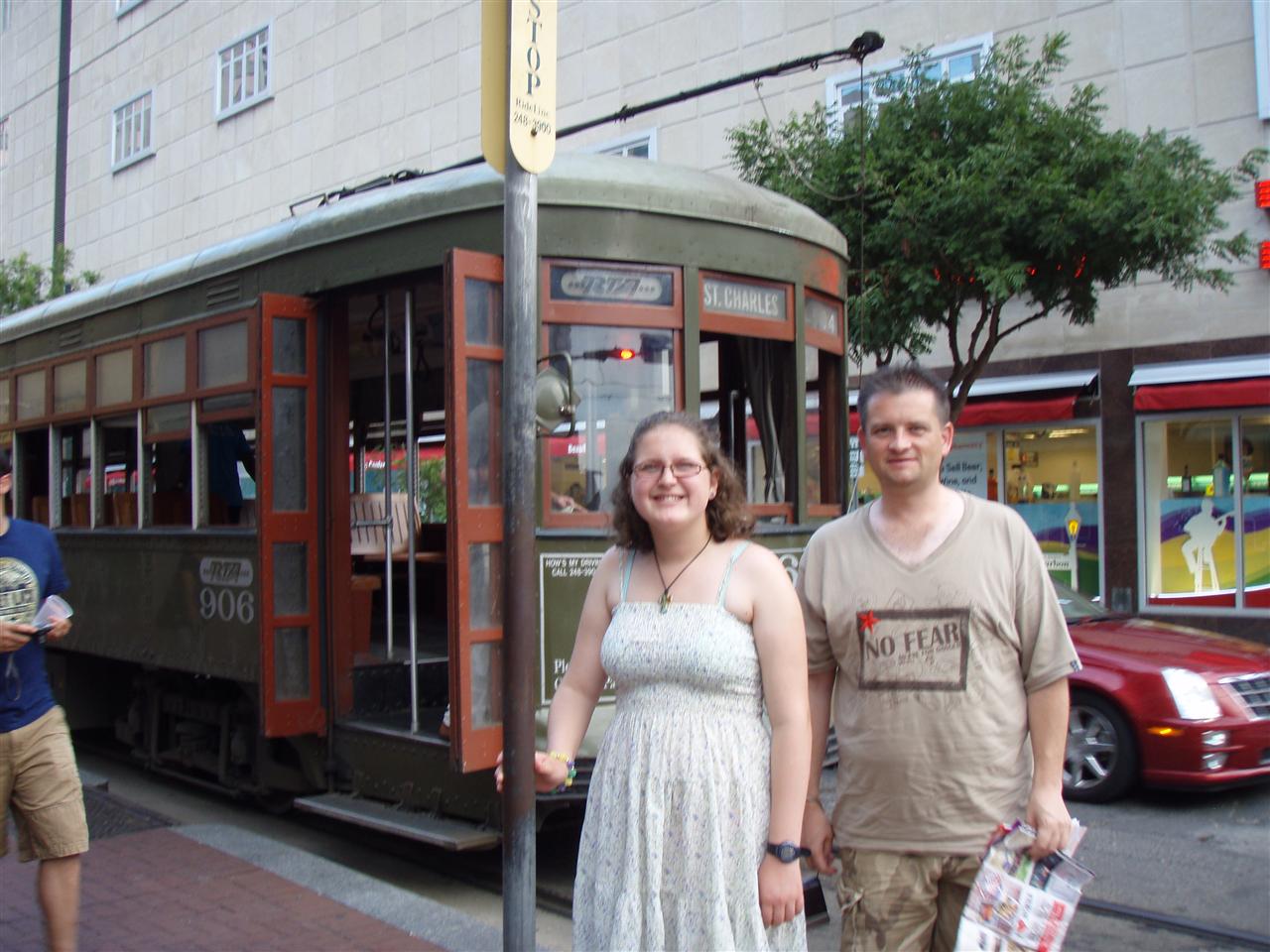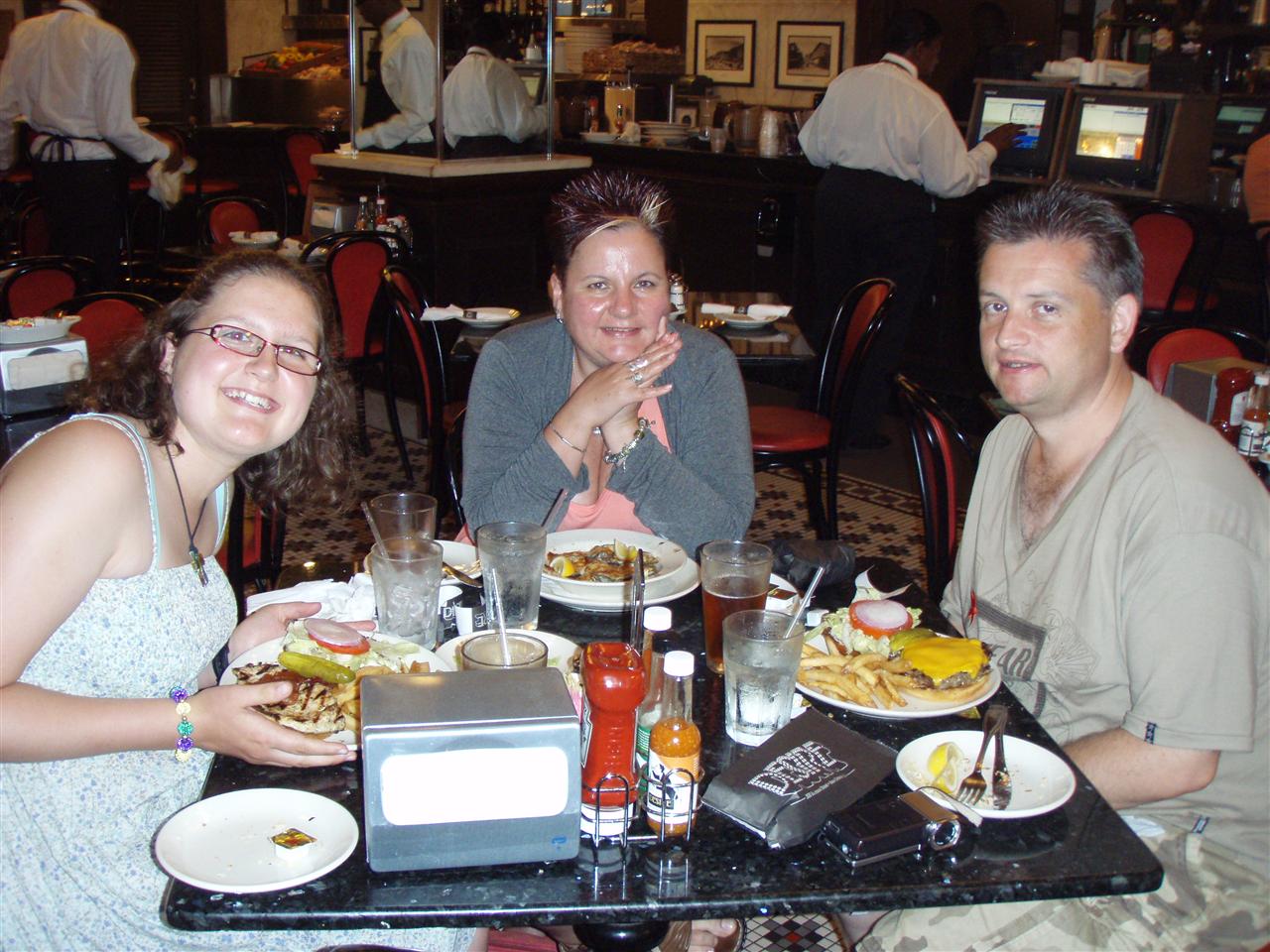 Sleep well dear Reader..I Might just have cast a Voodoo spell on yooo!
---
Day 6 : As far south as you can get in Louisiana and no sign of oil!
We decided against the hotels meager free breakfast fare & took a walk towards canal street and found an authentic American diner for a breakfast cooked before our very eyes! Eggs Bacon Grits ( Savory porridge ) & hash browns..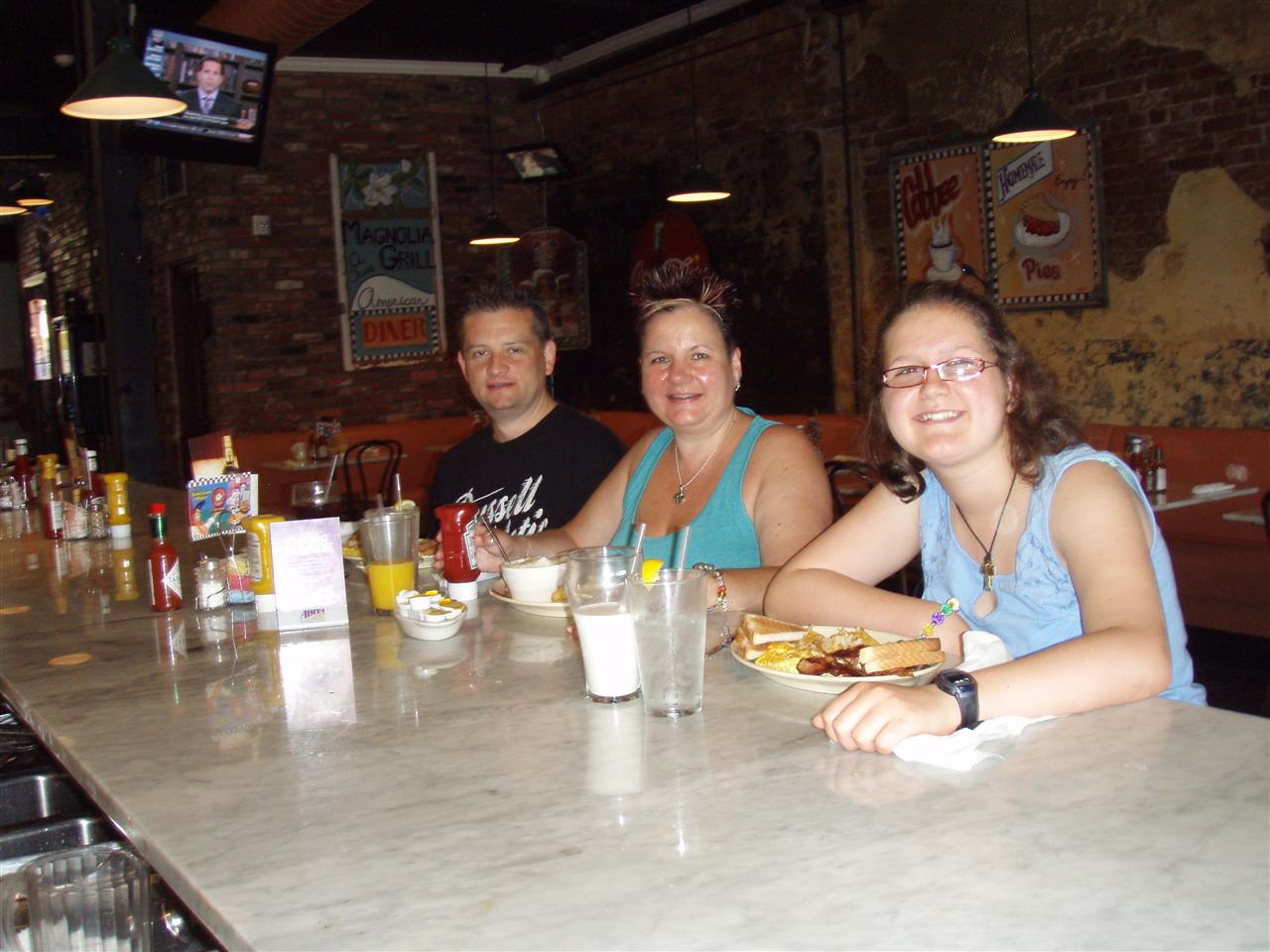 Back to the hotel & the faff of getting our car back from valet parking ..We travelled through oil refinery country, areas which are routinely flooded & the coastal defenses are a work of art..Again The homes ranged from 5+ feet off the ground on stilts to having been built more permanently on grassy mounds. During our ride to the peninsular Ian narrowly missed making road kill of a Raccoon who hadn't learned his green cross code..Fluffy lives to fight another day.
We drove to a point signposted the furthest point in Louisiana, gateway to the Gulf..expecting the harrowing sight of penguins covered in oil, I was relieved to see not a sign of BP's disaster.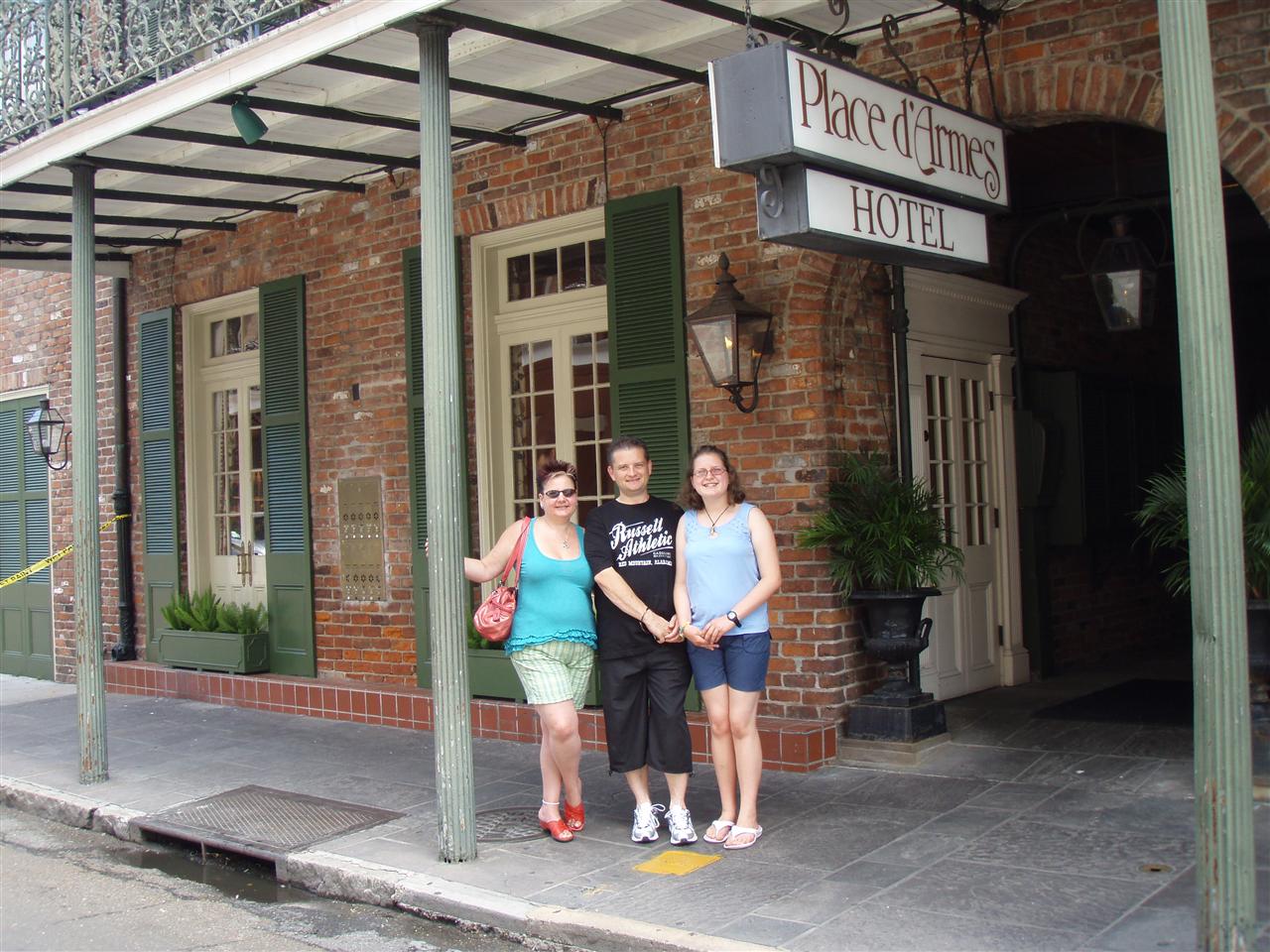 Min makes an impromptu bog stop..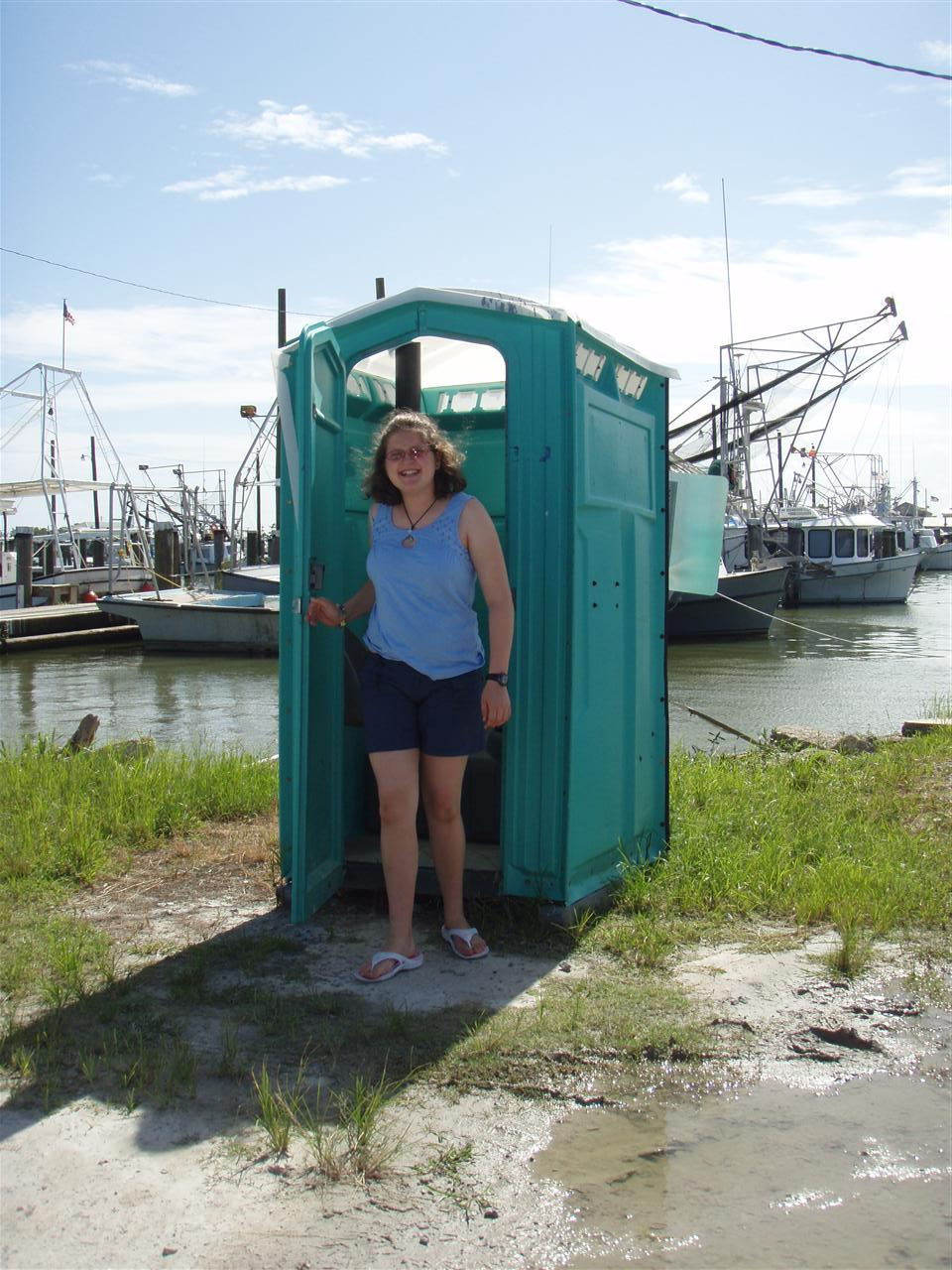 Back at the hotel we deposited the car in valet parking & made ready for our last night of partying in Bourbon street ( Ian has drunk beer 3, YES 3 times this week ), We are settled on a very noisy balcony at the Bourbon Embers steak house , over looking the revellers, drinking a " huge ass" beer each ( Min is on the huge ass Sprite, Thank goodness she knows the way back ! )..We will say goodbye to The Big Easy tomorrow & continue our adventure..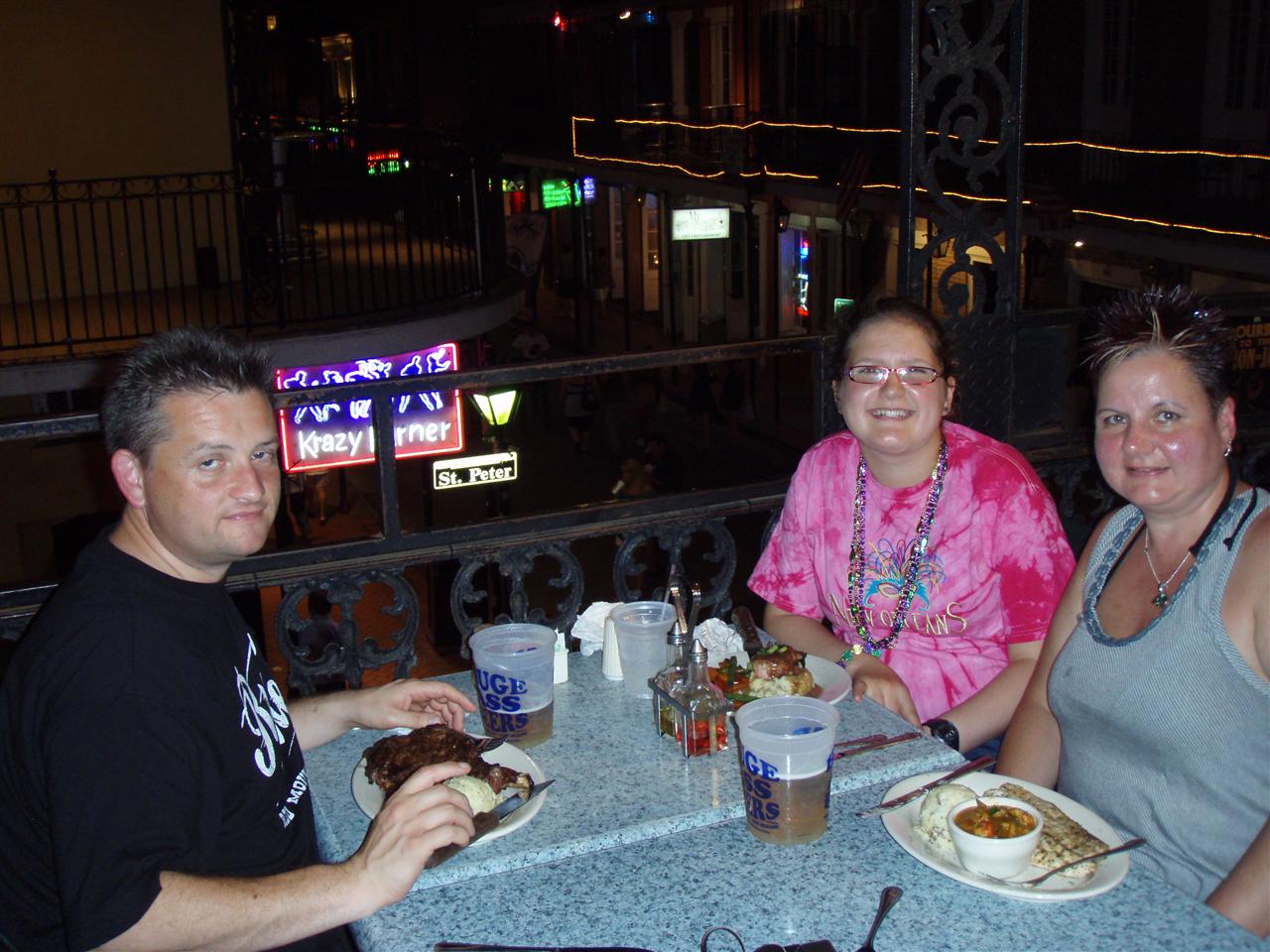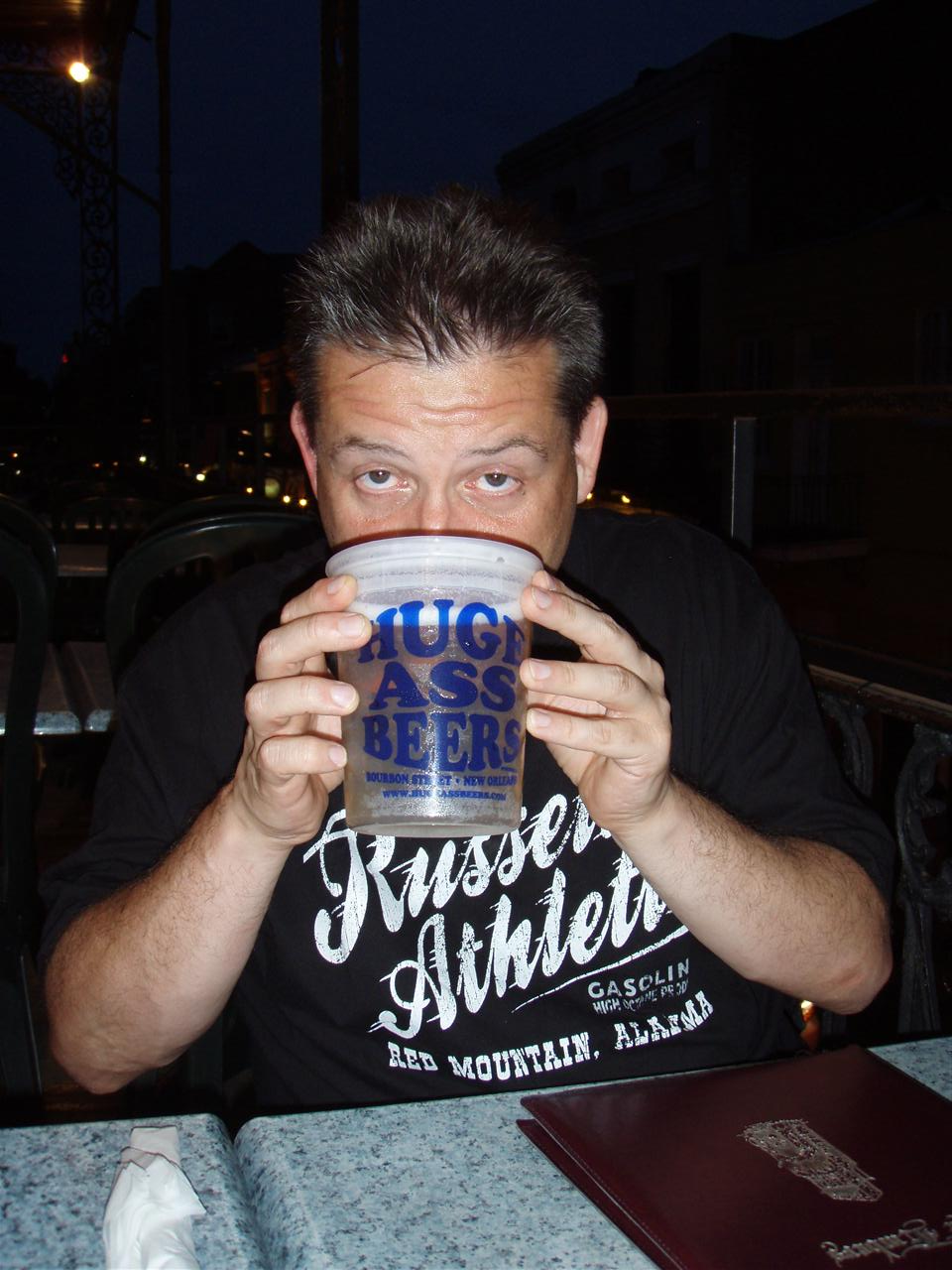 Well dear reader I have sent you a little New Orleans Voodoo....enjoy xxx
---
Day 7 : 1 year of wedded bliss, well neither of us has committed murder!.........yet
Happy 1st wedding anniversary to us, Thanx to all who sent good wishes Mum,Jim, Fred & Martin : )..Even here Ians computer expertise is required, He logged on to mums computer & saved the world..my hero.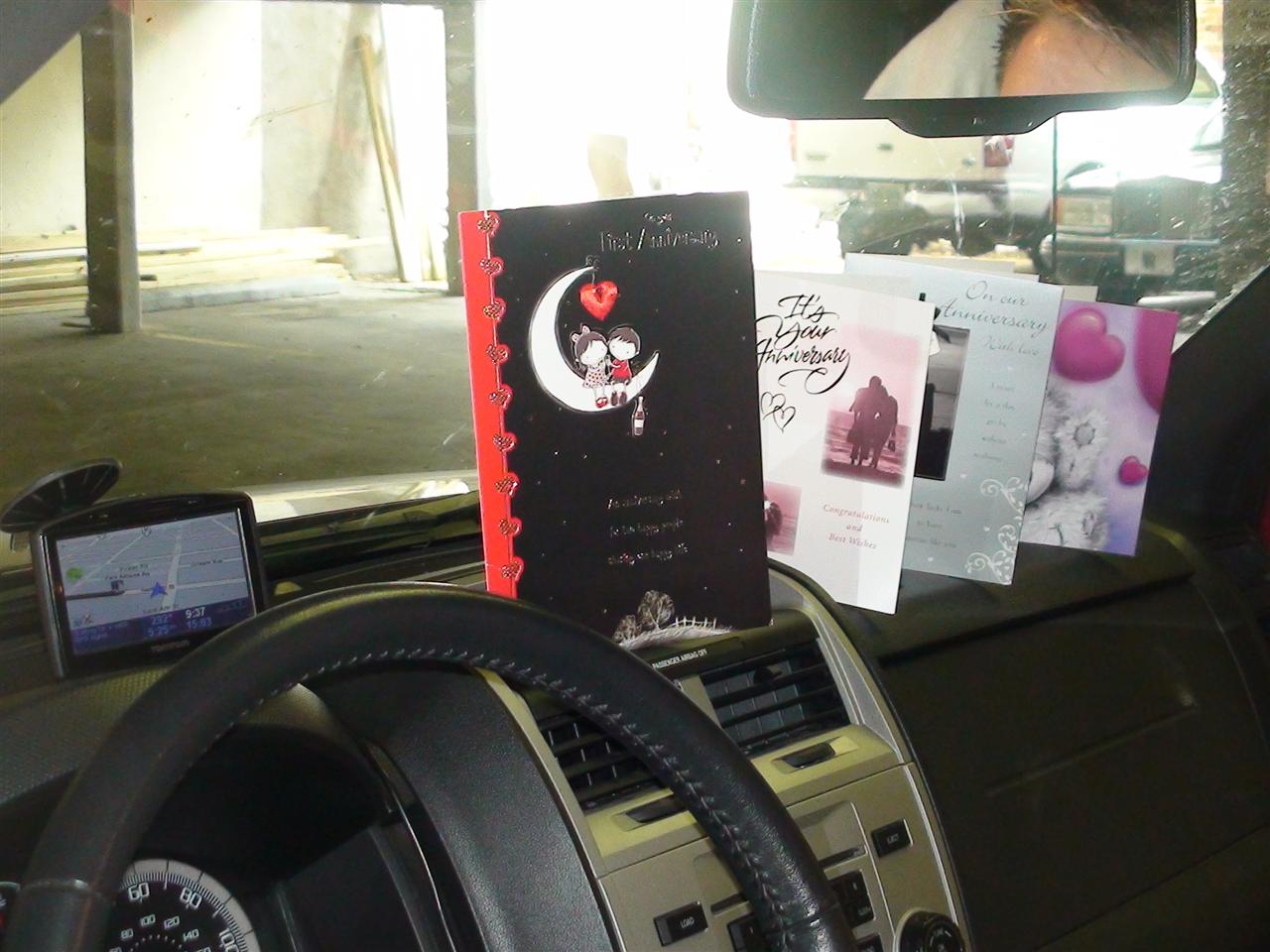 Bearing nicked croisants from our hotel breakfast buffet, Family veck ventured on..Through the wilds of Louisiana into Mississippi, back to Louisiana & then ending up in Mississippi again phew! We travelled across a 25 mile causeway..wierd to see water all around & be on a bridge ( Which has its own Sherriffs dept midway! ) On the highway a small stone hit the side of our windscreen, thrown up by a huge truck, we spent the rest of the trip predicting the route of the crack..now known as Ians crack, across the windscreen, it is now approx midway!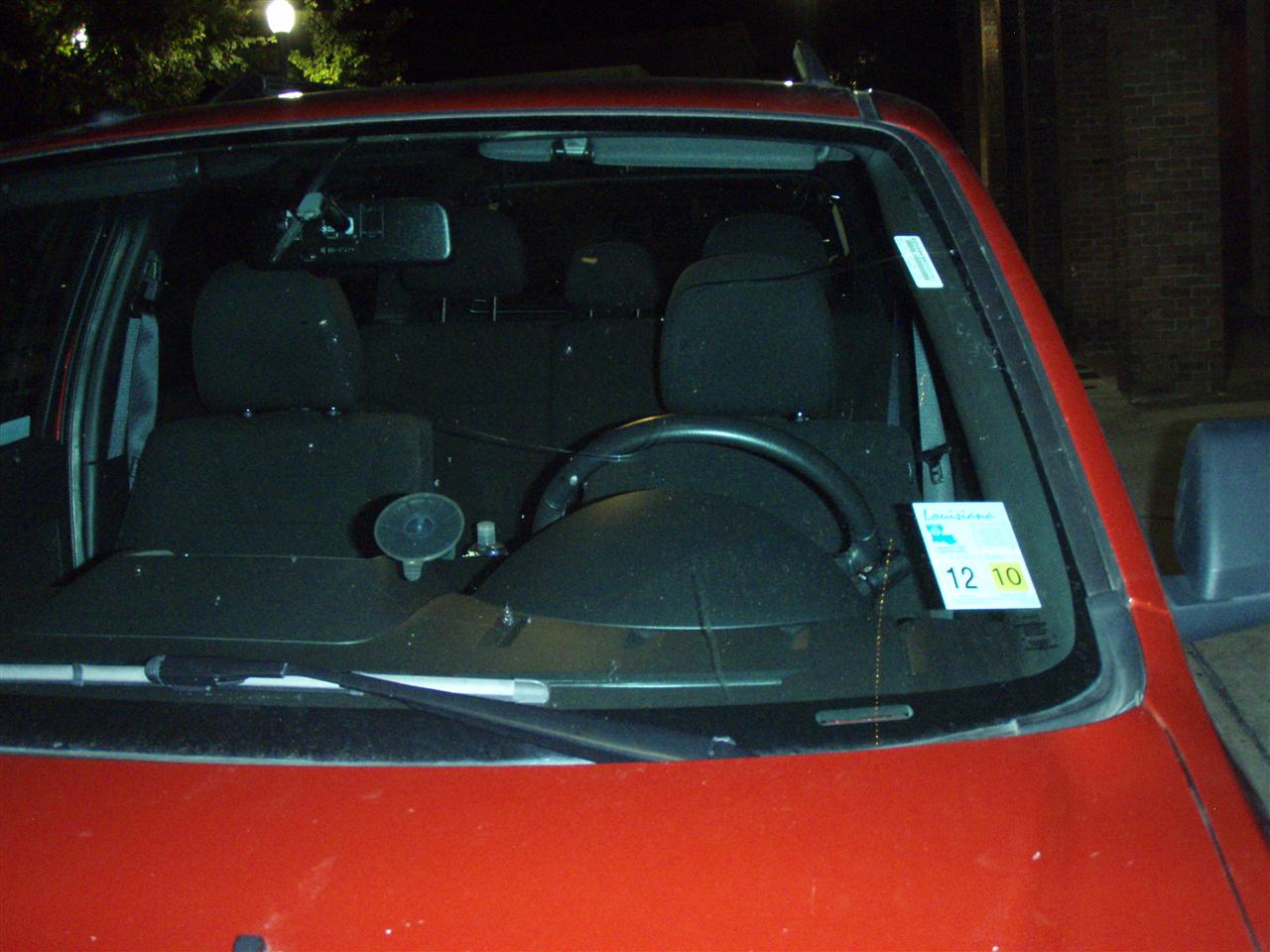 We arrived in Vicksburg..Google the battle of Vicksburg.. & Checked into The Corners Mansion, an Historic 18th century property Built By old Man Kier for his daughter Susan to celebrate her marriage..This wonderful colonial style building overlooks the Yazoo tributary of the Mighty Mississippi river & has Rocking chairs on the porch ( Oh Yeah )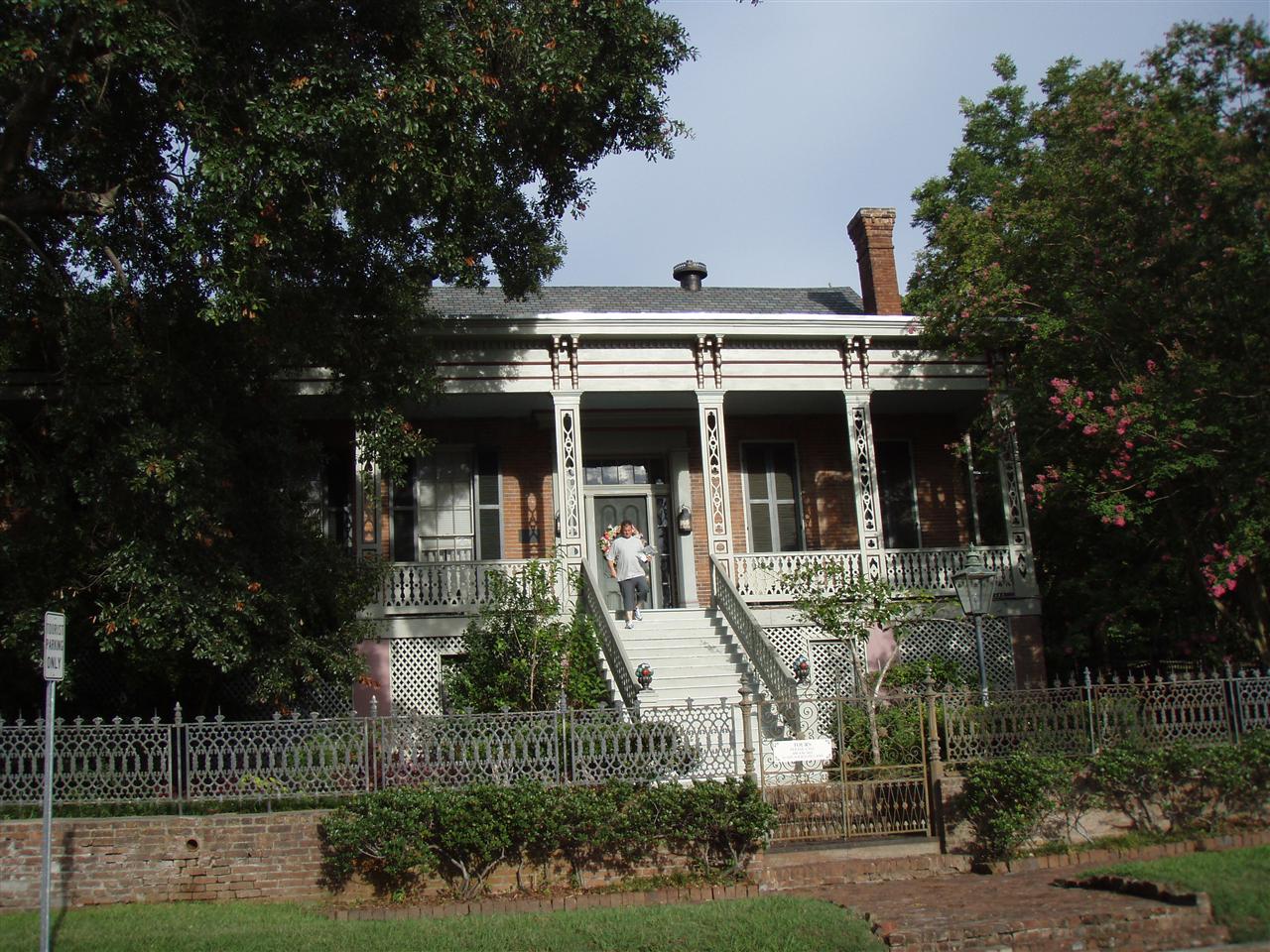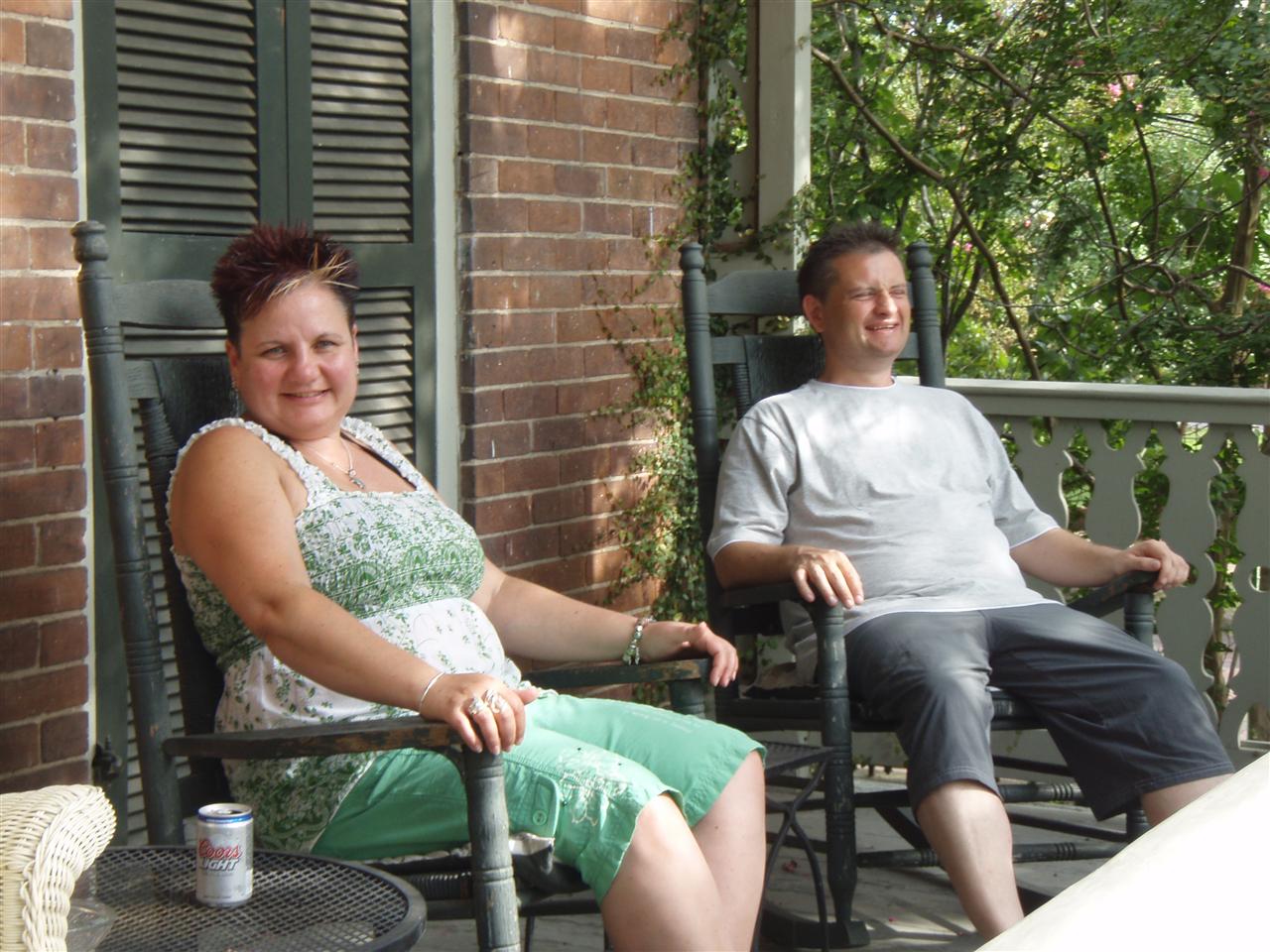 Our Mad hostess Macy showed us to our Grand suite lovingly restored to its old world glory, Unfortunately the door to Mins room doesn't shut & our massive 4 poster groans like a brass band tuning up when u so much as sit on it , so Ian will have to wait for his anniversary gift..nudge nudge : )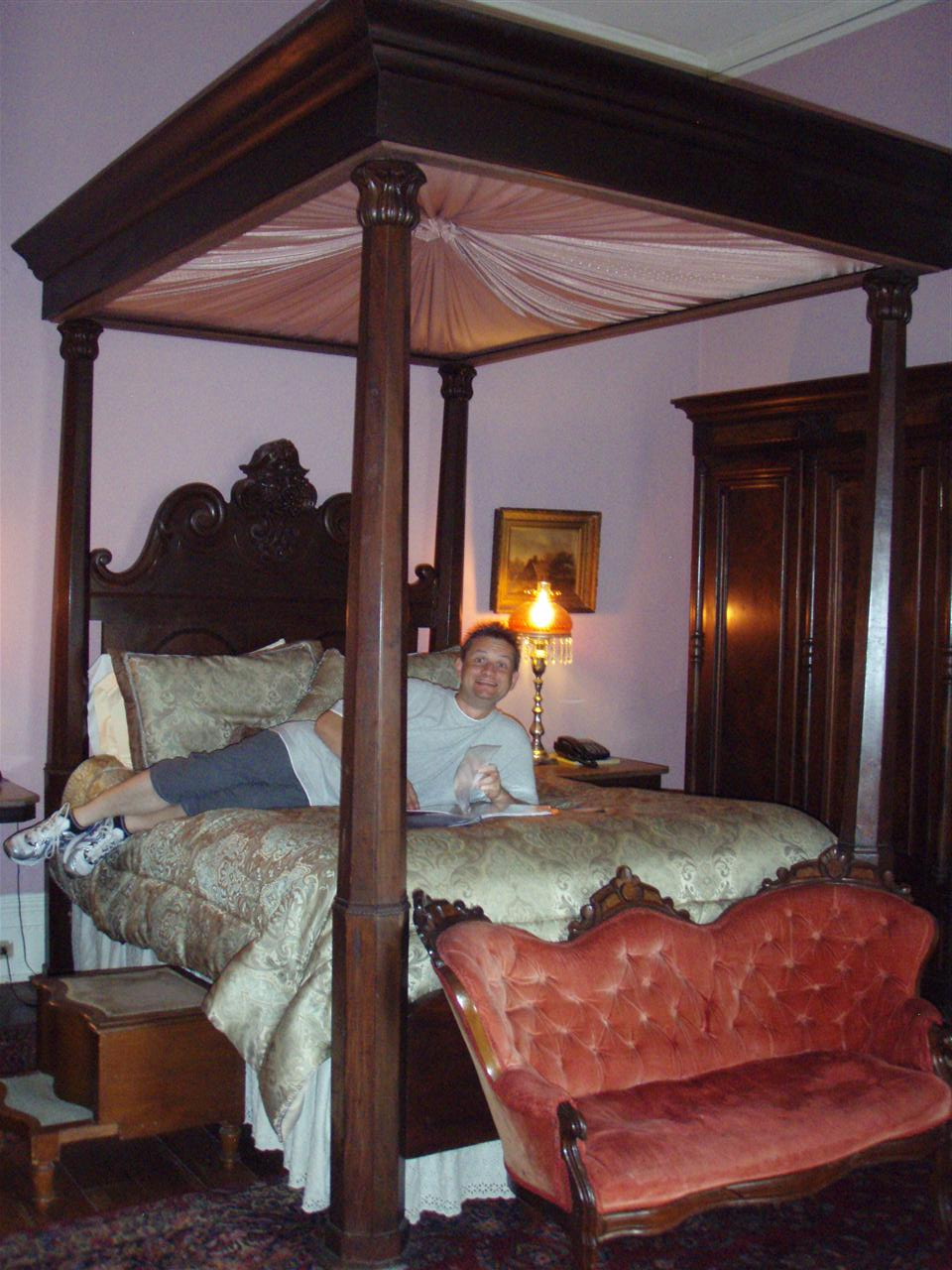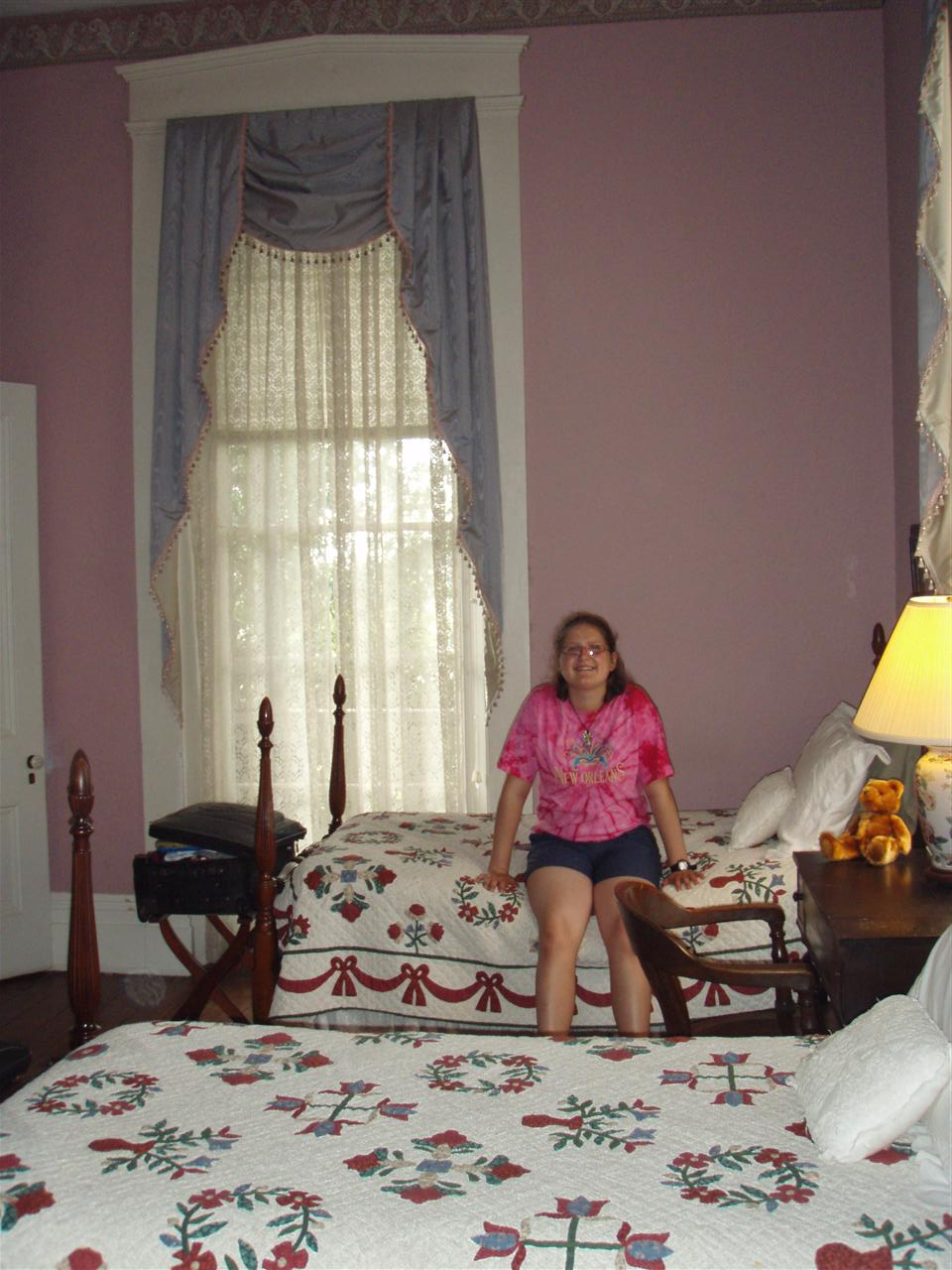 Magic Macy signed us up for the Mississippi river tour ( Whether we wanted it or not ?) We travelled a few blocks to the water front and parked by the massive paddle steamer moored by the main bridge. We asked a receptionist if we were in the right place for the river tour, We were unable to work out why she was laughing til we arrived at the dockside to board what I can only describe as a barge , Captained by the wonderful Captain Sunny & first mate Jim our tour guide , Our vessel took us up the Yazoo & onto the main Mississippi. Jim gave us lots of info about the civil war & the River itself, once again the wildlife eluded us but a magnificent sunset over the river made up for it.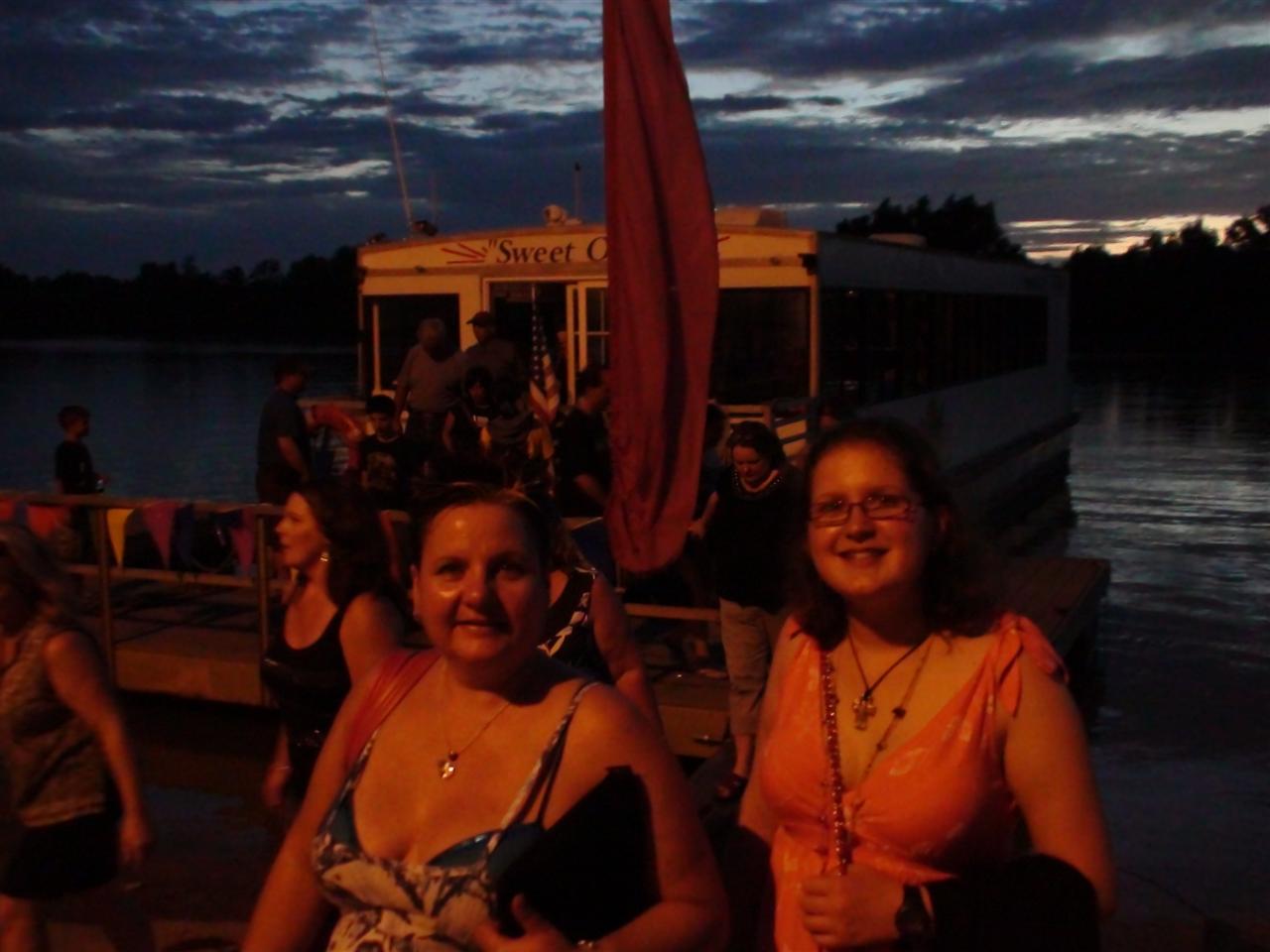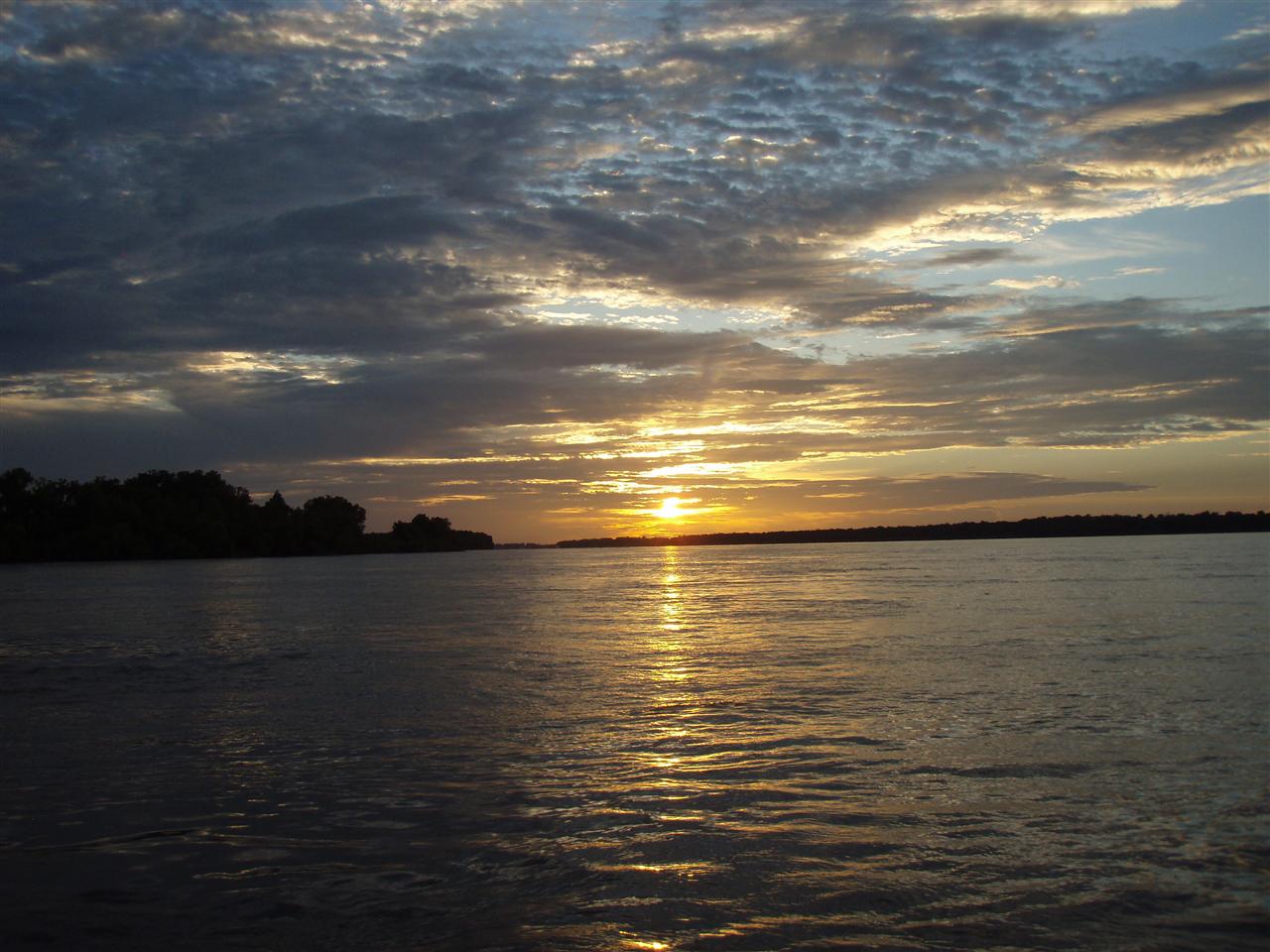 We toured the back streets looking for Duffs..No thats not a perverted activity!
We arrived at Duffs Tavern & Grill for dinner. We enjoyed pasta & steaks before returning to our Historic lodgings for a sleep troubled by Confederate soldiers & civil war heros... if I'm lucky !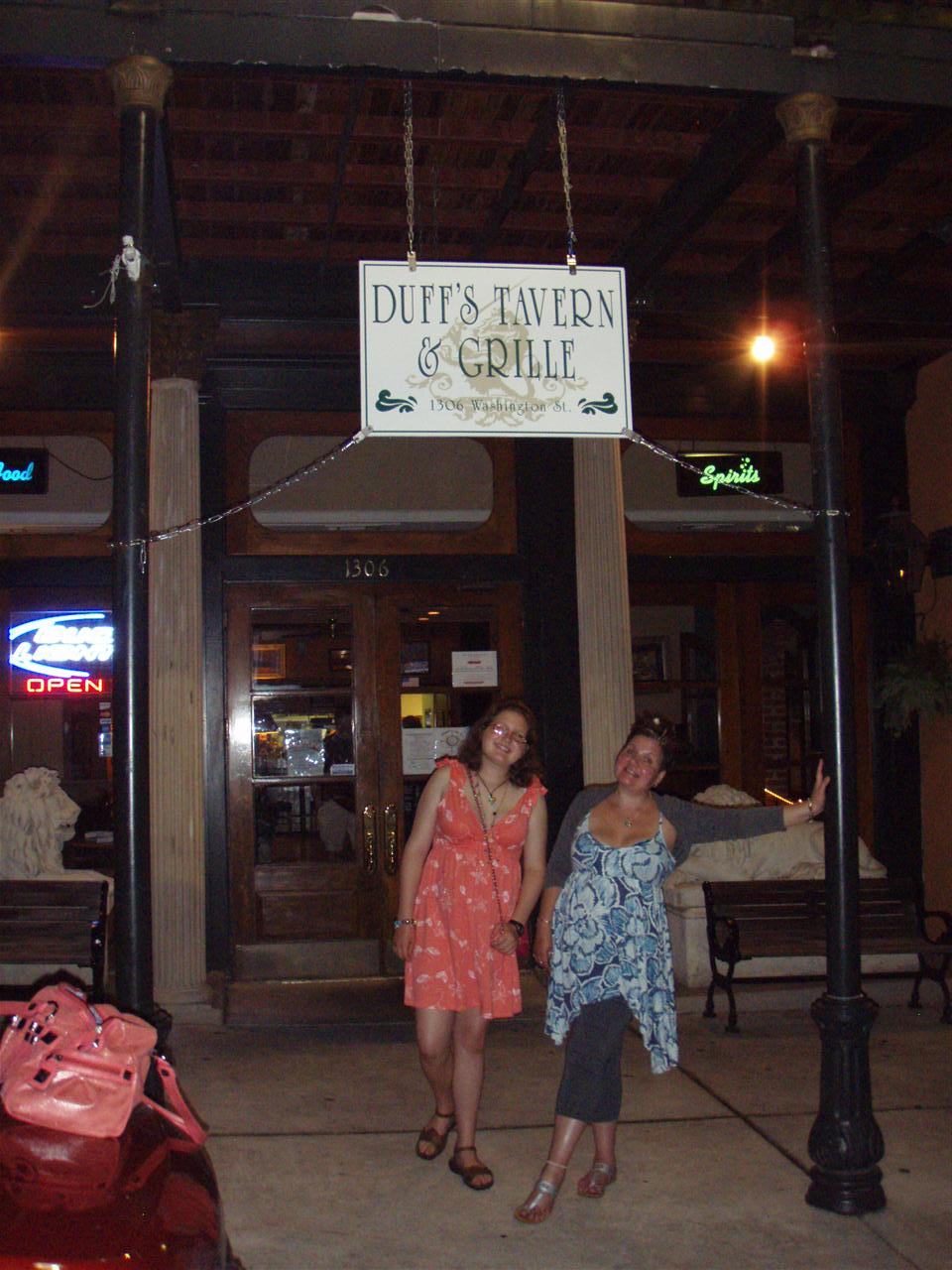 Goodnight reader from THE VECKS IN VICKSBURG.
---
Day 8 : Magic Macys amazing Breakfast & tour.
After a sleep uninterupted by civil war heros, we awoke to the aroma of Macys home ground coffee. Breakfast was served to us & another couple in the formal dining room, cooked by Macy herself.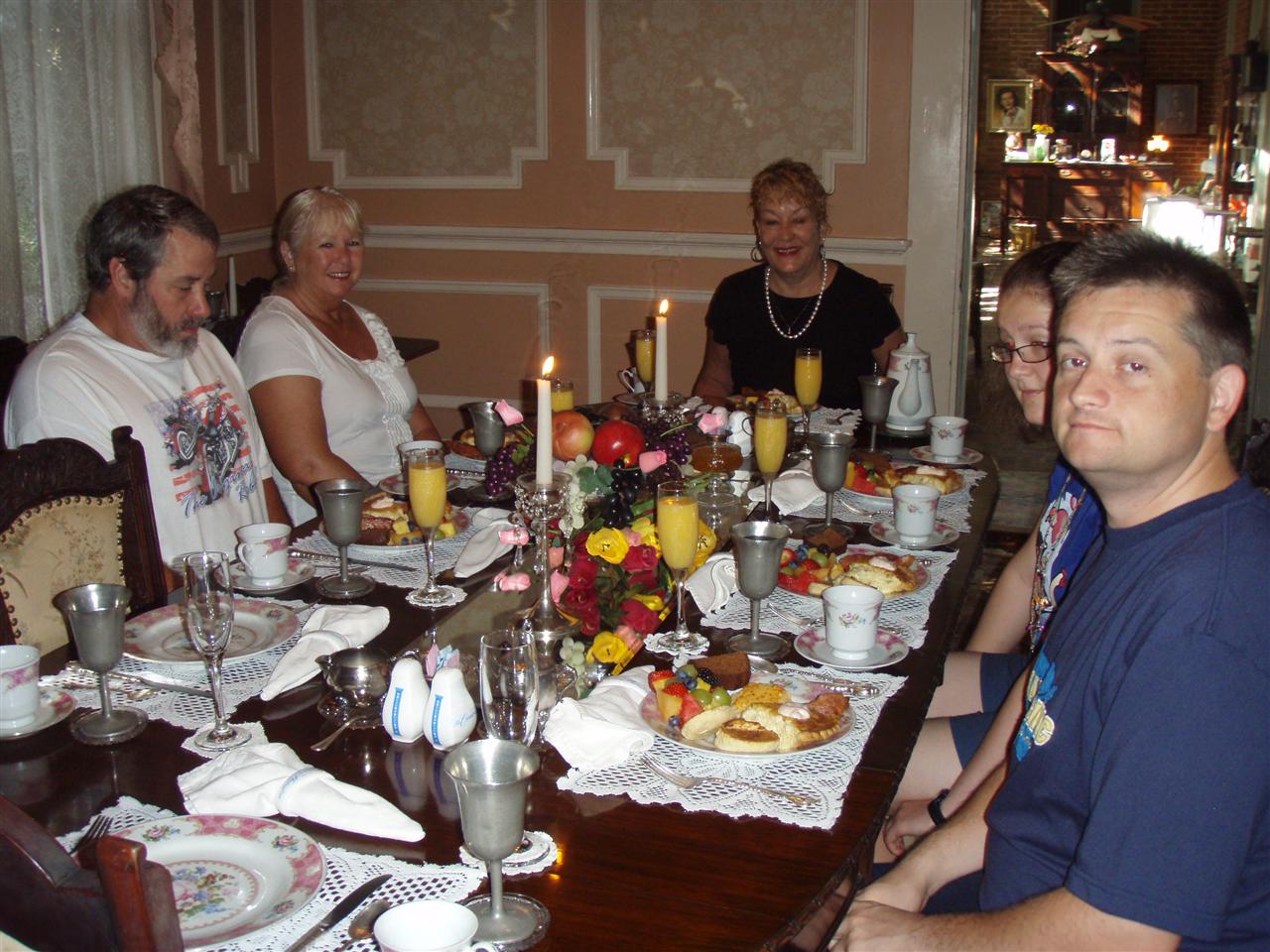 She took us on a tour of the house, The musical bed Ian slept in, was bought by her mother in Auction for $2100 dollars. Under the bed is the Wedding Dress of Kleins daughter Susan for whom the house was built.. Macy was a mine of Civil war info,She explained in detail how the Hairpin bend in the Mississippi River was lost, after a canal was dug to make Vicksburg more convenient. Nature foiled the army's attempt by creating another route entirely.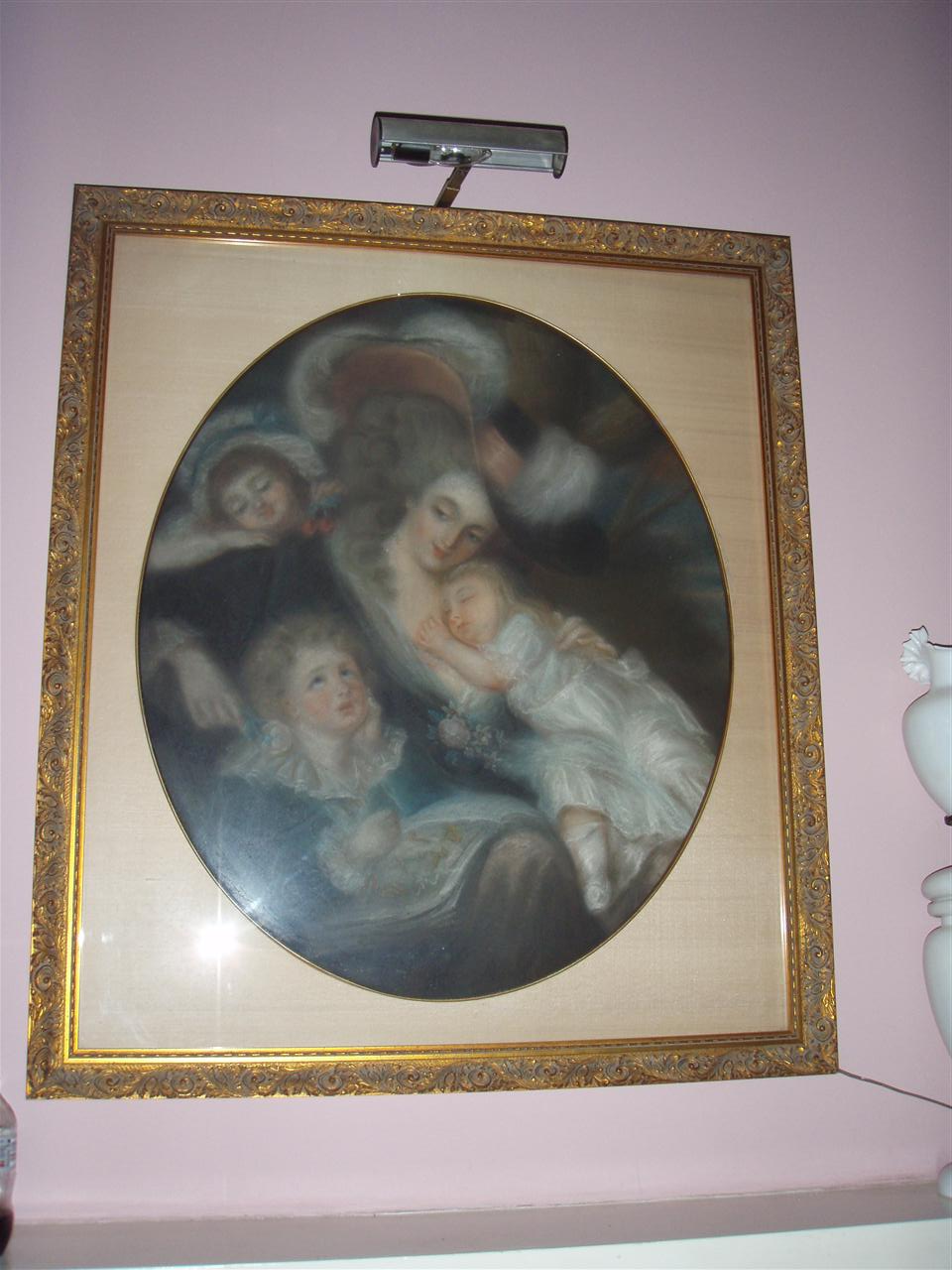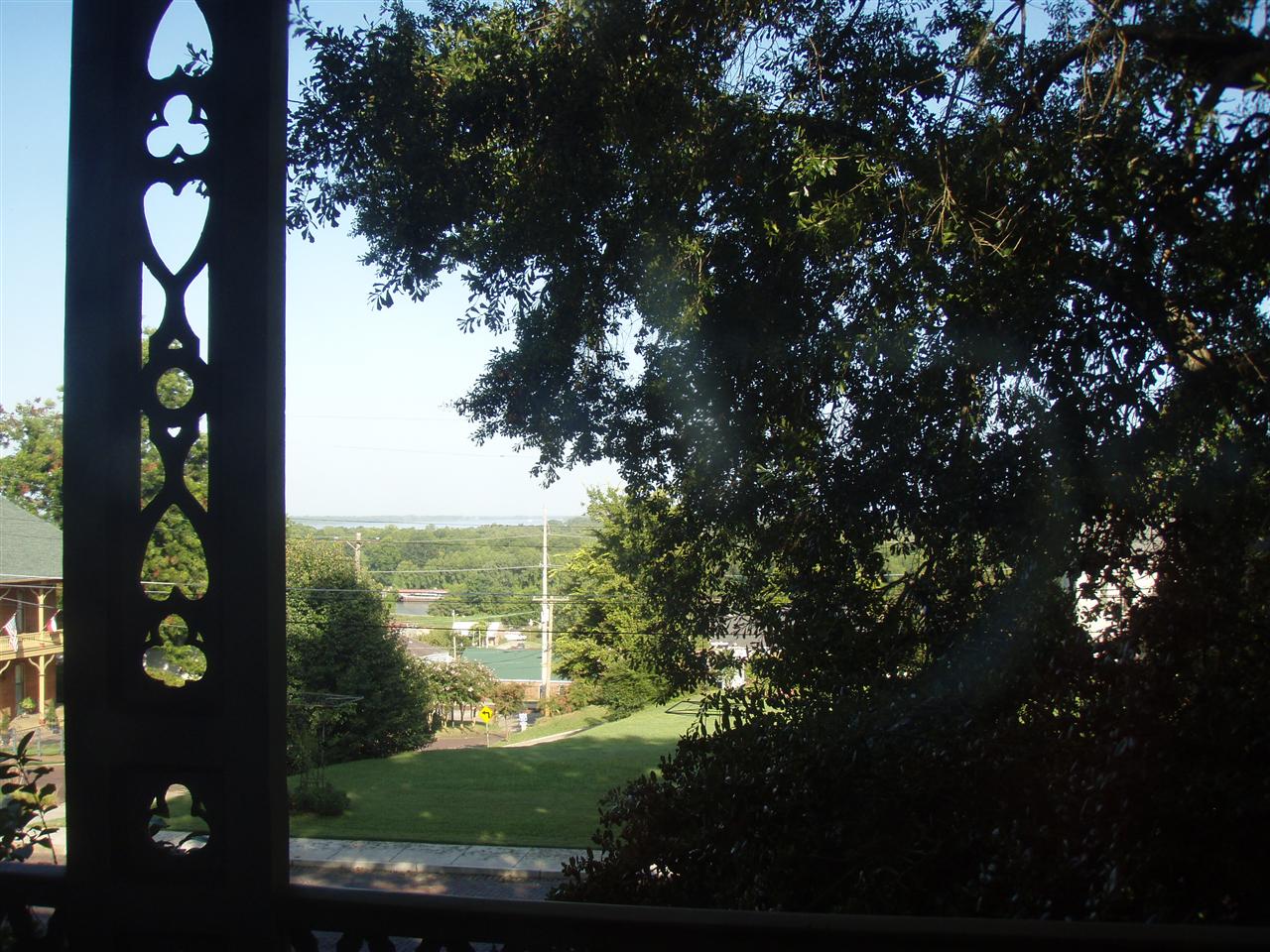 We said our goodbyes & headed off towards Memphis on the continents most boring highway..Min & I snoozed the hours away, Min completed several more pages in her bible word search, The fun never ends!
Once in Memphis we headed out to the car rental office & painlessly exchanged our broken car for a new one : )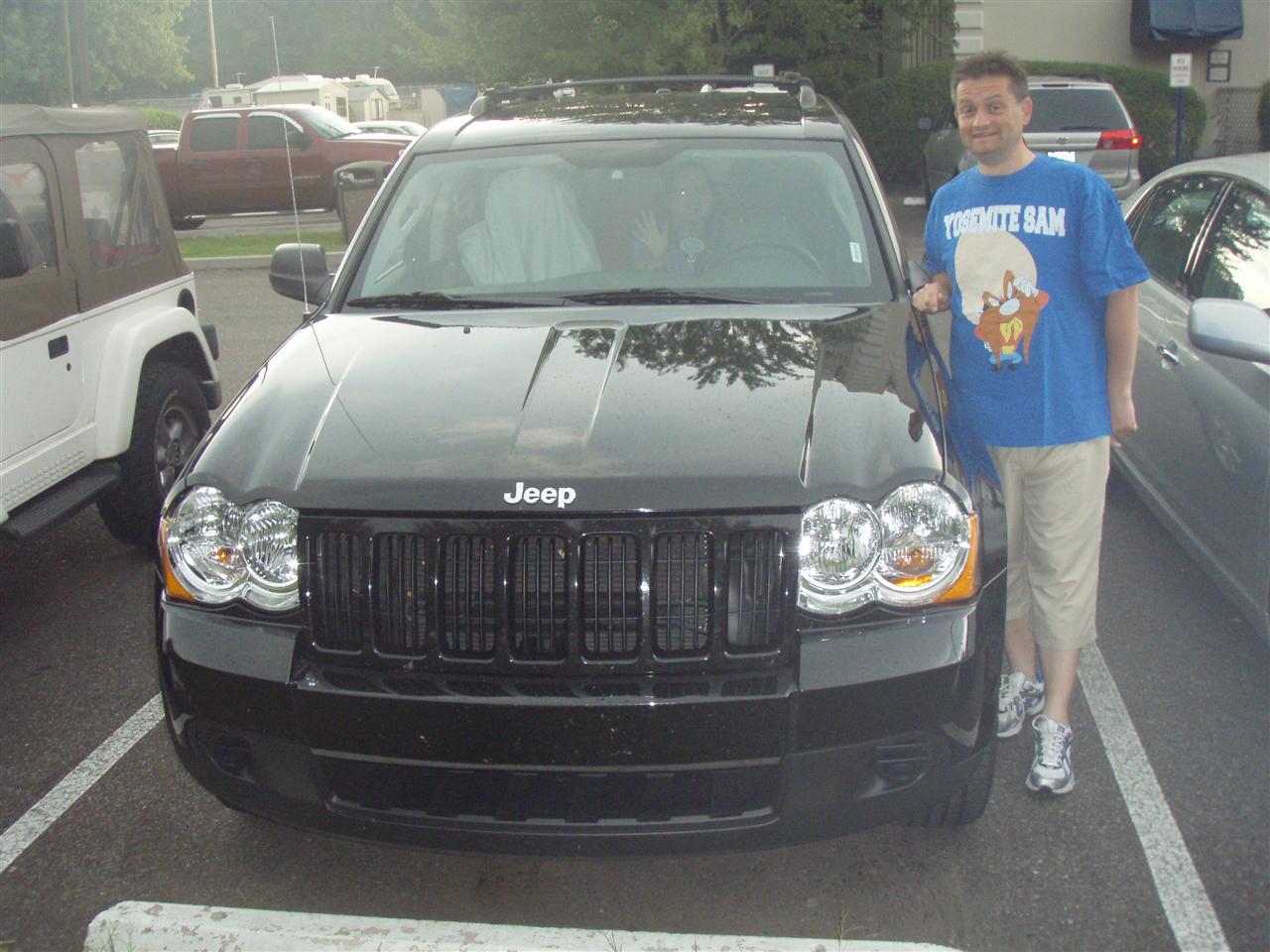 The Heartbreak Hotel was our next stop, as expected it is a kitch paradise, We ventured to the pool ( Heart shaped ) Which was populated by some "Larger ladies " No suprise to hear raucus laughter & a Watford accent complaining loudly about the lack of Typhoo tea..Nice.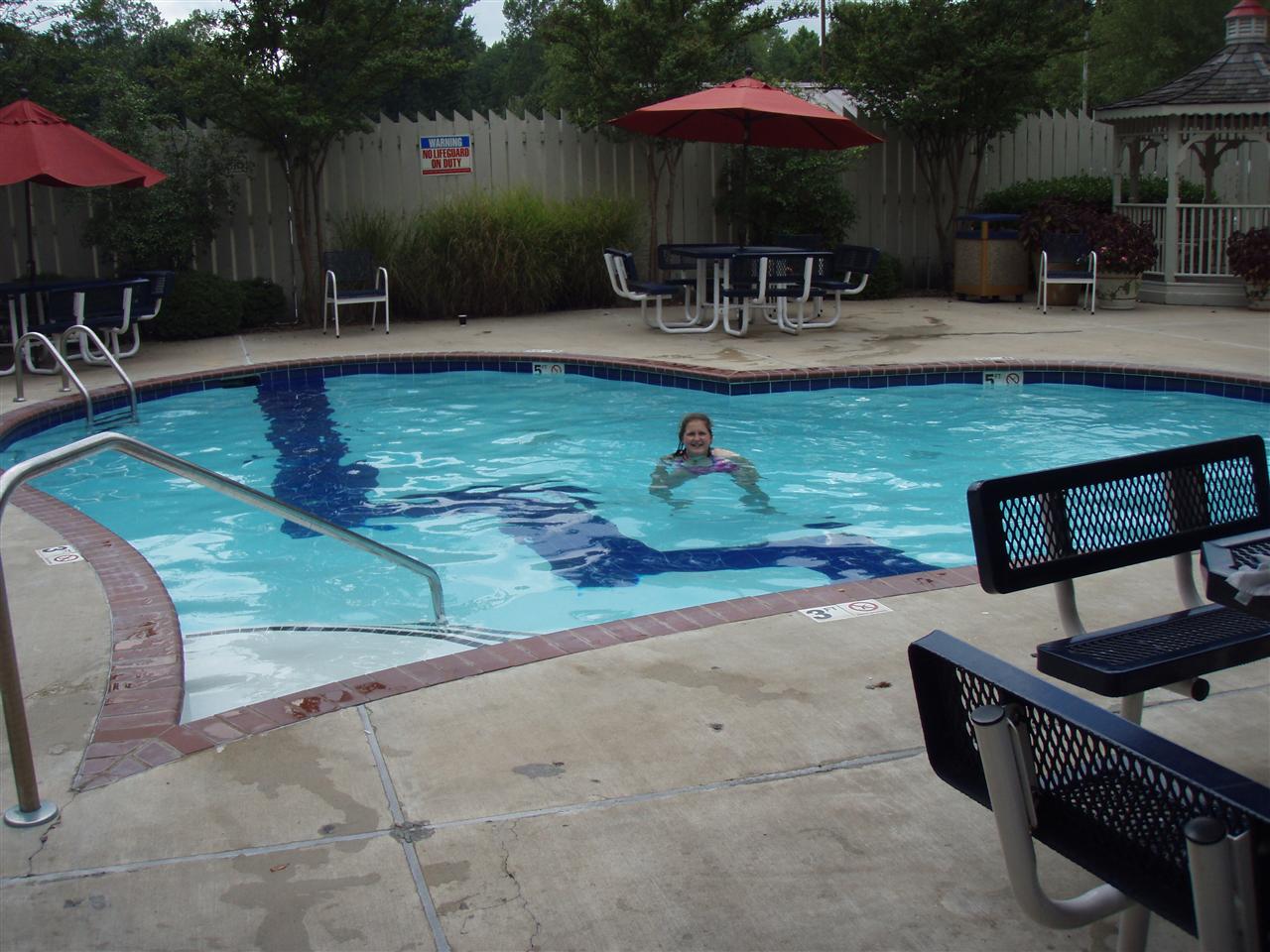 The evening offered a challenge to find a Chinese Resturant ( Mins Choice ) ..
We found a fast food Asian chain called Pei Wei & ordered a selection of tasty dishes.

We will return to our Hotel shortly & try to find a TV channel / Radio station playing something other than the king.

Goodnight dear reader xx
---
Day 9 : The Vecks have left the building..Uhh Huu !
Breakfast at The Heartbreak hotel was less of a bun fight than expected. We walked a few hundred yards to the beginning of our Gracelands Adventure, a Shuttle bus took us through the famous gates.( We had VIP tickets so we didn't have to go round with the plebs , Gary : )
The Mansion is a modest size & each room laid out as Elvis would have left it the day he was last there. The Jungle room an extravaganza in 1970's bad taste, but as we later learned Elvis bought what he ""liked " not what was fashionable. His Grave is set in the garden of meditation with his parents, strangely sad after a tour of his unique & exciting home, We passed through displays of his gold & platinum discs & original costumes , including His & Prescillas wedding outfits..Film scripts & film footage, interviews with friends & family.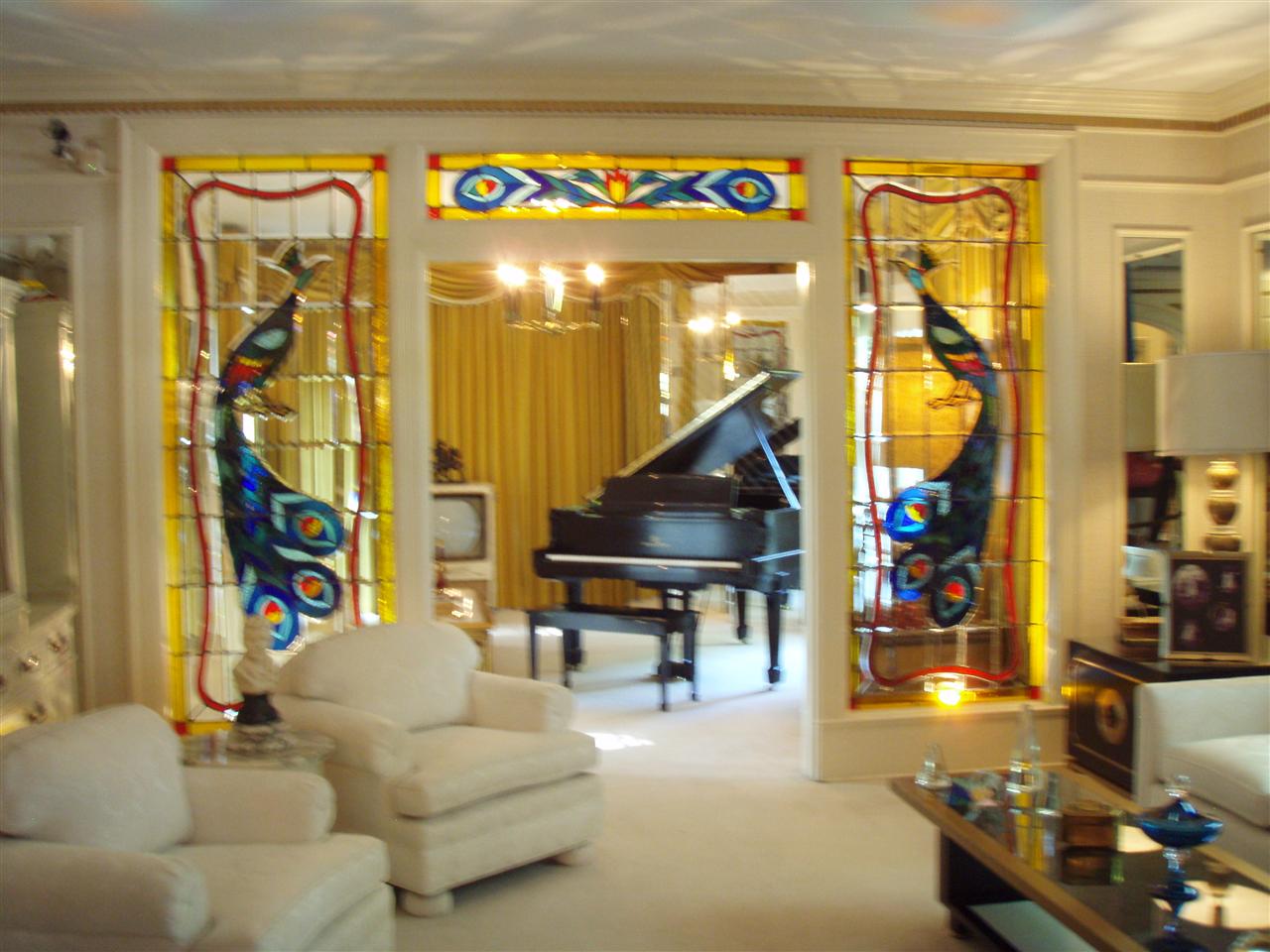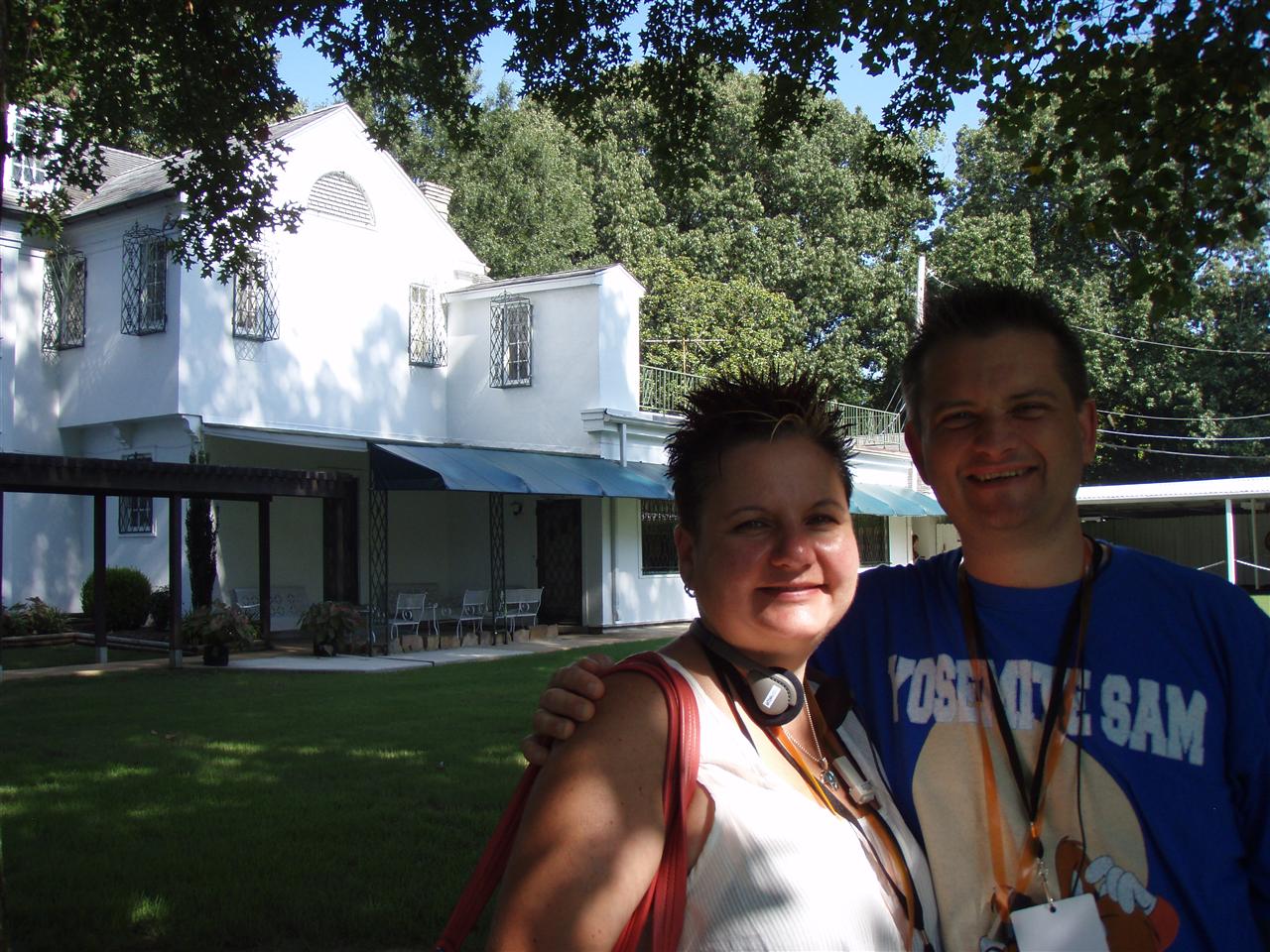 Min particlarly likes the Fashions & one Exhibit shows Elvis's Crazy tastes & Inovative ideas ( He really was the first King of Bling )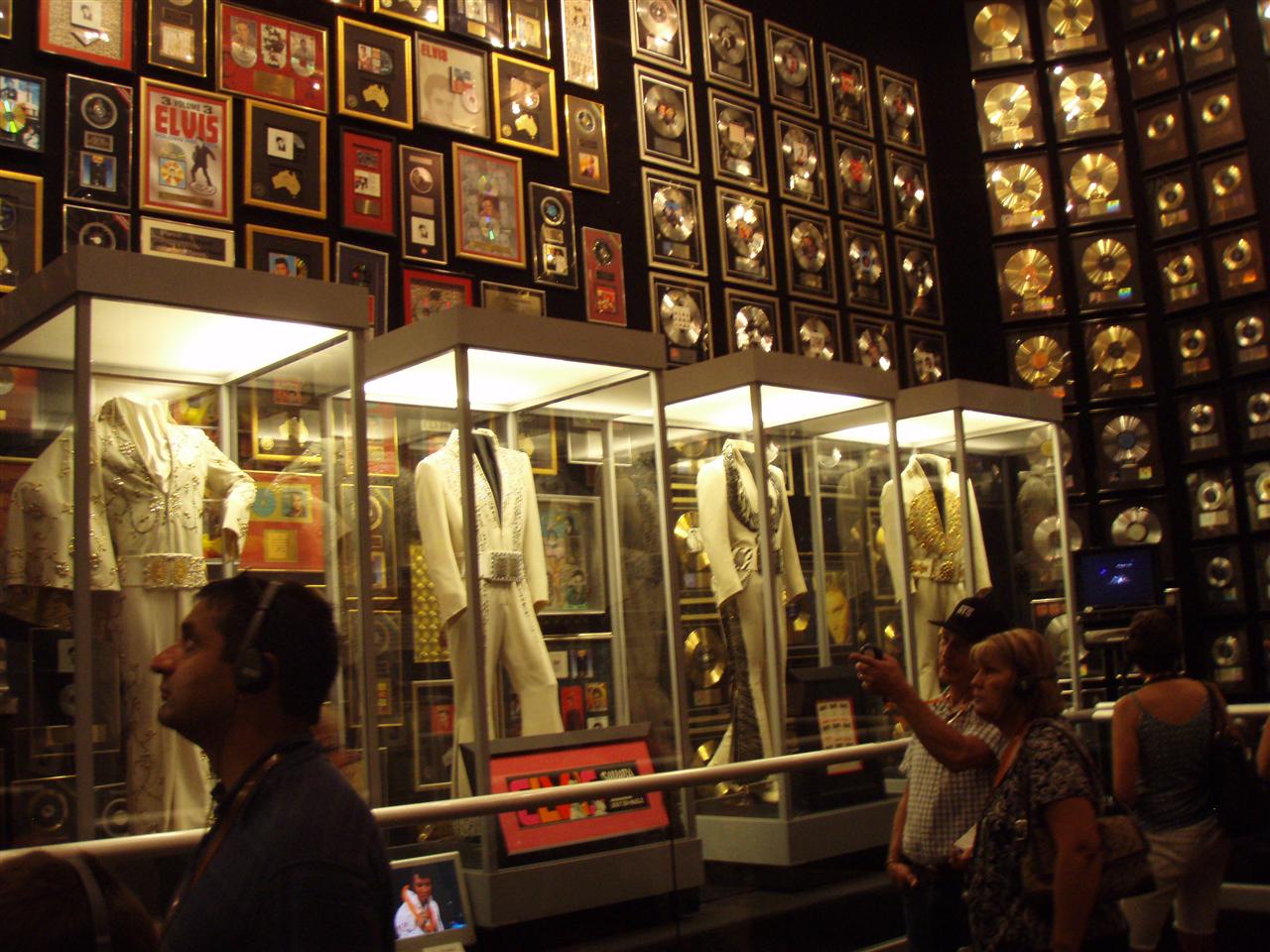 Next we Visited the Auto Museum..The Pink Cadilac Elvis gave to his Mum Gladys, Rolls Royces & sports cars of all types, Motor cycles & limos..min loved the pink caddy ! : )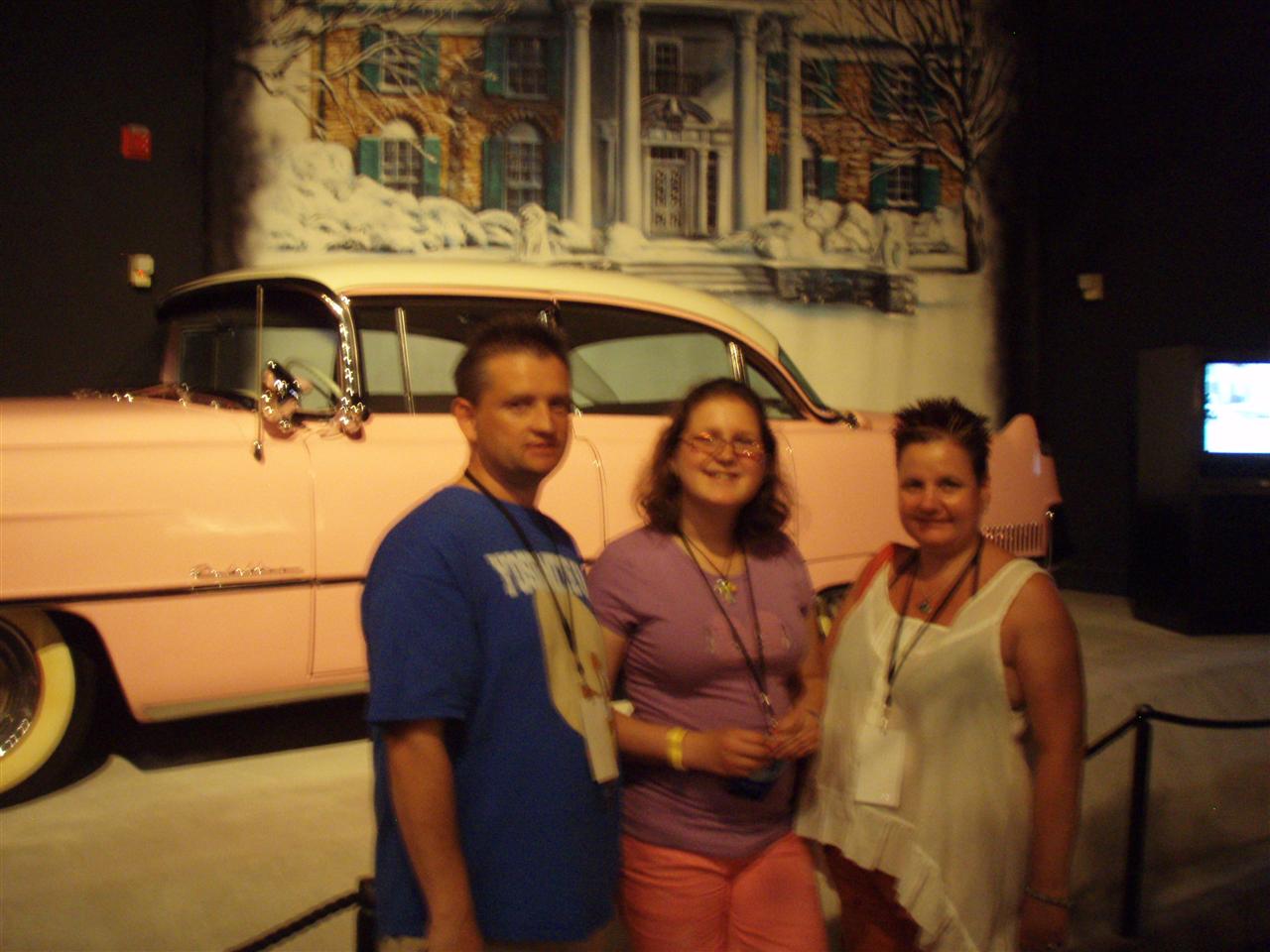 We saw 2 of Elvis's private planes The "Lisa Marie" With its padded bog & Sparkly gold sink.
We went to Sun Studios where Elvis was discovered, He paid $3 to get a once only go at recording a song..The Studio owner was persuaded to listen to the recording by his secretary, he thought the singer had no promise & it took Elvis another year to persuade Phillips to hire him & release a single..One evening a local DJ played Elvis's Disc & the Kids loved it, The phone rang off the hook & the DJ played the track another 14 times in the next 3 hours !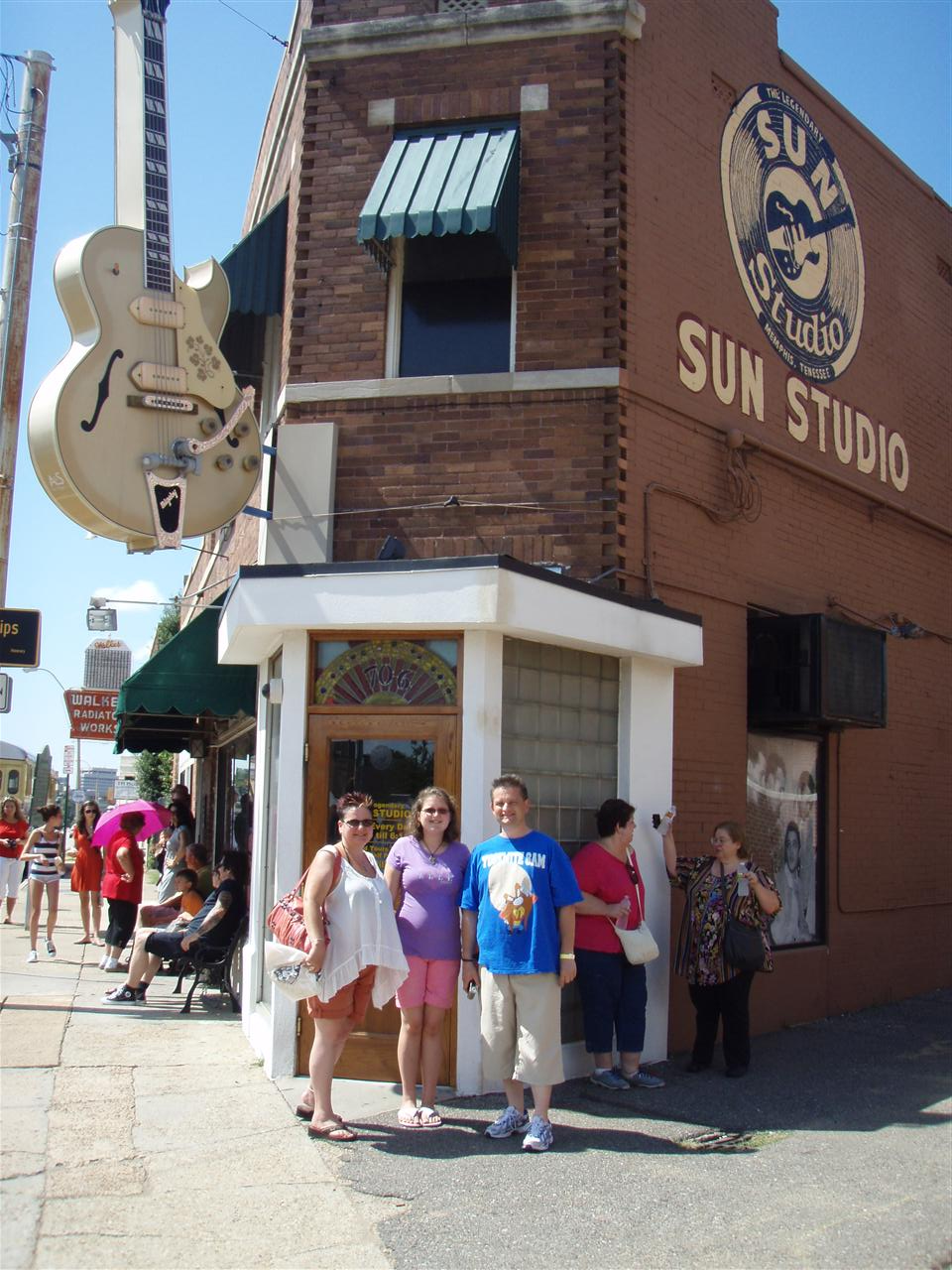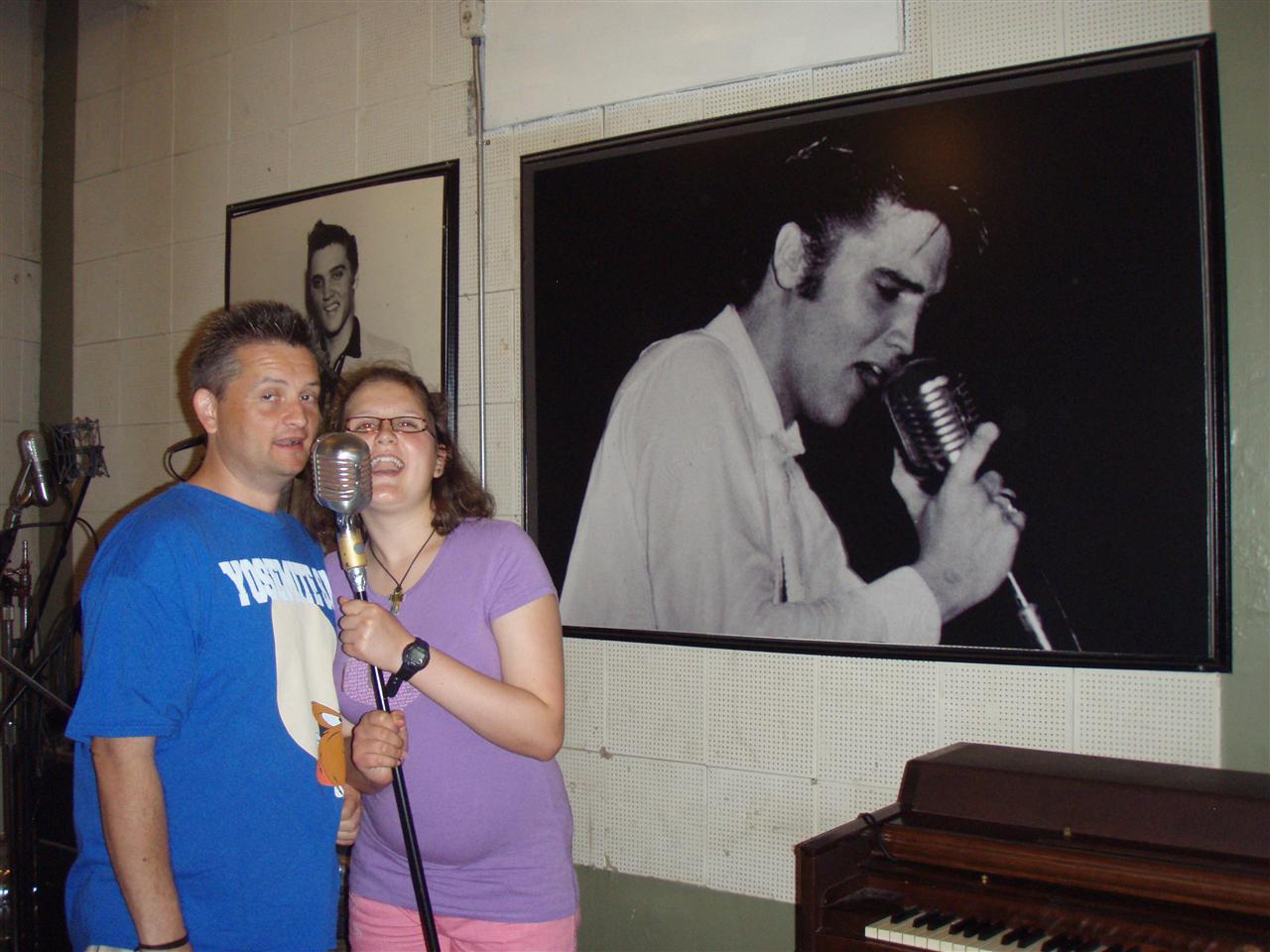 Back to the Hotel for a swim & a change of clothes & Maureen guided us to an amazing Mexican Restaurant " The Guadalajara Grill " YUM ! We are not Mex food lovers but we have been converted! Our Fab waiter Juan helped by reccomending various dishes & Suggested I have a Jumbo lime Margherita..My kind of Guy!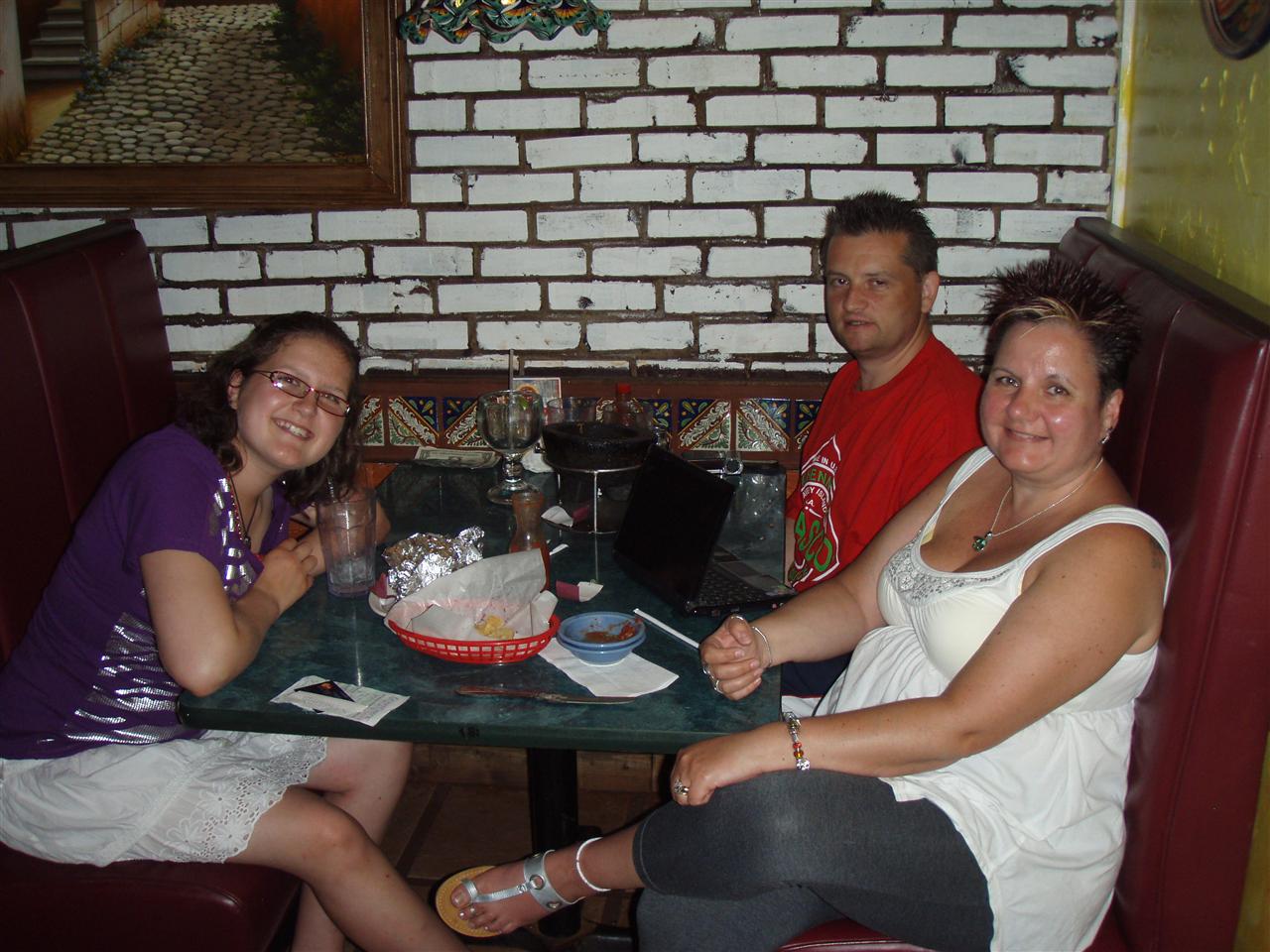 Anyway dear reader tomorrow Nashville..please tune in then for more fun xx
---
Day 10 : Ian breaks another car on the way to The Grand Ole Opry!
Our Journey to Nashville was not without event! out on the highway we had a tyre burst, quite an experience for Ian to have to jack up our Jeep Grand Cherokee & replace the tyre beside the road amid roaring traffic.
Anyway we plotted a course for the Airport & traded in our car for a spacious Ford Explorer ( Car 3 ) Nashville brings us to The Country Inn & Suites near the site of the New Opry House, Which is currently being repaired due to recent floods.
Our Evenings entertainment is to be at the Ryman Theatre in the centre of town.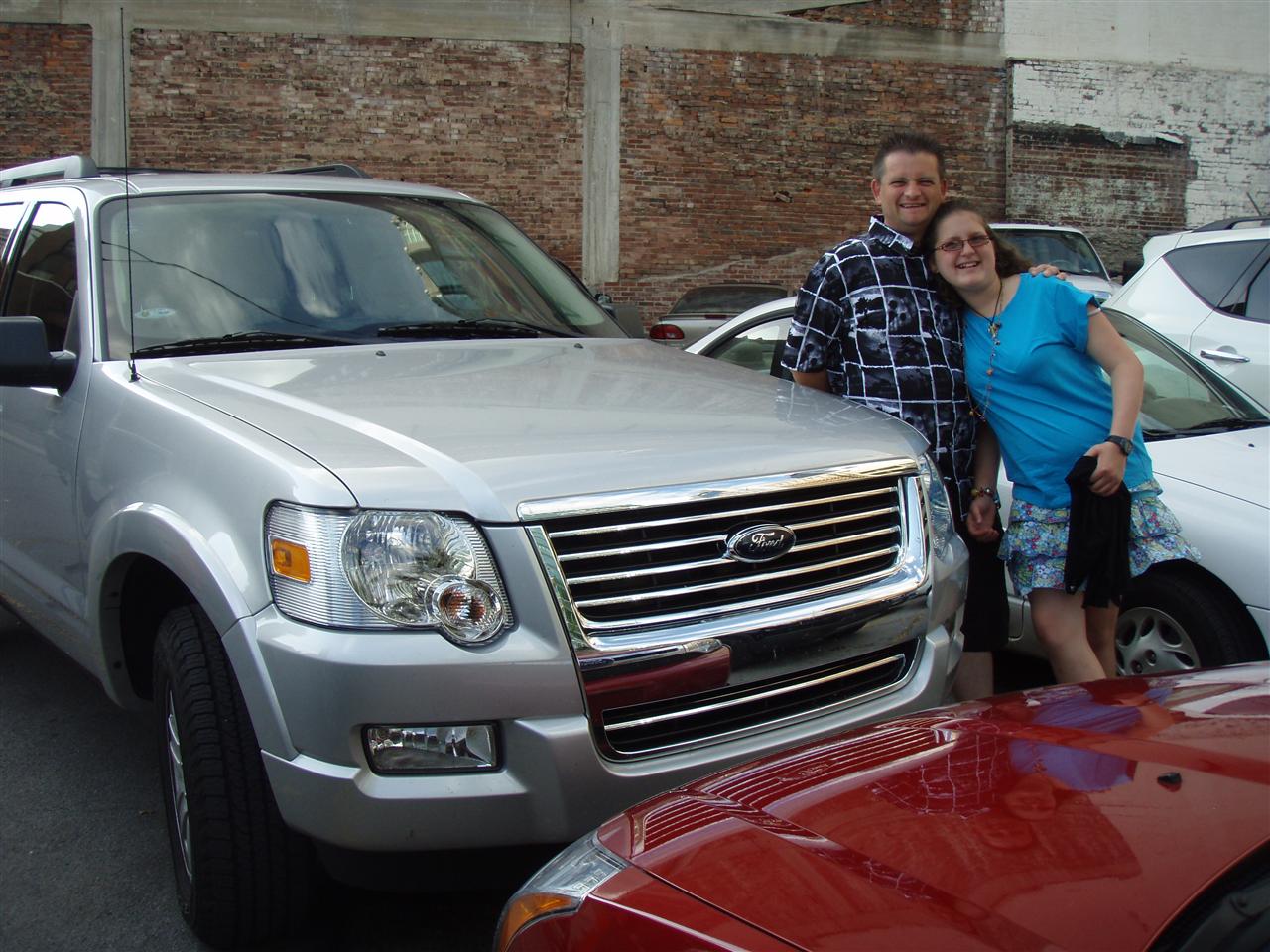 After a short trawl through the gift shops, we made our way to the Old Theatre & took our pew ( literally ) for The show..
The Opry is a radio show, The longest running continuous musical broadcast in the world.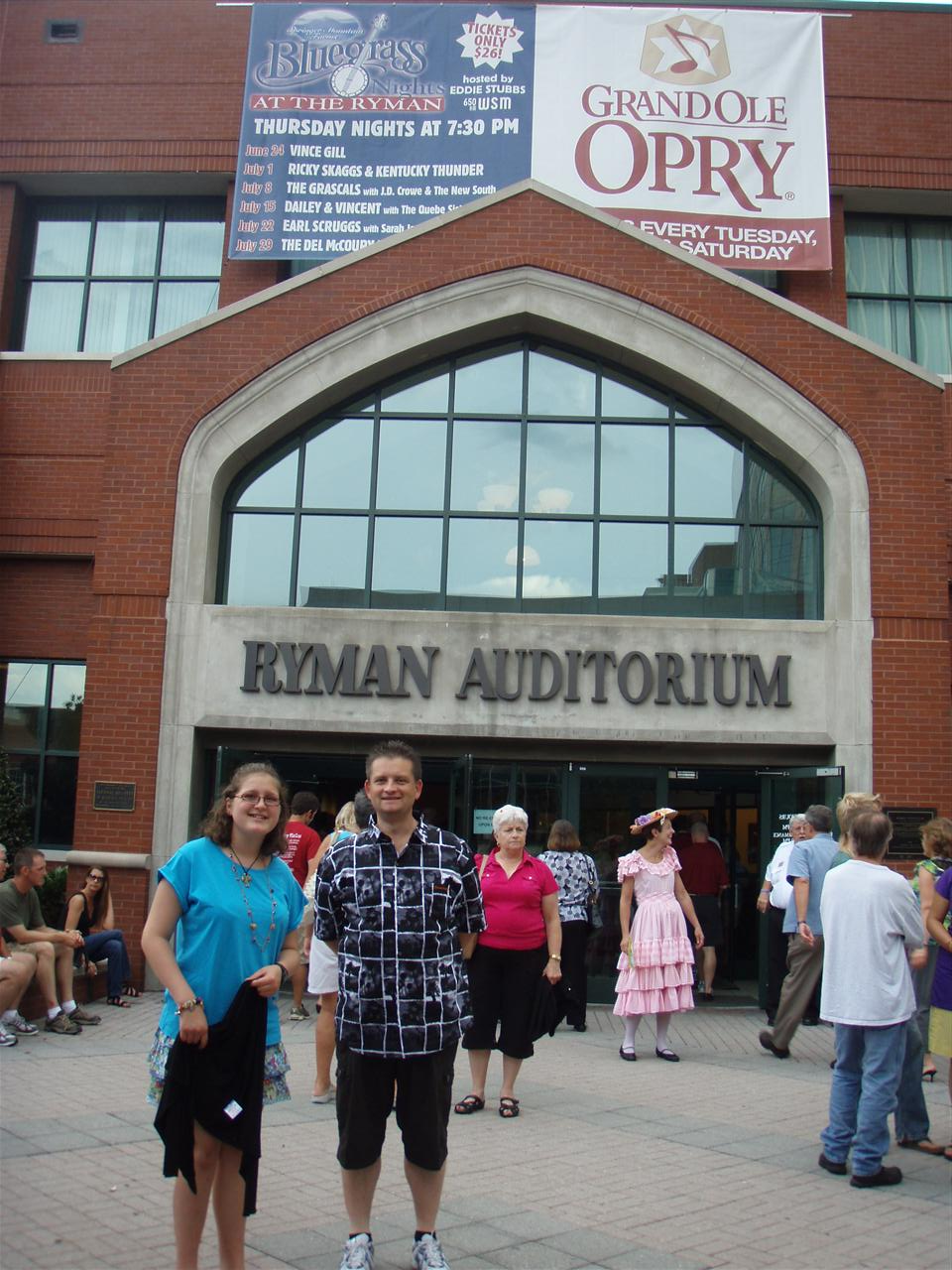 The show is broken into 4 sections each hosted by a country star.

My favorite was Ray Stevens..he performs novelty songs, Those of you old enough may remember his 70's Number 1 The Streak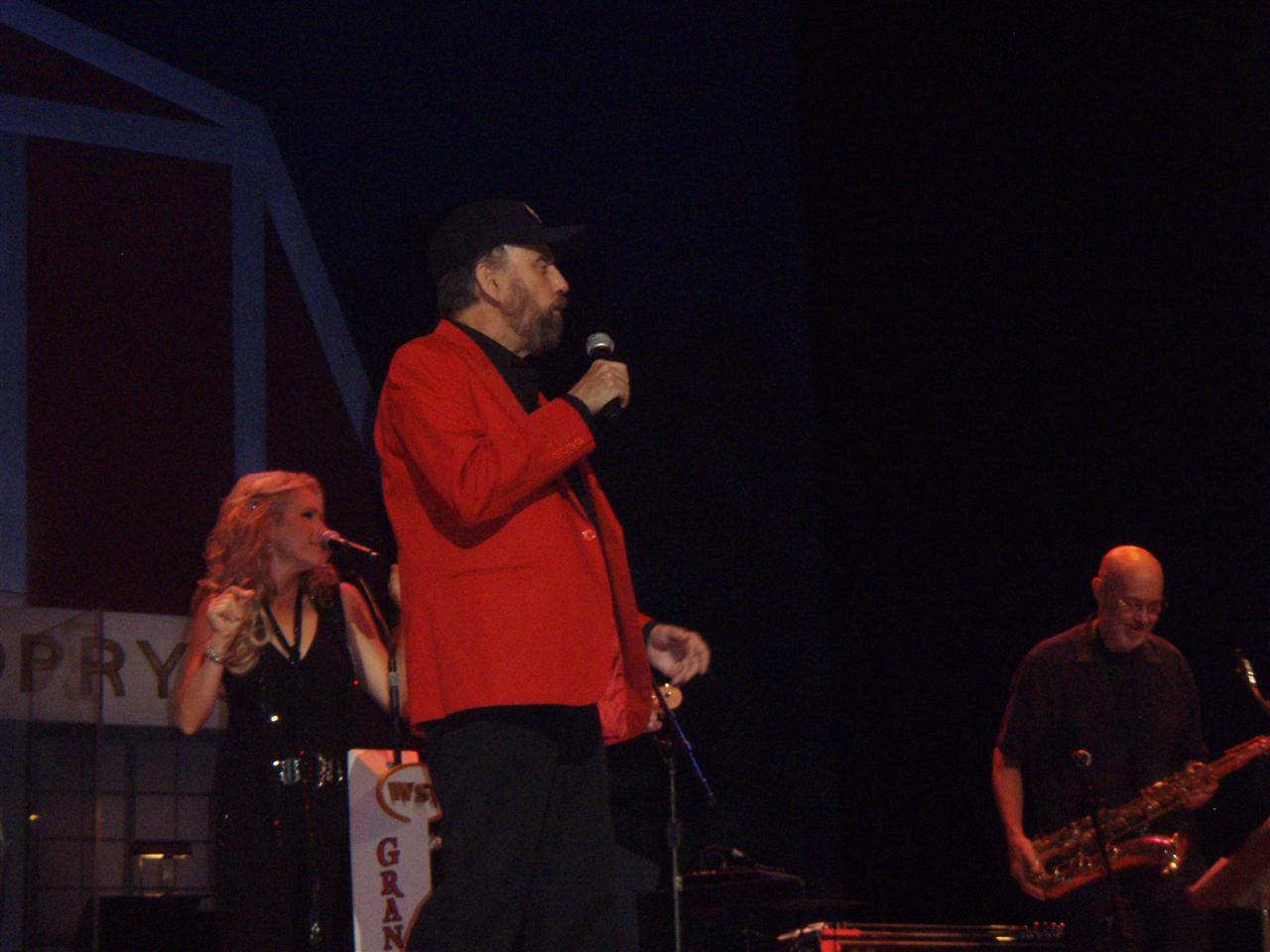 We saw Jeanie Sealy a gravel voiced 50+ crooner,Jean Shepherd another older lady singer who entertained us with sing along traditional 50's country.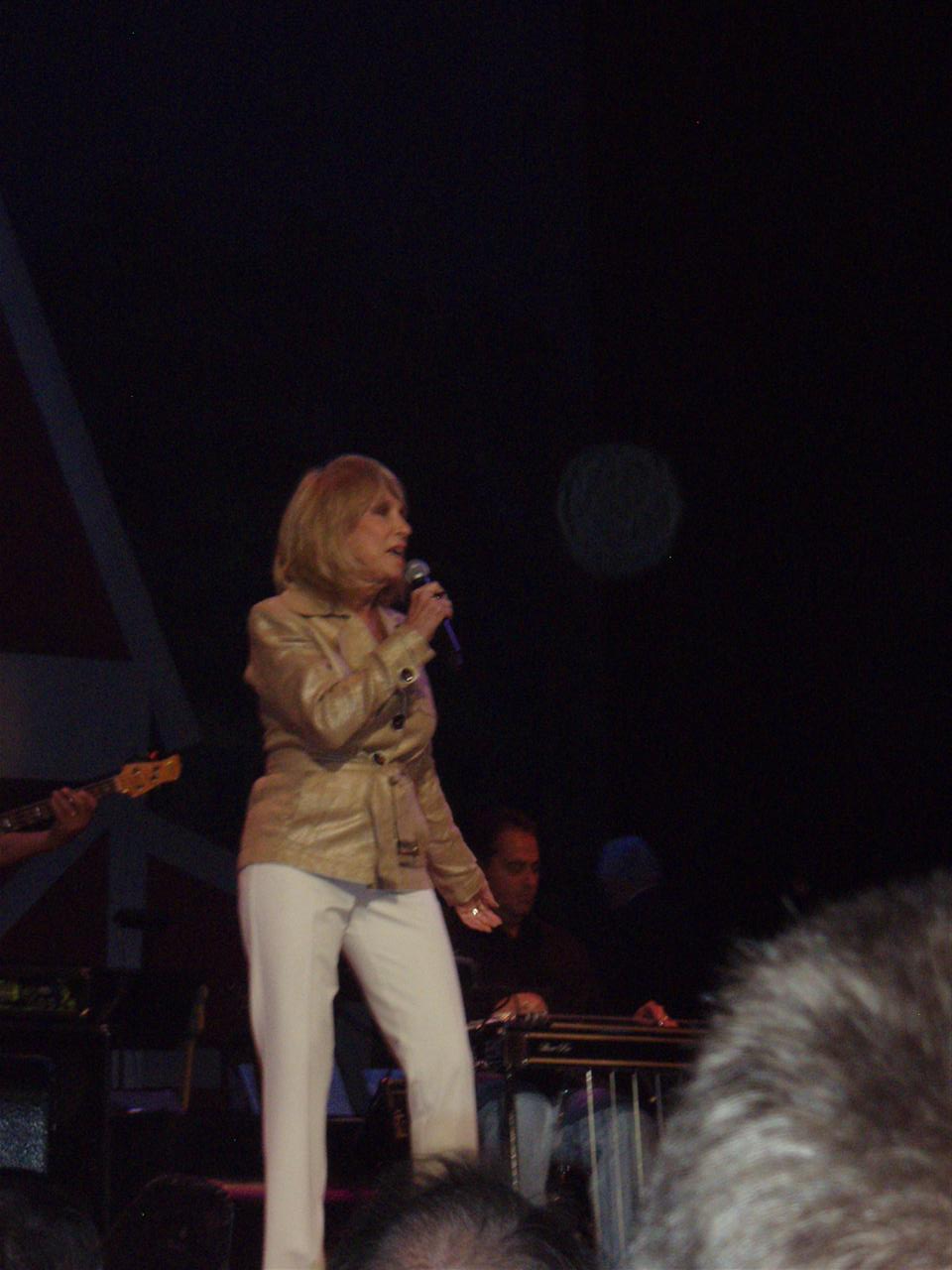 The whites are a trio of sisters who perform with their Dad as piano & vocals.
Vince Gill was the star of our show, he presented the final quarter and sung a couple of his songs including an unrecorded ballad dedicated to his wife, Amy Grant.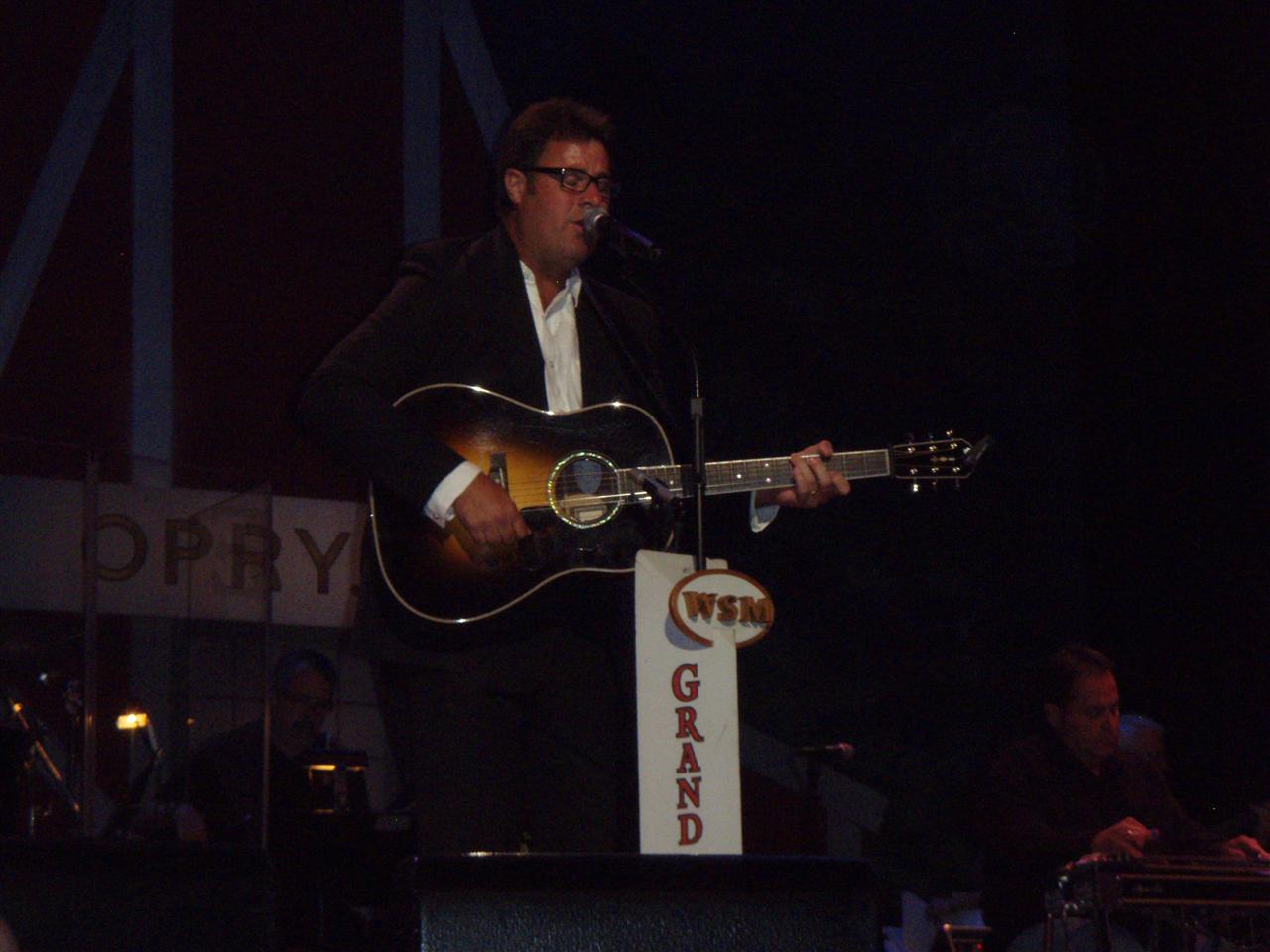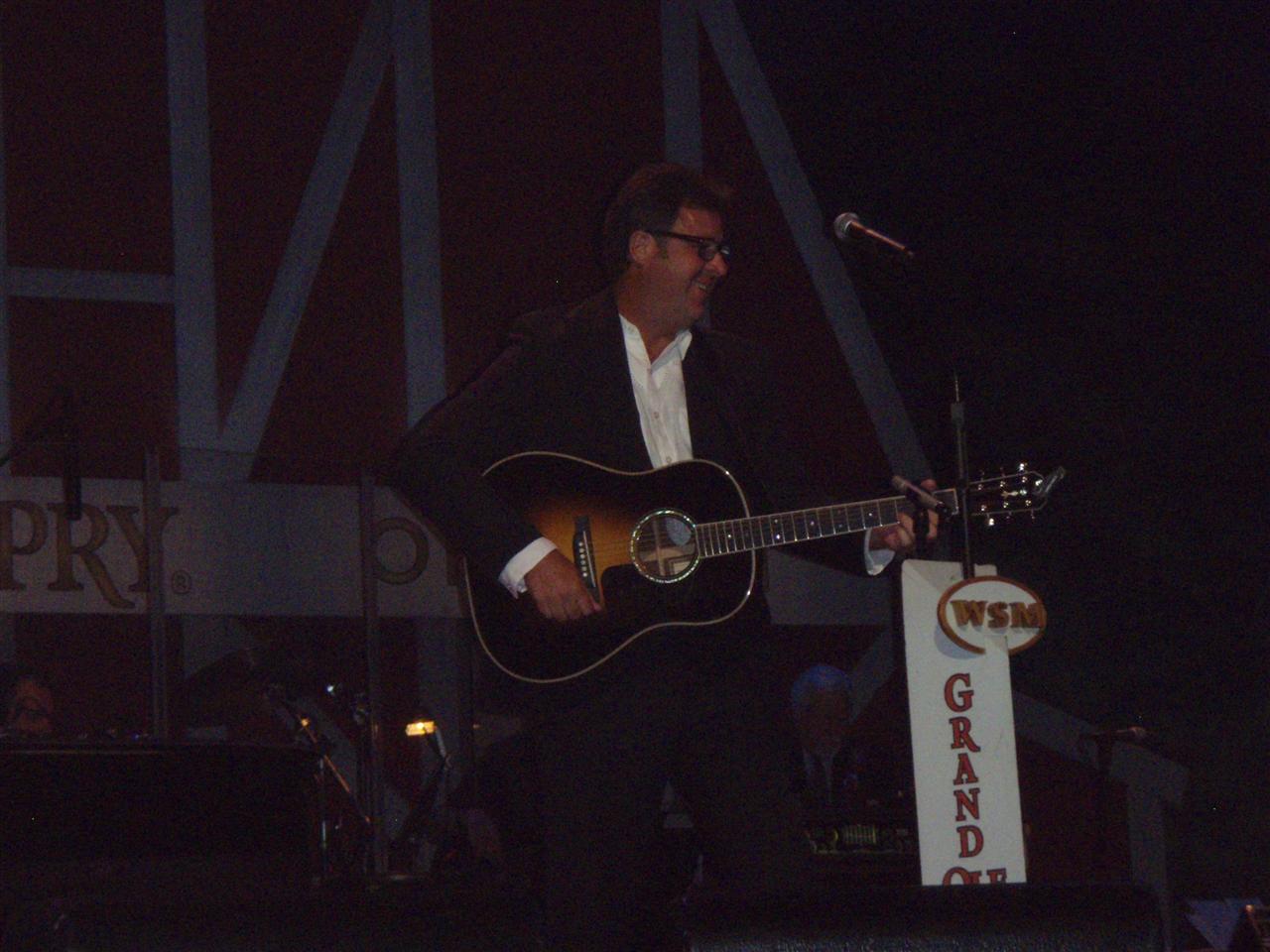 We stopped off for a very late fairly horrendous Chinese dinner.

Goodnight reader..a look round Nashville scheduled for tomorrow : )
---
Day 11 : Centre Stage at the Checkout..
We took a bus tour of Nashvillle. Our knowledgable driver showed us the Ryman Theatre & retold its history, We saw Centenial park, The home of a full size replica of the Parthenon housing a 41ft statue of Athena , She is holding an 8ft statue of Nike ( Goddess of baseball caps & tennis shoes our driver tells us. )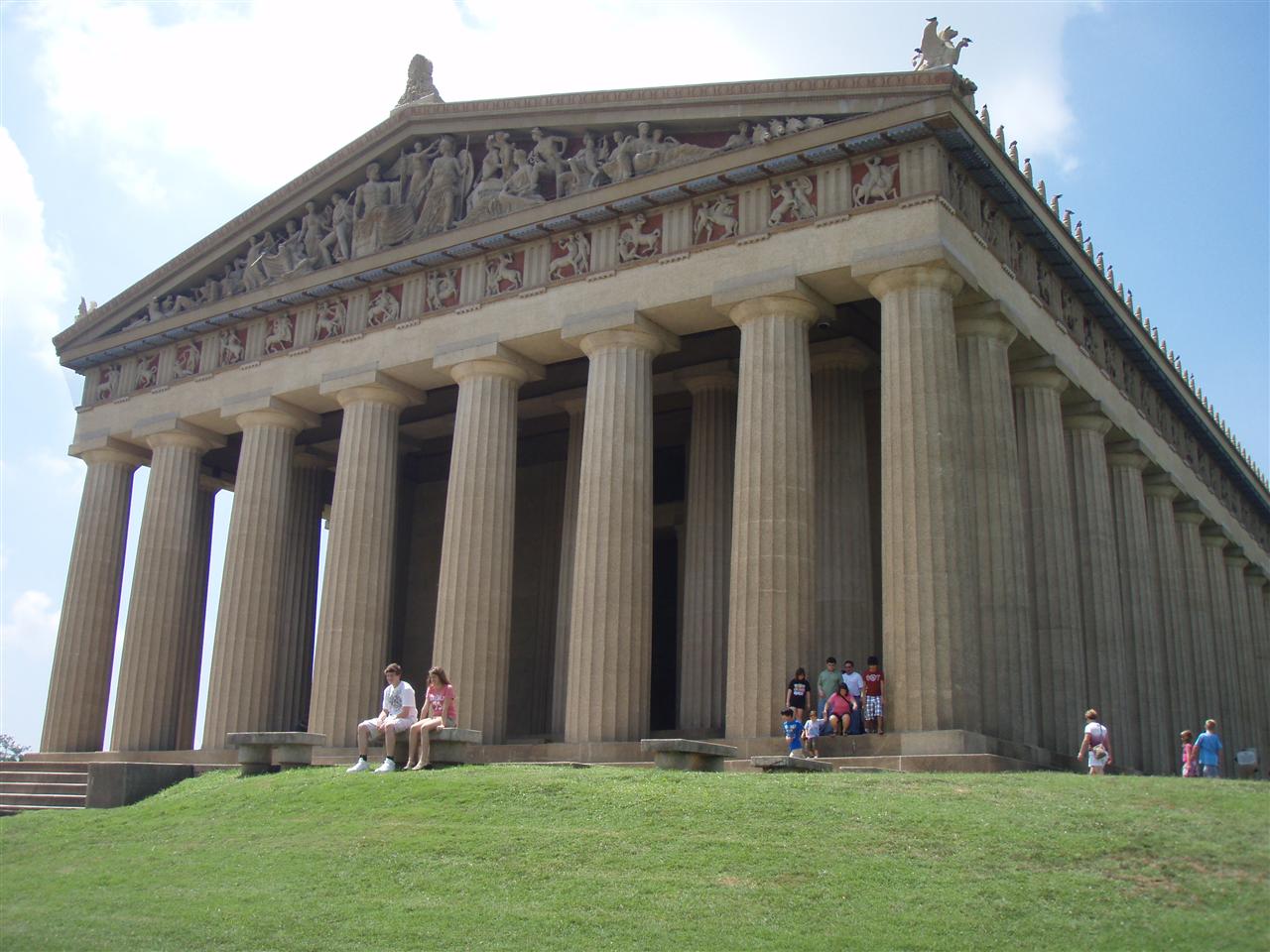 The park also boasts a locomotive " The Chatanooga Choo choo "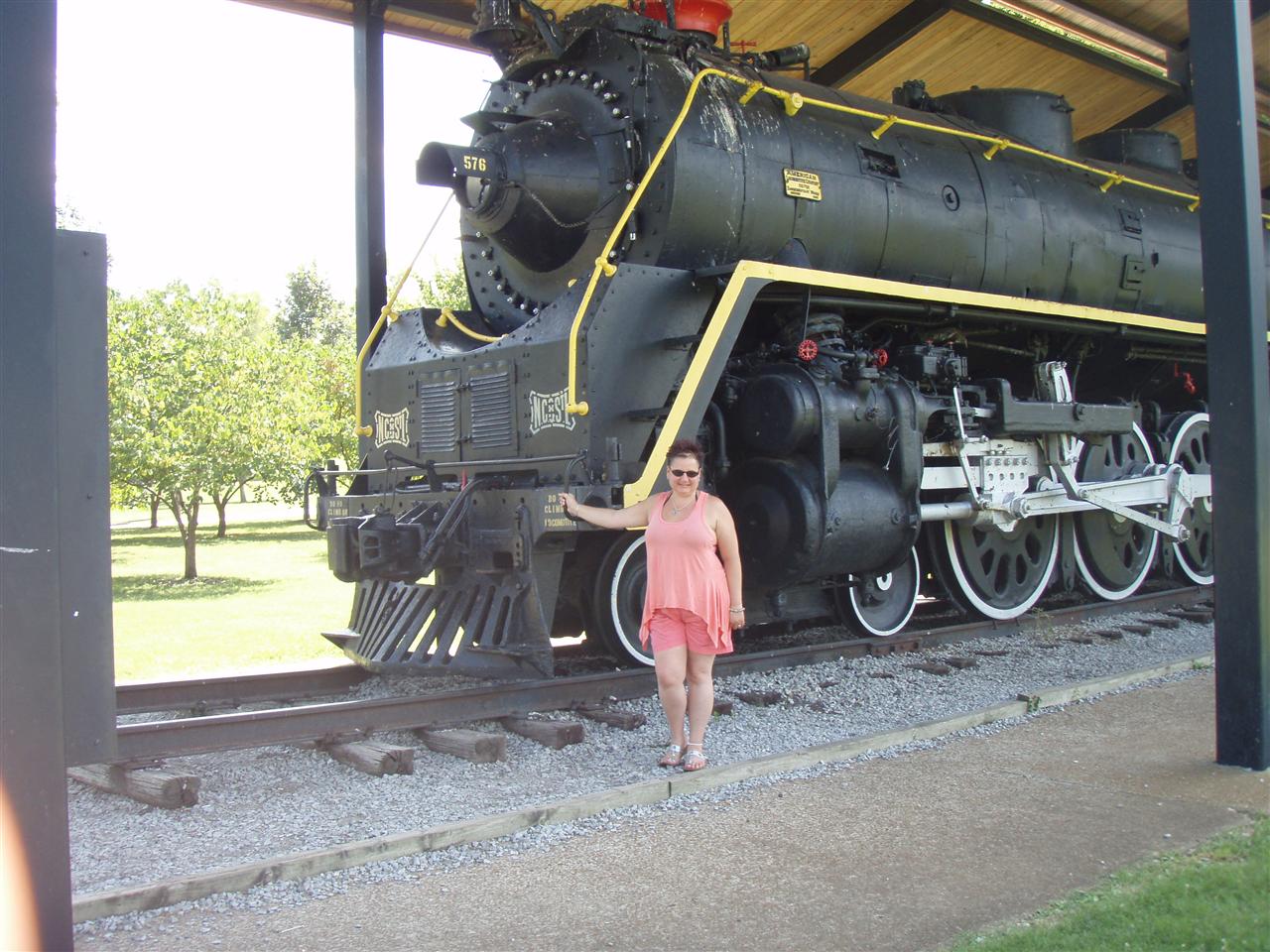 The tour continued round music district taking in the RCA victor studio where Elvis , Johnny Cash, Roy Orbison & many more recorded hits.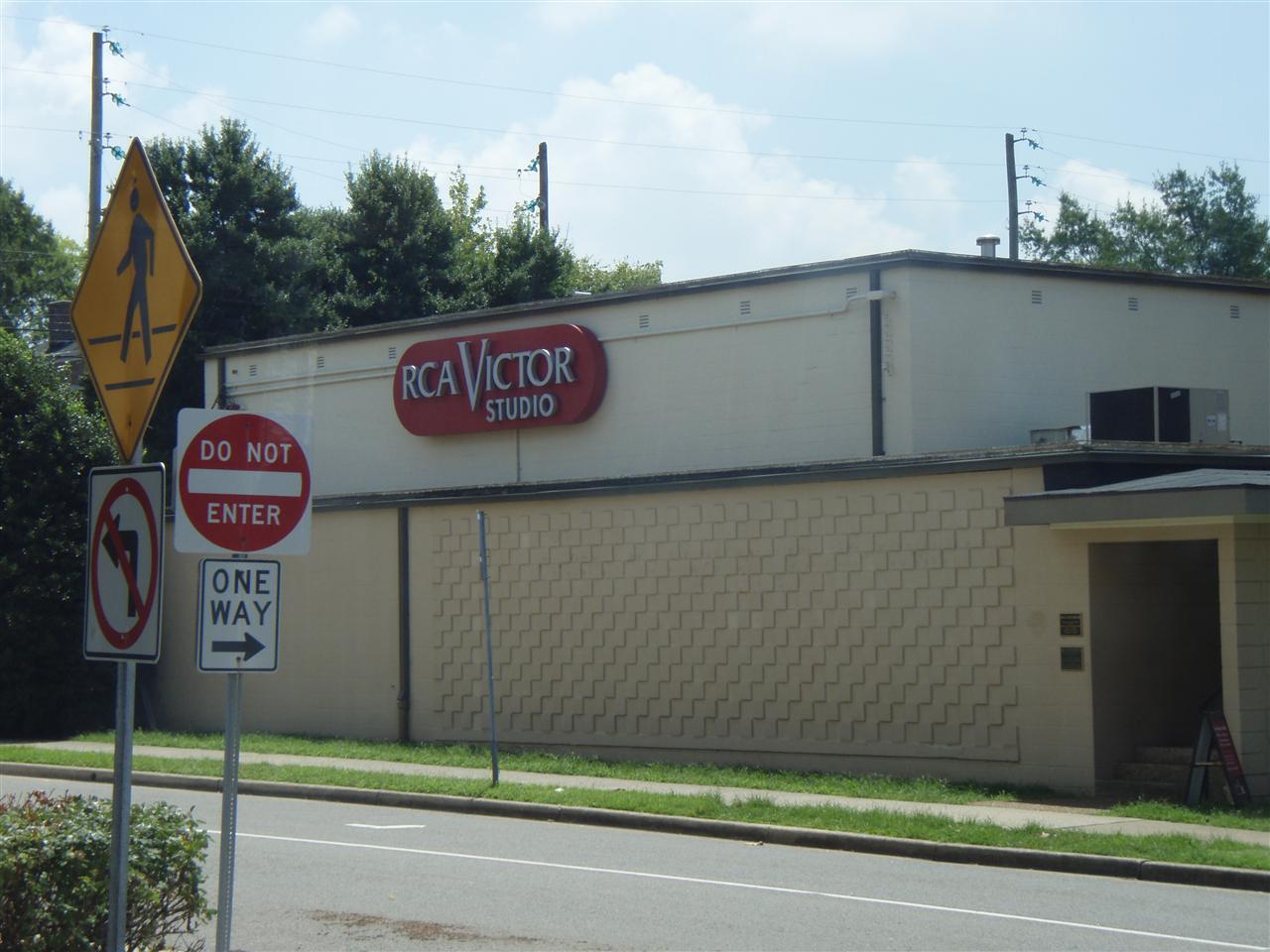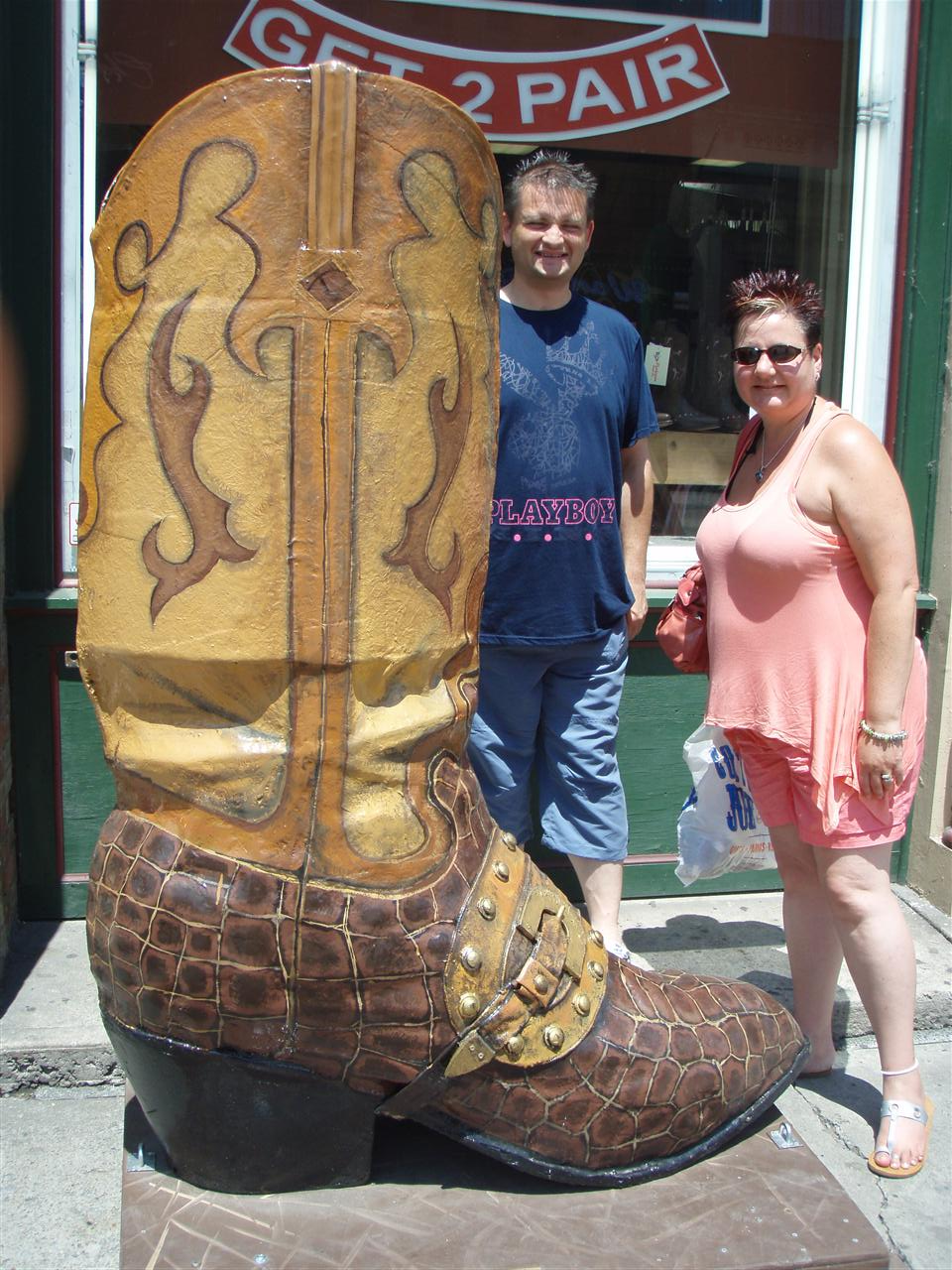 We were dropped off & went on on our backstage tour of the Ryman Theatre. The auditorium is lined with display cases detailing the varied history of the Theatre.
Originally a baptist chappel, The hall became the home of the Oprey in 1945 & played host to the greats including Hank Williams, Patsy Cline, June Carter , Johnny cash, Tammy Wynett & many more til it closed in 1974.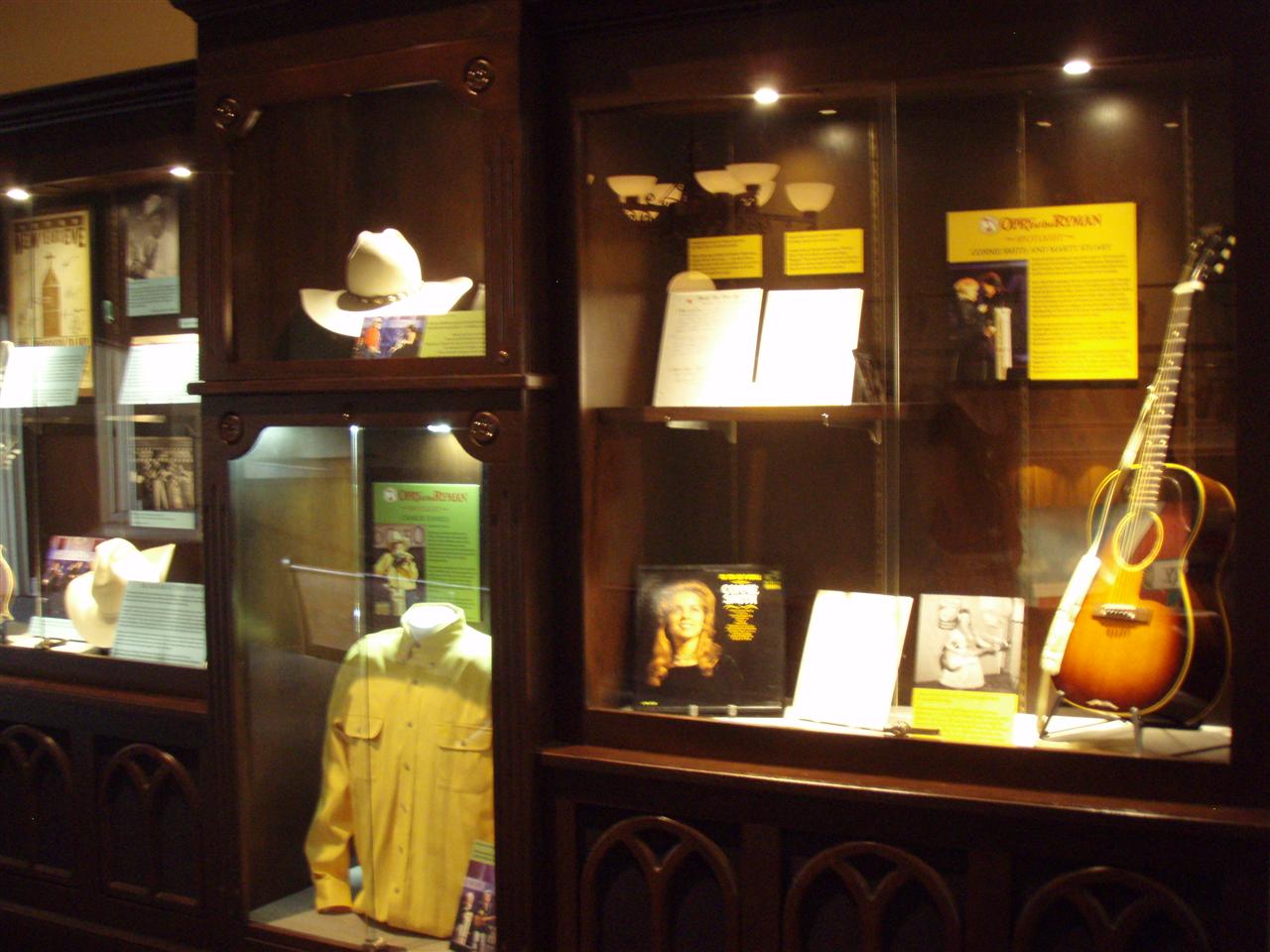 We were taken into the dressing room area & had our picture taken on the stage.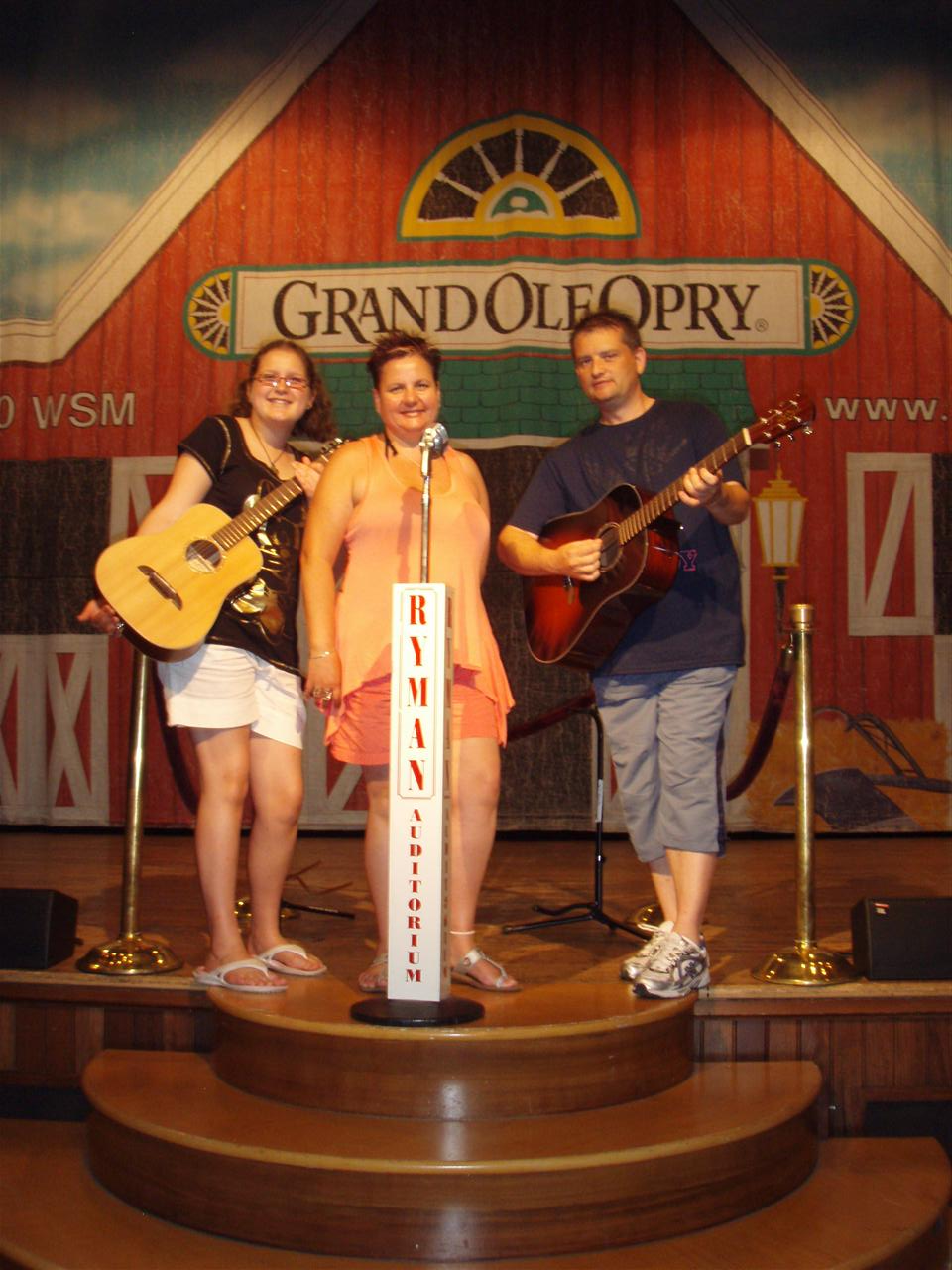 In The afternoon we drove out to Nolansville, on the quest for my collectable licence plates, we came to an Amish Grocery shop..the front porch weighed down with a ton of "antiques & collectables".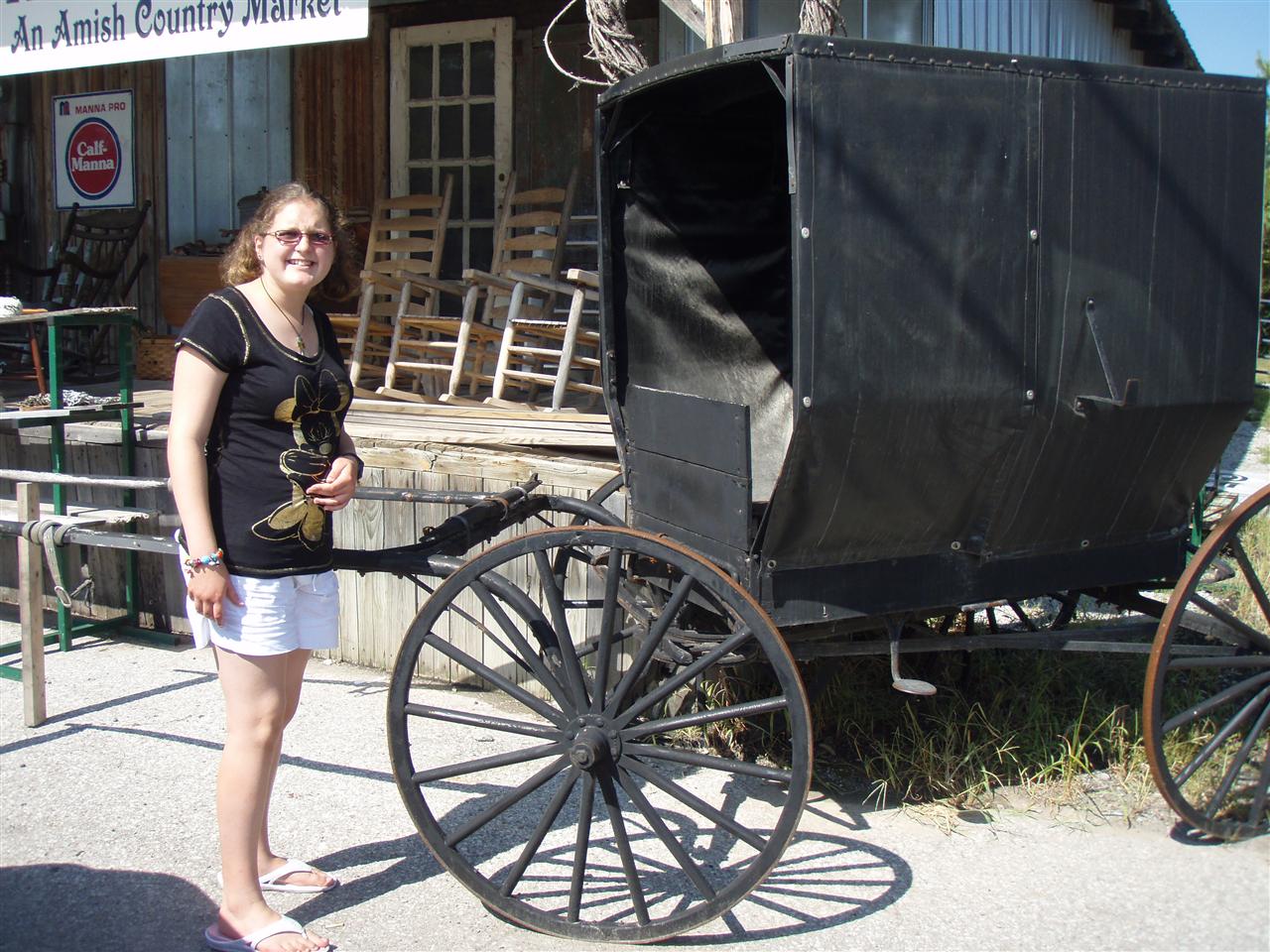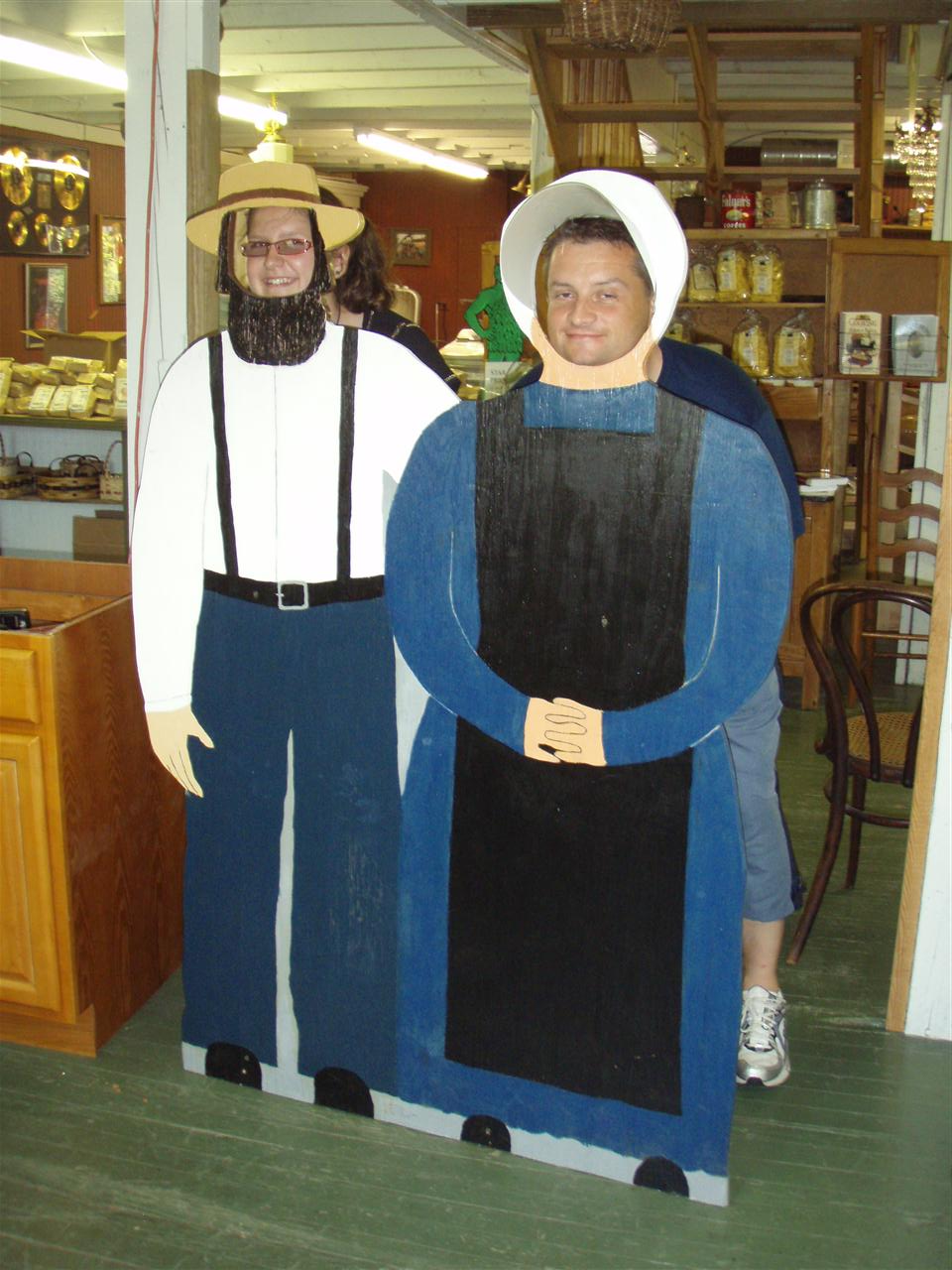 Inside we met Darren our checkout operator....With a difference.


(Click play, right click on video and select zoom full screen)
Darren had written his song about Parris Hilton & her BFF show which he'd heard was now in London ( god only knows how long he'd had his guitar propped up in the corner of this remote store, awaiting English tourists to torture with his composition .)
Back at the hotel we went for a leasurely swim, Later we had dinner in the Bob Evans restaurant..not a great experience but it filled a hole!

Well good reader, we head to Long Creek tomorrow, Real Red Neck country, From which we may never return ( Cue the Banjo music! ) & Claire stop overfeeding that bloody cat, He forgets he's had his tea , Don't be fooled by the pleading eyes & plaintive meow.

Goodnight all
---
Day 12 : Its a country life at Thrifts Ferry.
Today was a day of travel. We Left Tennessee and began to see a more interesting landscape, the flat highways gave way to wooded hills.
Tennessee became North Carolina ,We found "Antique world" a junk shop in disguise, They had a box of number plates which I rifled now I only need Kentucky & South Carolina to complete this years collection.
North carolina gave way to Georgia, North Carolina again, Georgia again, Then finally into South Carolina to Long Creek & our cabin, The funkily named "Thrifts Ferry " part of the Wildwater Rafting complex.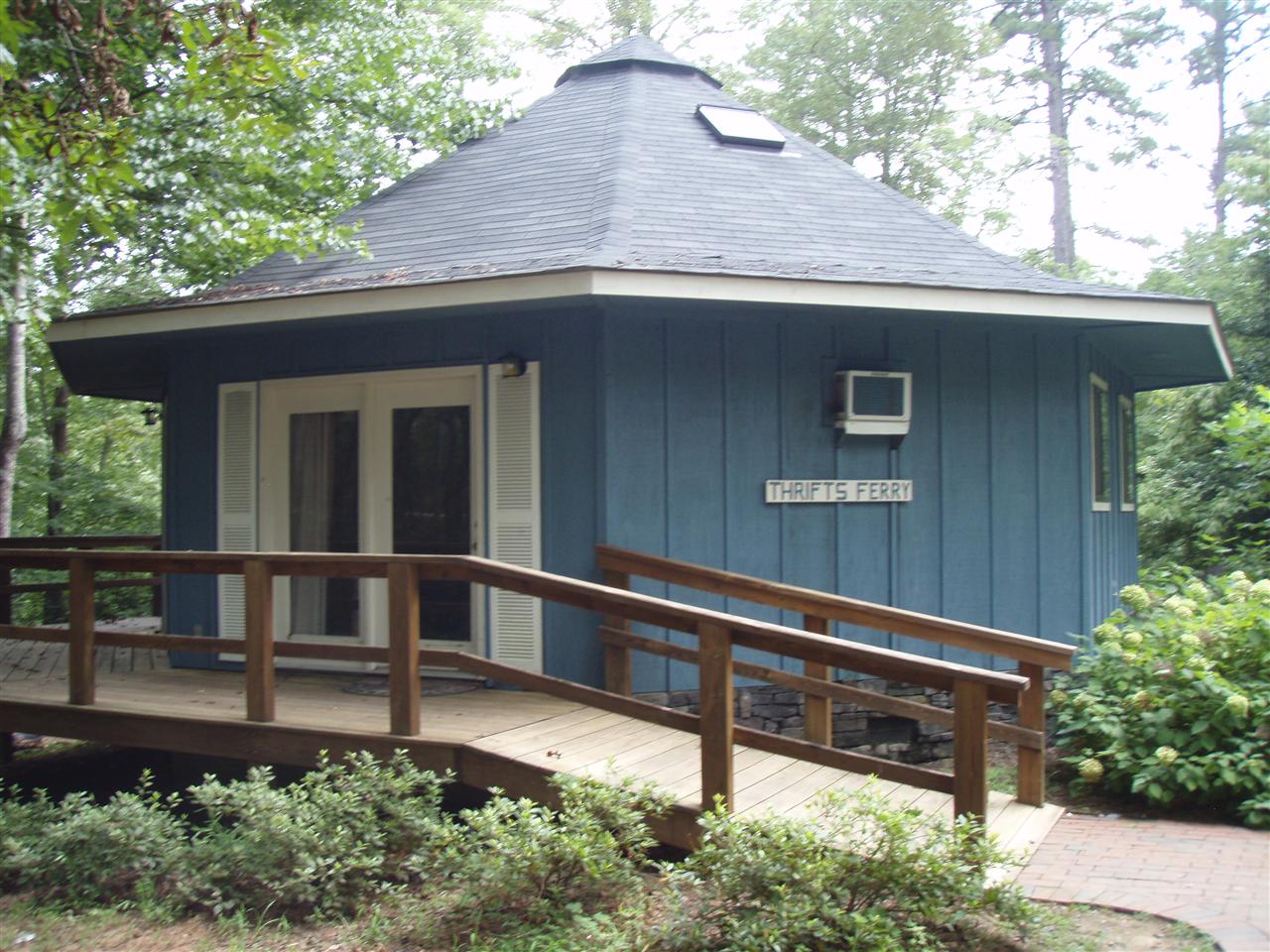 Min & Ian decided that as Forest folk ,we should cook on an open fire ( Completely forgetting the area had been deluged with rain a few hours earlier ) The cabins supply of advertising leaflets, several brow bags & some kitchen roll fell victim to their friutless efforts.
Dinner was eventually served in the kitchen, via the electric oven..Huckleberry Finns we ain't !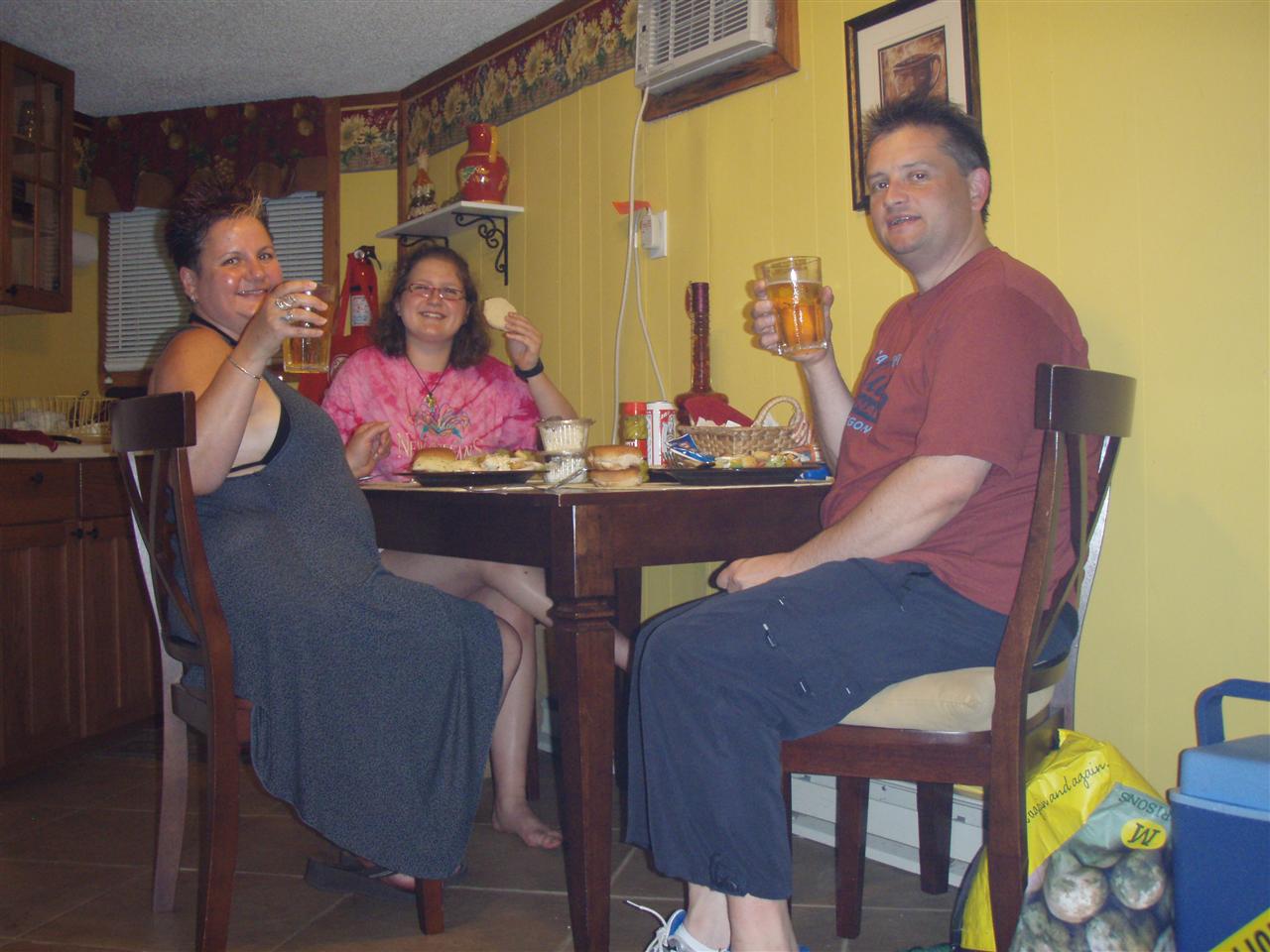 Well dear reader, Min & I are off to our little creaky beds in the attic, Ian gets the Sofa..

More tomorrow if the bears don't get us : )
---
Day 13 : Ian's stairway to Tallulah's Falls.
Hmmm not a good nights sleep for the adults, lumpy beds, noisy aircon , Bears..Who knows ? After a nice lie in Min prepared Scrambled eggs on toast & coffee, yummy.
Took a pic of our local spidery neighbours for you : )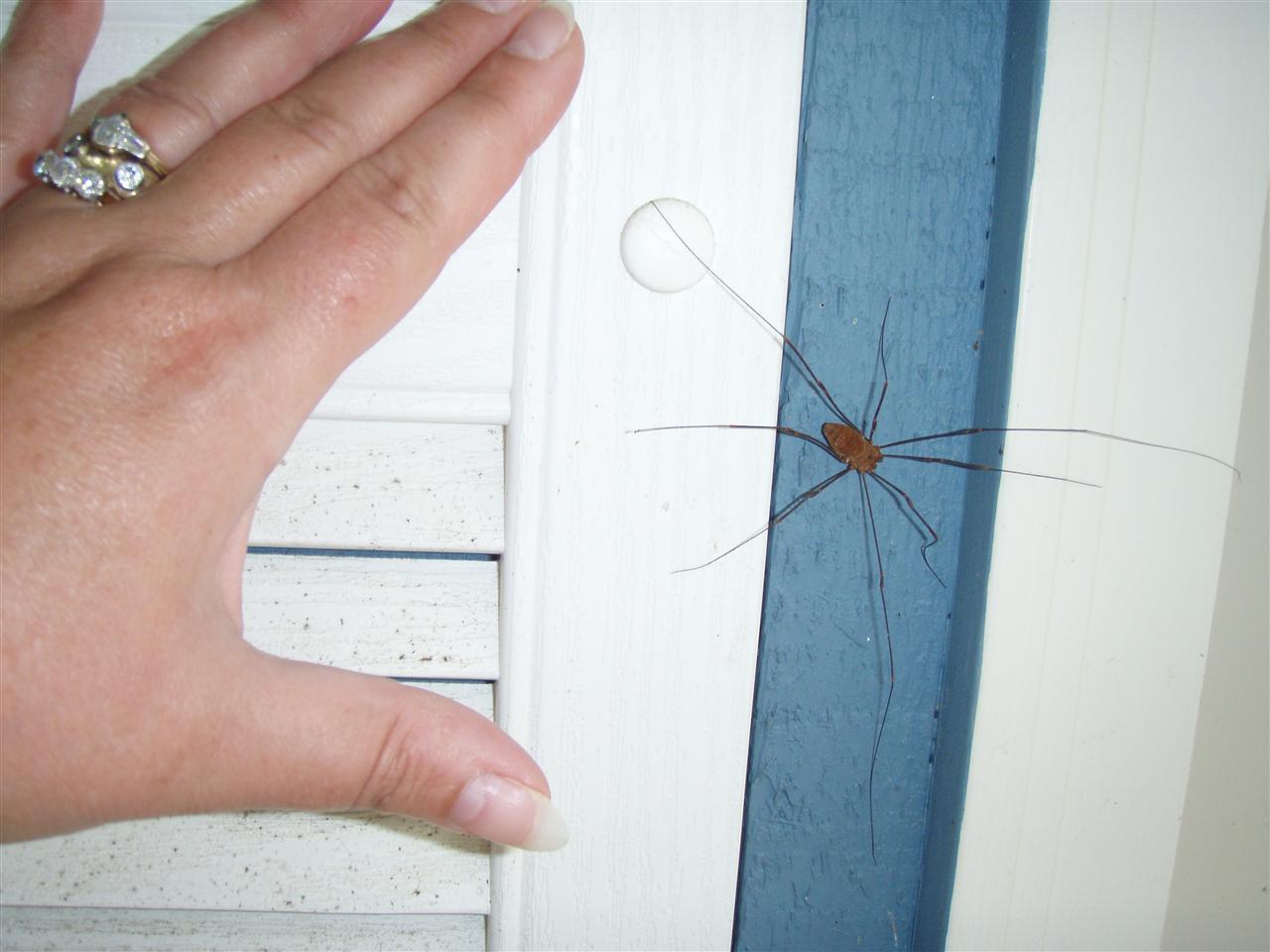 Maureen guided us safely to Tallulah falls, The place where many scenes from the movie "Deliverance" were filmed.
We handed over our $5 and headed into the gorge for a strenuous hike.
Ian opted for the easy route, from viewpoint 2 he headed for the stairs into the base of the valley & an upclose view of the river. ( 374 steps down ..an additional 221.(.each way) steps to an optional bridge ..which the nutter did! & 342 steps & a heart attack , back out )
Min & I took a far more difficult path round the edge, taking in view points 3-10 over the dam , Then we met up with a sweaty red faced Ian..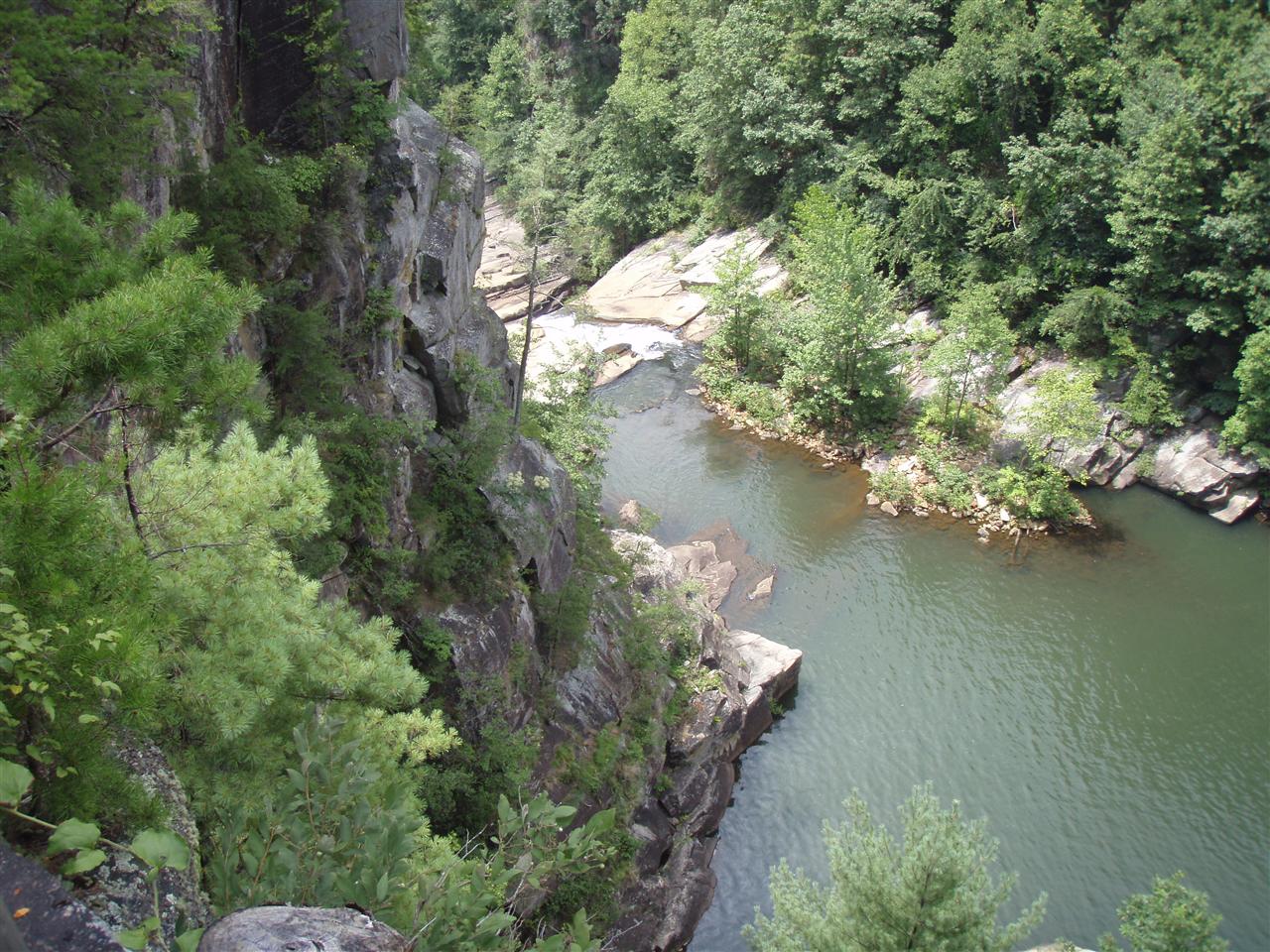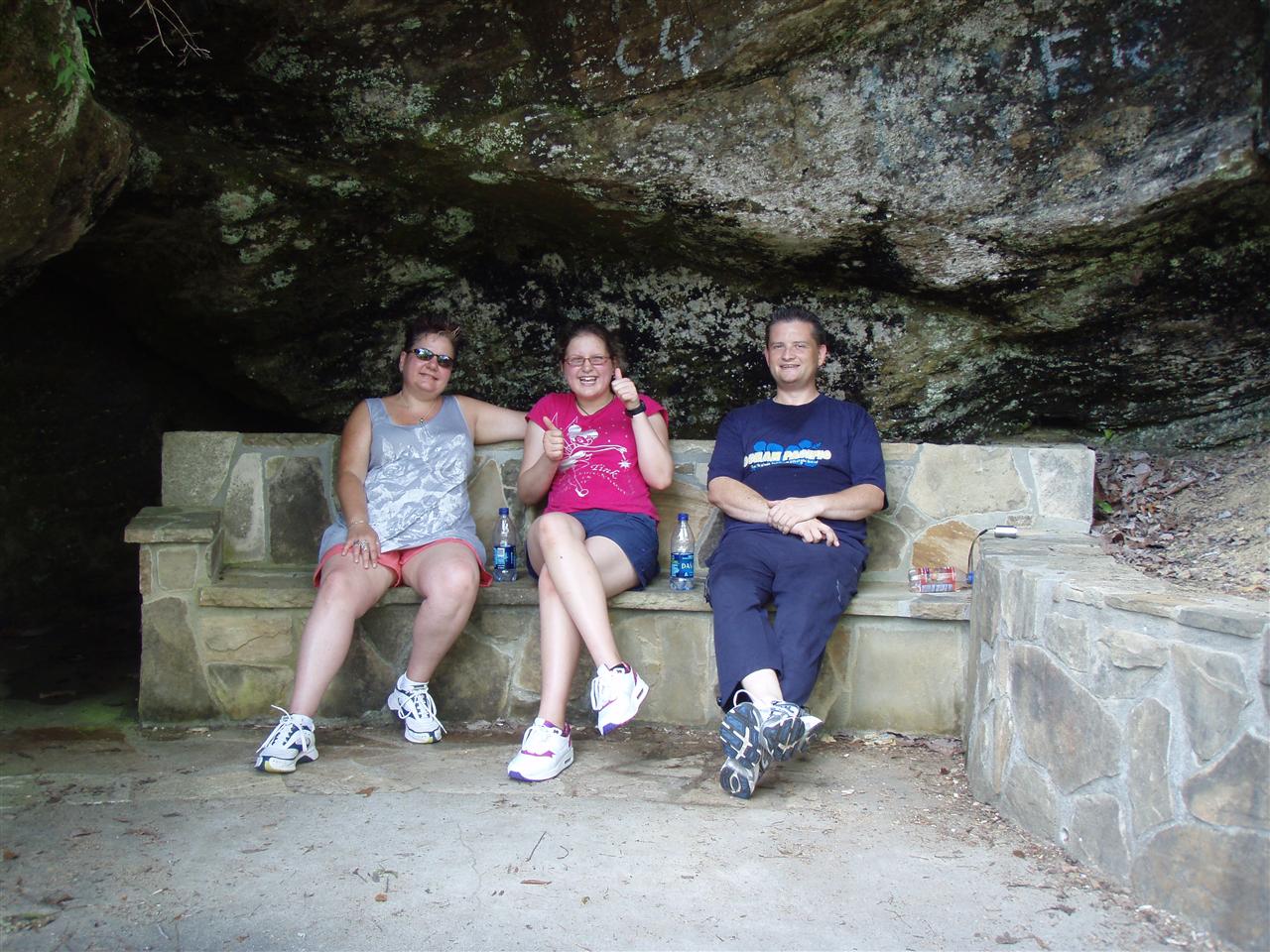 We then retraced our steps & stopped at our swing , where we took a phone call from Argos , re the delivery of mins new bed !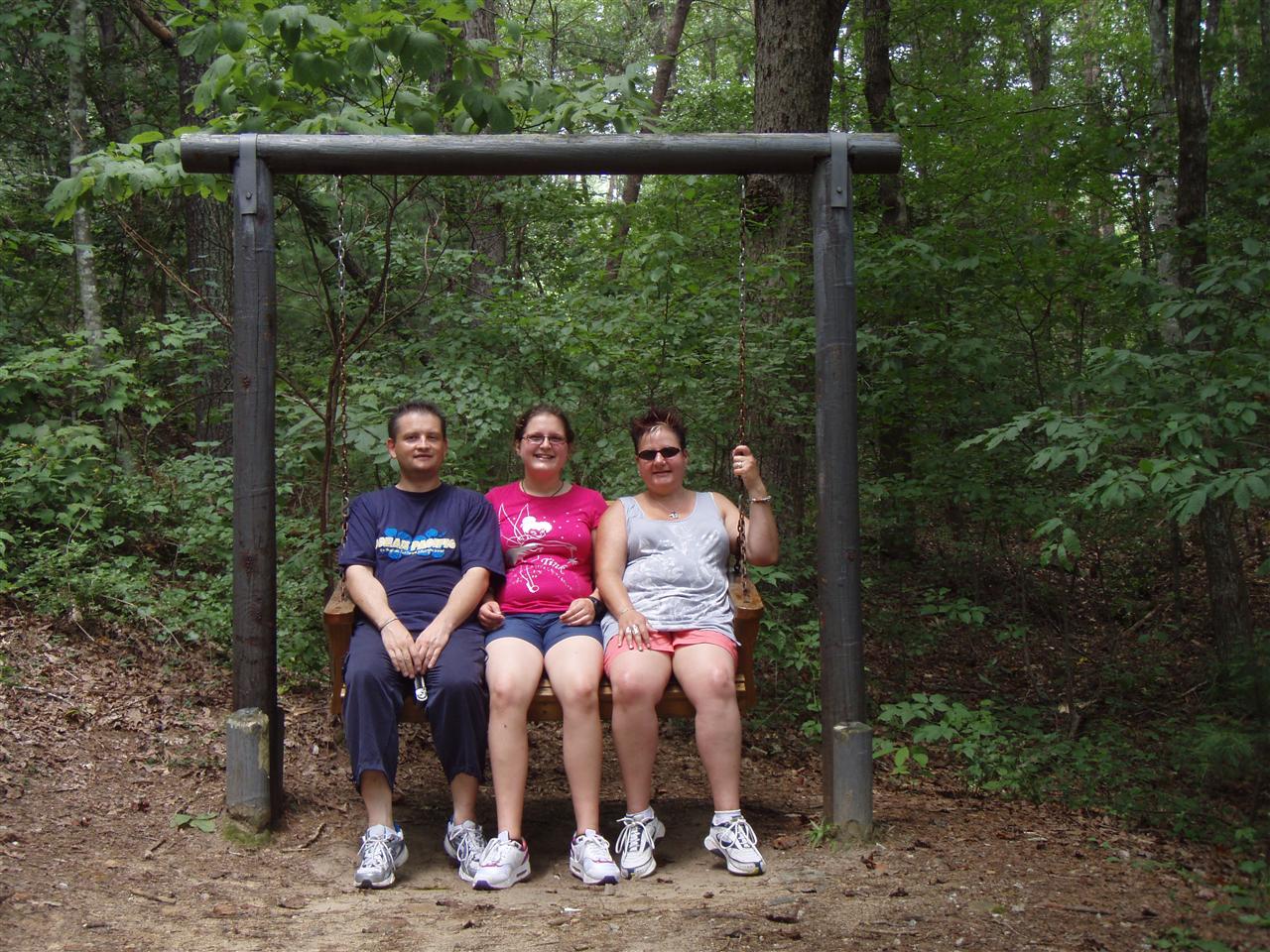 Some of the views were spectacular , The humid weather was broken by a refreshing rain storm on the way back.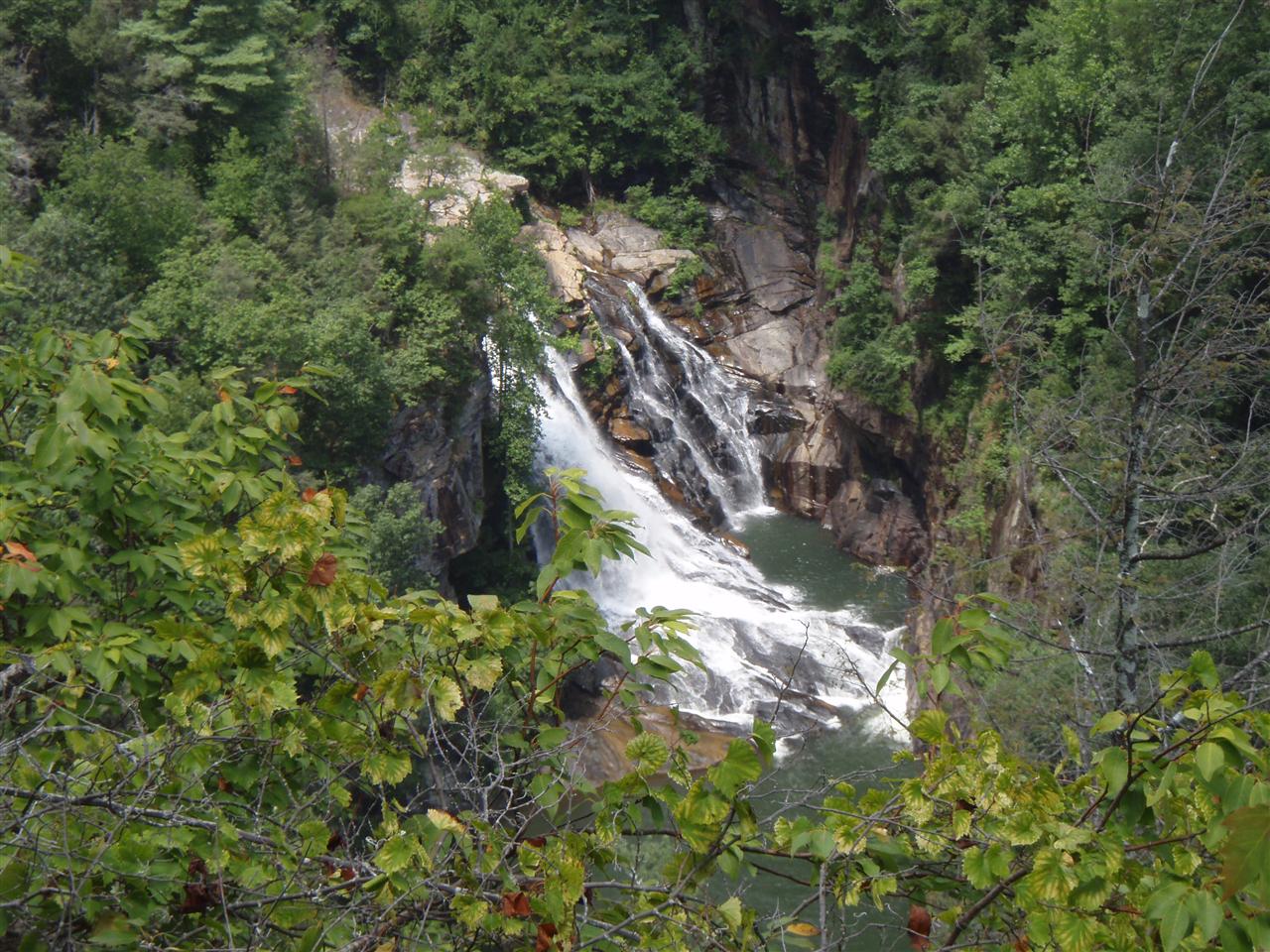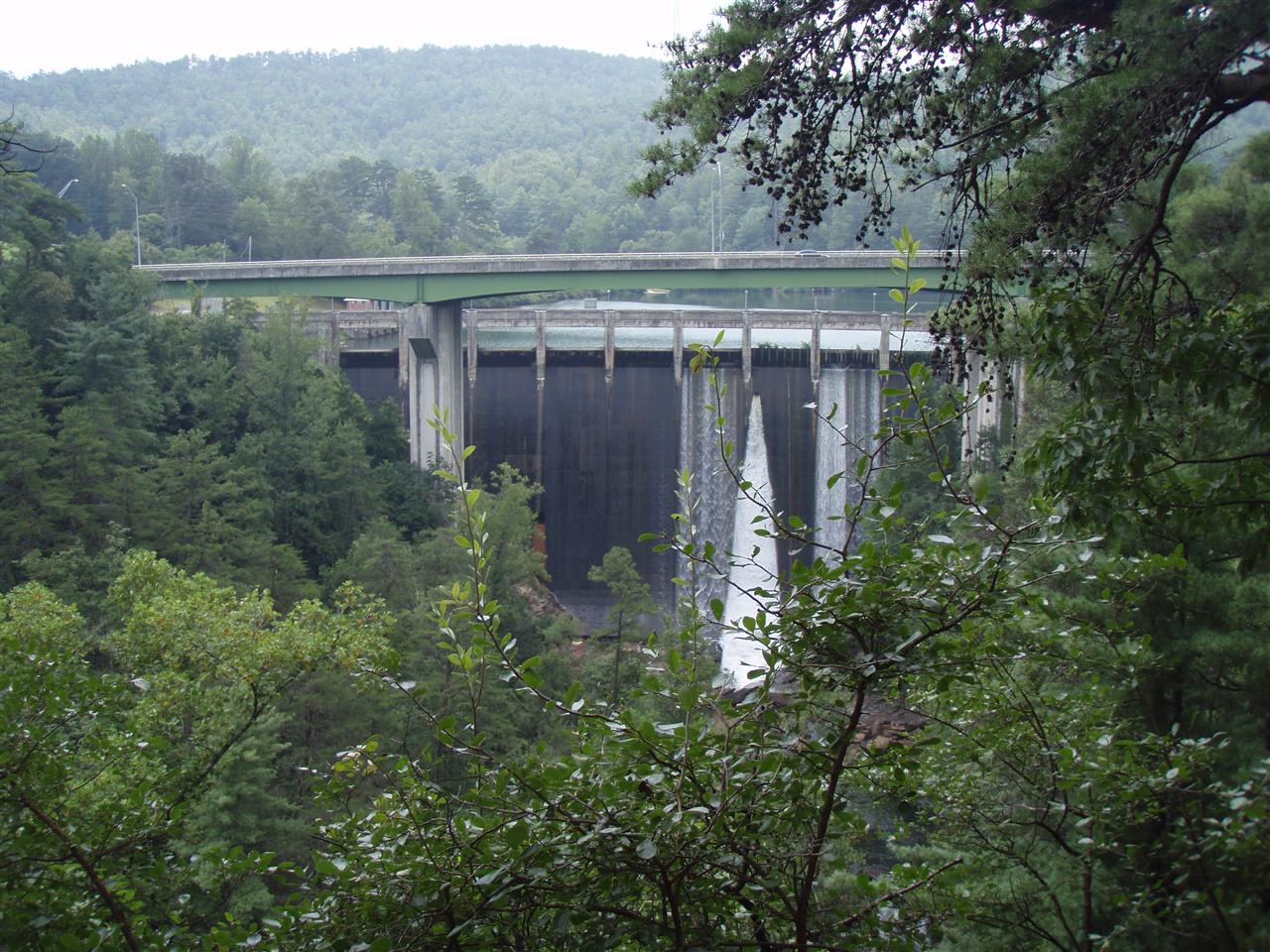 On the way back we stopped at a gift shop called "Goats on the roof" With , yes you guessed it..real goats on its grassy roof, for 25 cents you can send a pot of goat food up to them via a zip wire type system..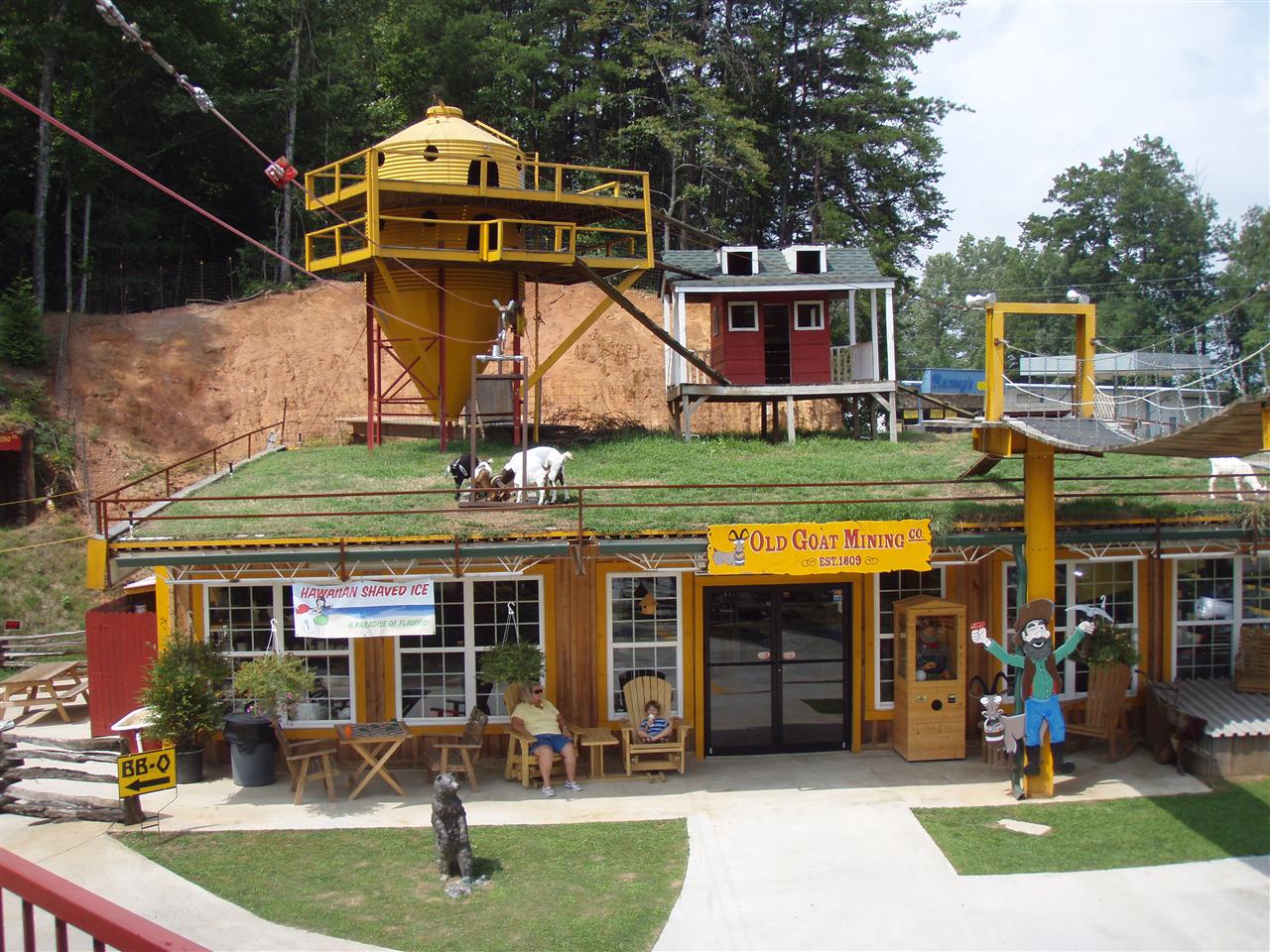 after a drive we returned to "Thrifts Fairy" with a bag of charcoal & fire lighters..Ian may be able to incinerate some food tonight.
Eureka ! My Children have made fire!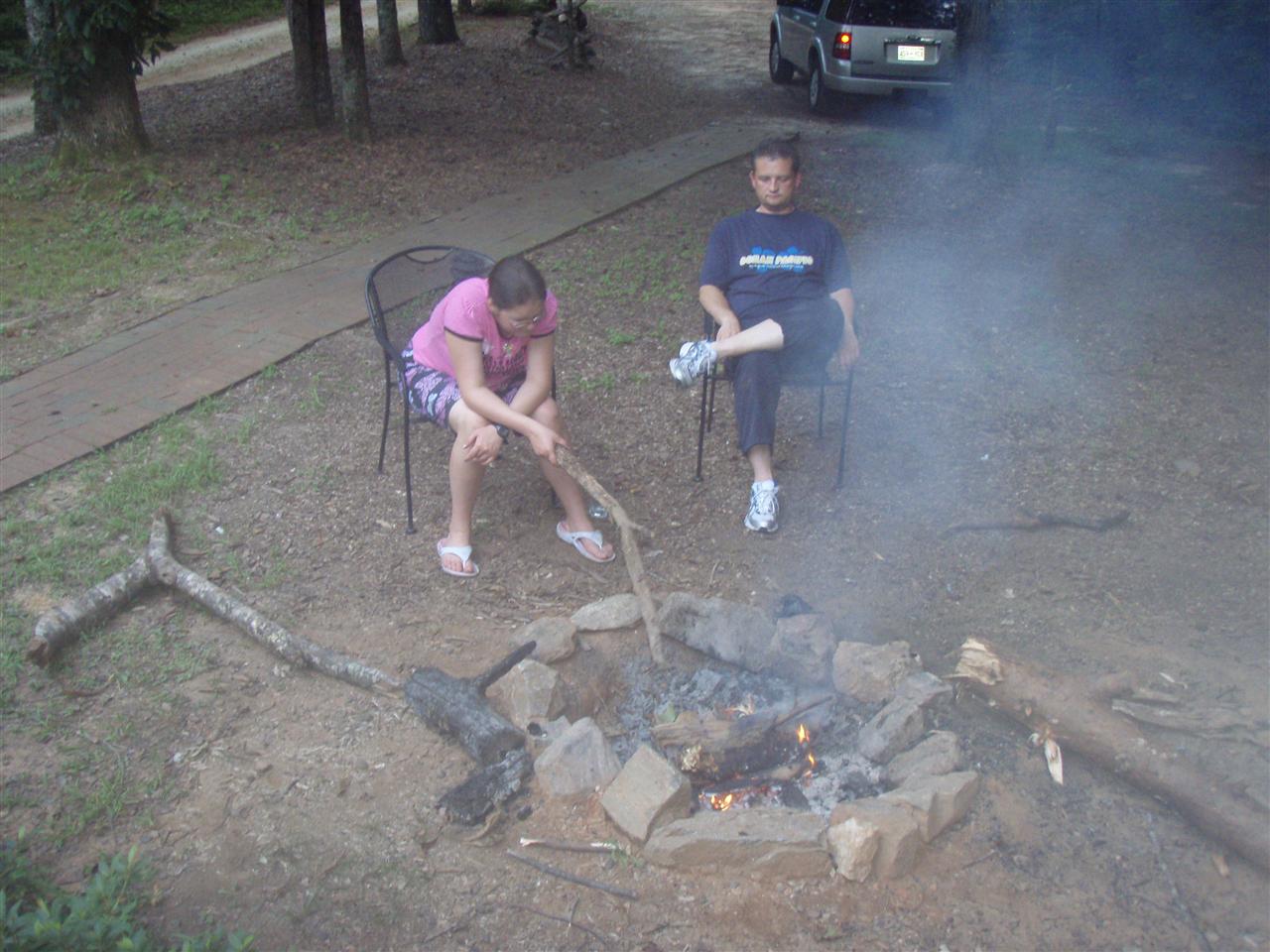 Please note Ian can cook...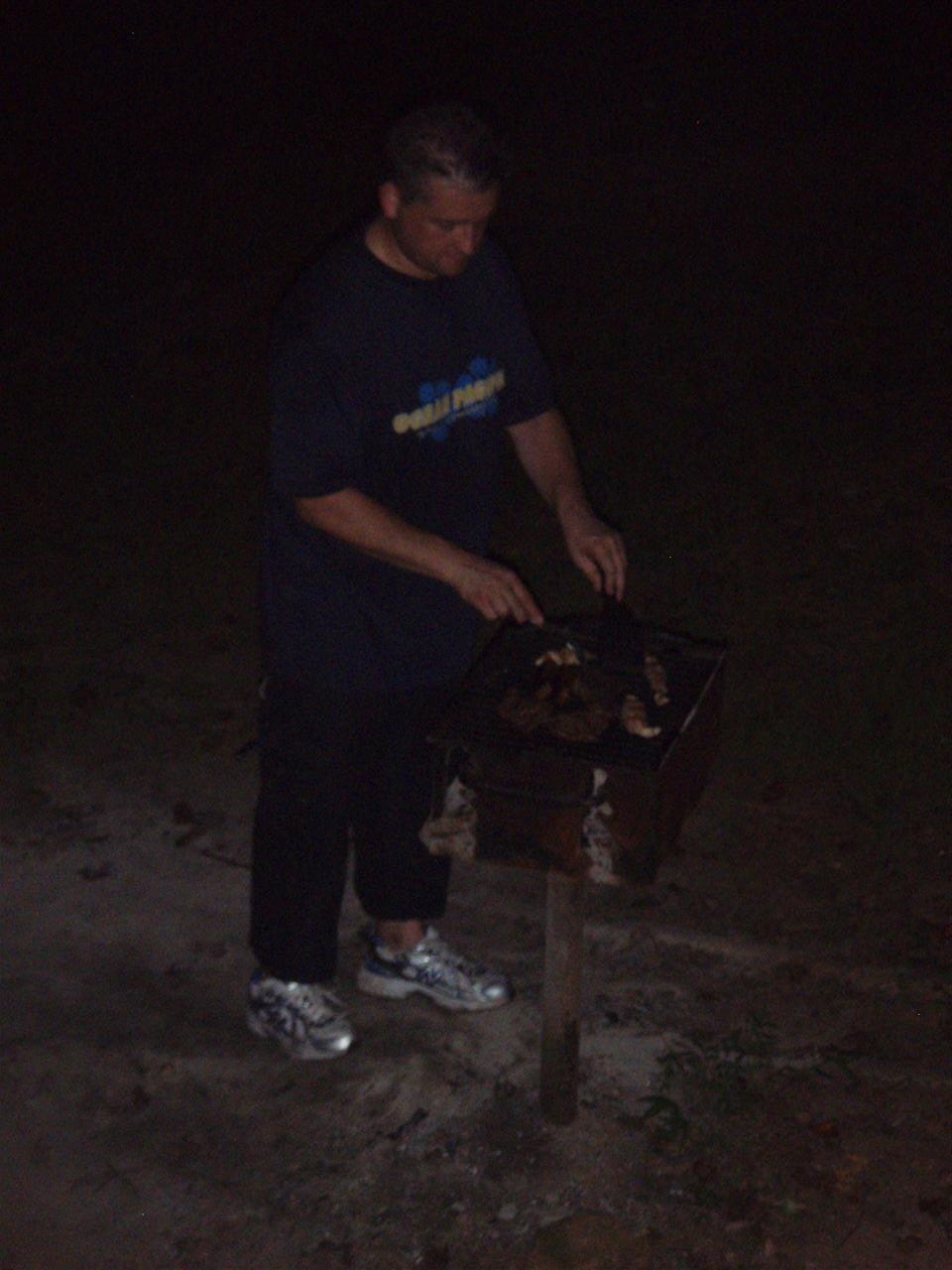 Dinner was very nice..
Tomorrow Rafting..Providing no-one goes down with Dheli Belly !

Good night dear reader, & Claire who is currently trying to dislodge the cat from the patio door xx
---
Day 14 : DELIVERENCE..Wildwater on the Chattooga.
Ians alarm had us up at 6.15, a short stroll to the Brown house at the wildwater camp & we met John our trip leader. Our 6 seater boat was filled by us , an American couple Jim & Fran, John the leader & a trainee called Britt..5 boats were out in total.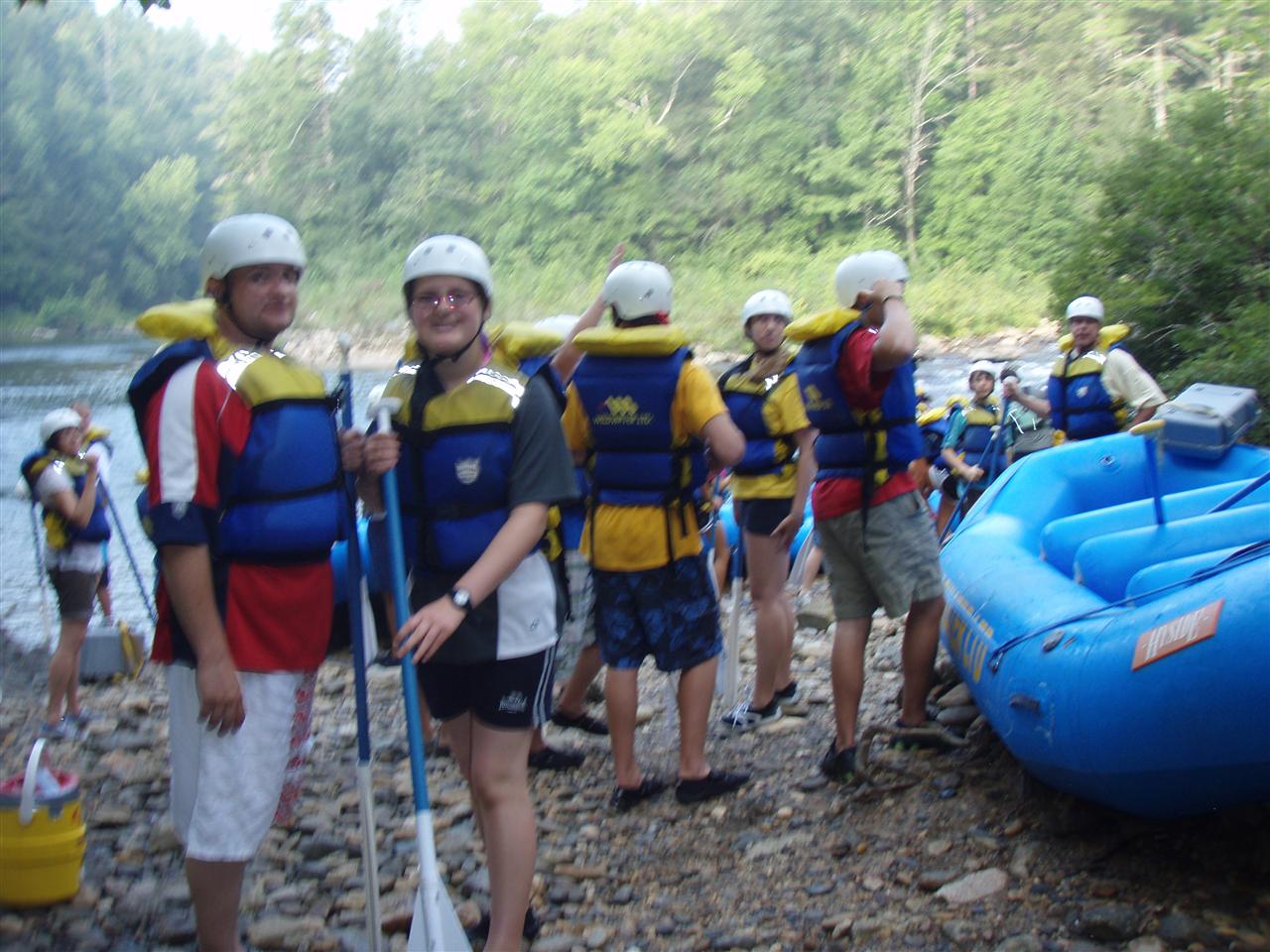 A bus took us 13 minutes away to the put in, The day began hot & misty, but the sun soon burned the mist off.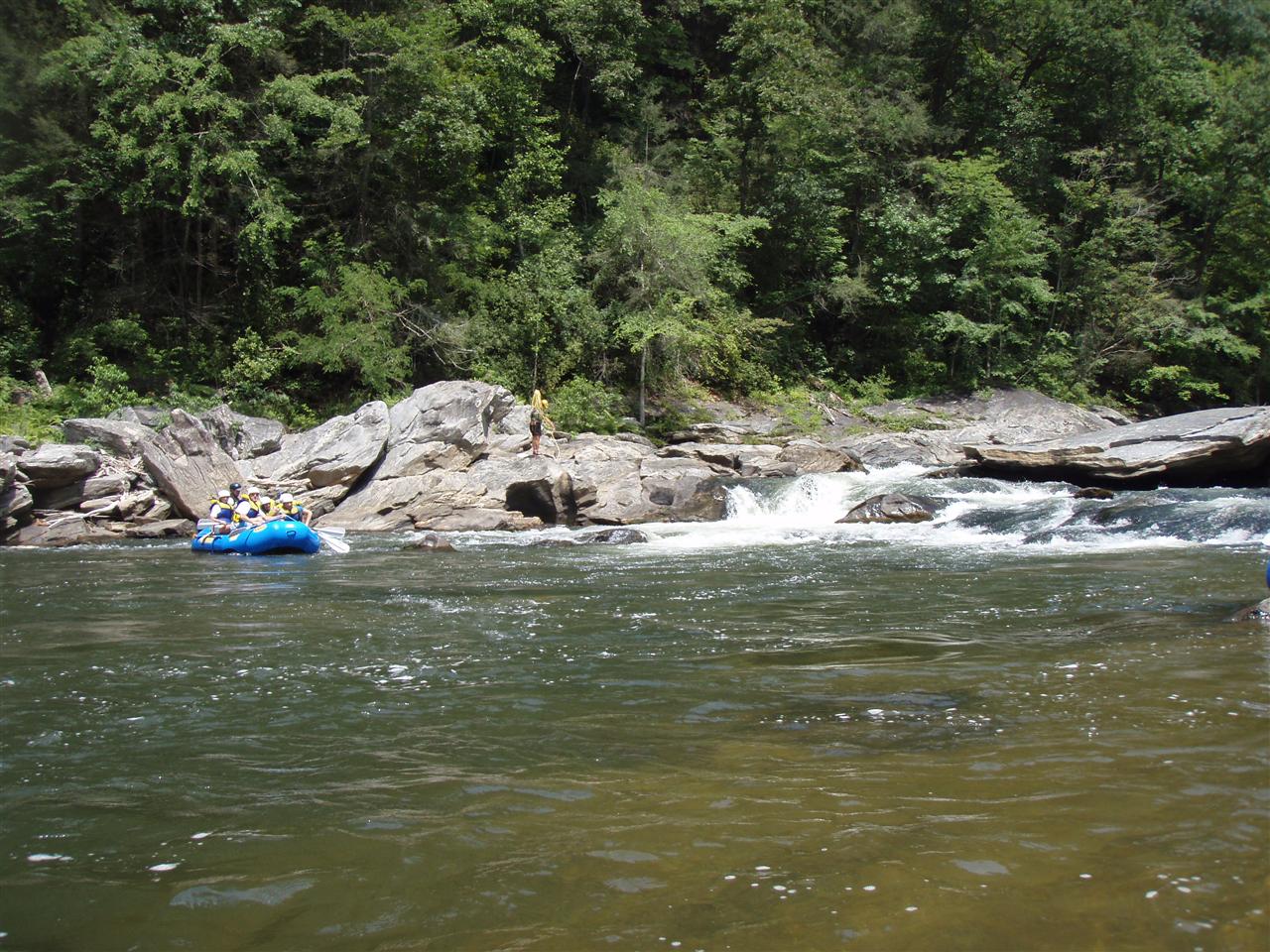 We navigated some pretty heavy rapids from the word go, John & co got us all out of the boats straight after the first hair raising set & offered us a chance to swim part of the rapid.
We were guided up the rocks & one by one we entered a narrow cave, the roof was very low touching our helmets, the guides pushed us out into the current where we were immediately sucked under & catapulted out into the channel where we could clamber back in to the boat.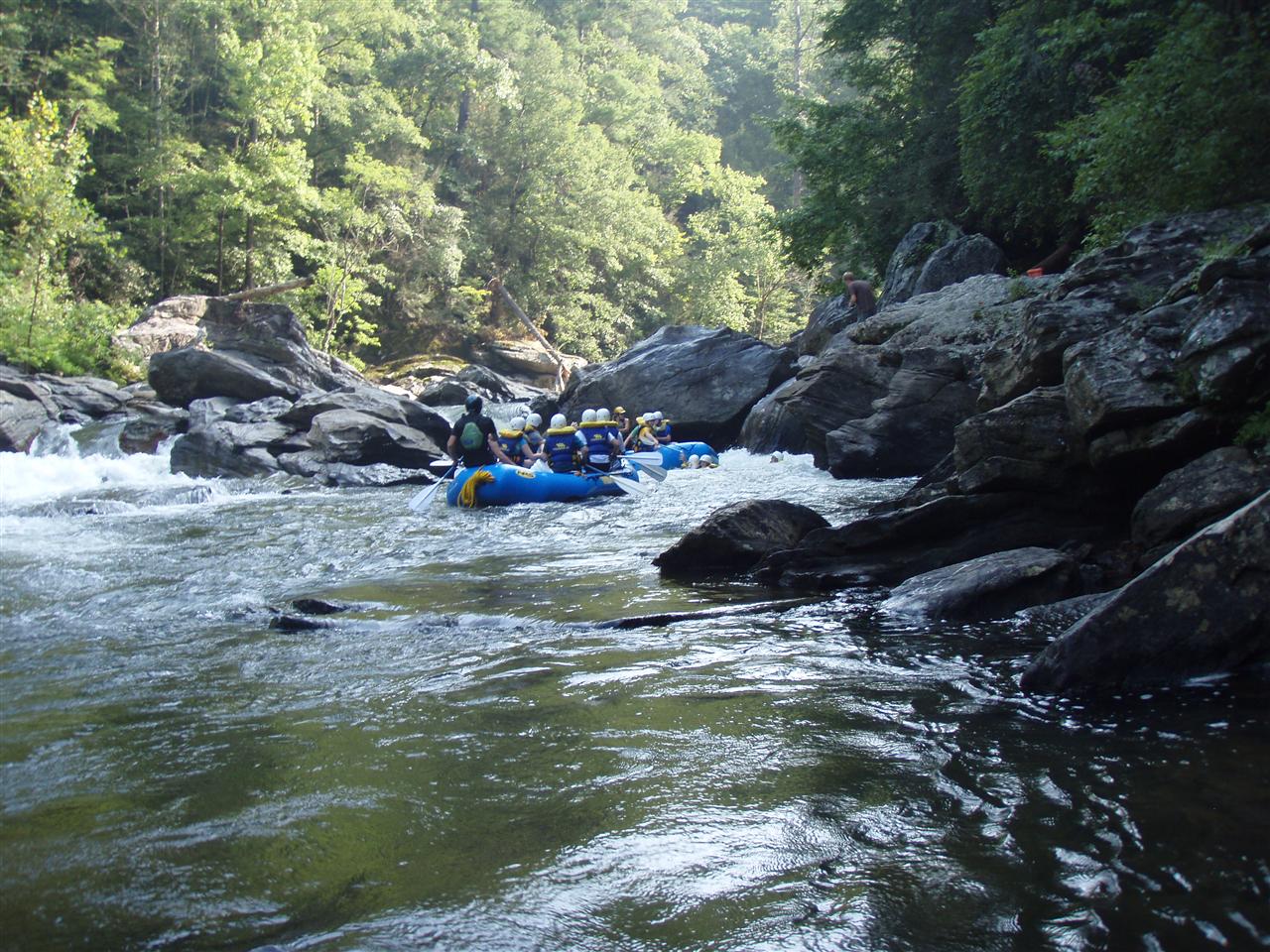 During the next rapids our boat collided with a big rock, the side nearest to me dropped away & before we knew it Fran was gone, Fortunately our safety & recovery lectures, pre trip, had all been worth while.
Jim & I hauled her safely back on board, Ian heroicly held onto the camera while Min held my oar.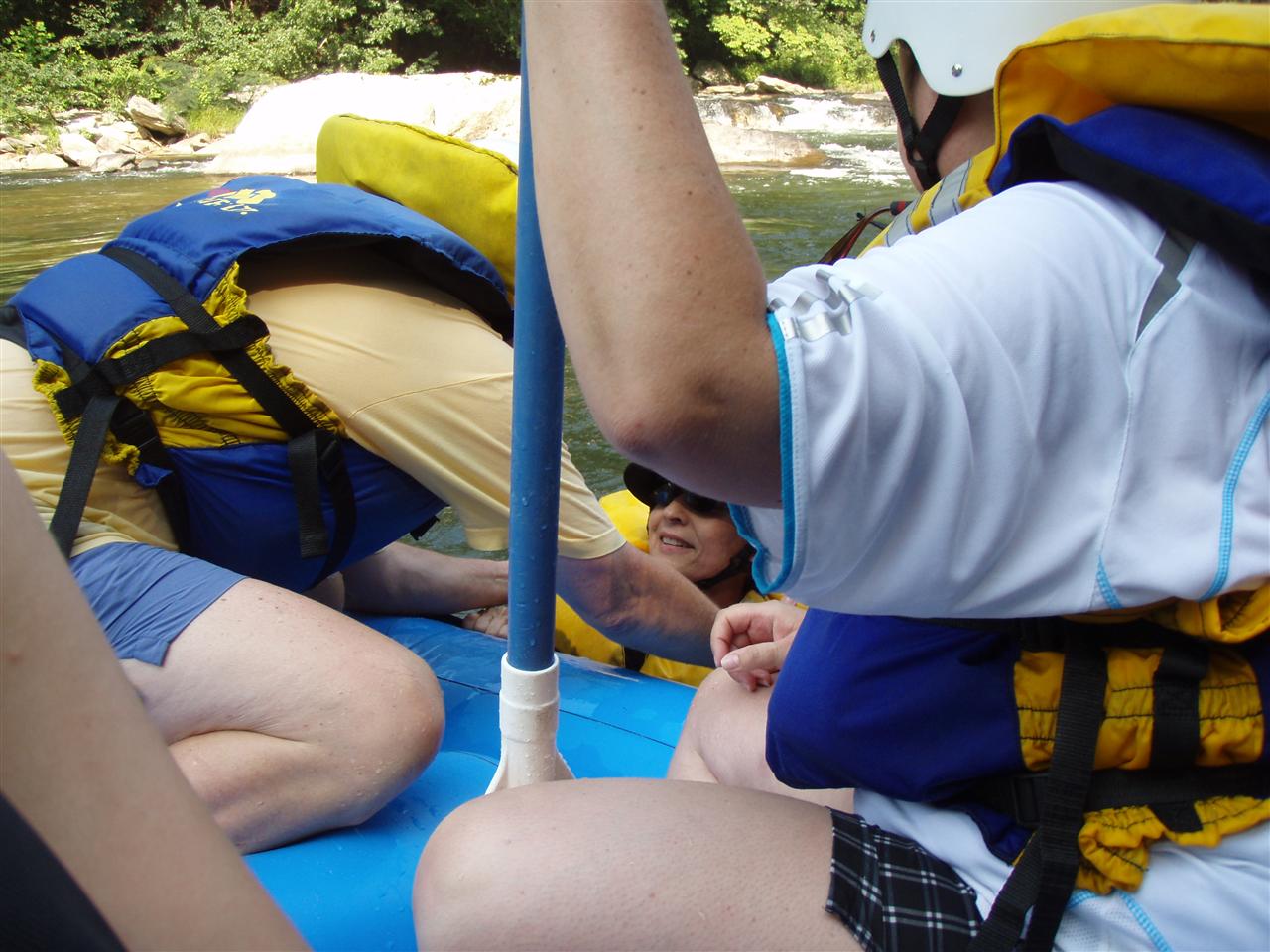 Next stop the waterfalls..again everybody out & short hike to a pretty amazing waterfall. We were led up a slippery rock path & guided through the curtains of water, Back down was recommended to be done on your backside as the rocks were so slick.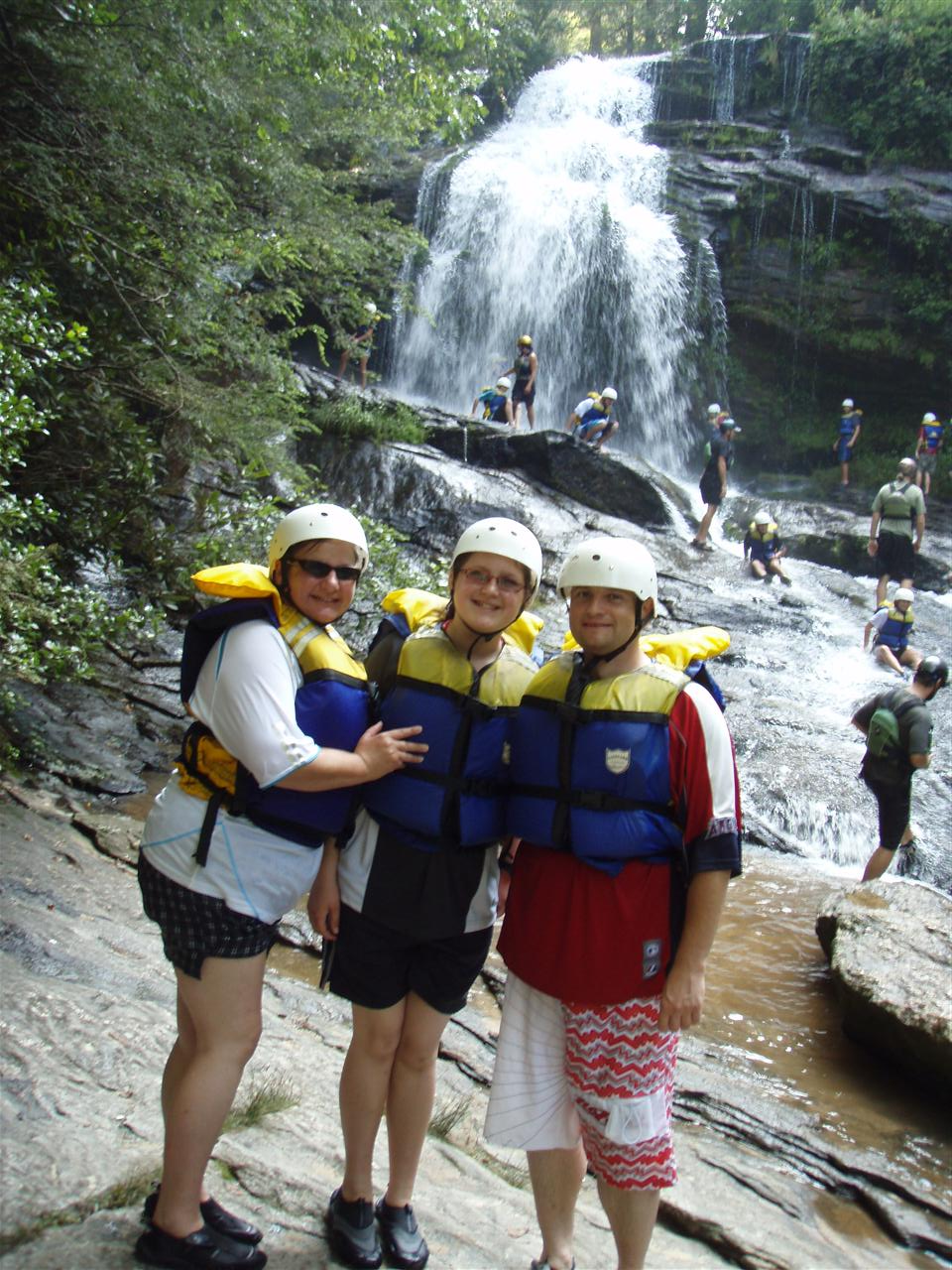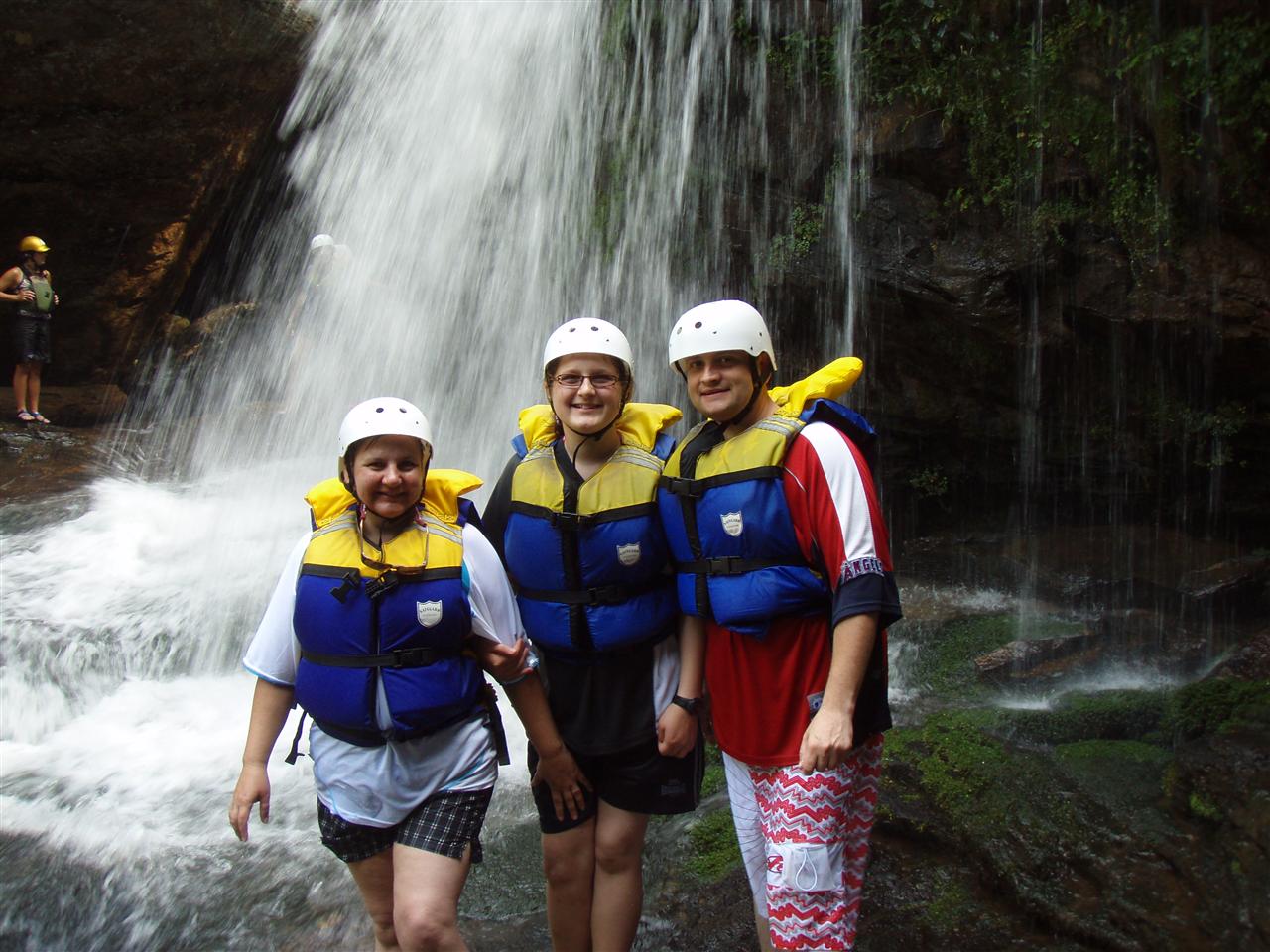 After the next rapids we stopped at a rock tube ,4-5 ft deep each person could drop down the tube dive under & again be catapulted back into the main body of the river , Jumping off the rocks was encouraged!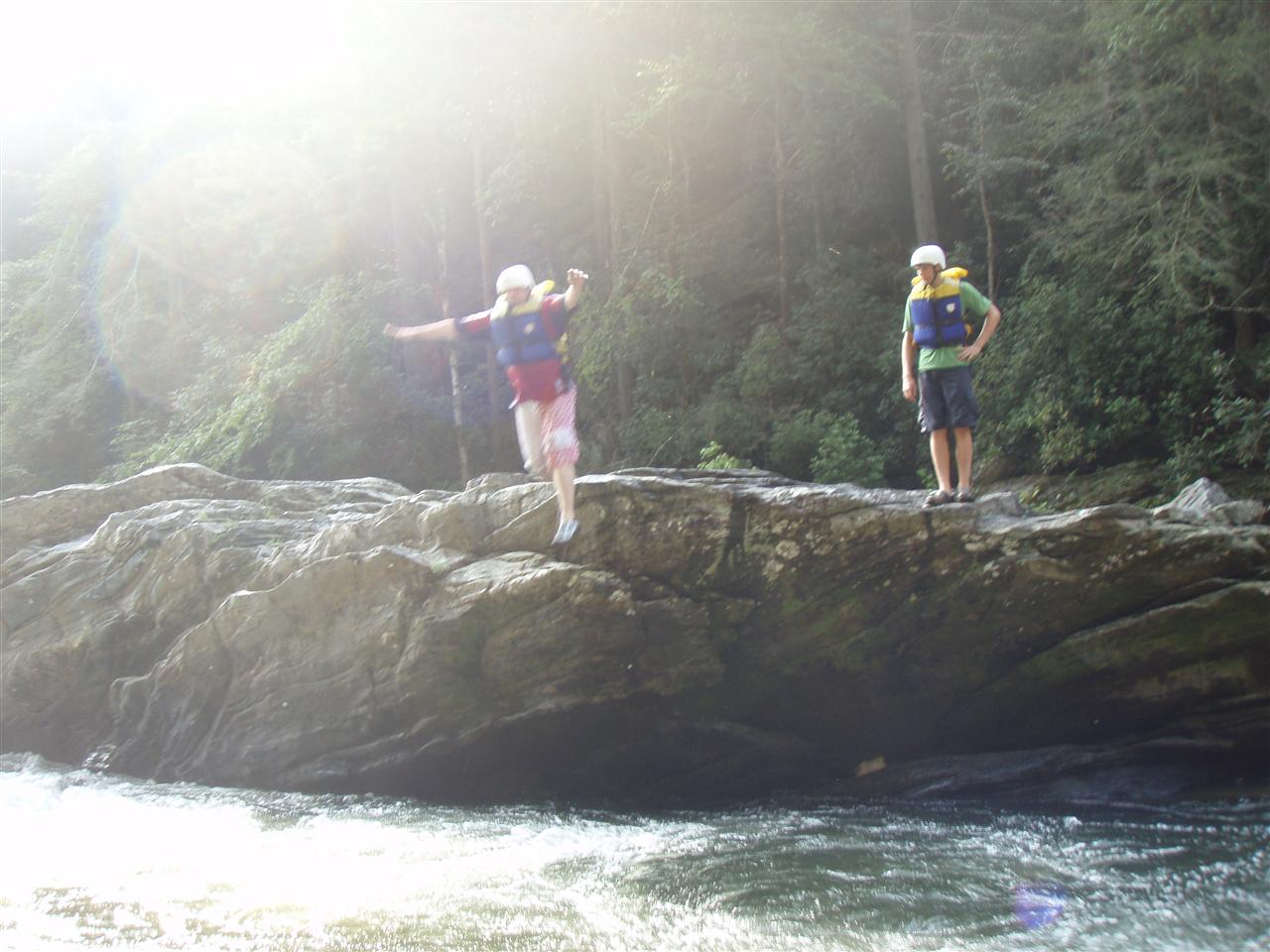 John gave us some info about our route & showed us the camp ground where " the love scene" from the movie Deliverence was filmed & the very rapids where the film crew came unstuck & lost all their gear.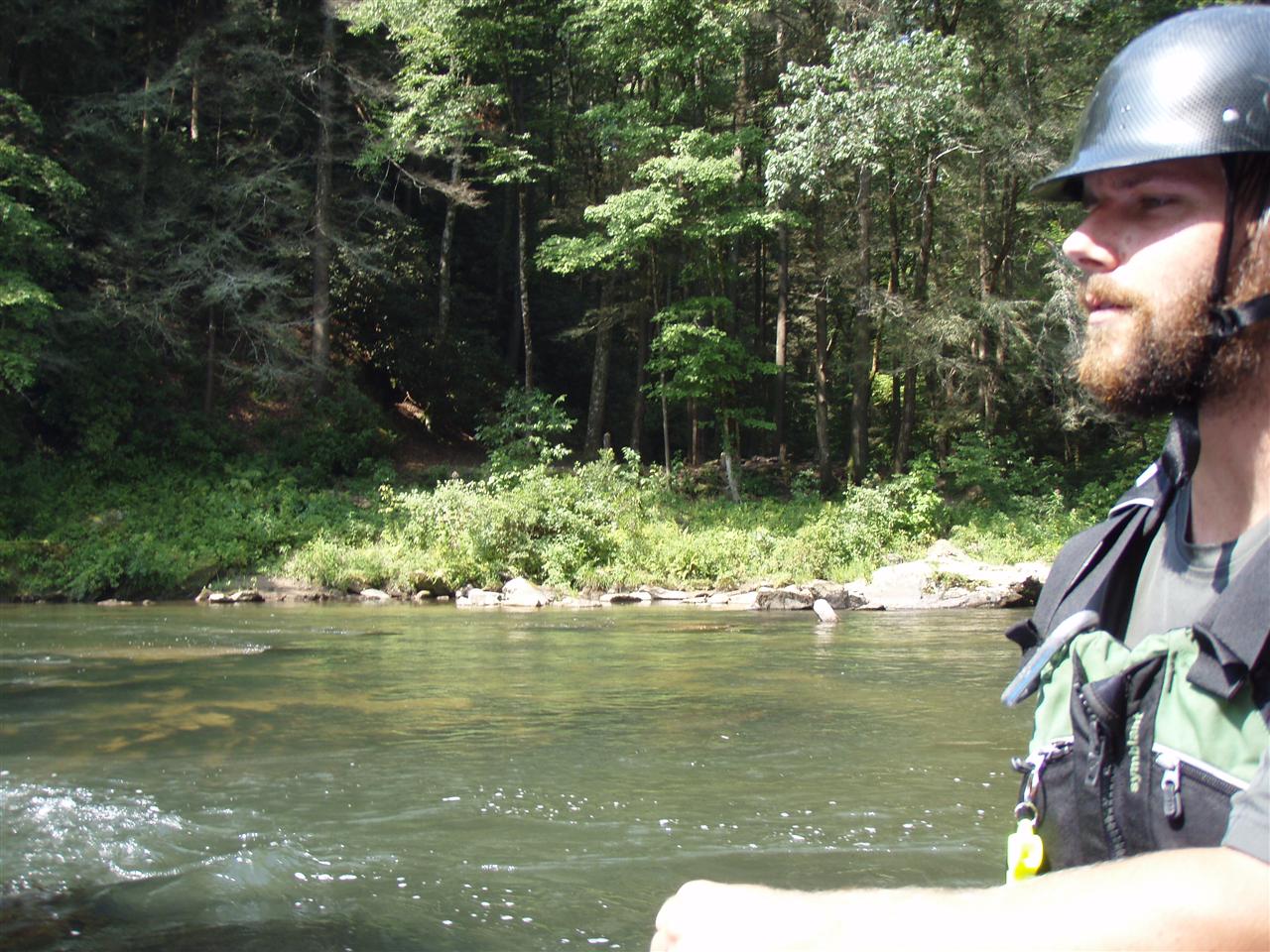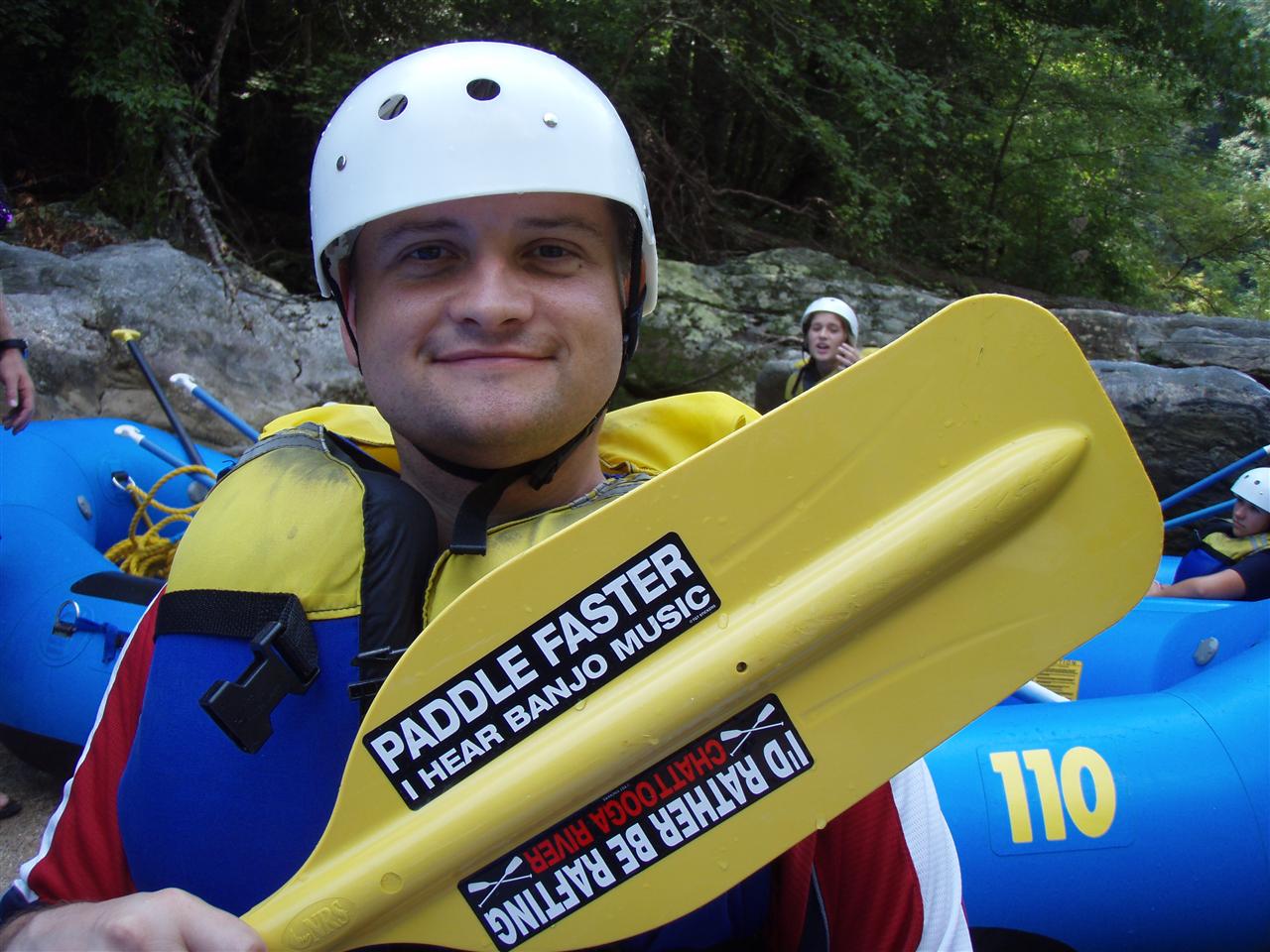 Towards the end we had a set of rapids too narrow to navigate during the lower water we are having now, We walked around whilst the guides manhandled the rafts across the water & through the narrow openings.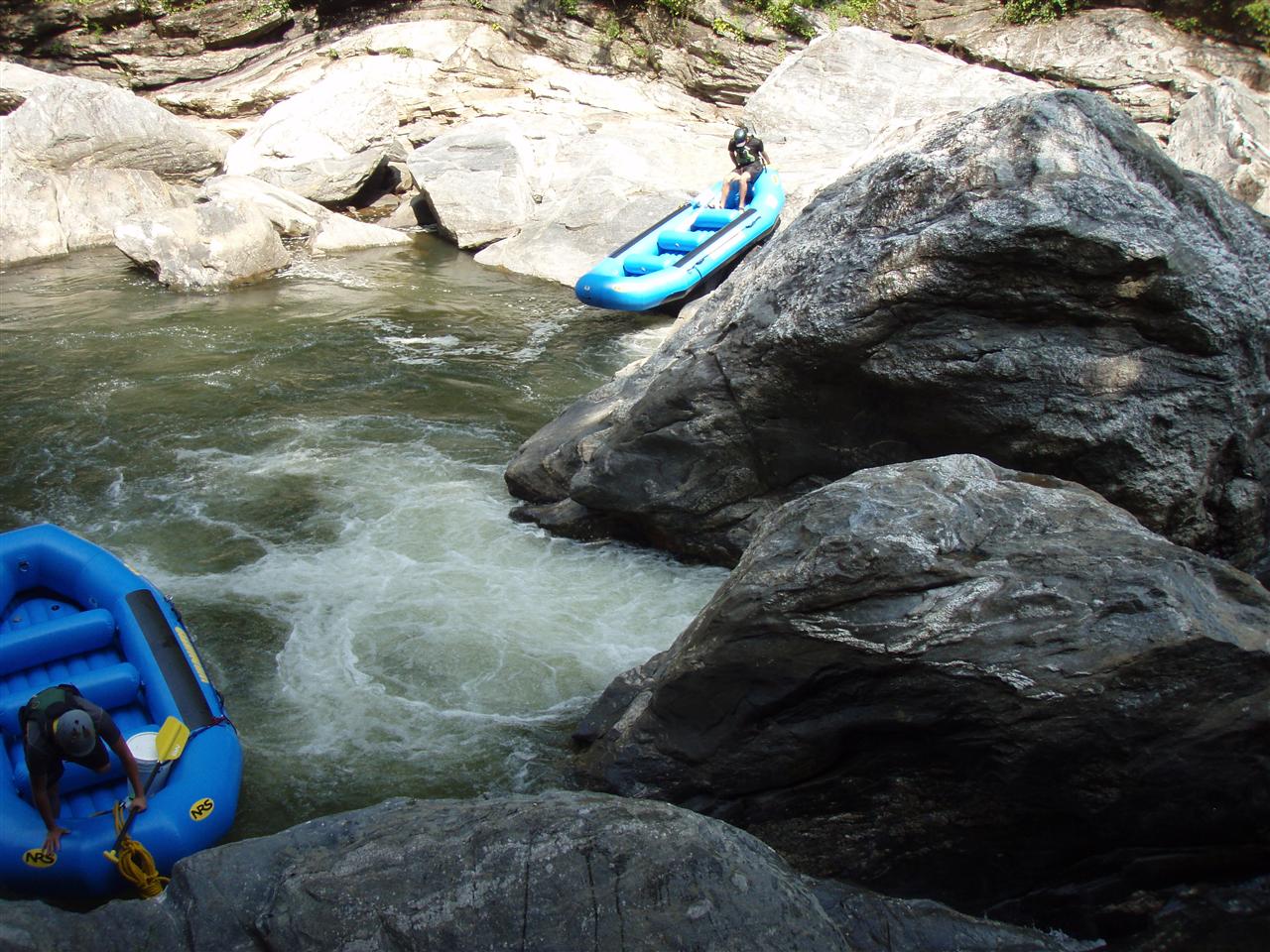 We stopped for lunch, the usual DIY sandwich affair, on a small beach.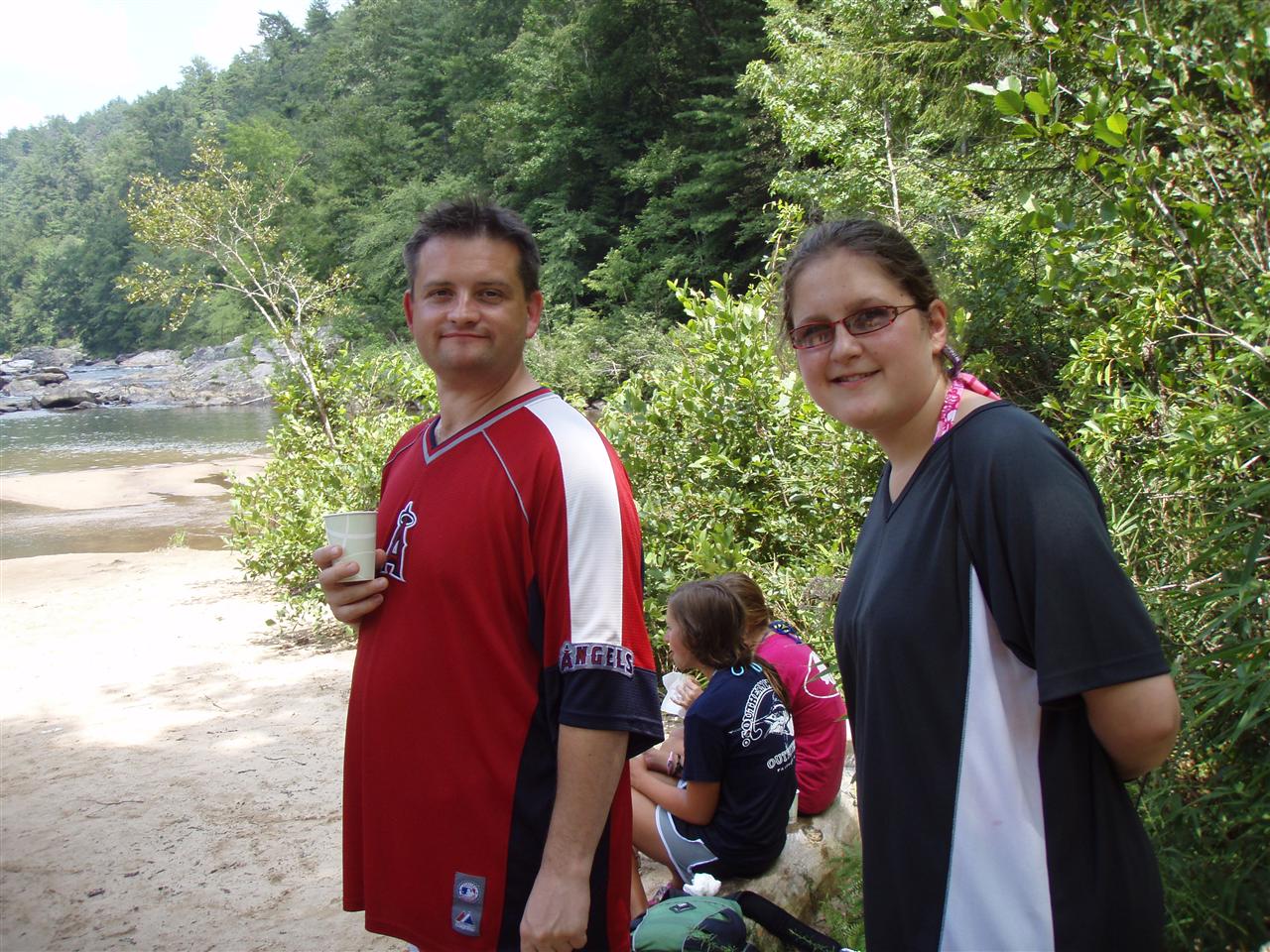 Before we knew it we rounded a corner into the calm of a massive lake.
A motor boat was waiting to push us for a relaxing 25 minute cruise across to the pull out, where our bus sat ready to return us to Long Creek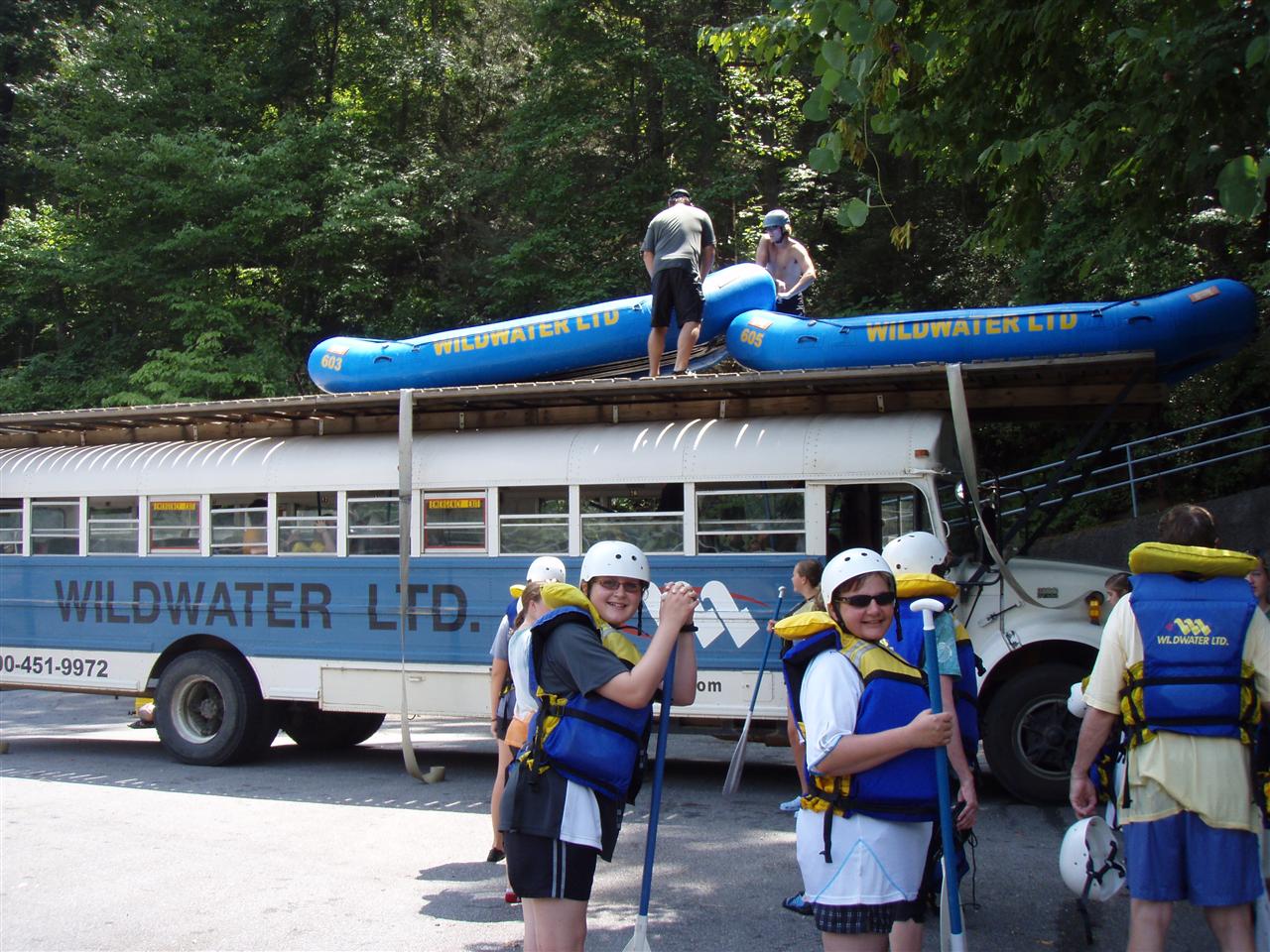 Finally back to our cabin for a much needed shower.
Min & Ian embarked on another pyro technic extravaganza..( mins fire was waaayyyy better than Ians bbq effort ) fortunately good steak can be cooked really slowly : )

Well dear reader, we leave our red neck haven bright & early tomorrow..Sleep well ( do I hear banjo's? ) xx
---
Day 15 : Up Sh**t Creek, we forgot a paddle.
Checking out of our cabin was painless, as you can see..we did as instructed and were soon on our way.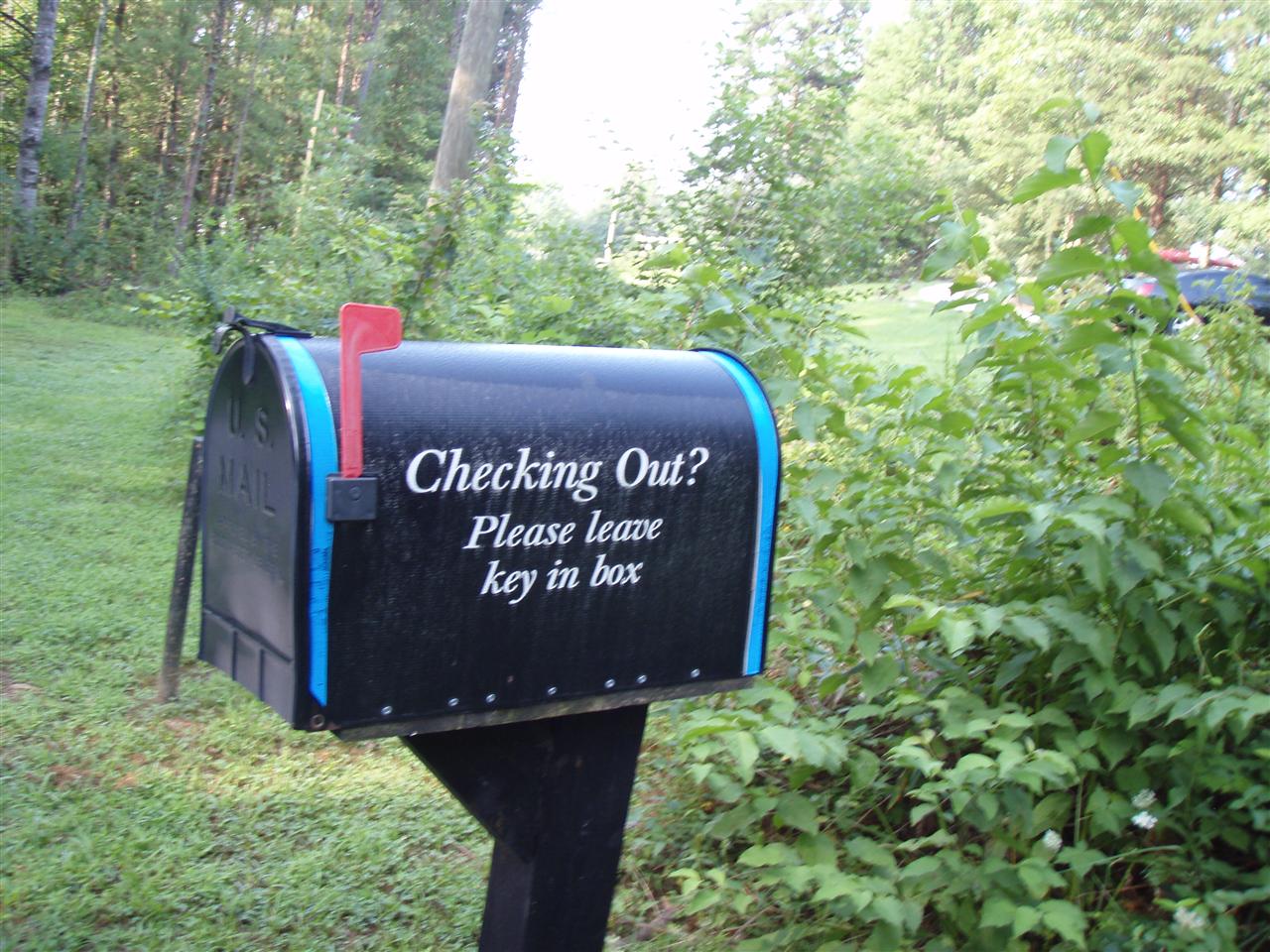 90 minutes later we arrived in Bryson City, More of a small town with big ideas me thinks!
We found our way to Tube world & for $9 hired Some oversized tyre inner tubes, which the vendor strapped to the roof of our car rather precariously with 2 lengths of string.
A few minutes later we parked by the river & followed other tube bearing folk up stream ( probably a little under a mile uphill).We entered the river & bobbed over rocks and small drops, Then the pace picked up as we were swept over some small rapids, not quite on the scale of yesterdays adventure, but a brilliant giggle.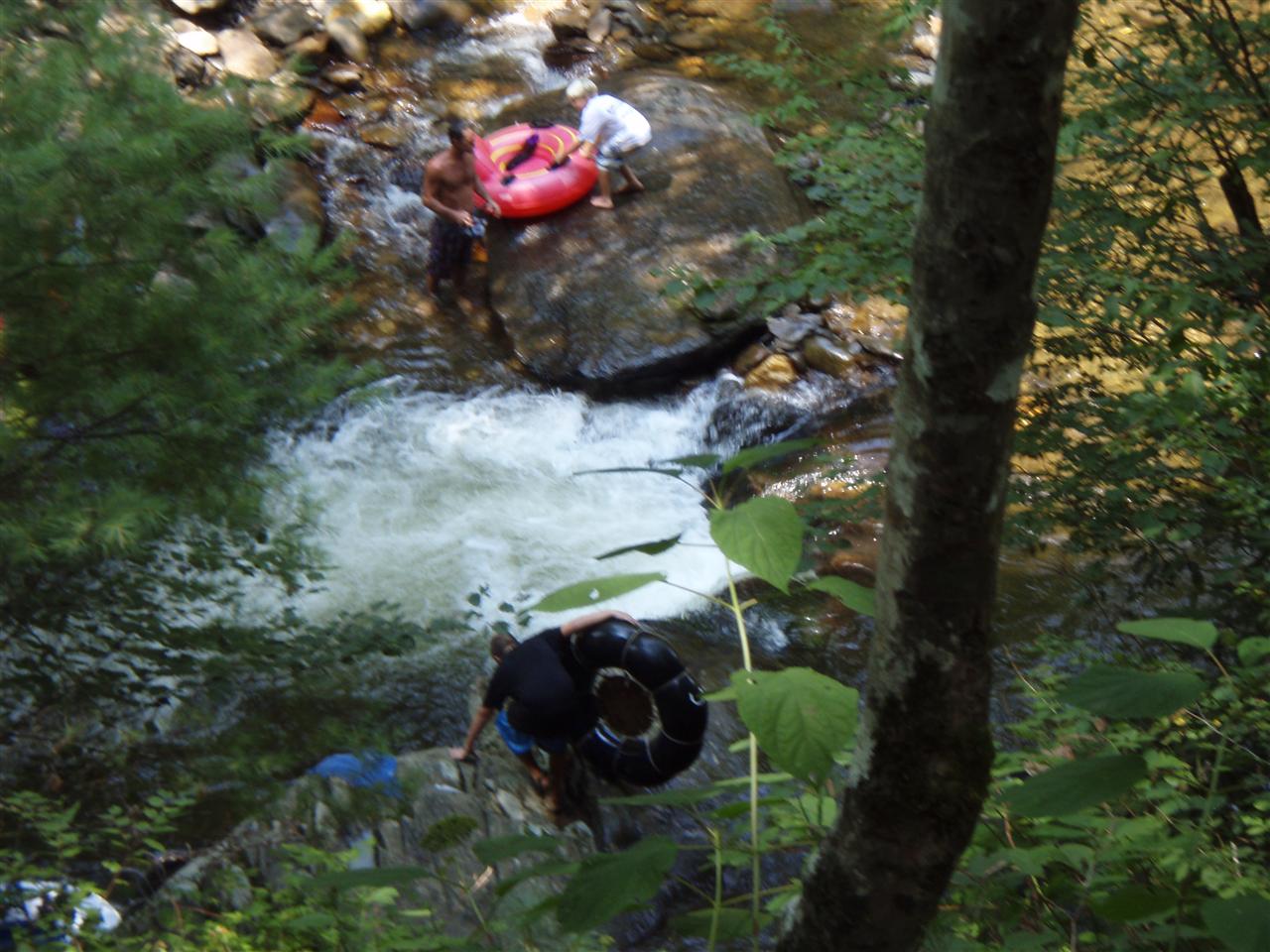 We stopped at a swimming area Ian & Min lugged their tubes back to the top again to redo the uphill fun.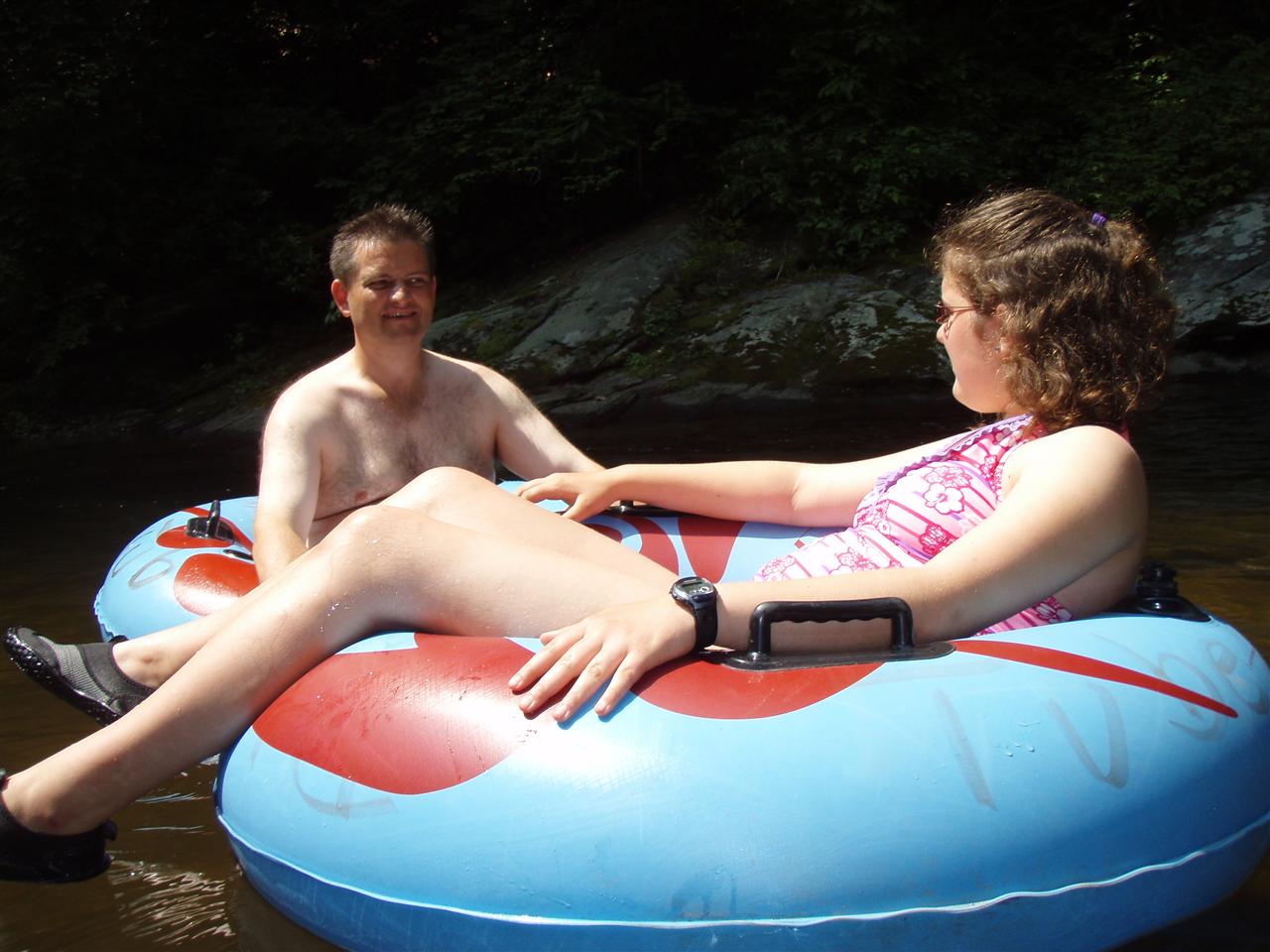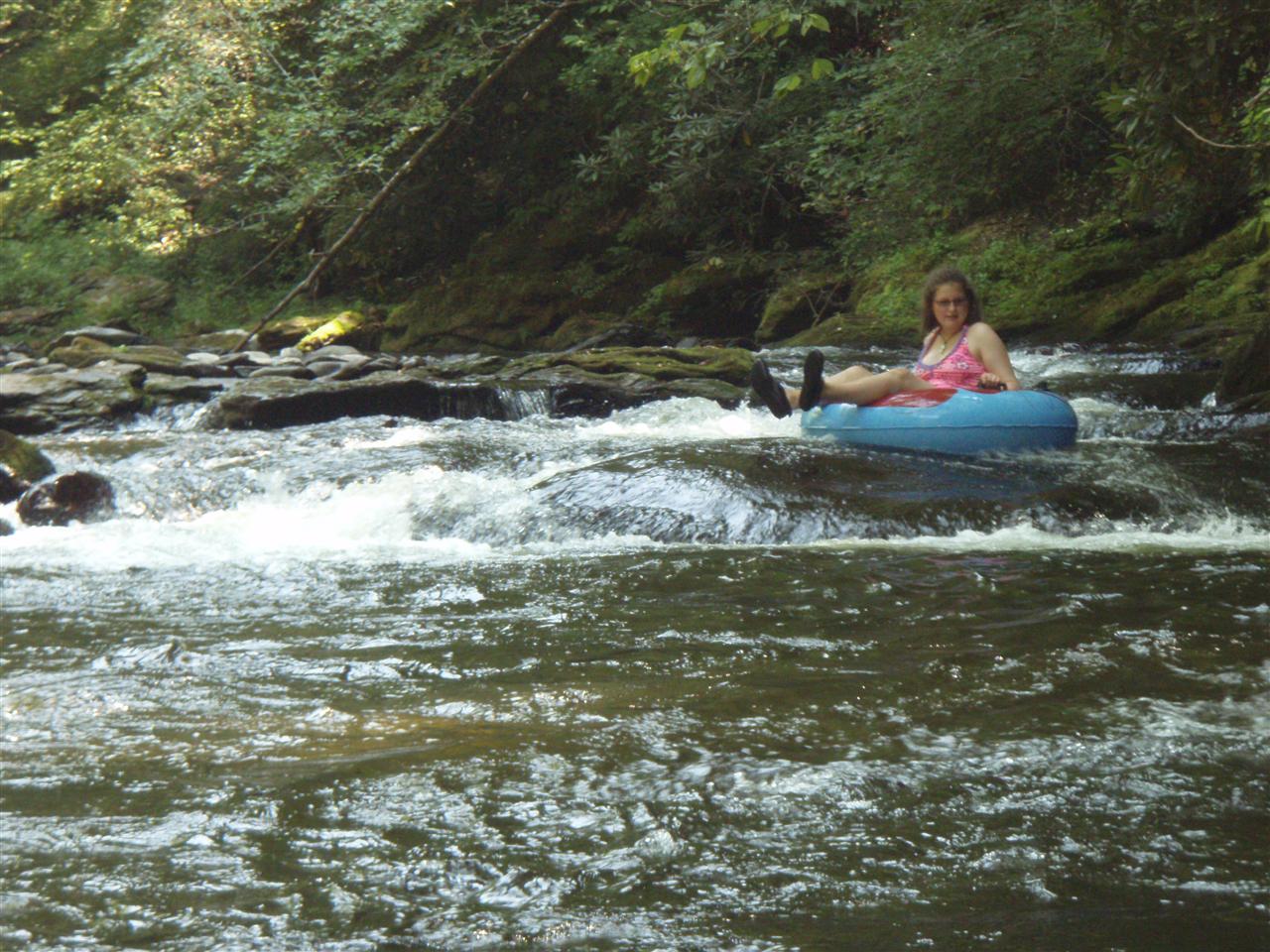 As the water became shallower, We & all the other floaters became snagged on the higher rocks..Yes the bigger your arse the more stuck you get ! I spent more time than most floundering & frantically trying to dislodge myself ( Beached whale came to mins mind...Thanx ).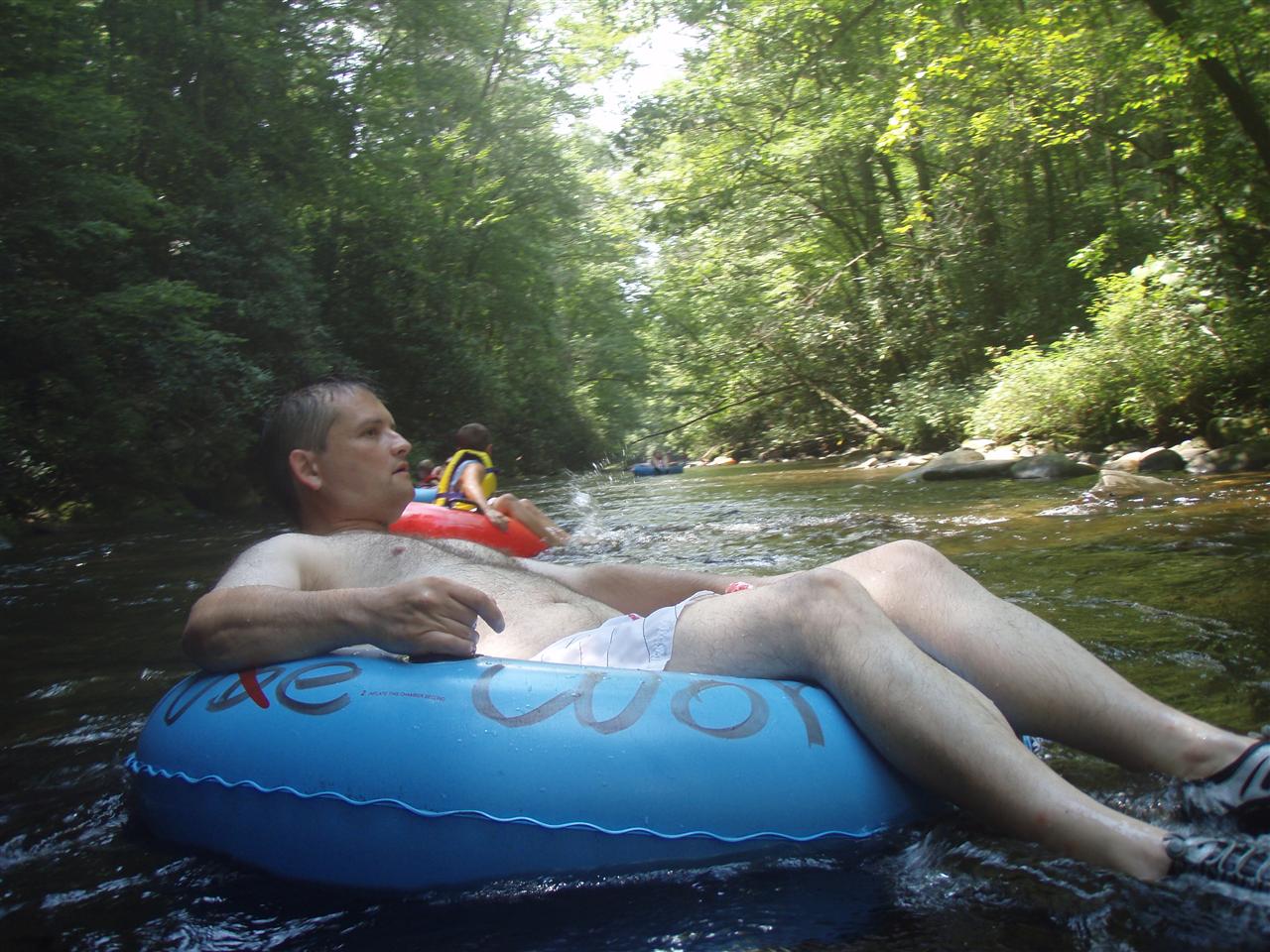 We finally clambered ashore & Ian remounted our tubes (securley) onto the roof...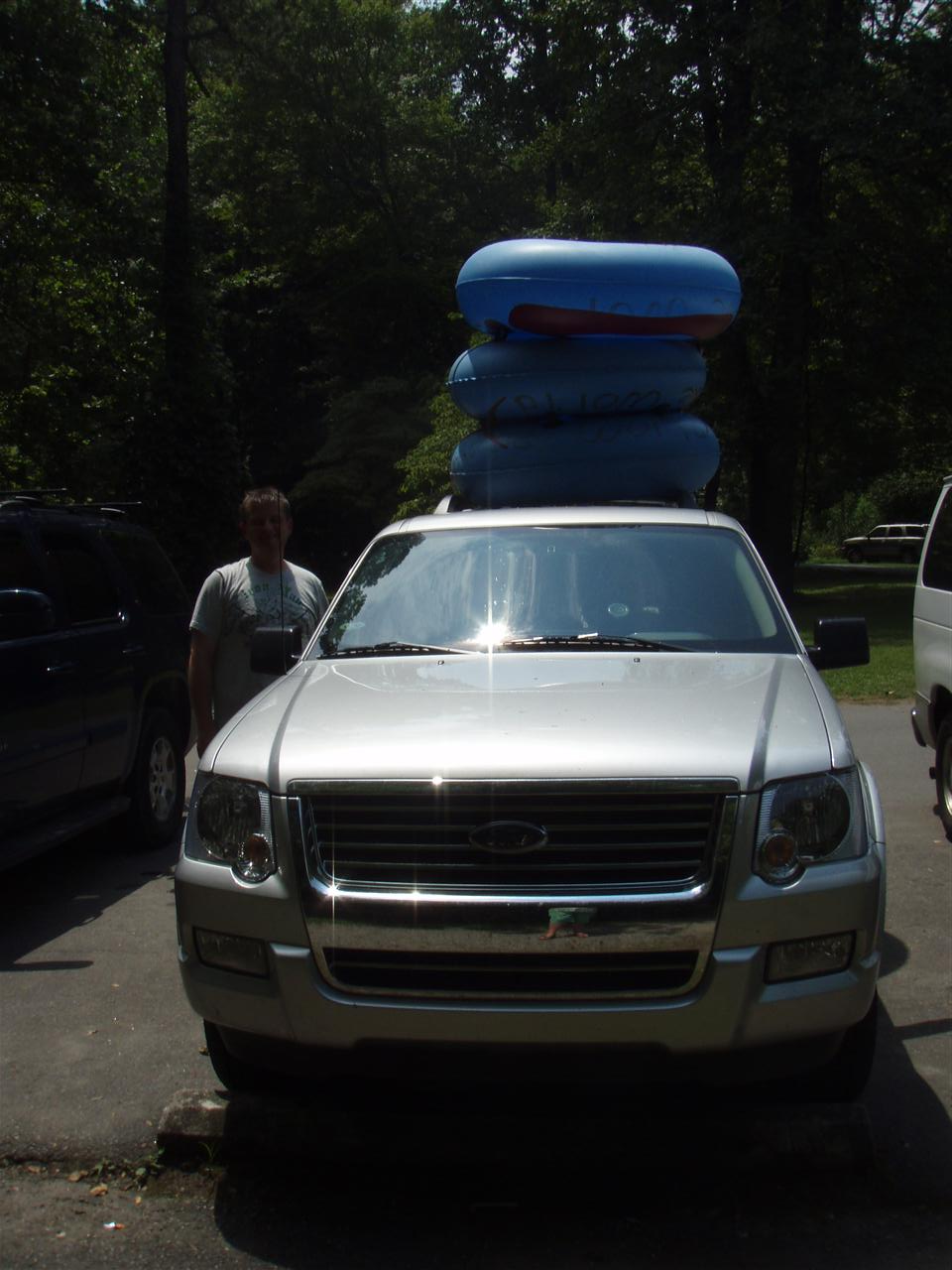 and this is what it looked like when we got there...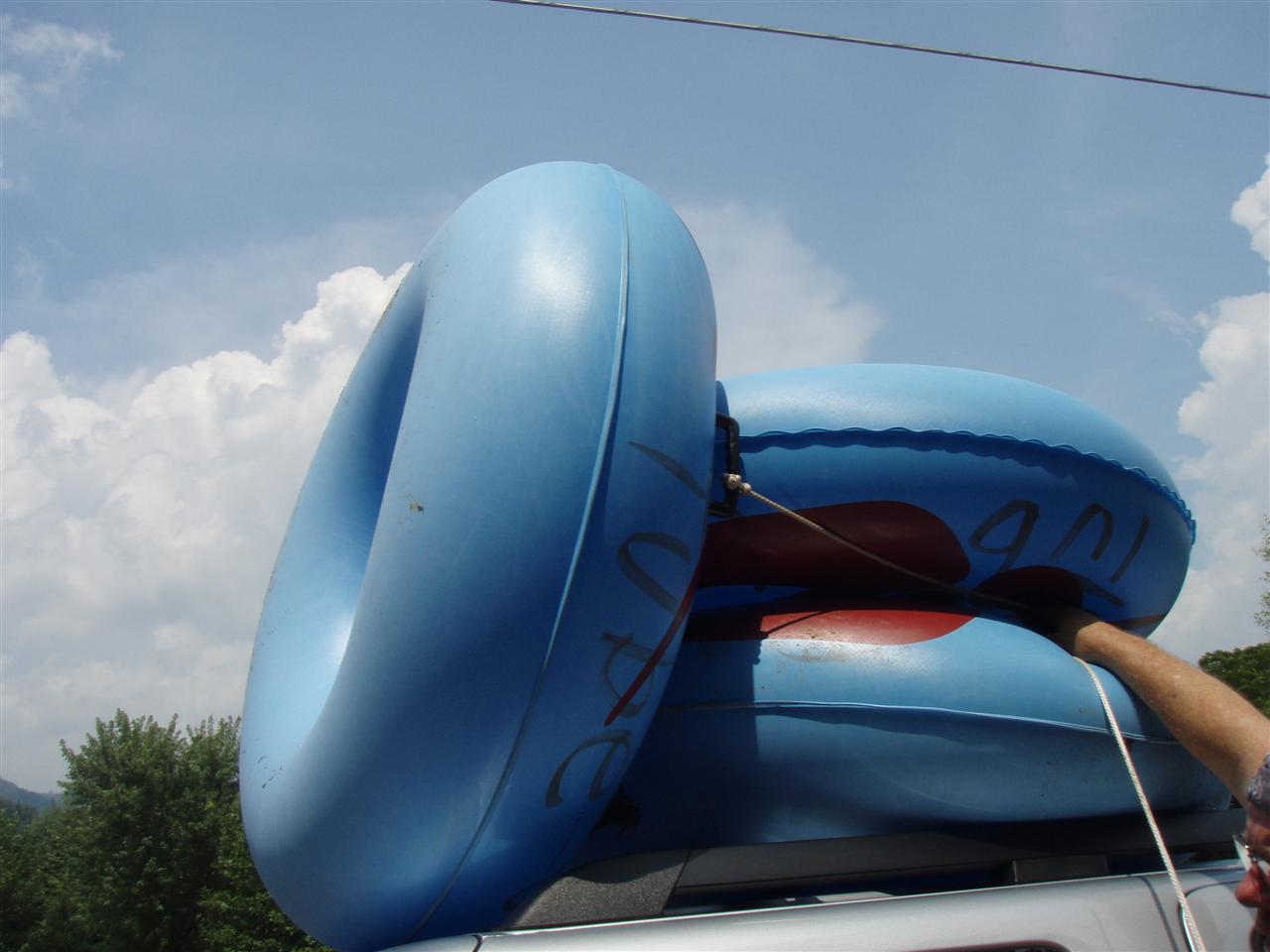 We had lunch in a diner called "The Iron Skillett" in quaint Bryson City, Then checked into the sleep in .
I was pleased to find a laundry where I spent an exciting afternoon , fluffing & folding. then Min & I visited the pool for another dunking.

We left the hotel at dusk, The view clearly inspired the early settlers to call this area "The Smokey Mountains ",we had a snack tea at Arbys.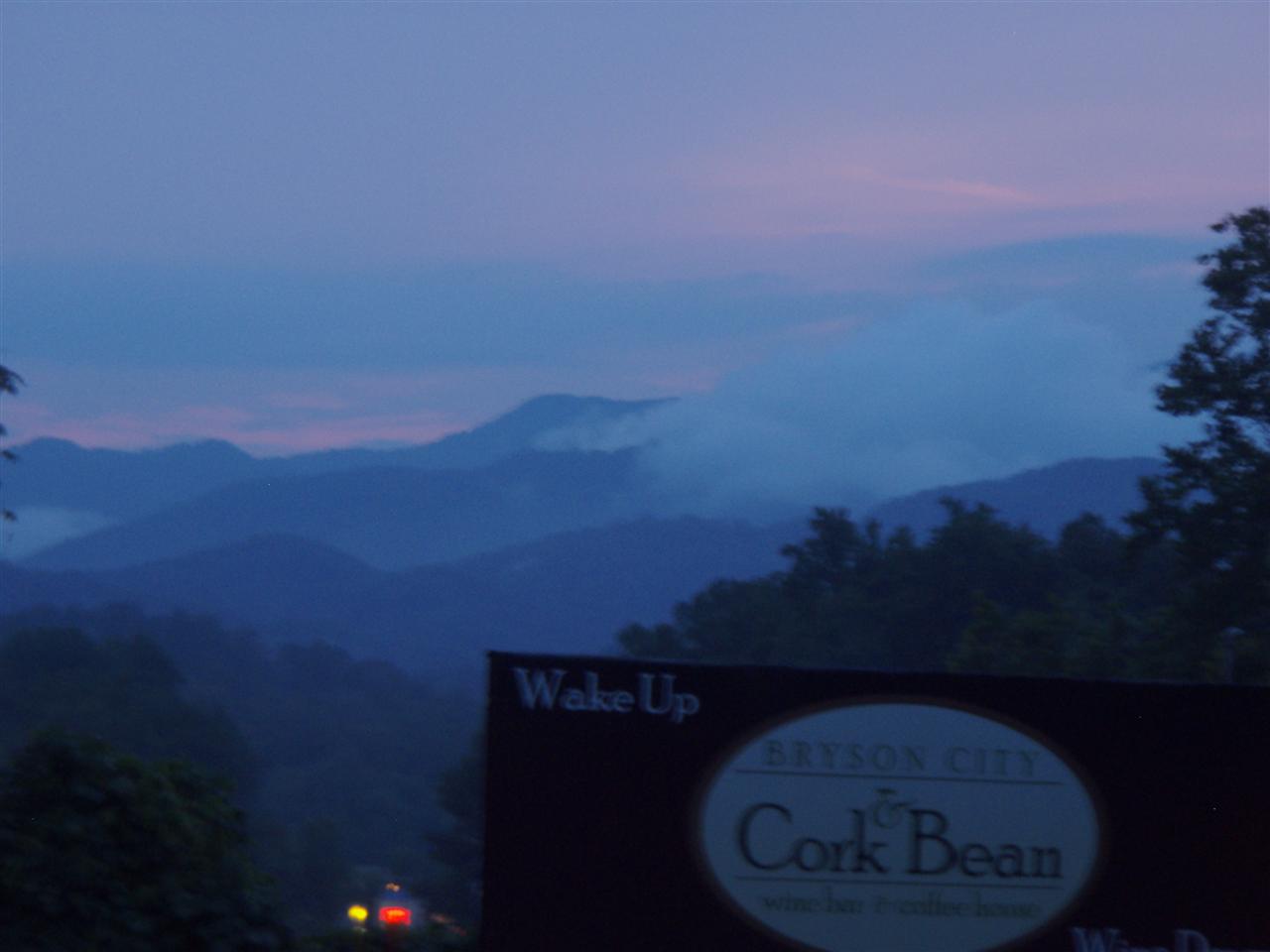 Well dear Reader, We should sleep well tonight..Bruised butts and all xxx
---
Day 16 : Choo choo, Train & Rail adventure
Breakfast was followed by a dash to the railway station, where we queued for our seat in the Nantahala open car on the Nantahala Gorge railway.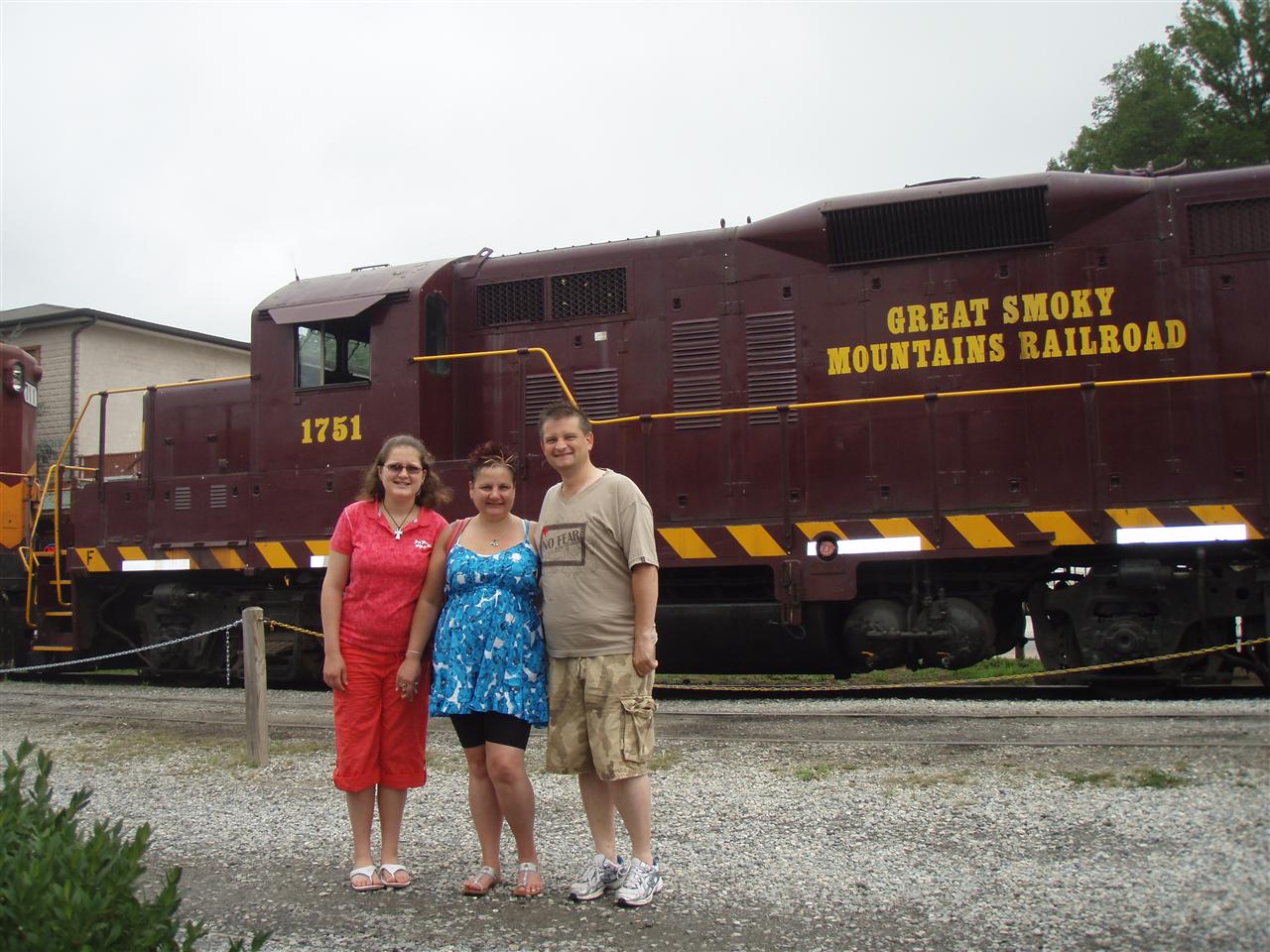 The first part of our journey took us alongside the Nantahala river, Our driver told us a little of the local history as we chugged along.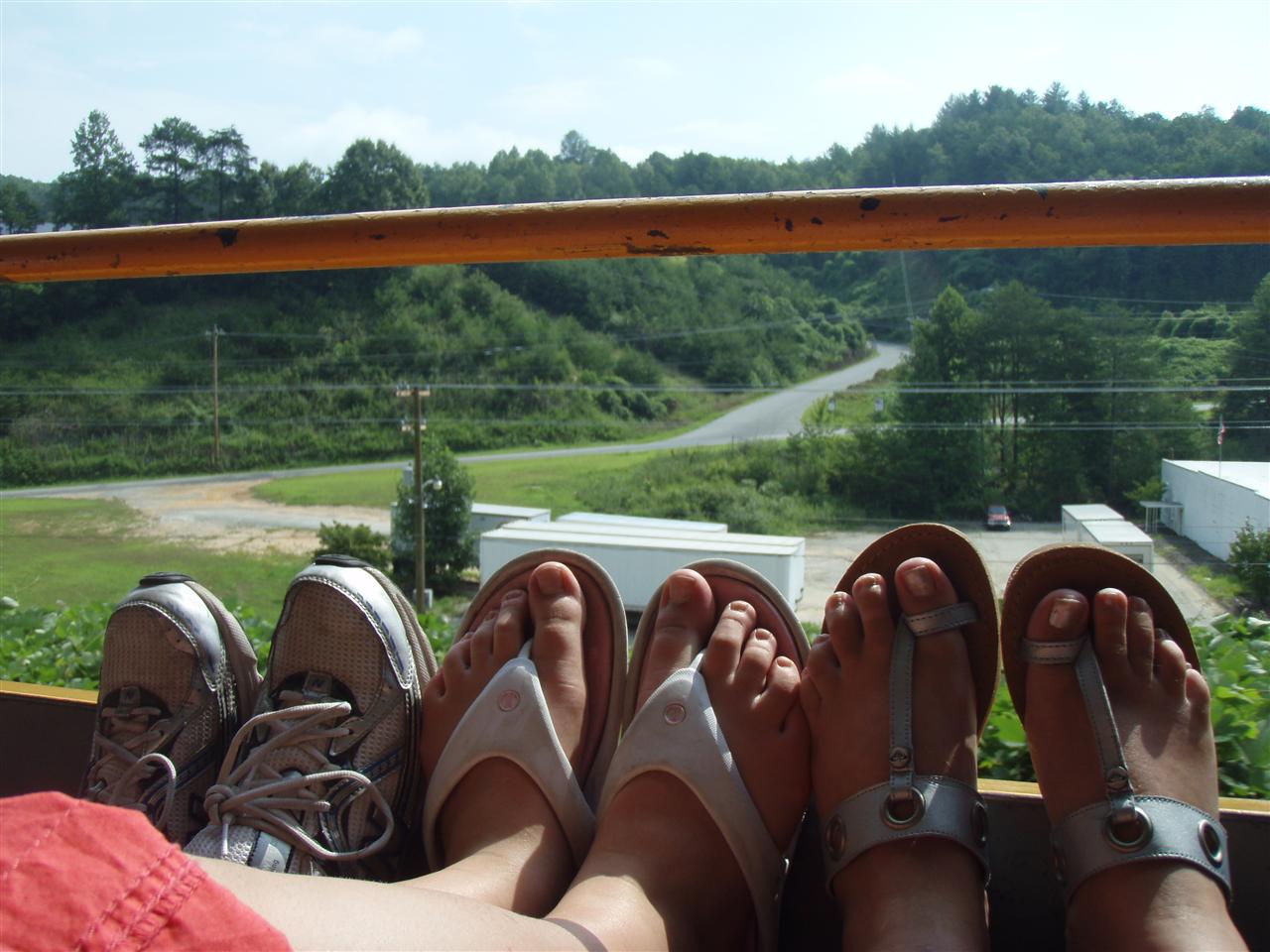 We passed over an impressive bridge built during the war years using 2nd hand steel tressles as metal was scarce during this time.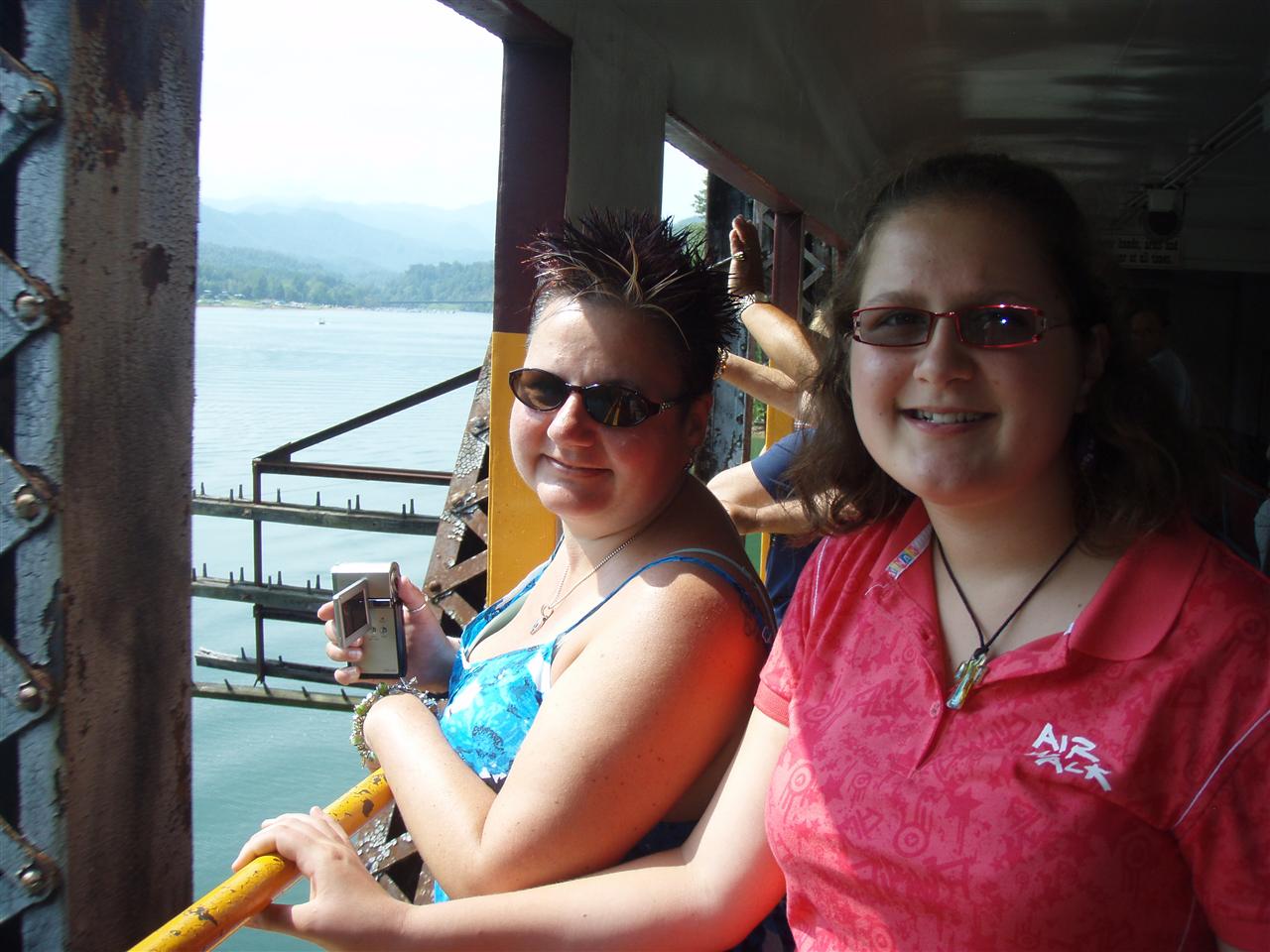 We discovered the thick vines you can see here creeping over EVERYTHING are a Japanese import called Kudzu, brought here in 1876 & grows up to 2ft a day!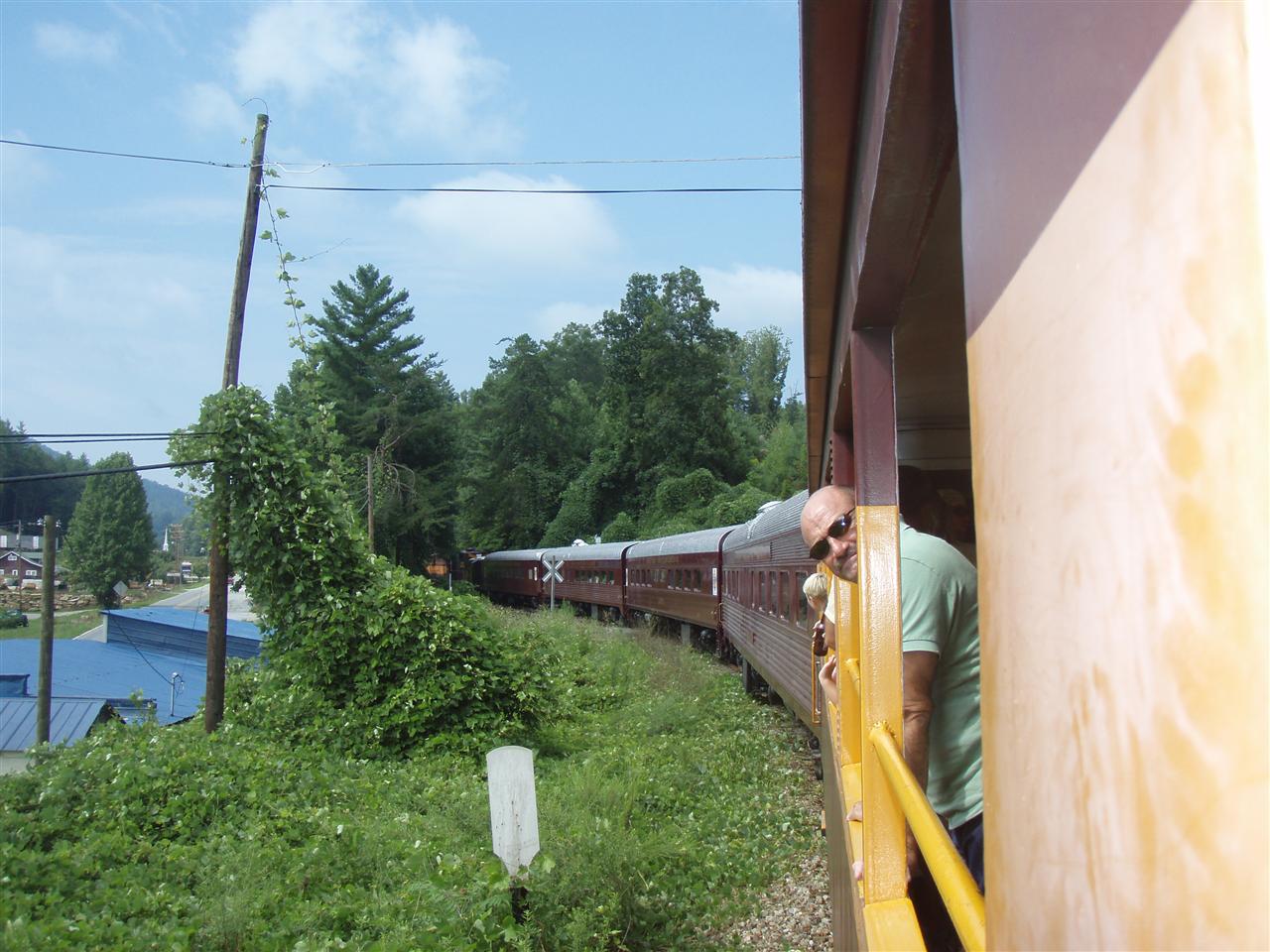 Lake Fortuna was formed artificially to aid the earlier settlers to bring water & power to their homes.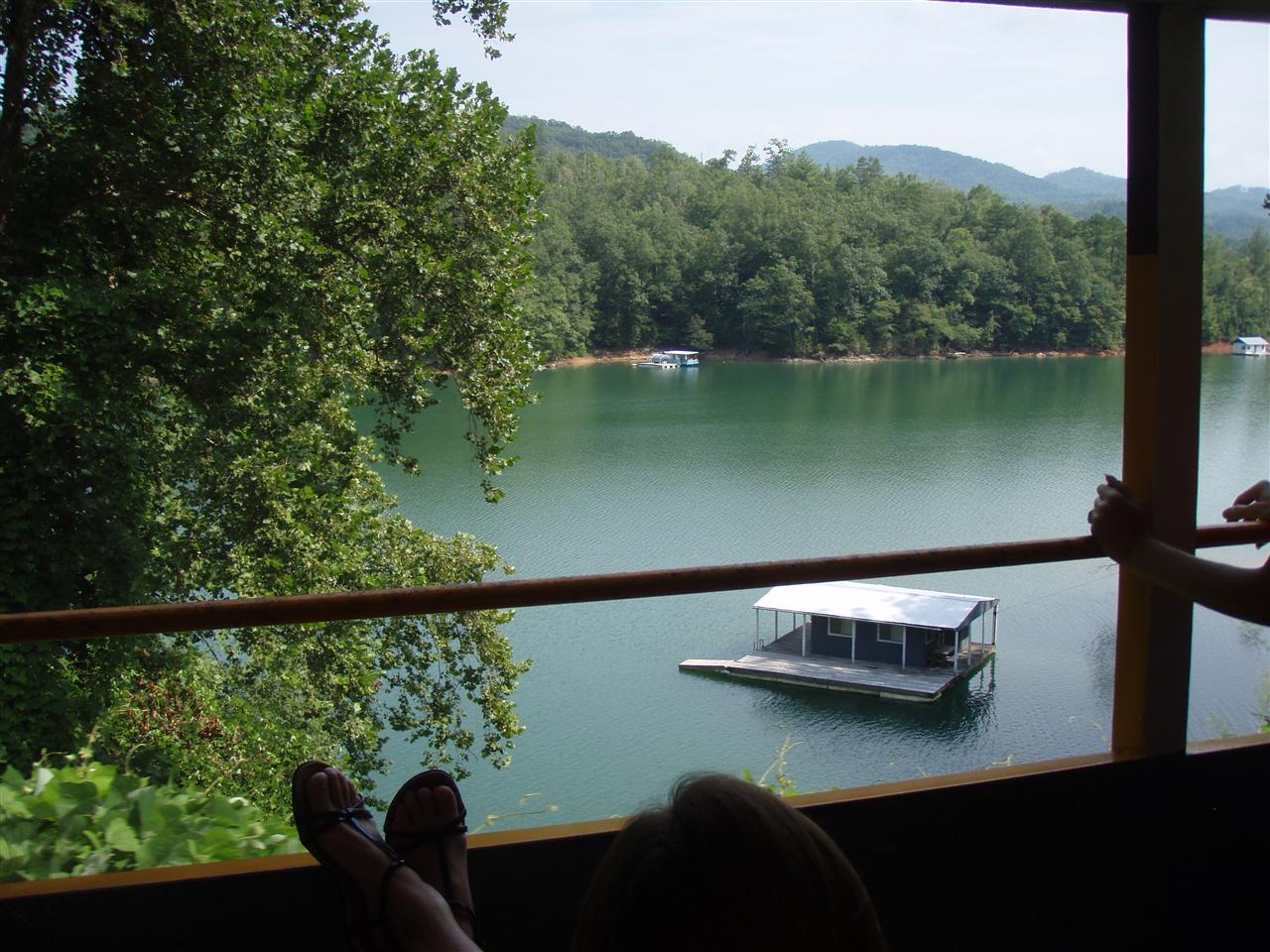 We reached the outdoor centre where many fellow travellers would spend an hour before returning by train to Bryson City.
We & a group of white water rafters, who split off with their guide.. left the train a few miles later to join our Jeep driver , Todd, described to us by our rail crew ( Father xmas lookalike " Al ") As Flipper cos he's on his 6th jeep & Copes very well with " Just the 1 eye" ???
Todd took us around the national park. pointing out scenic areas. We stopped at a beautiful set of falls, clambered down the rocks & spread a table cloth for a picnic, supplied by our tour guide.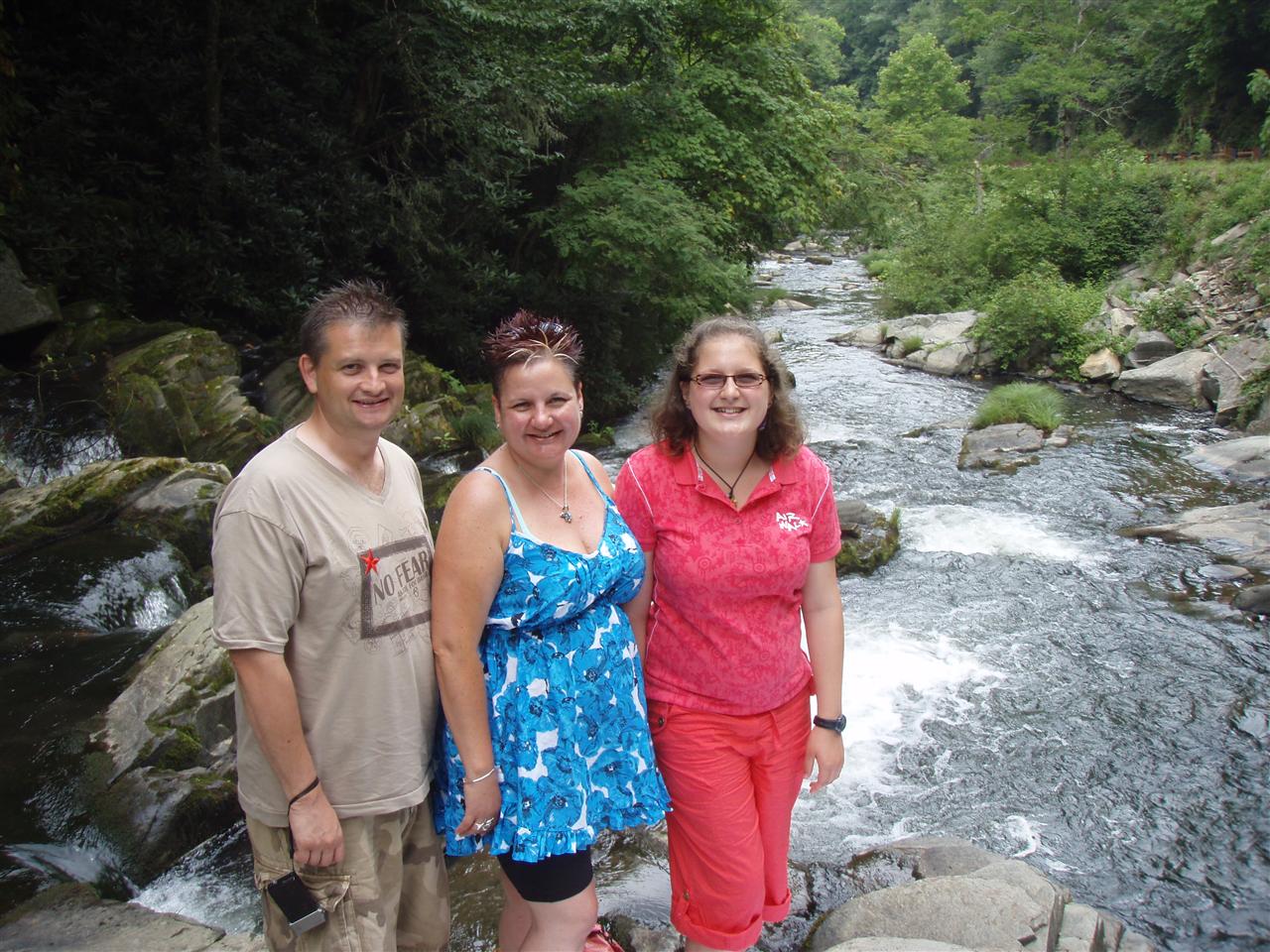 Todd showed us typical properties, interesting & historic buildings in the area known as the Nantahalla community.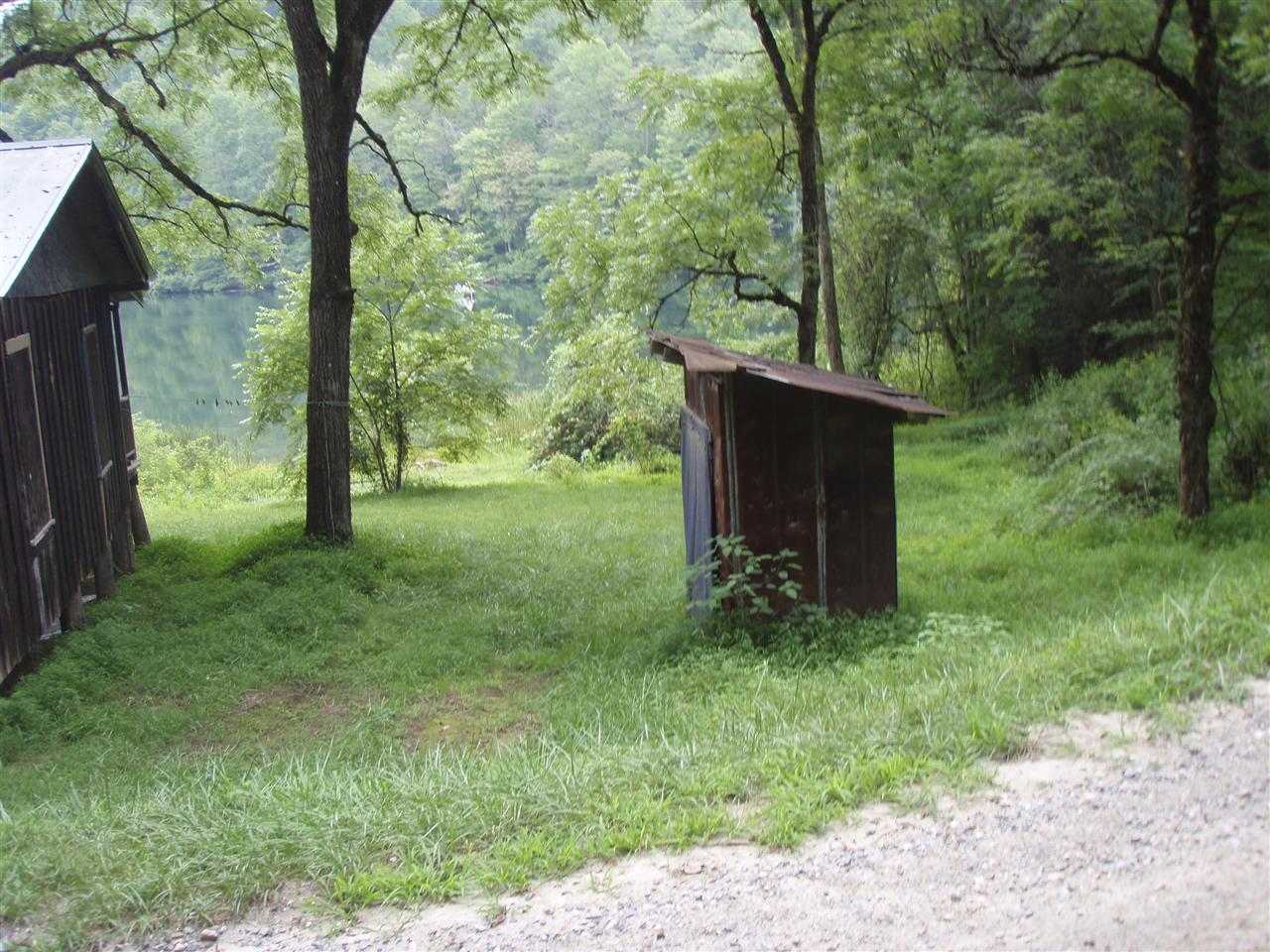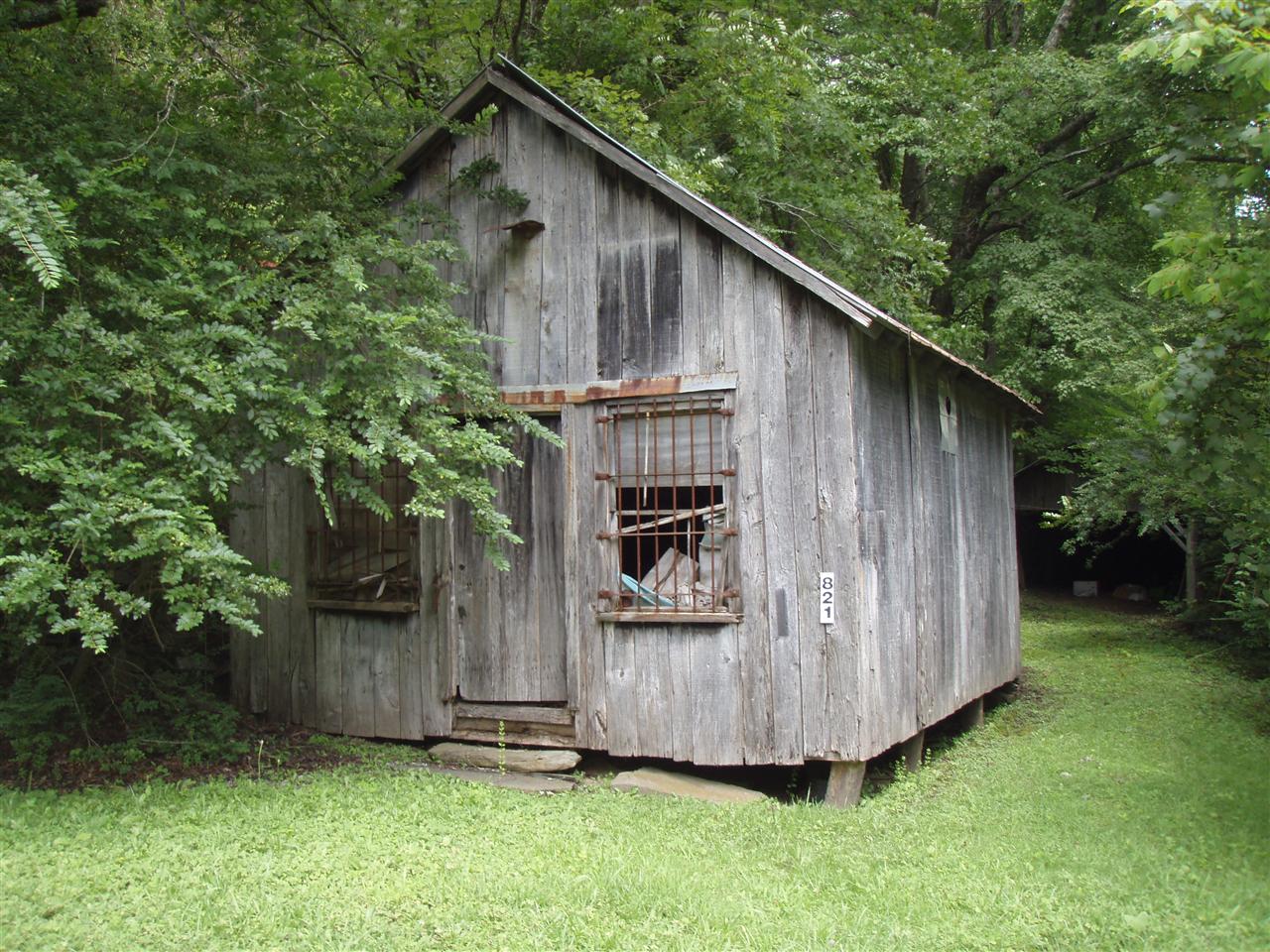 Todd took us to Queens lake, another artificially created lake, filled in the 1940's it acts as a giant filling tank for the river that our rafters were using.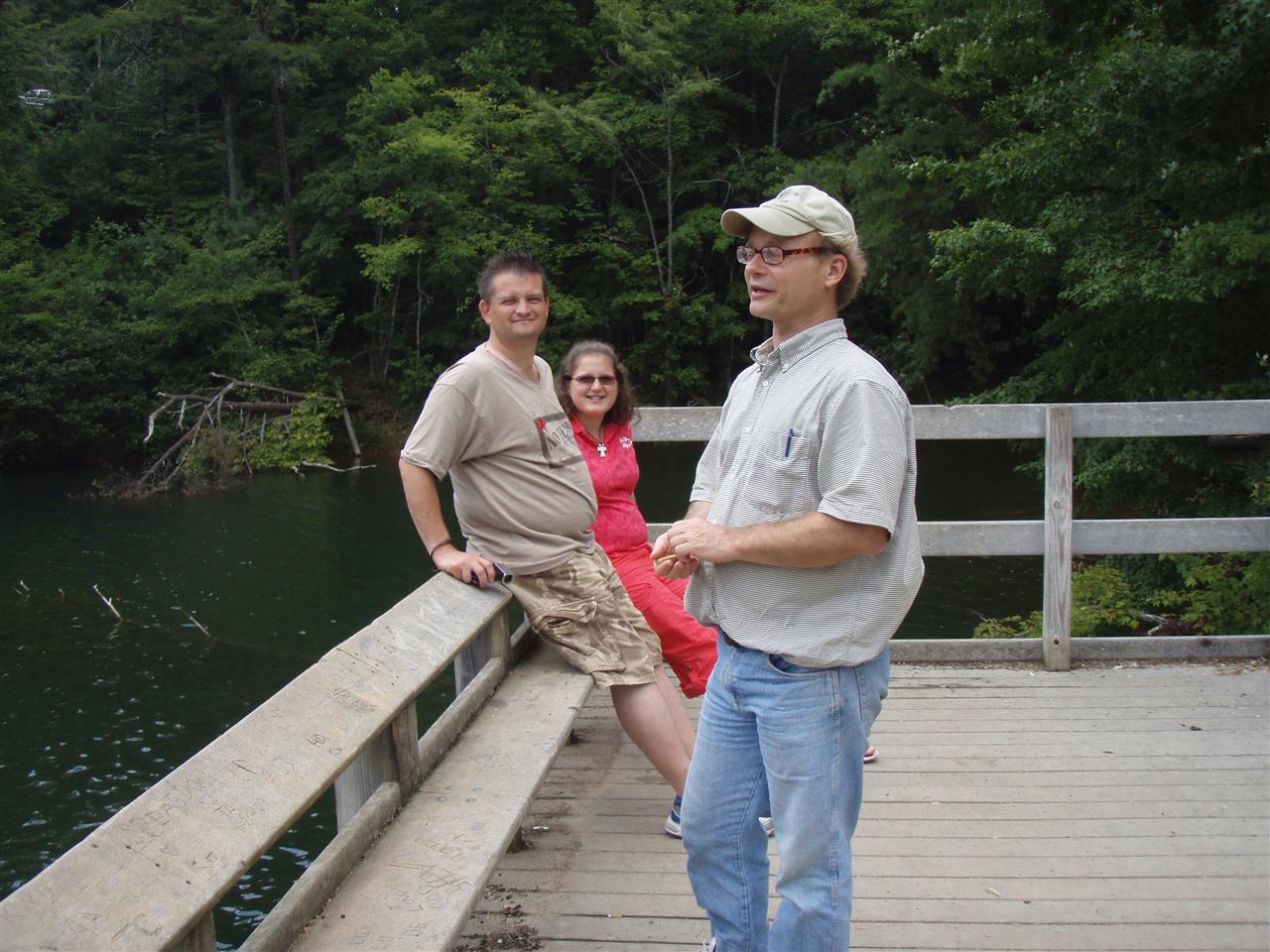 The Lake is drained by a pipe which runs 6 miles down the hills & is open 9am-5pm supplying millions of gallons of water to the river.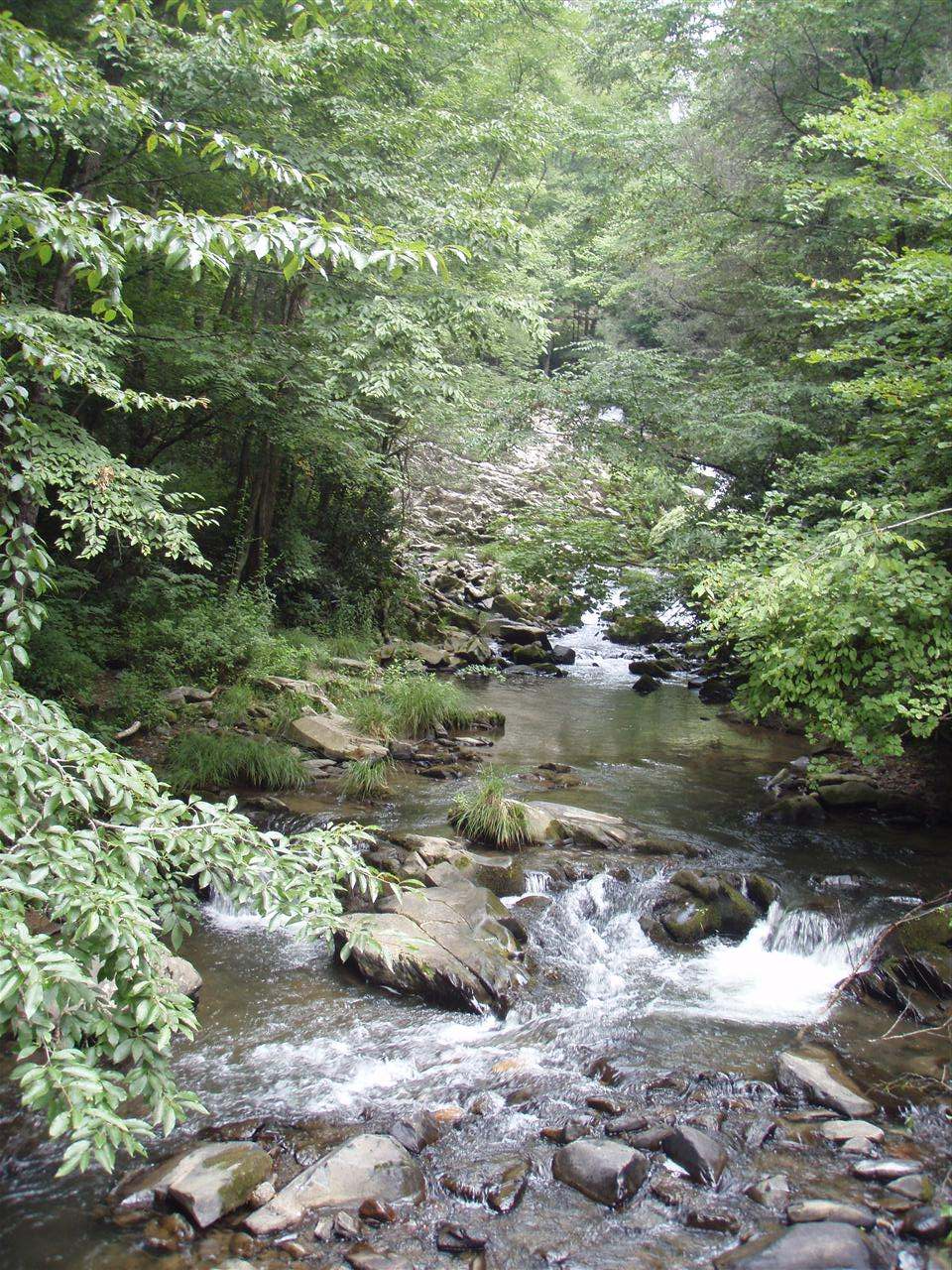 On the way back we stopped to see the rafters pass under us , while we sat dry & comfy on a bridge .
1 cheeky rafter tried to splash us, Todds revenge involved dumping a bottle of chilled drinking water over the guy ,as he immerged the other side of the bridge!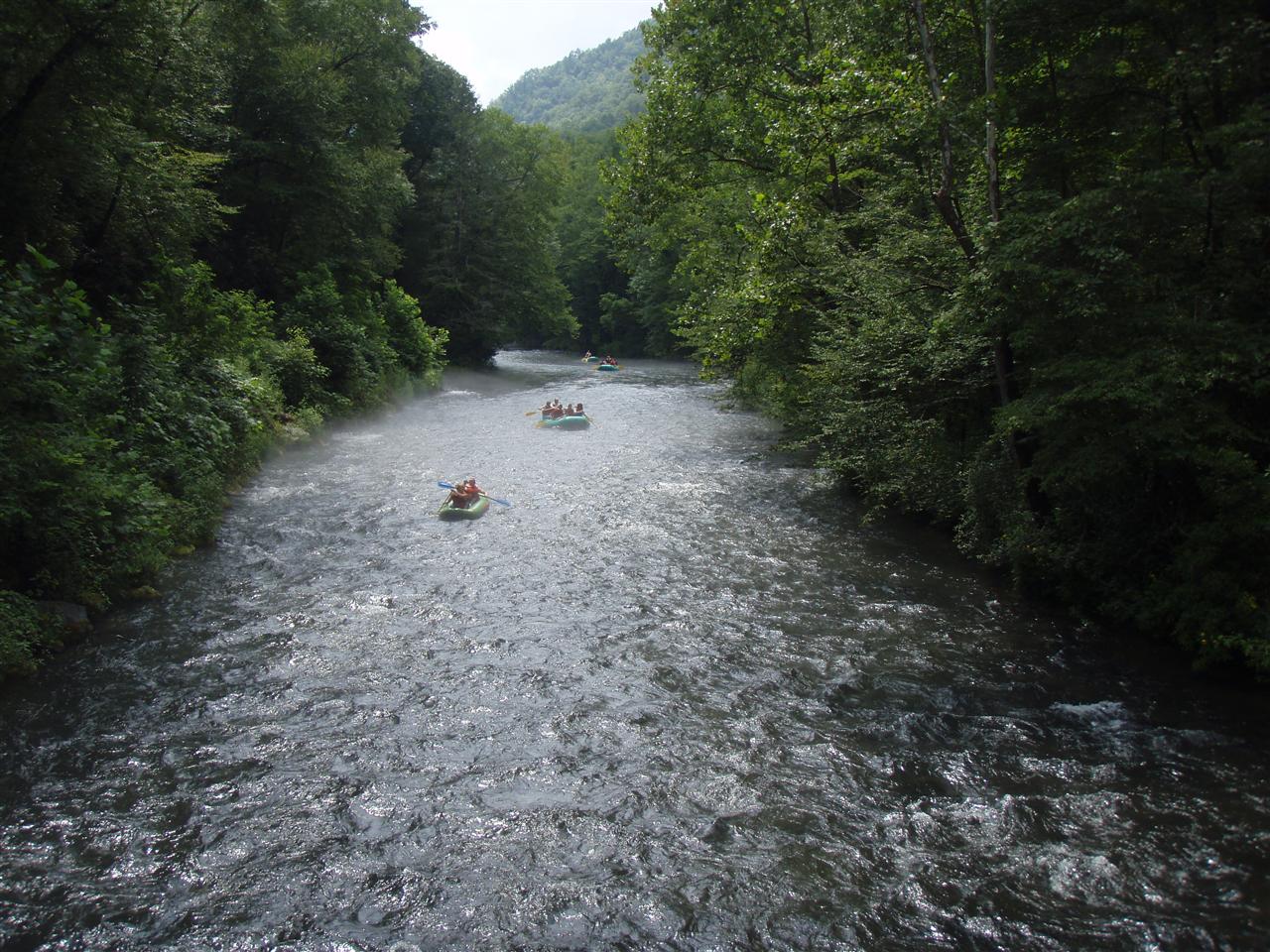 Back at Wildwater HQ we awaited our bus back to the car, once home we re-entered the park to explore on our own, we stopped in Cherokee, a so called "Indian reservation" More like a money spinning mall of psudo Indian shops, a casino & some Hotels.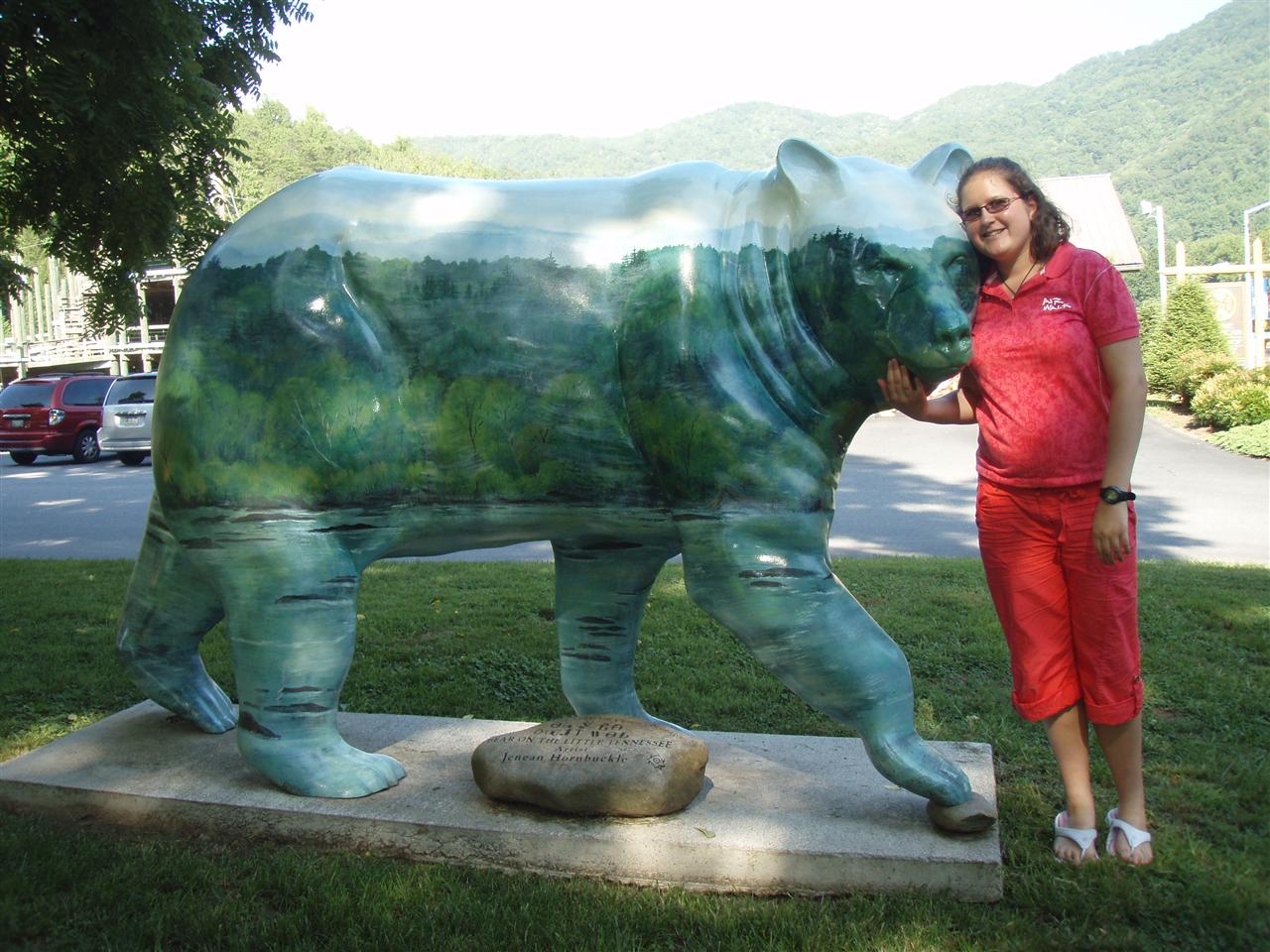 We went into Parkway a mountainous region of the park & photographed some views of the smokies at their best.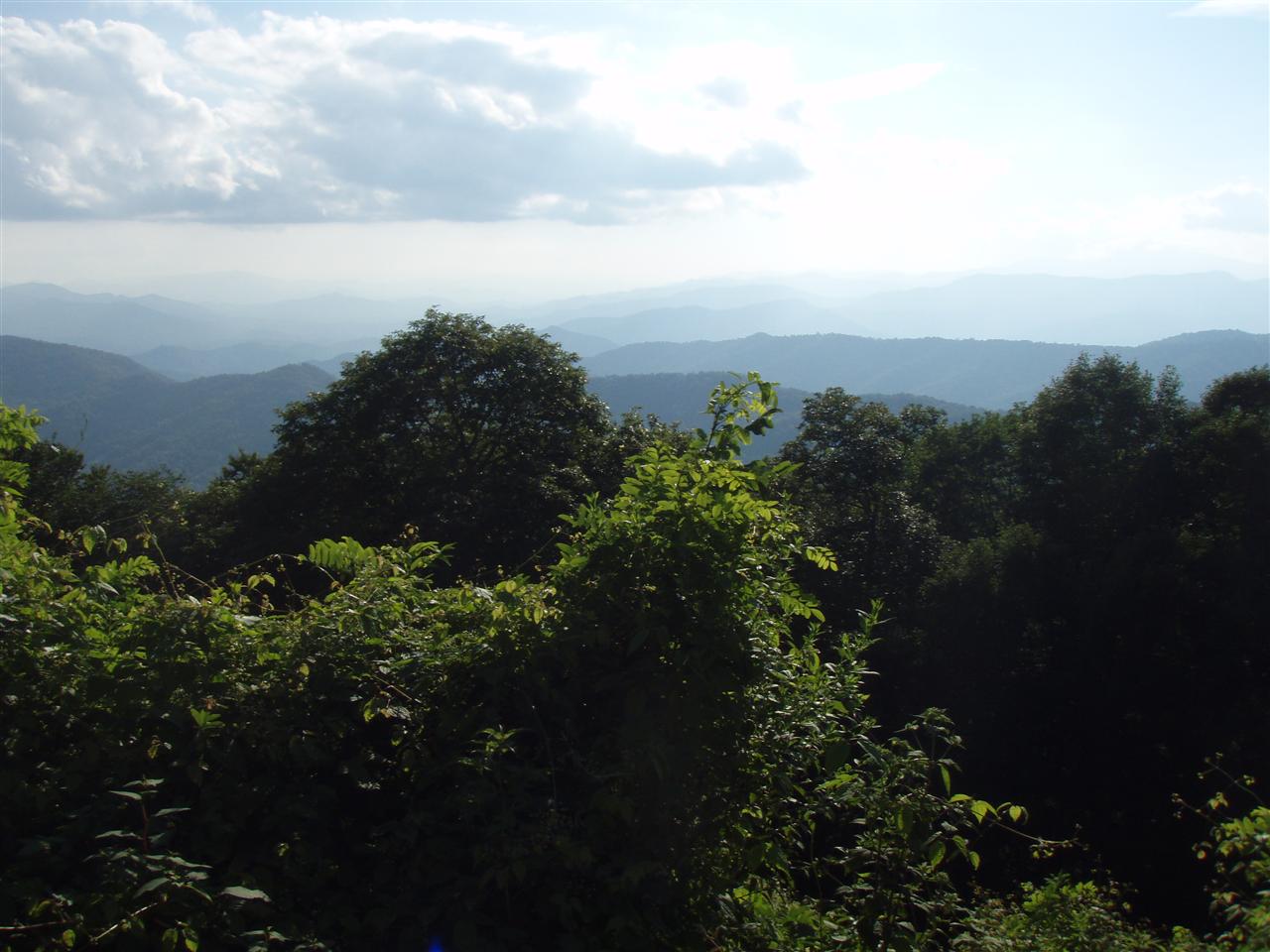 We found some of the grand signs somewhat baffling, Ian never did find the river in this view.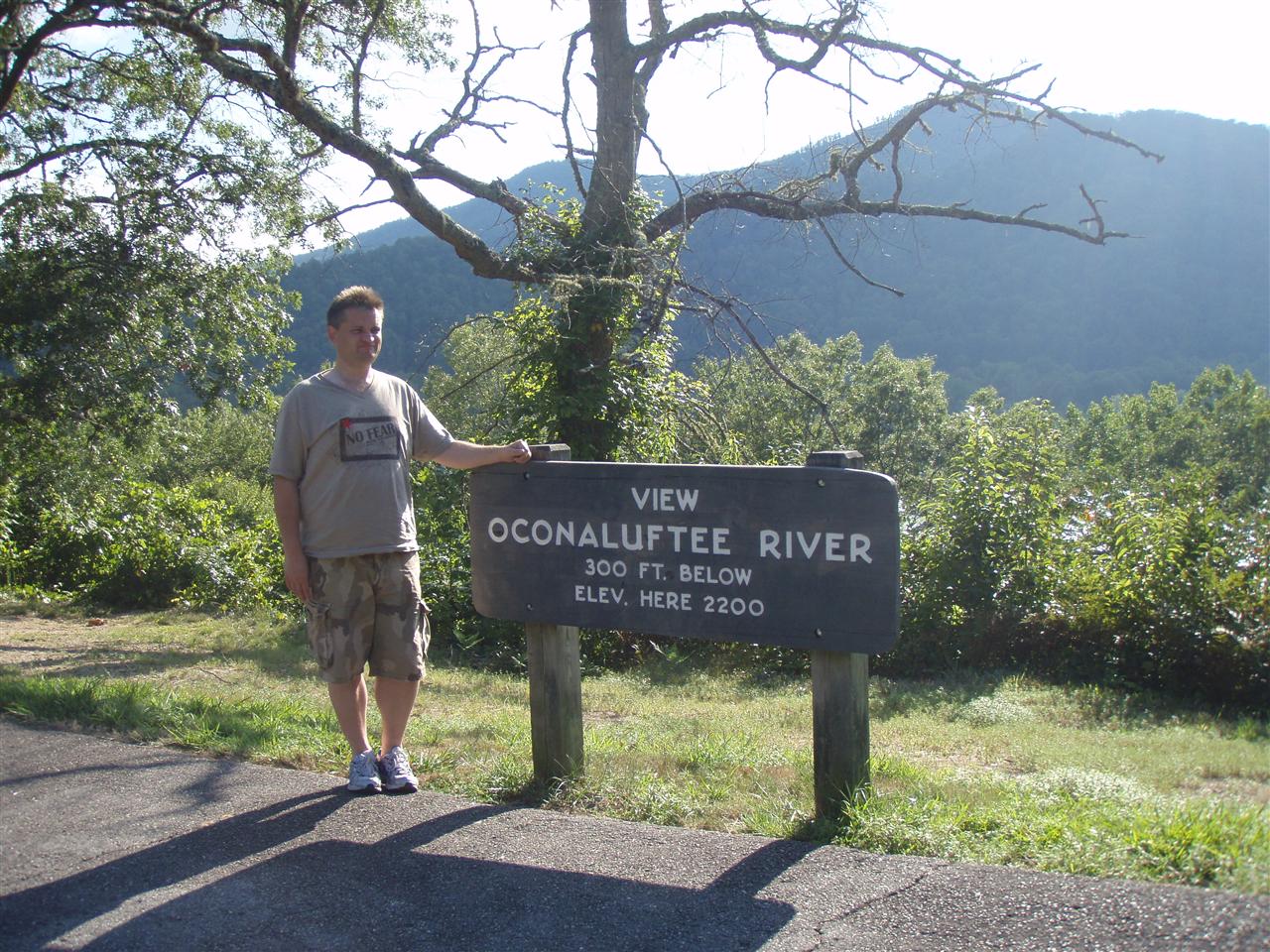 Dinner was at " Paspualino's" a marvelous Italian joint , where Ian ordered & devoured the worlds largest Pizza. ( Much to the chefs delight & waitresses amazement! )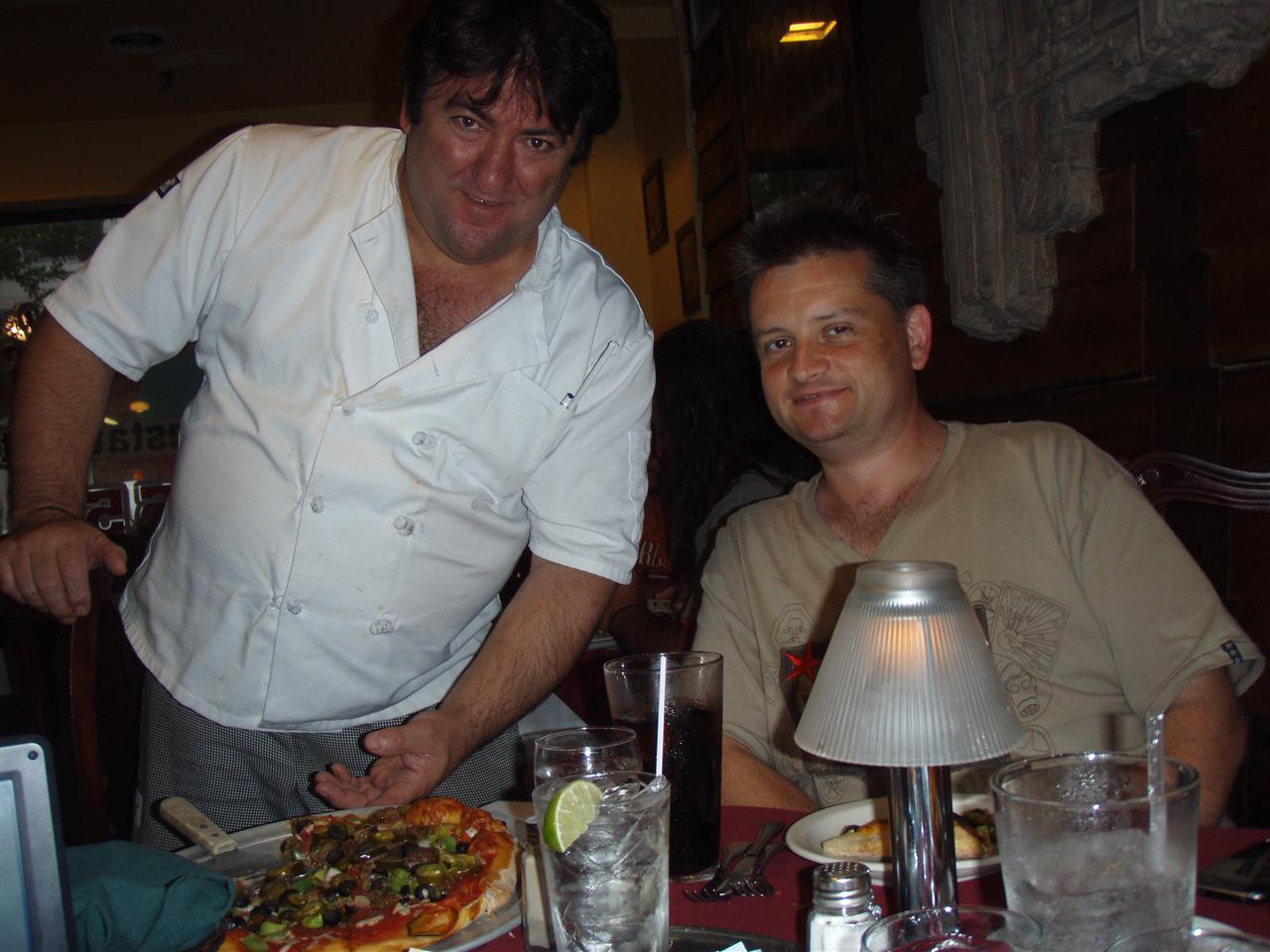 We must go to our beds dear reader as Dolly Parton is expecting us bright & early tomorrow xx
---
Day 17 : Dollywood or bust!
Crack of dawn & we are off again.
Whilst travelling through the parkway we came upon a juvenile black bear trotting across the road ahead of us, I tried to video his retreat down a bank but only managed to capture a black lump moving briefly behind a tree.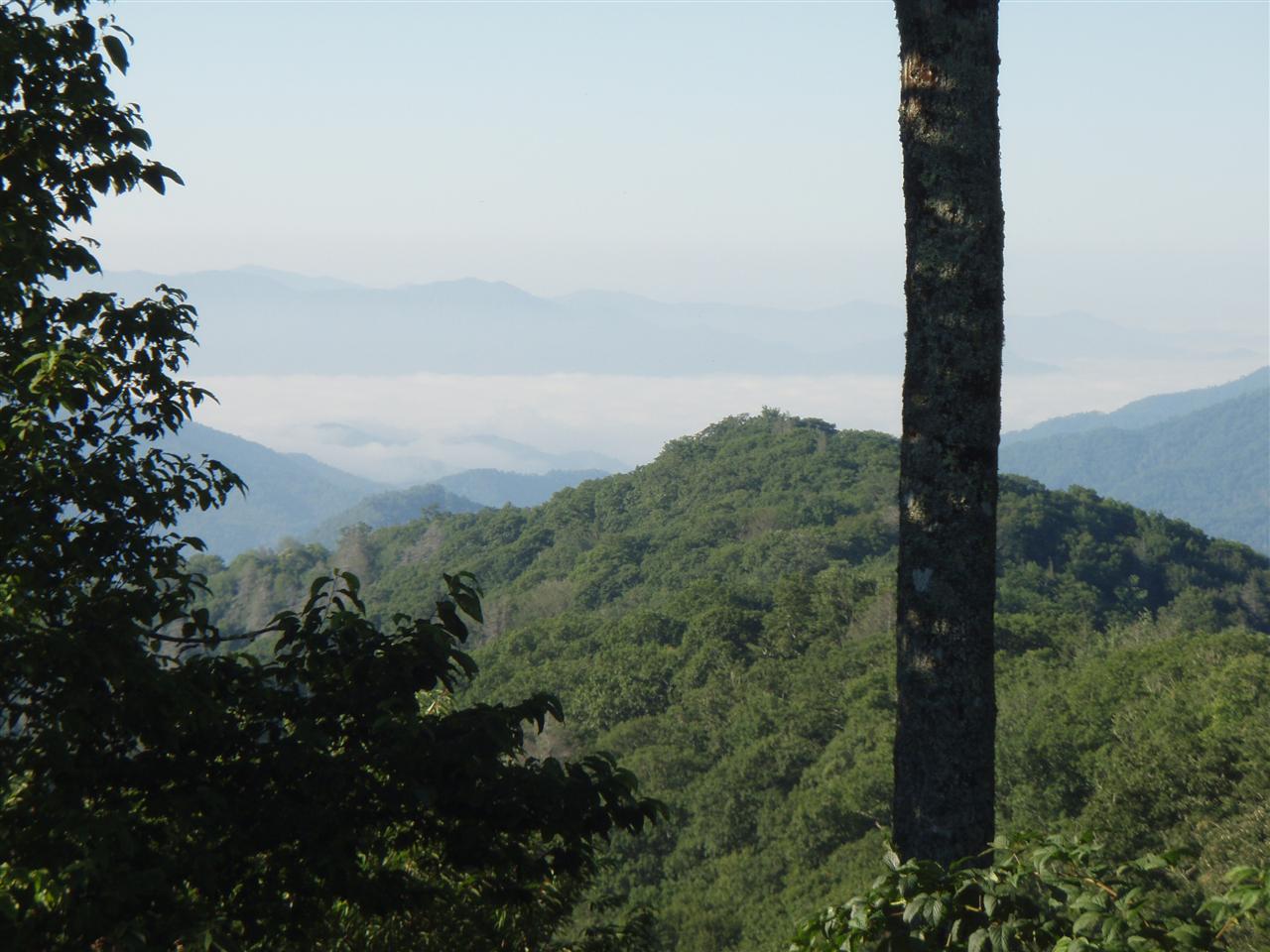 Pigeon Forge is as expected, a neon strip of commercial nonsence.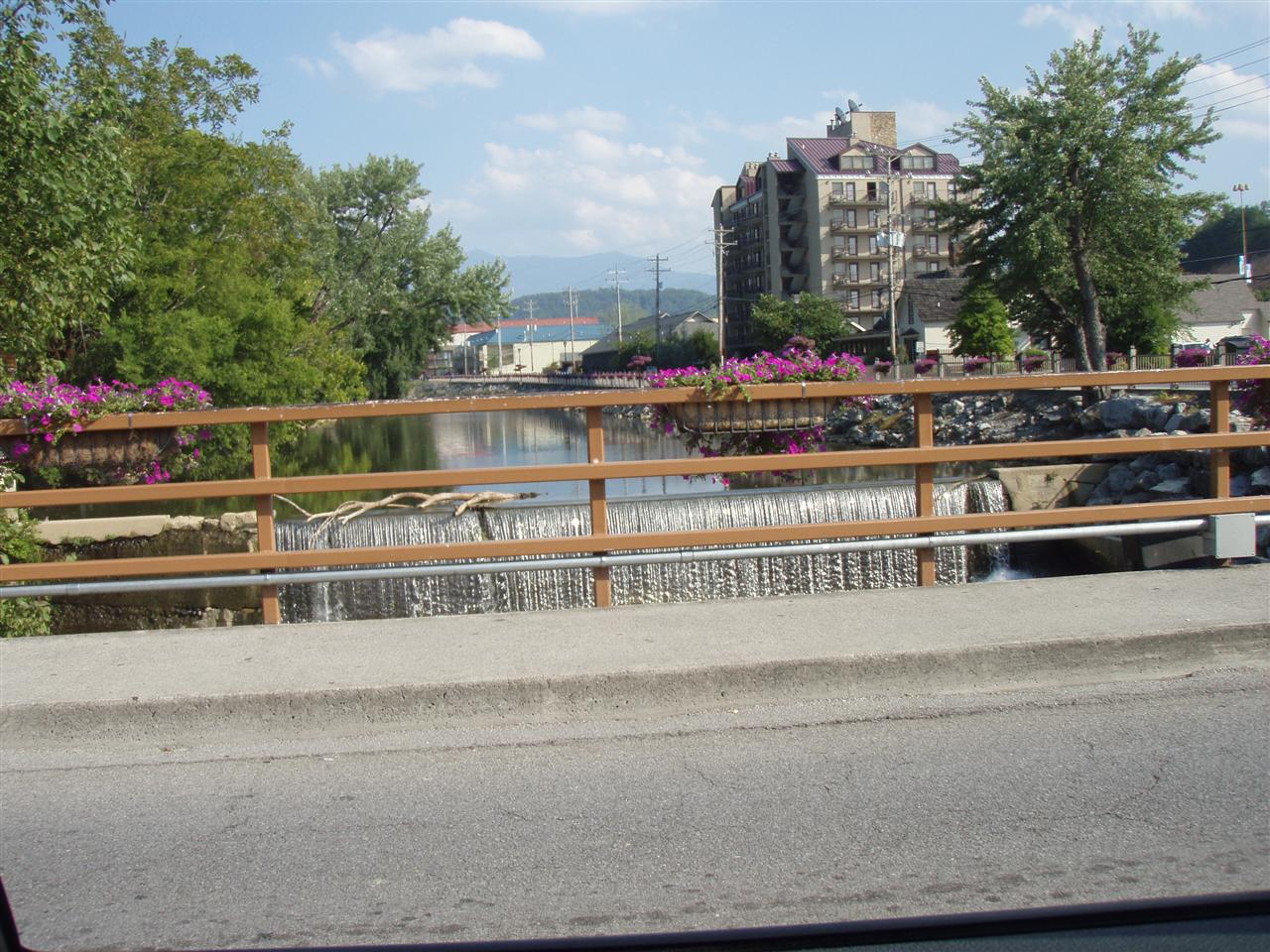 We arrived at Dollywood & took a tram ride to the park, We dashed to the most popular rides, Mystery Mine, Thunderhead & Tennessee Tornado, before taking a break & trying some more exciting rides.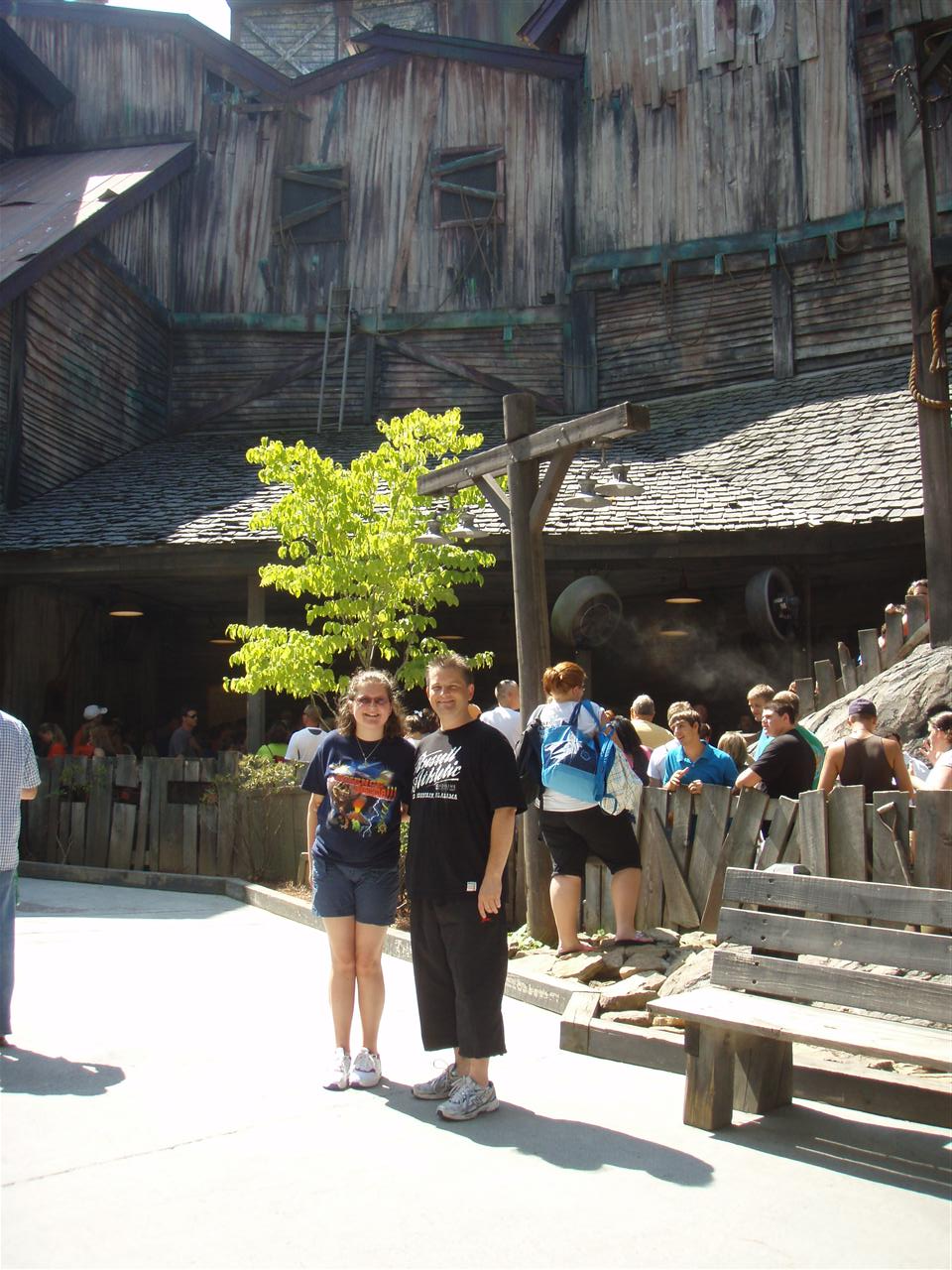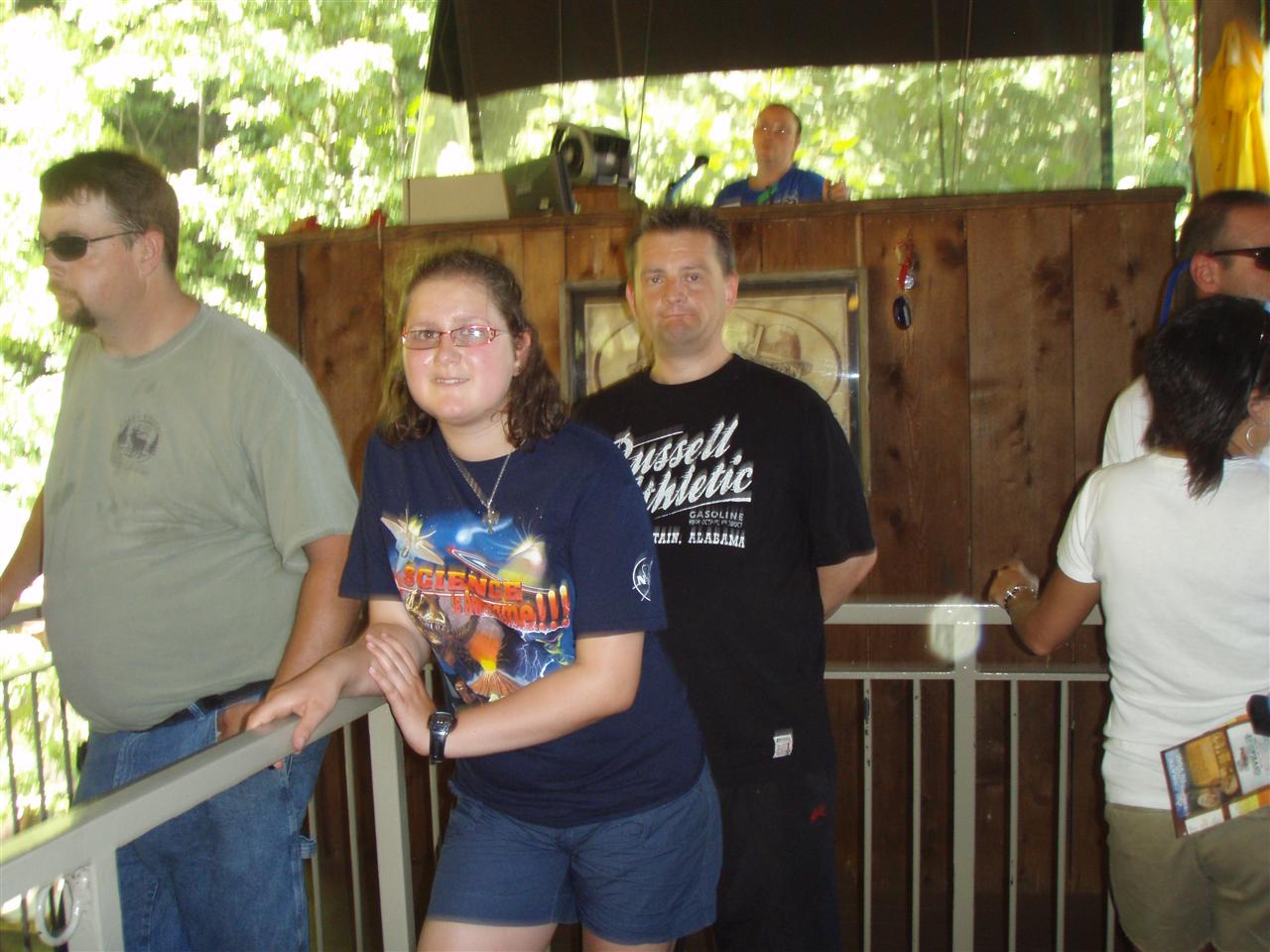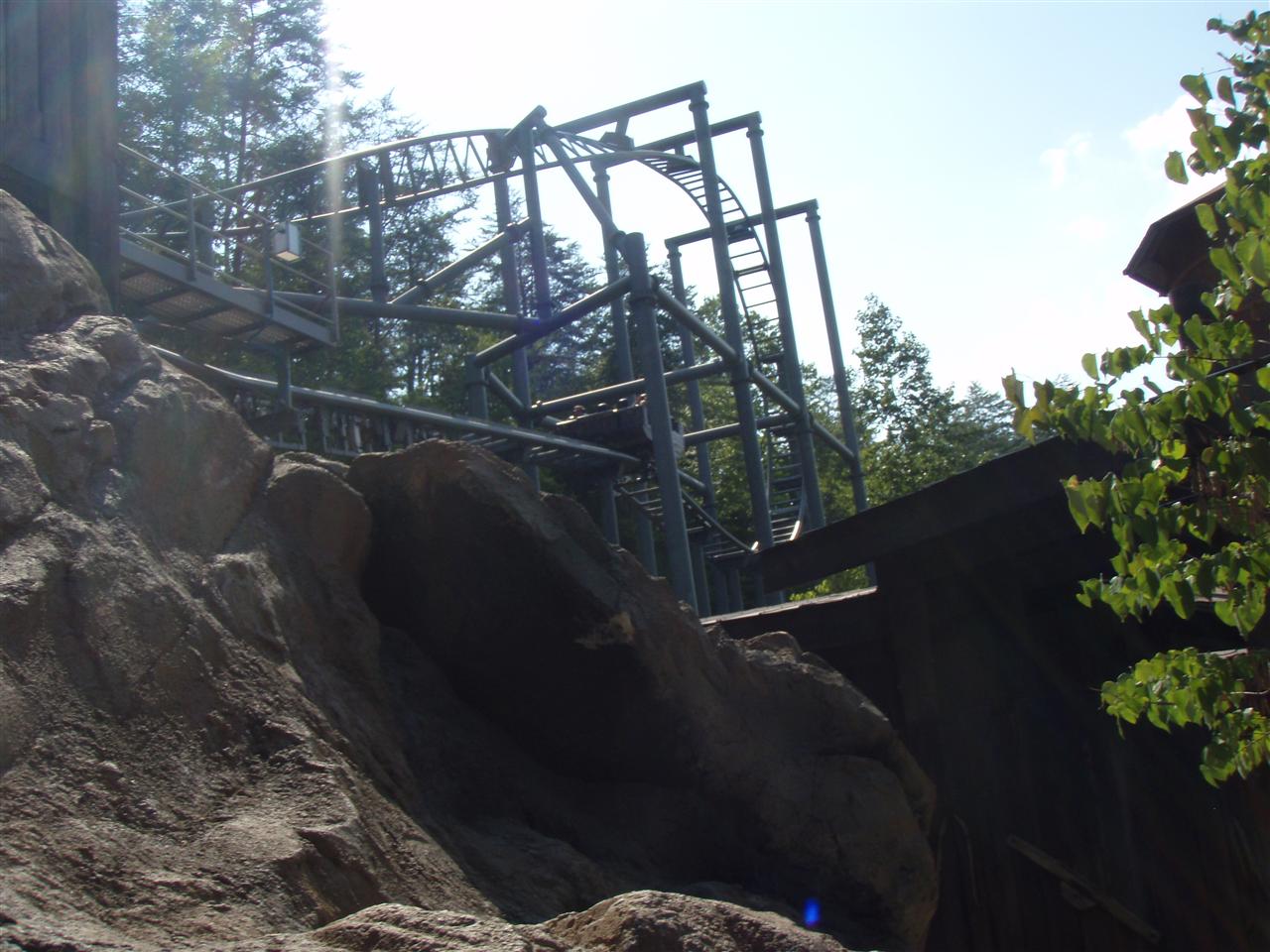 The river rapid ride looked innocent enough, however we got totally soaked !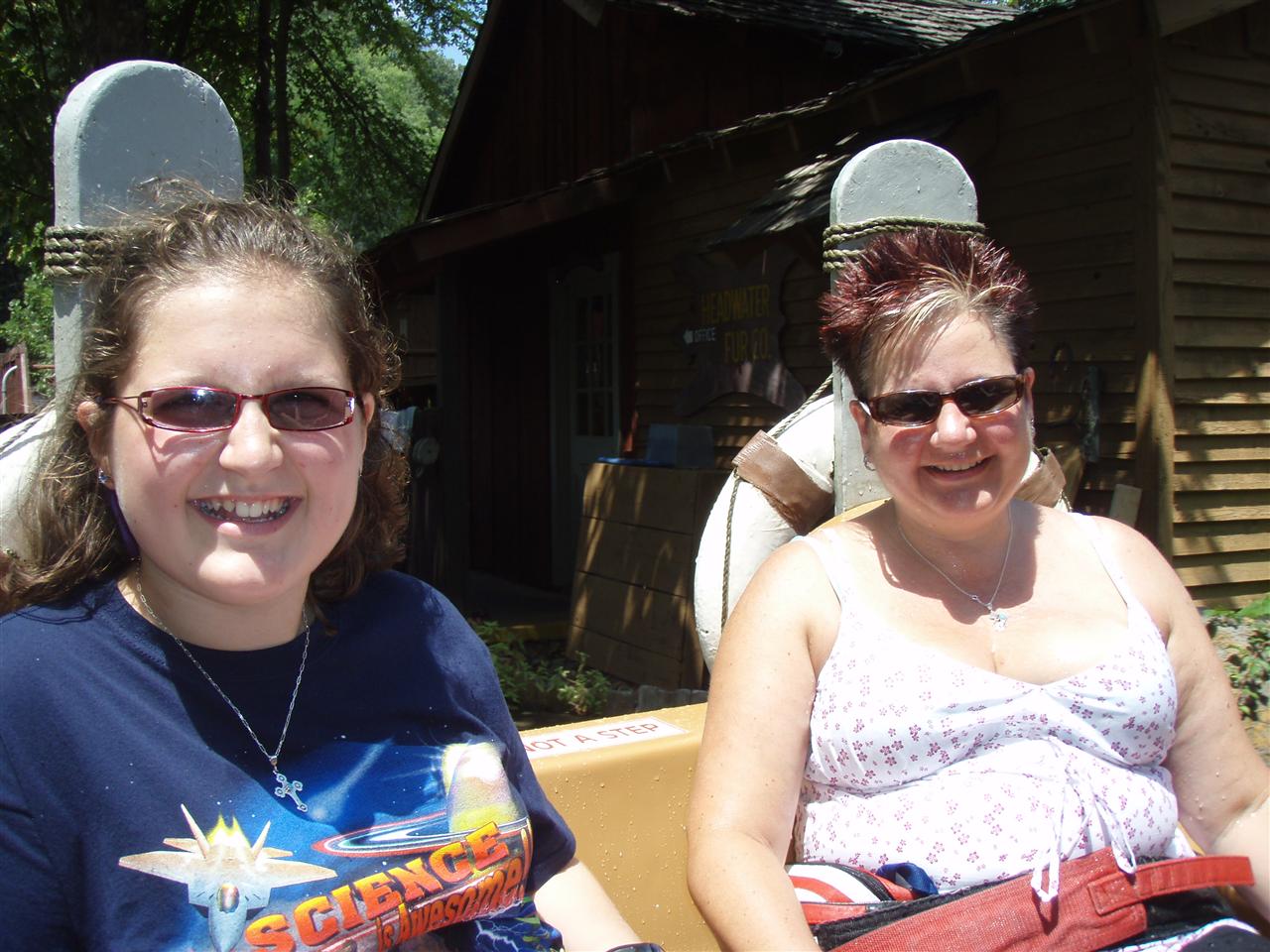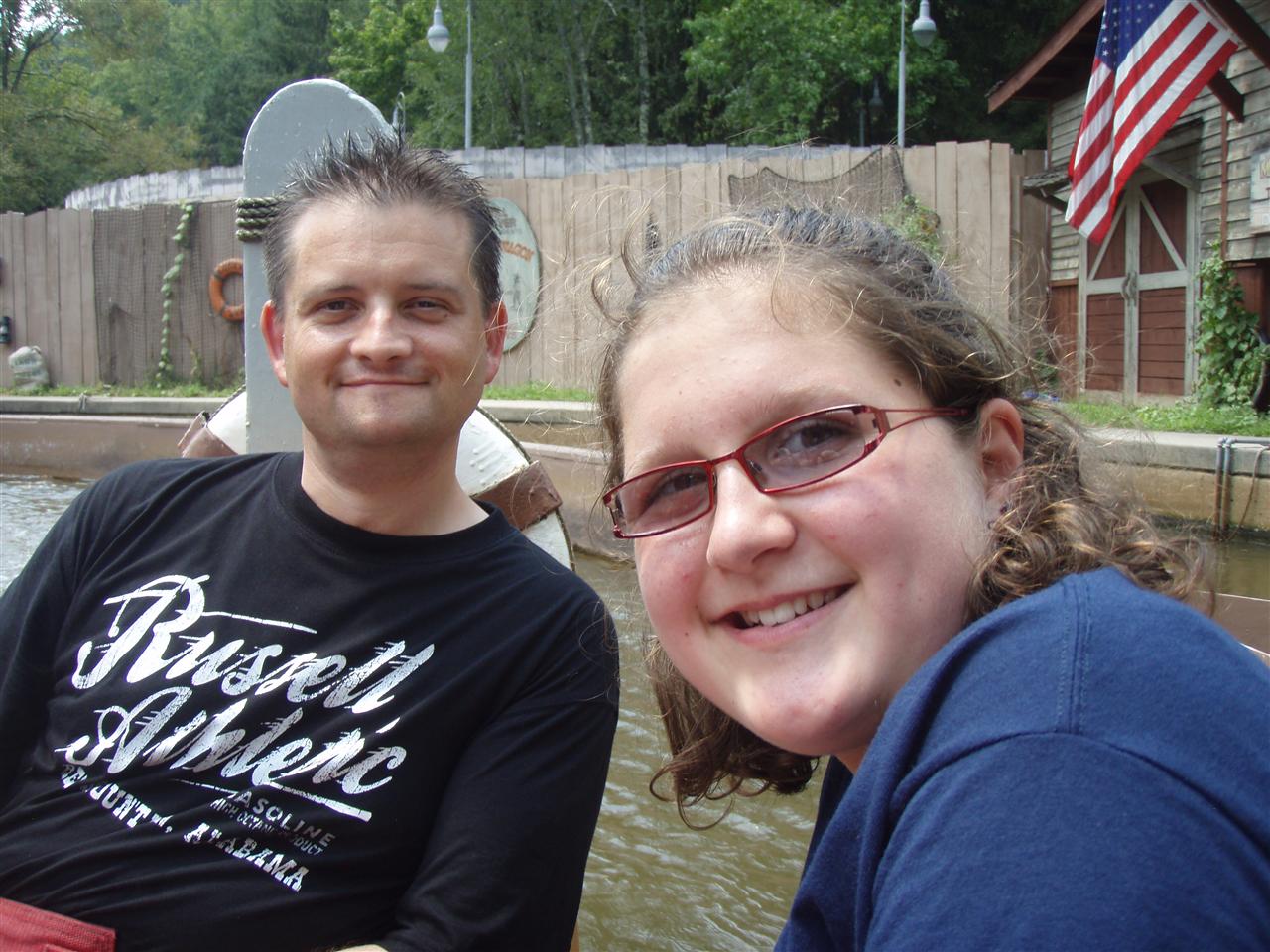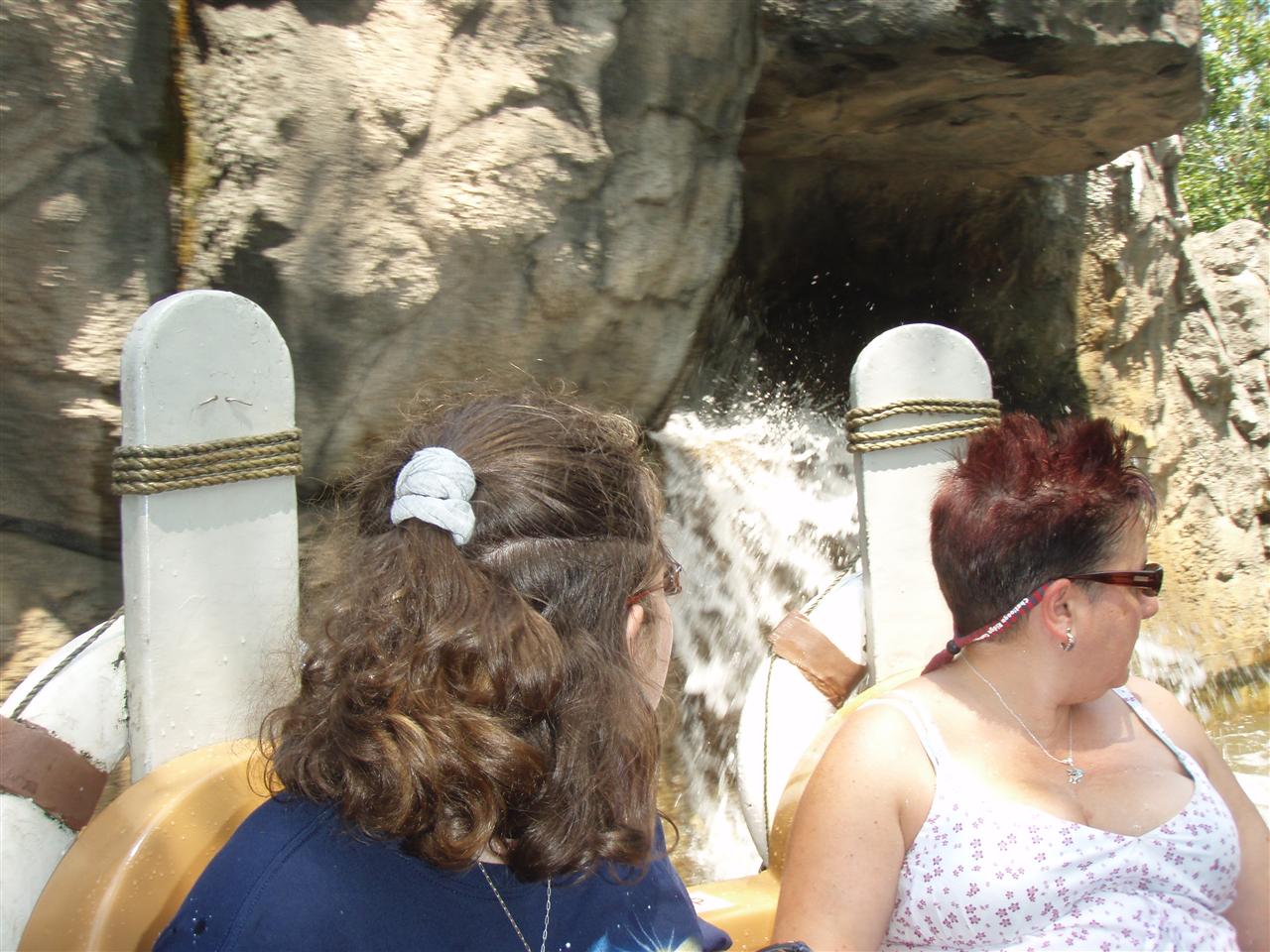 We booked a seat at the theatre & saw a production called Sha- Kon- O-Hay, a twee little story of a family fleeing the area during the depression of the 1930's.
Beautifully performed by a cast of 17 including tumbling & acrobatics, as well as some catchy songs.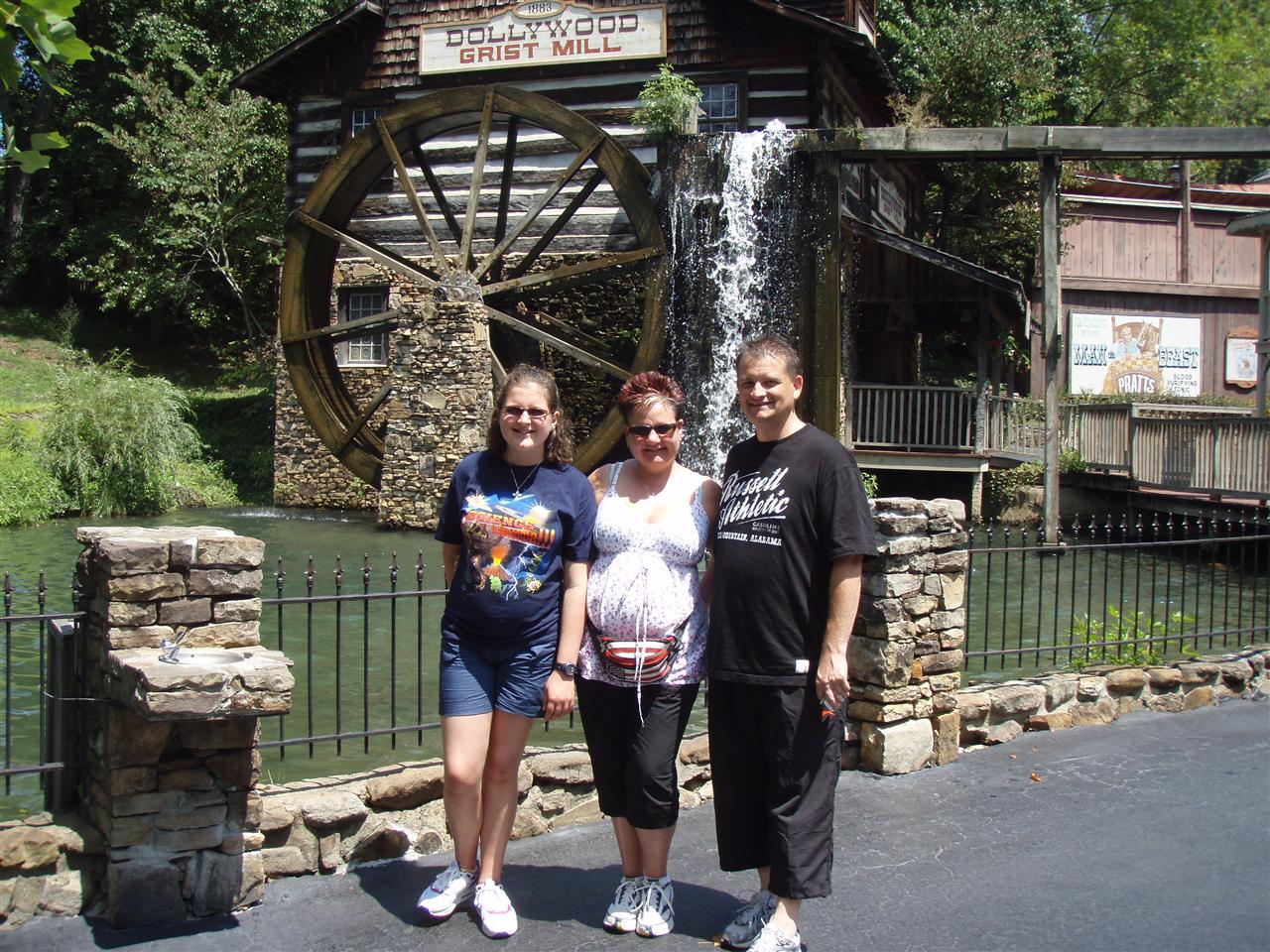 We later checked into the holiday inn with barely enough time for a shower before venturing out to " Dolly's Dixie Stampede" Dinner show.
The cast enacted the usual North / South civil war competition, with the massive auditorium split into 2 teams .. We were the South ( & Lost ).
The performers brought out performing horses, a Herd of 9 buffalo to depict settlers ( one of whom did a poo, Buffalo not performer ) Races were staged , audiance members volunteered for various activities, all while we enjoyed a meal, eaten without cutlery ??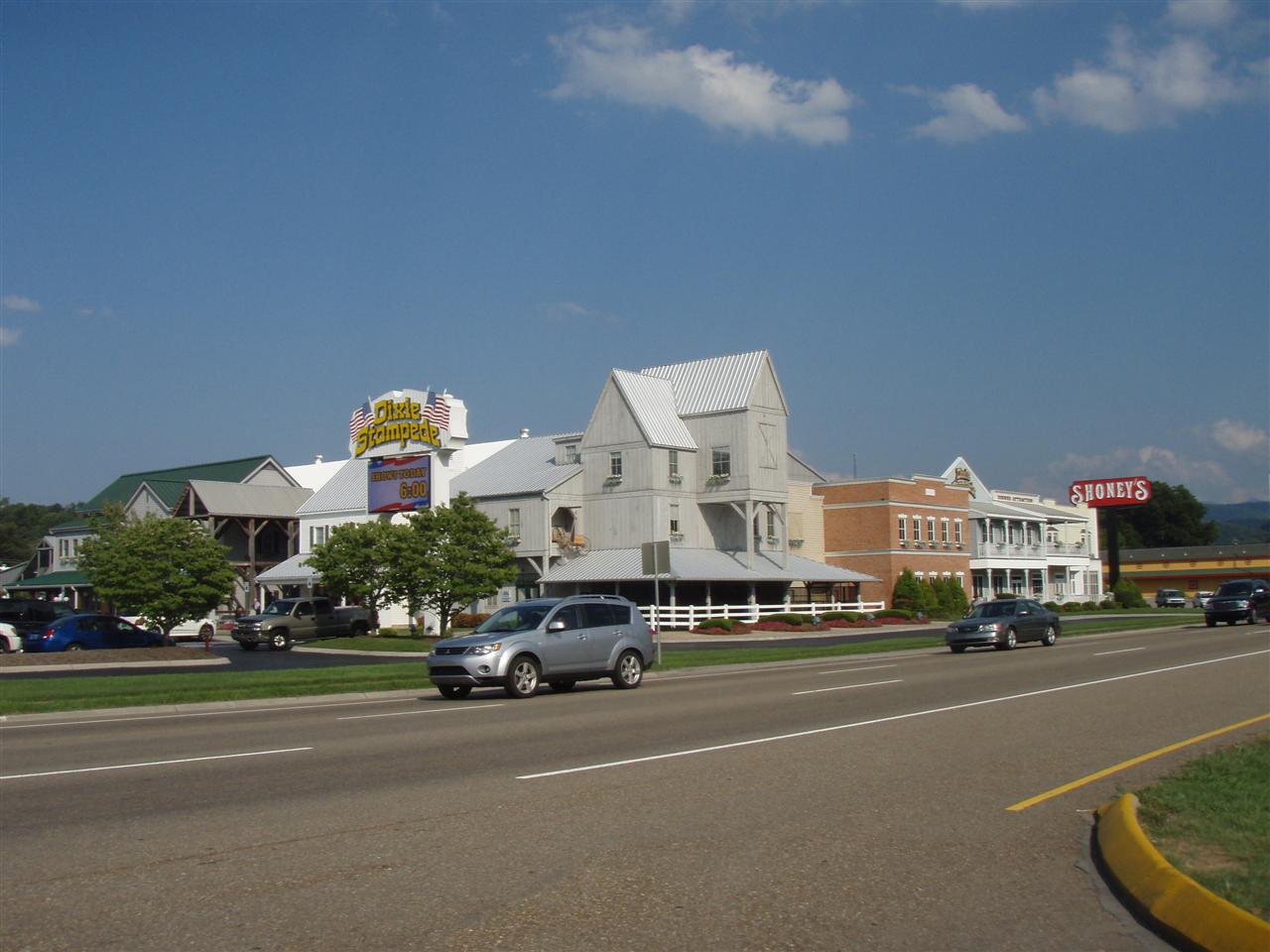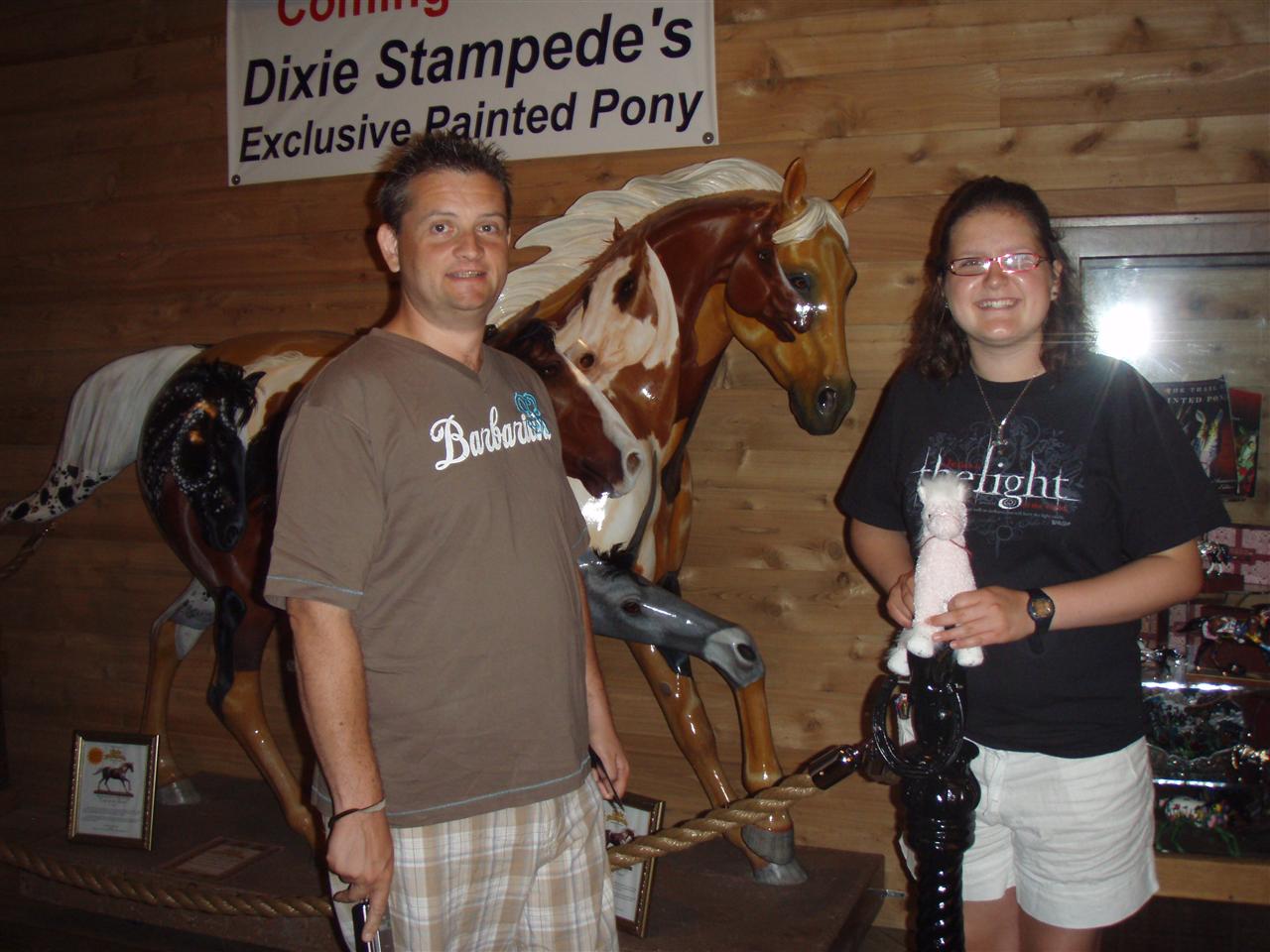 At the end the performers hung around allowing us to get autographs & meet the horses.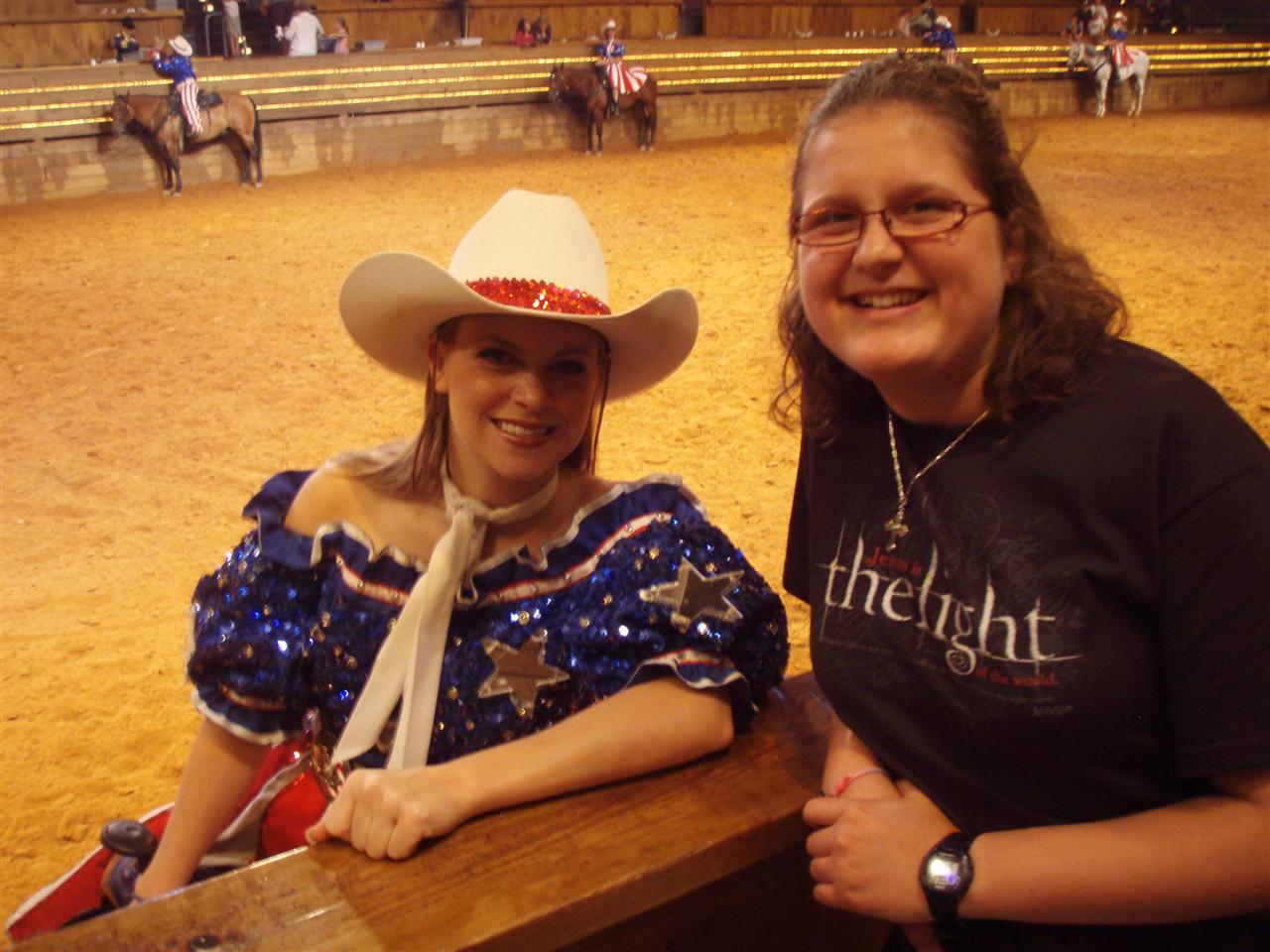 Back to our hotel & I will conclude tonights story dear reader, Sleep well & remember Dolly loves ya all xxx
---
Day 18 : Cave bears...Ugg
Goodbye Dolly, Poor Ian had to drive 4 hours to Cave City our next stop.
The terrain whilst slightly more hilly & green, is still a drag.
The hotel, a Best Western special was about the best thing in in the town.
Cave City is a mess of gas stations, convenience stores , Motels & dusty gift shops.
Next stop Mammouth Caves USA..we passed some very tame deer in the Mammouth Caves national park.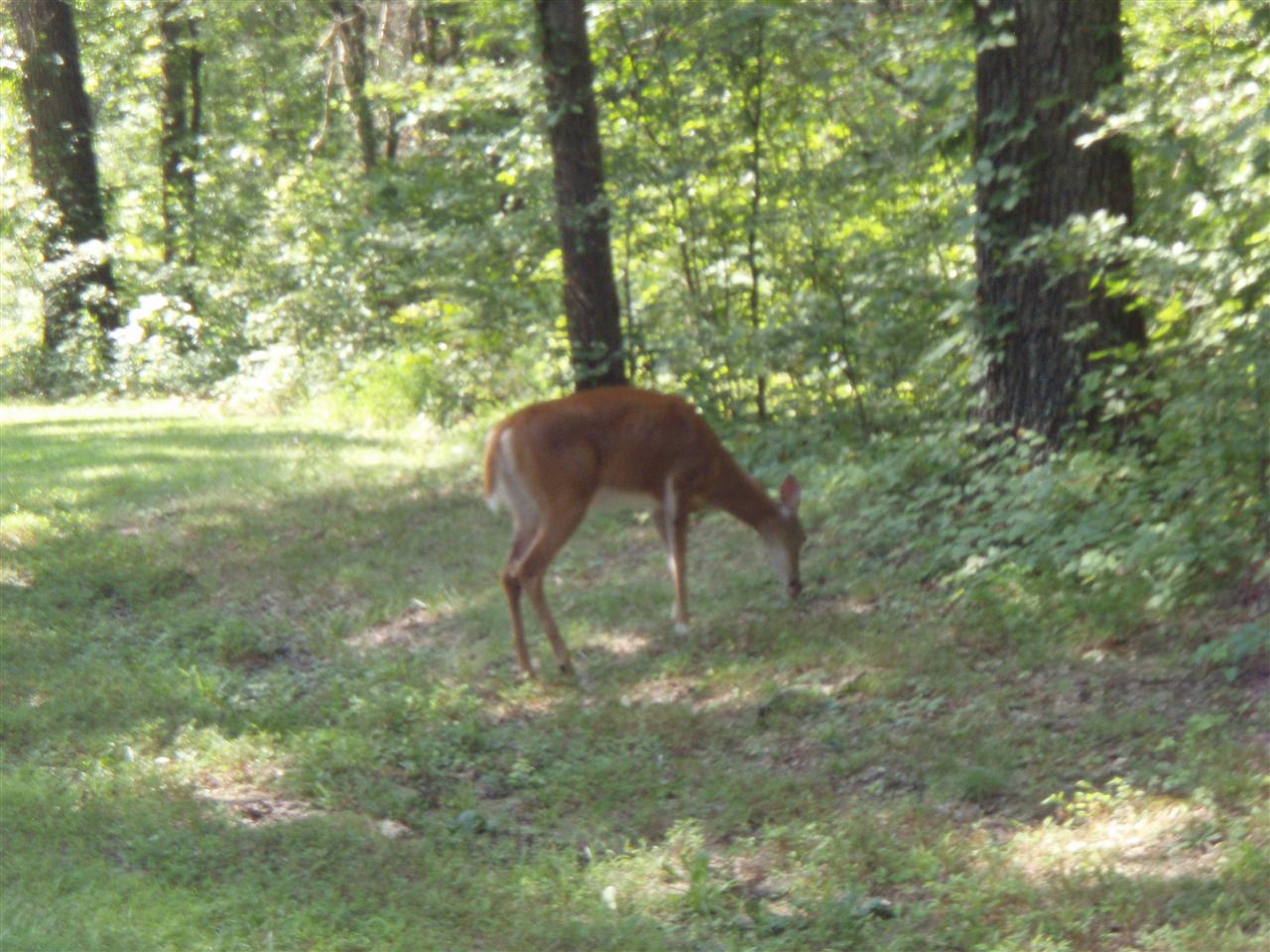 We signed up for a 2 hour historic tour, promising us a 2 mile round trip taking in the highlights.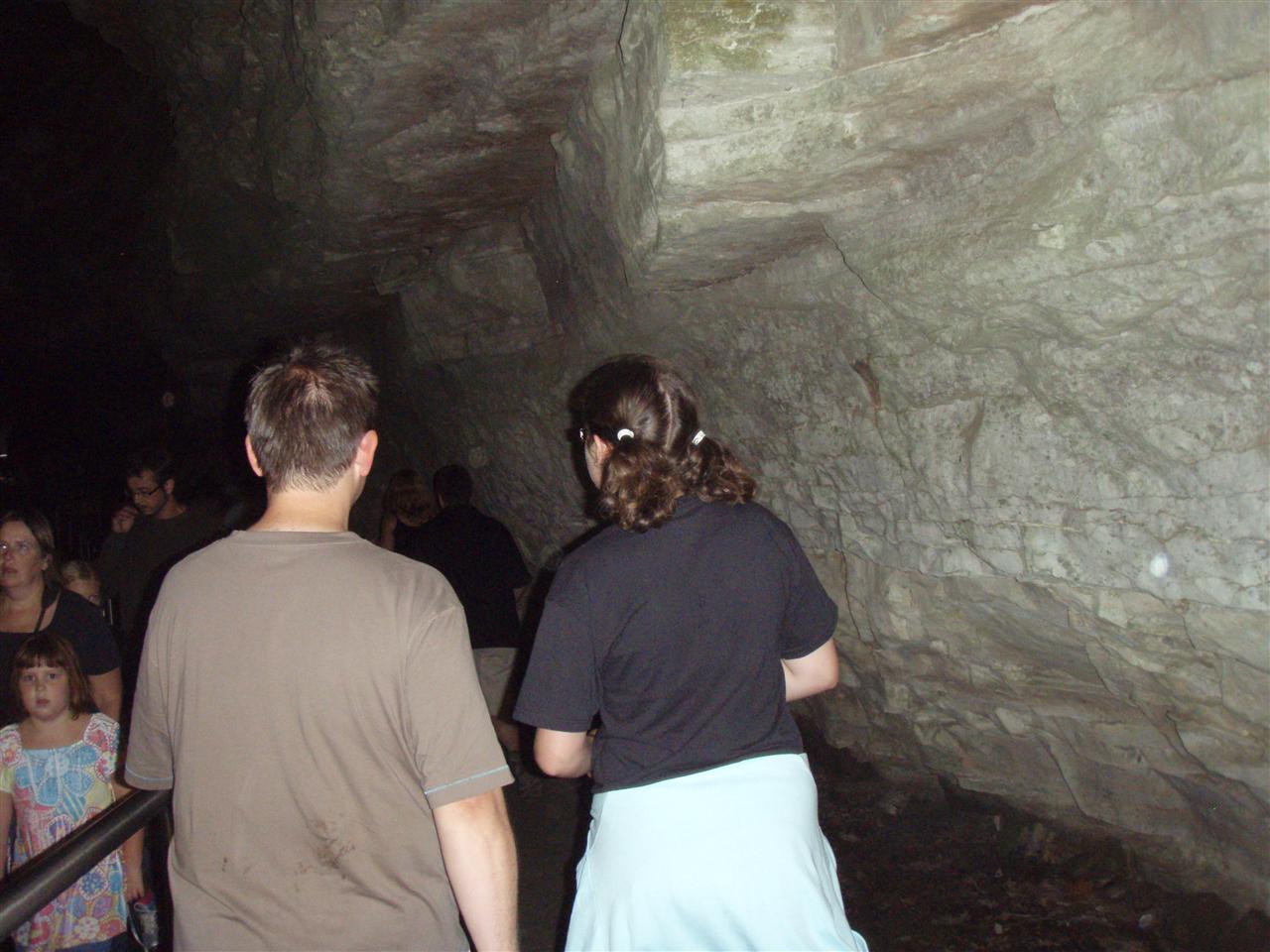 The caves still bear relics of the mining which took place in the pionereer days, Chemicals were processed underground to help make cheap gunpowder.
Min Commented that the caves reminded her of Uncle Freds cellar , she was expecting a cat to appear from behind any boulder!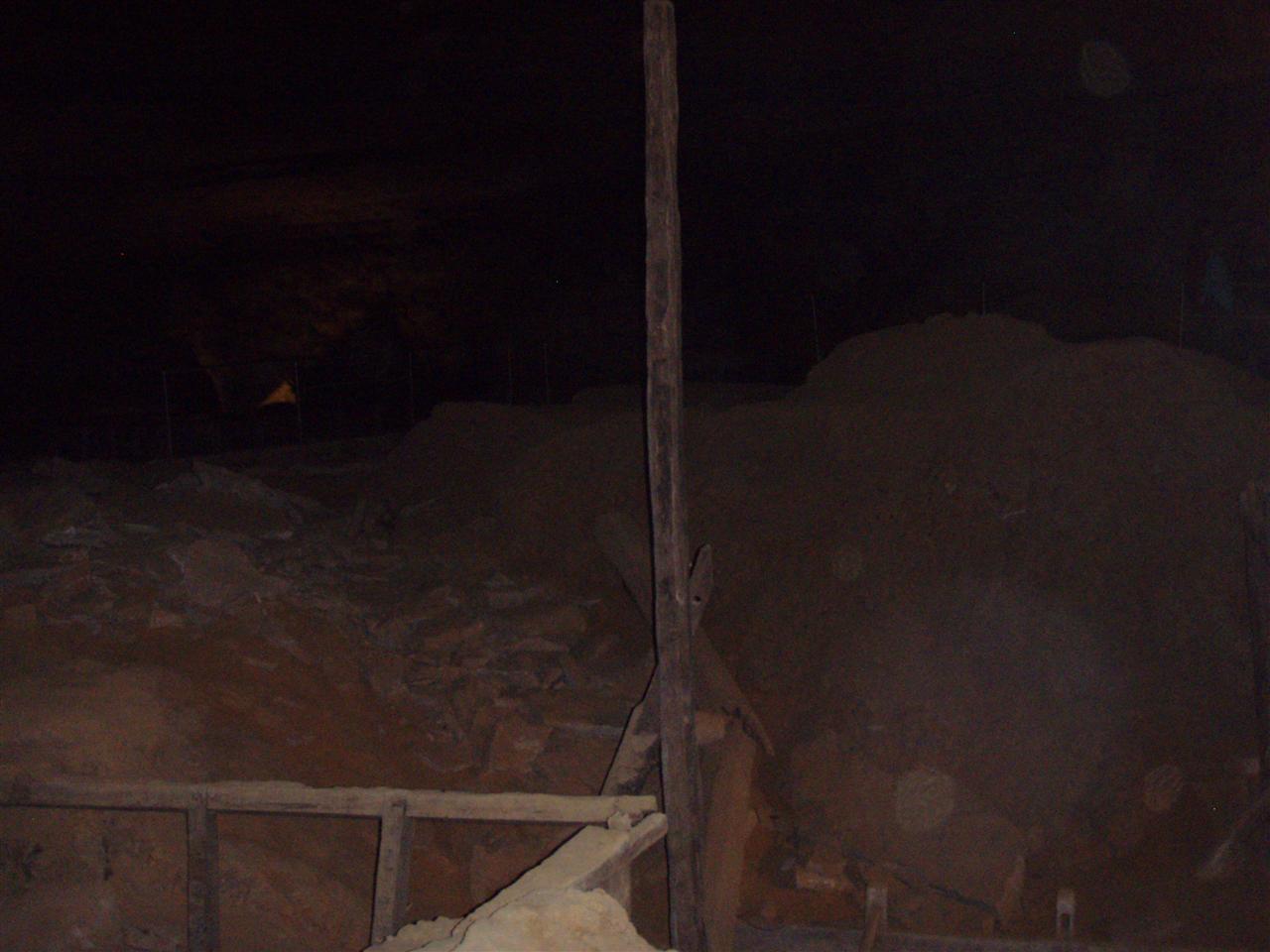 Our guide Steve took us and some 60 other cave enthusiasts through the natural tunnels.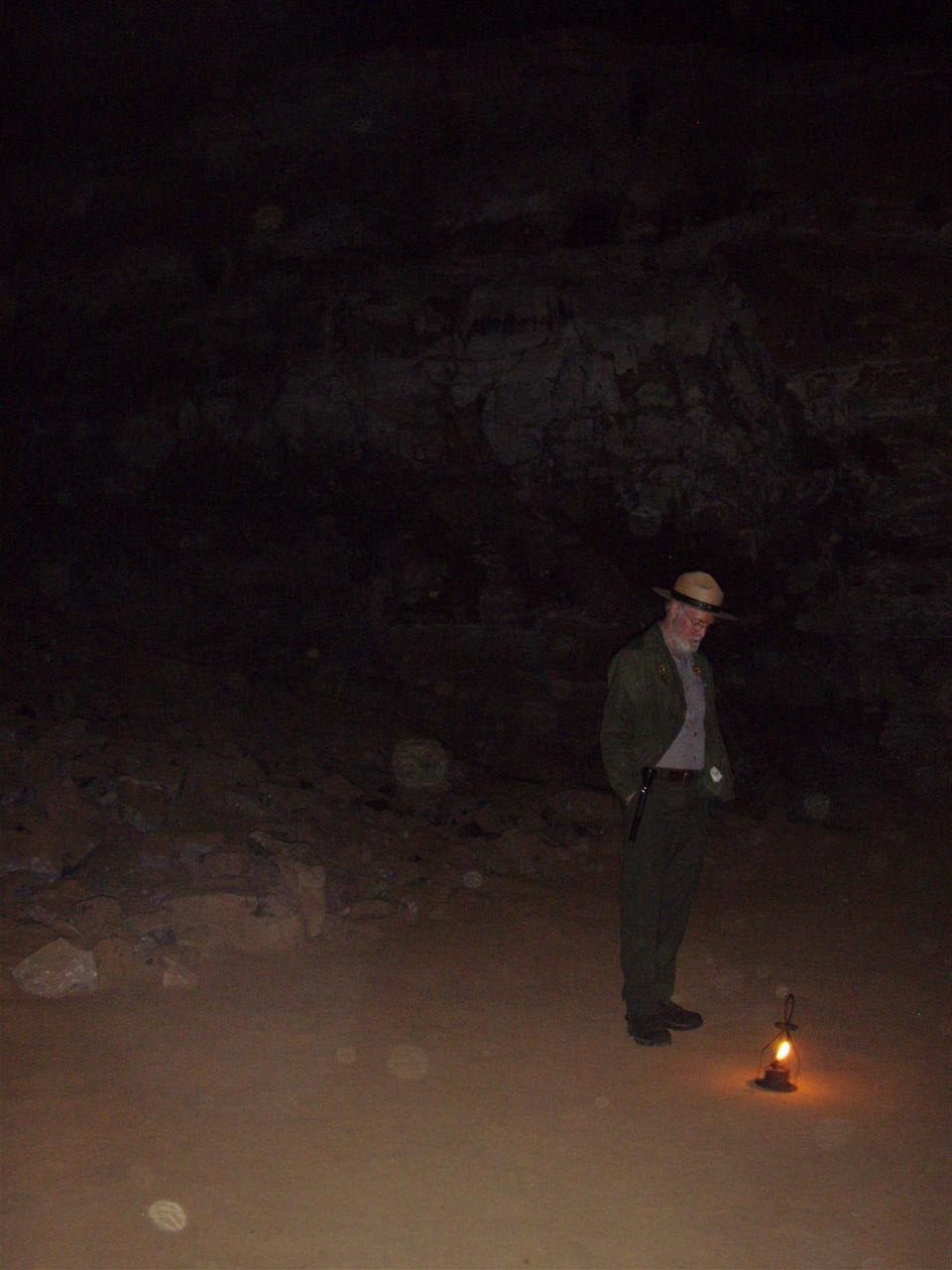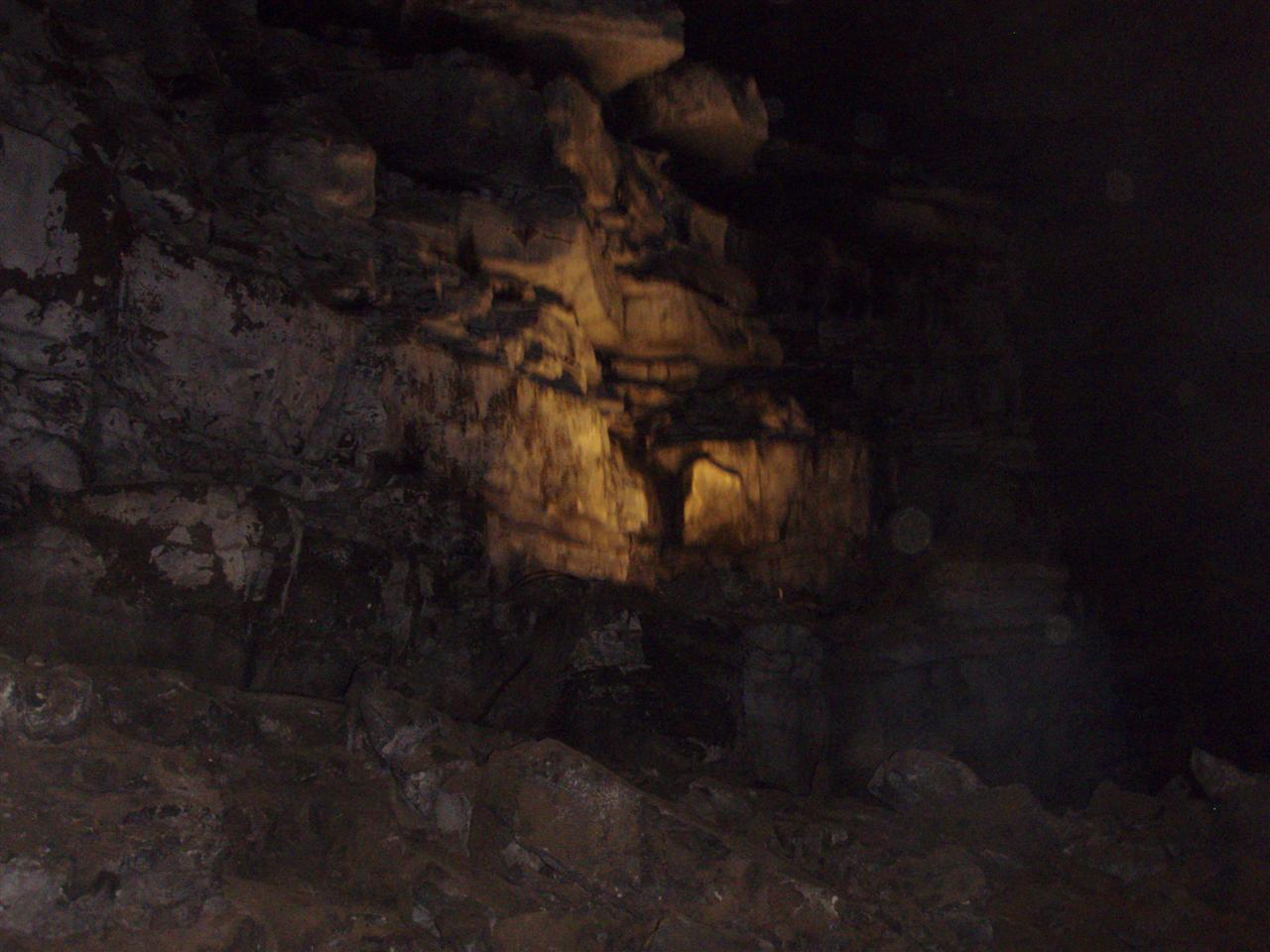 We saw the "Rotunda" a wonderful circular chamber formed in the limestone, by swirling waters over the millennia.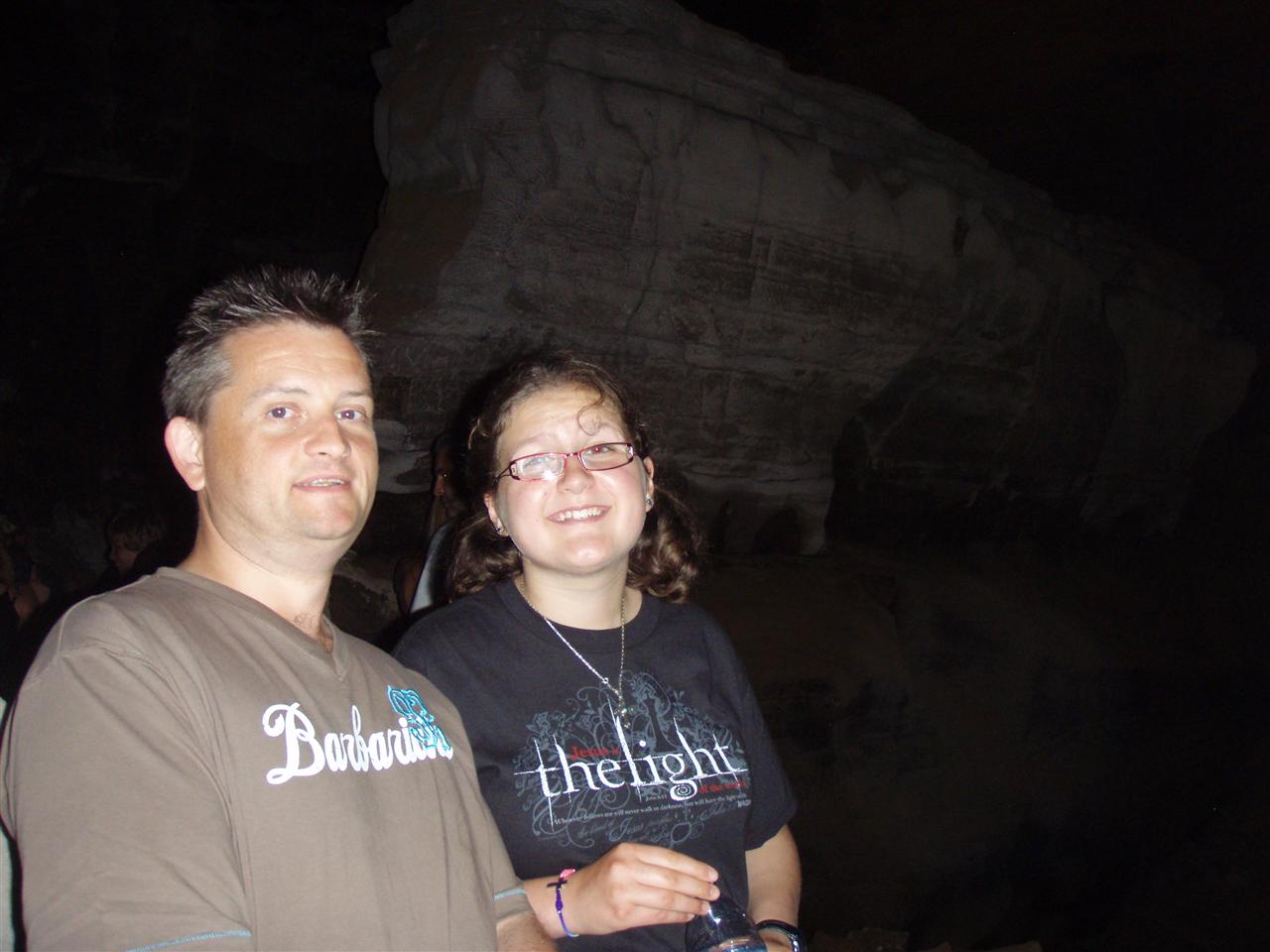 Half Dome & Fat mans Misery , a narrow switchback cave, were other exciting features..amazingly half a dozen bogs were plumbed in during the 1960's at the half way point!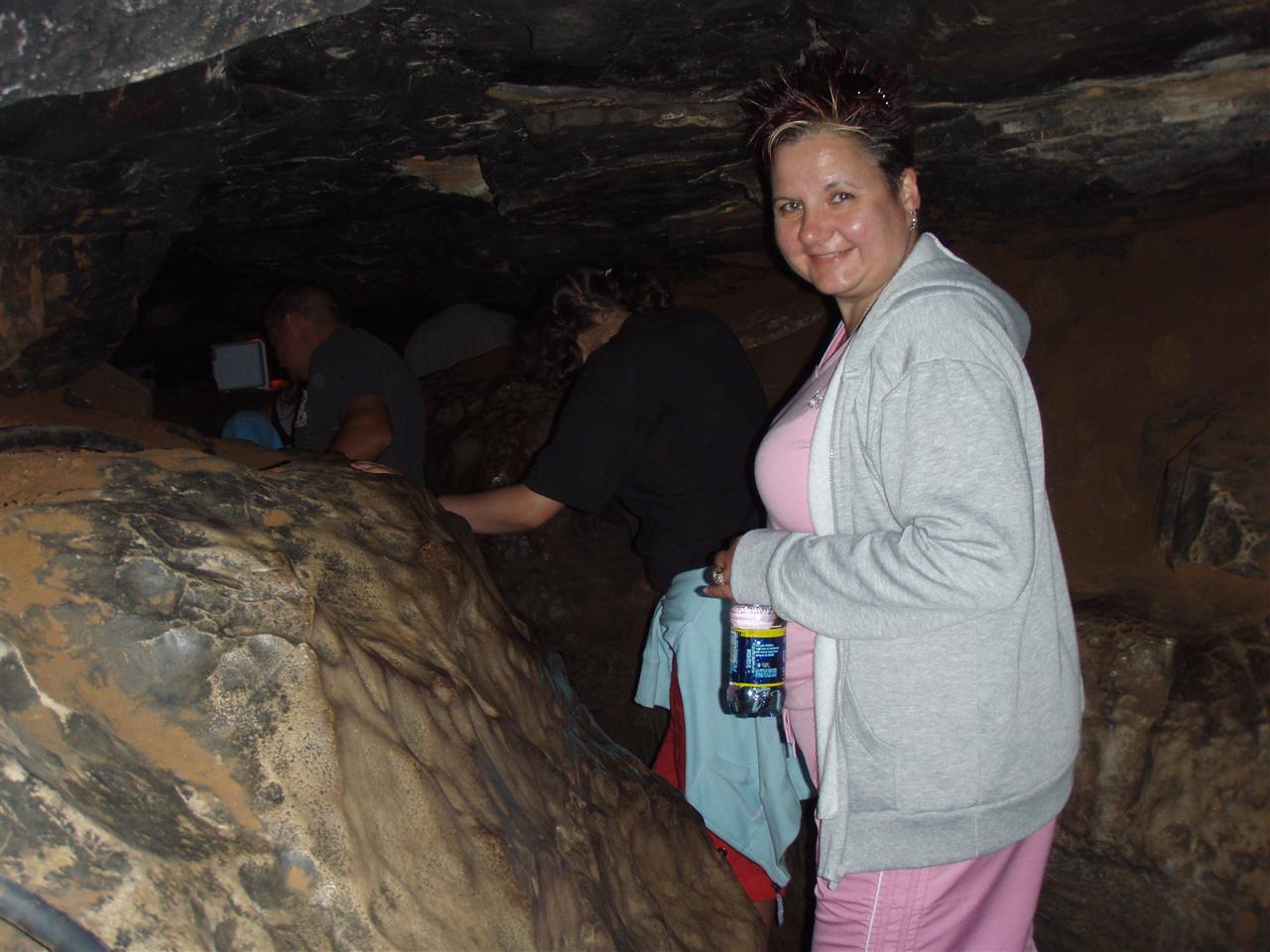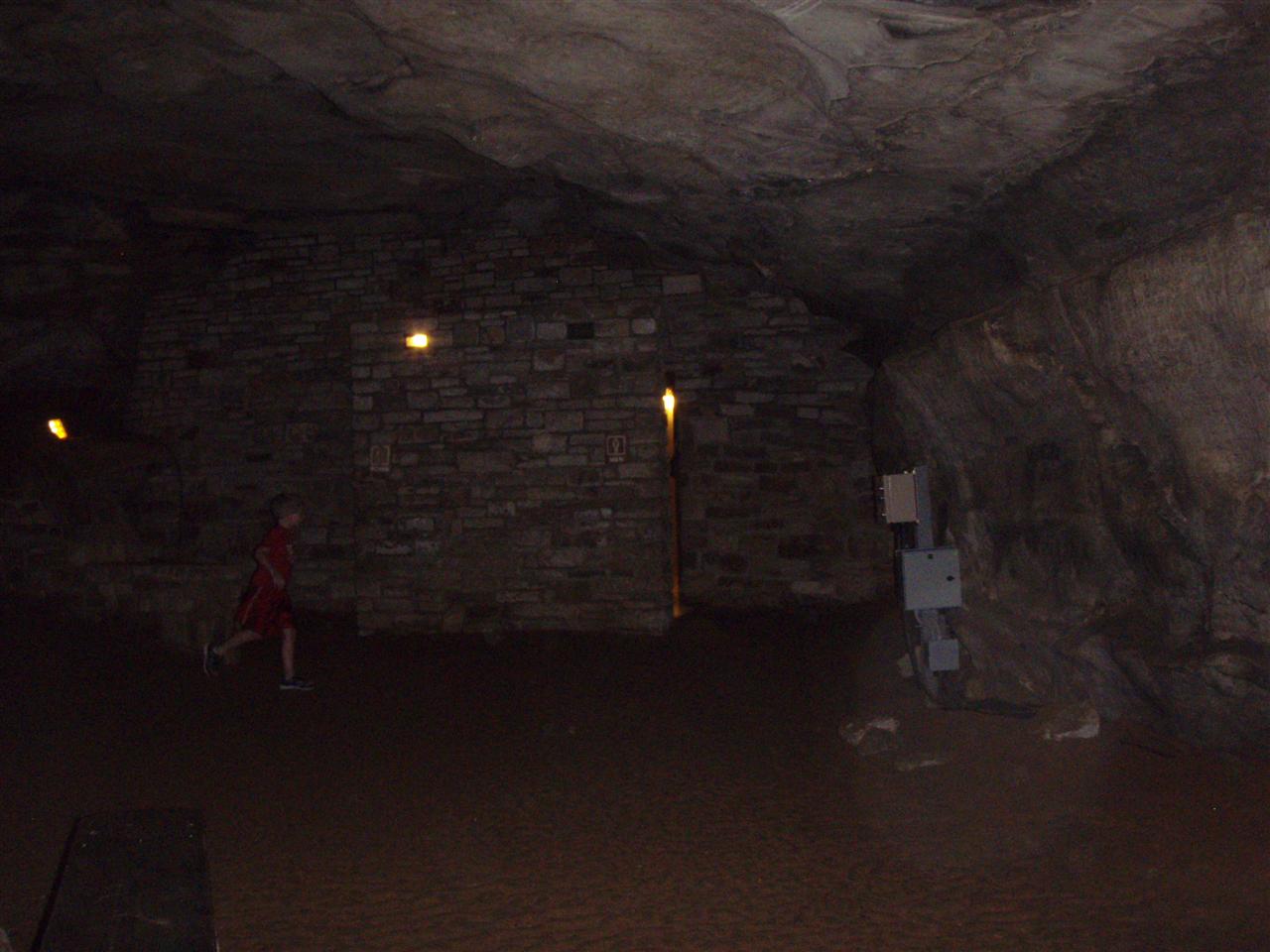 We emerged from the gloom via a tower of 154 stairs & a series of slopes.
The humid air hit us in the face like a wet sock..lovely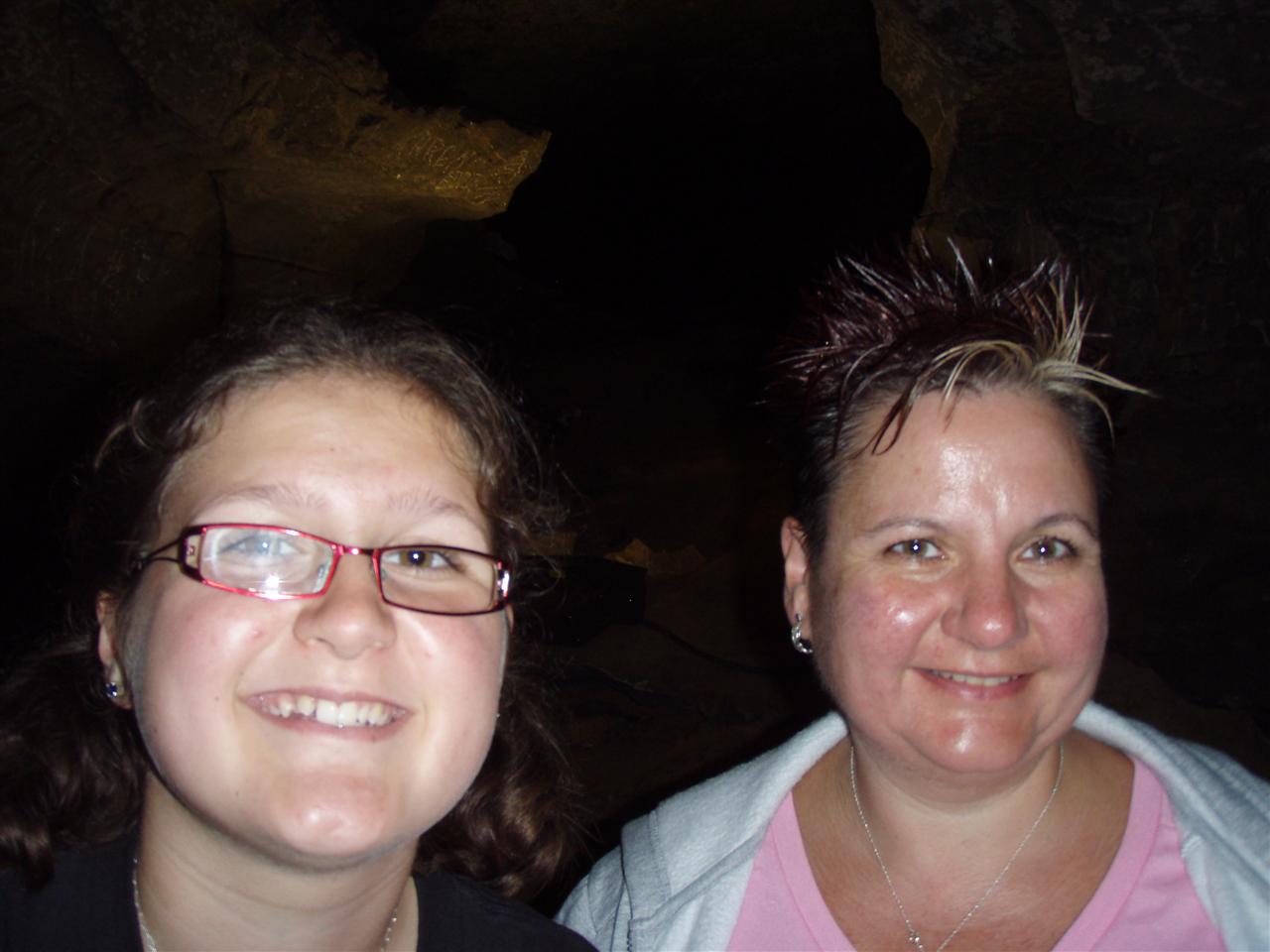 Back at the car we asked Maureen to direct us to an Indian in the town" Bowling Green" Kentucky..The Taj Palace has so far proved to be a great watering hole..The wine list proves a puzzler, we suspect some joker volunteered to translate from another language..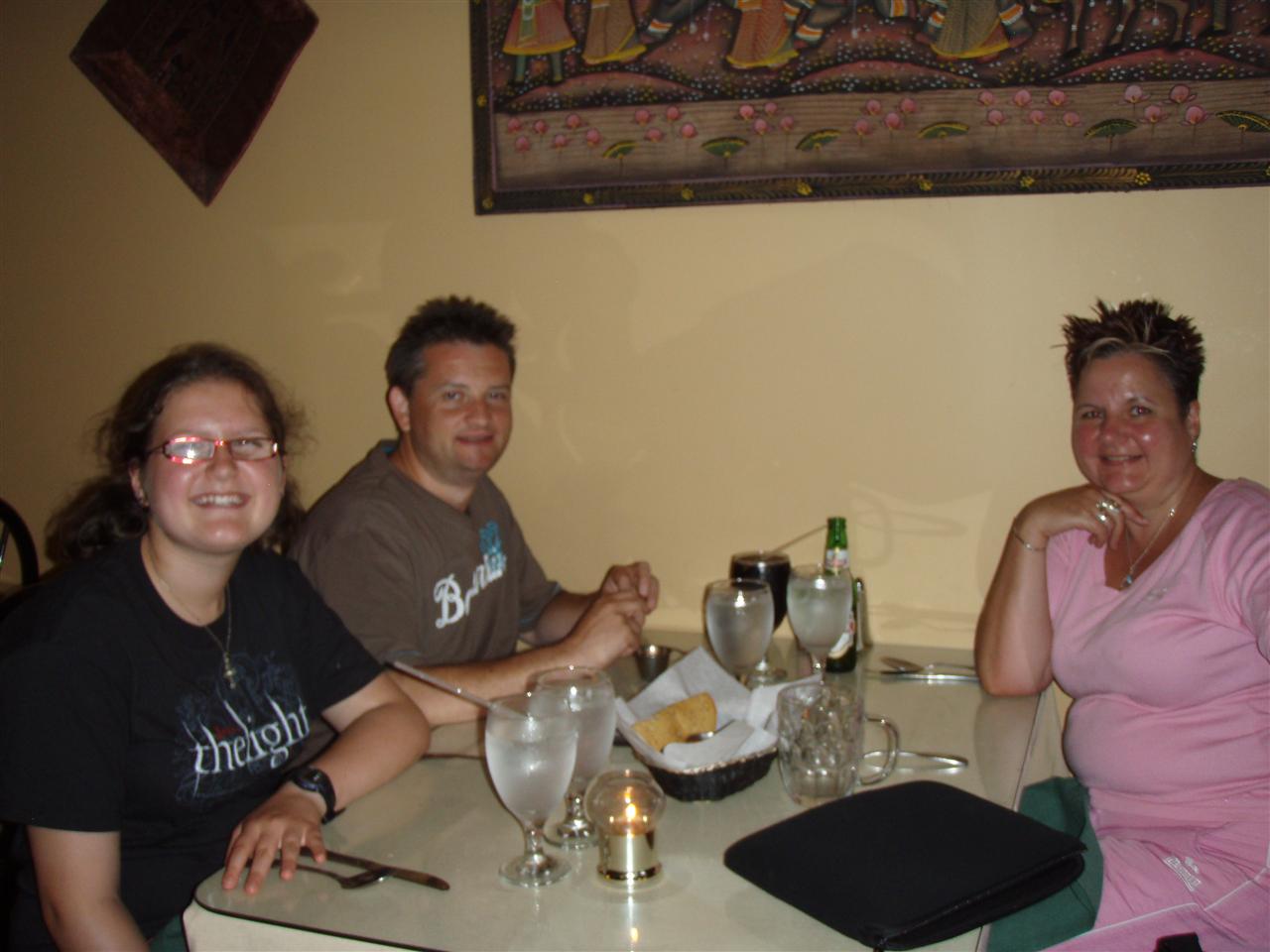 We await our main course & another installment from our waiter who has a relative in Reedingbarks..( Maybe Reading, Berkshire??)

All being well we should enjoy a restful night beside the Kentucky version of the M25.

Goodnight reader xx
---
Day 19 : Ribs 'n Bibs
Last road trip : (

We set off from Cave City, I managed to squeeze in a final laundry run whooo!
The journey a gruelling 5 hours 15 mins for Ian & Get this..Ian forgot to include a whole state on this trips licence plate list ,,We passed through Indianna NOT on my list!
However an inpromptu Antique mall stop provided the final licence plate.
Lunch was served at the Pasada Rico a Mexican place in the middle of no where near a university campus, The fare was universally inedible, Ian had a cheese & chicken sandwich, Min & I had Chimichanga ( Poo boy re run )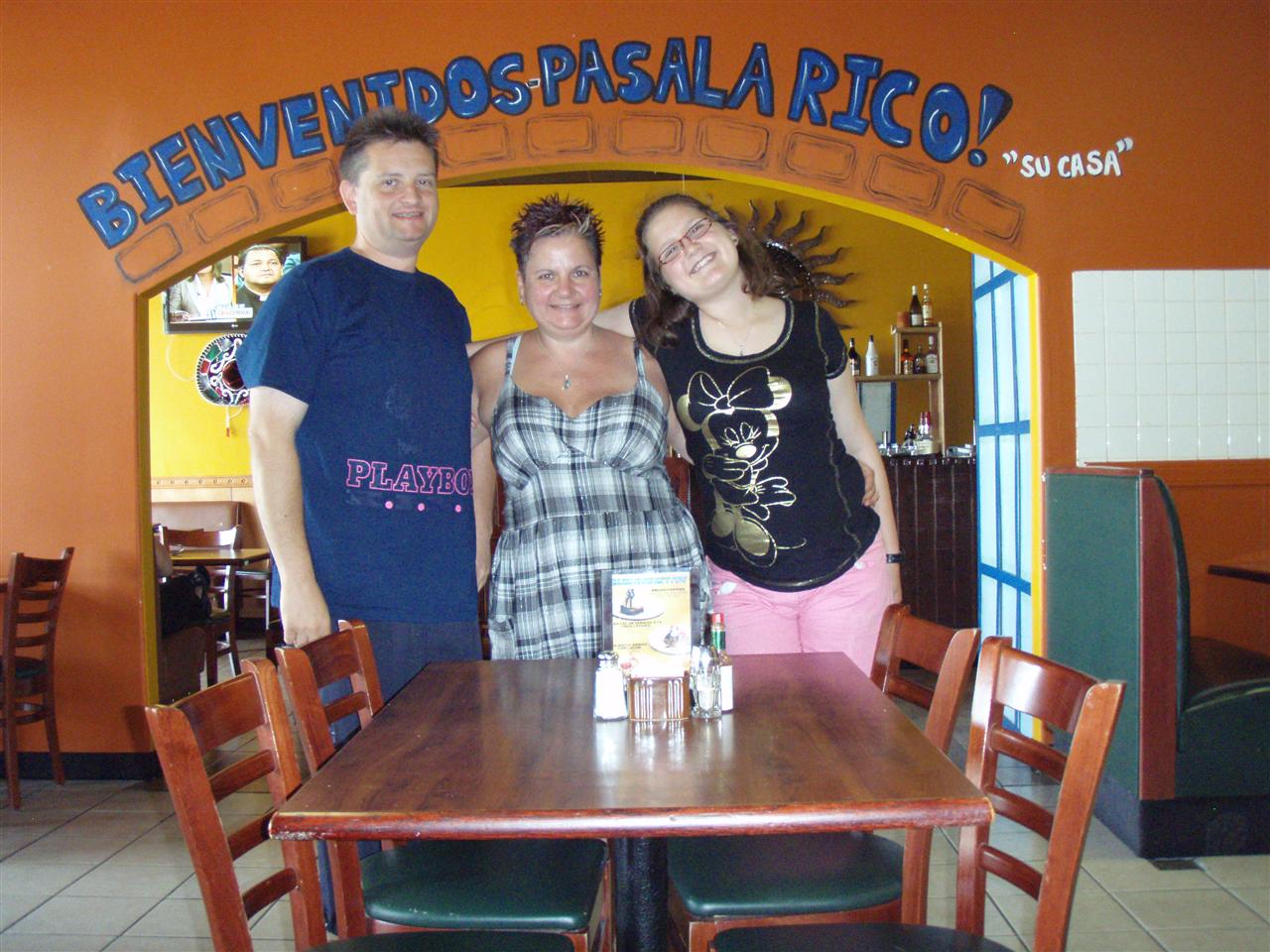 The Chicago skyline provided an impressive intro into to the Windy City.
Maureen guided us to our conveniently situated Best Western Hotel..What do you think of our view?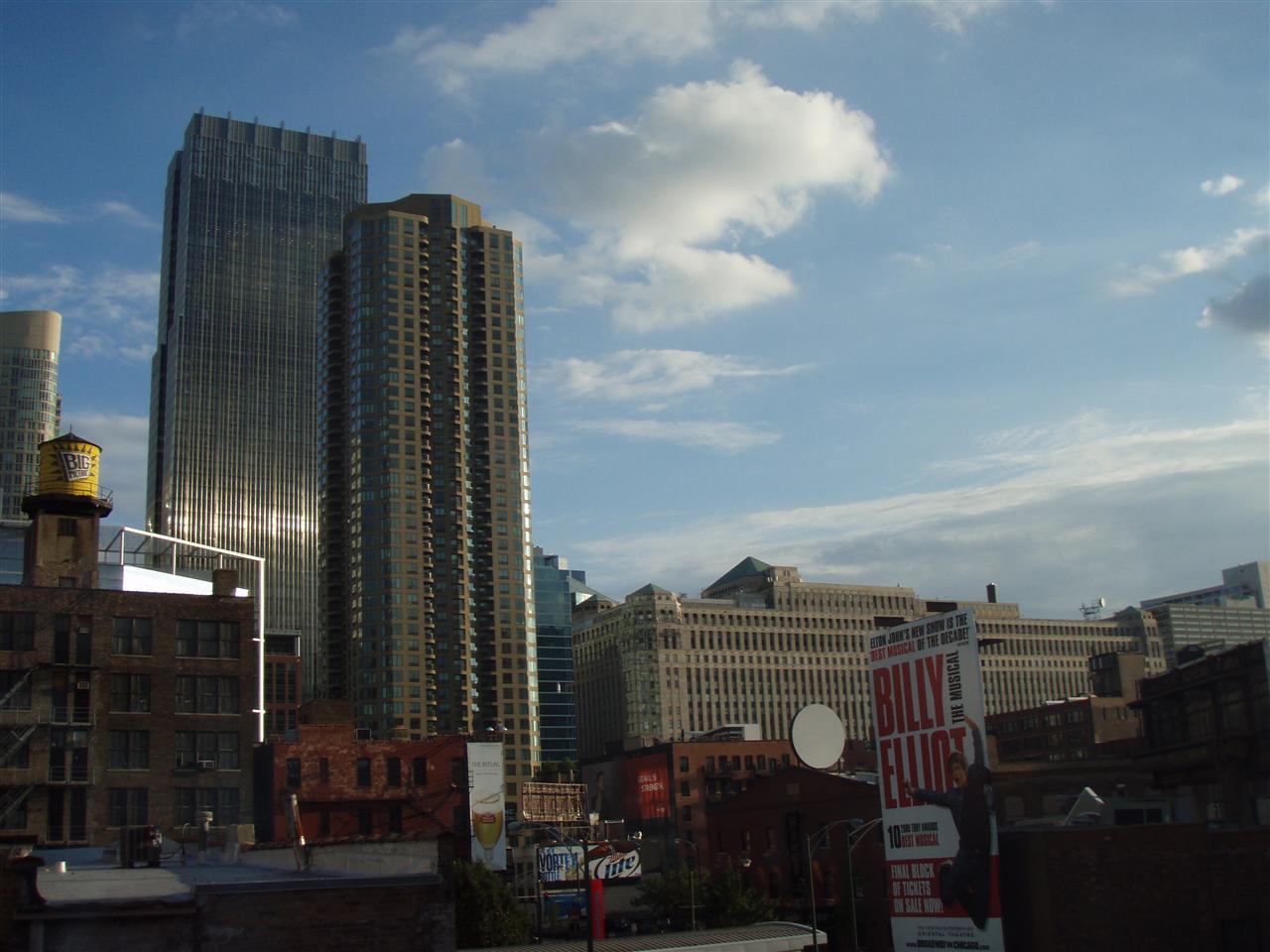 Min & I explored the chilly indoor pool while Ian Surfed the net.
We walked the area in search of a late dinner & came upon "Carsons" a dimly lit ribs & steak place, Judy our server supplied bibs for the terminally messy.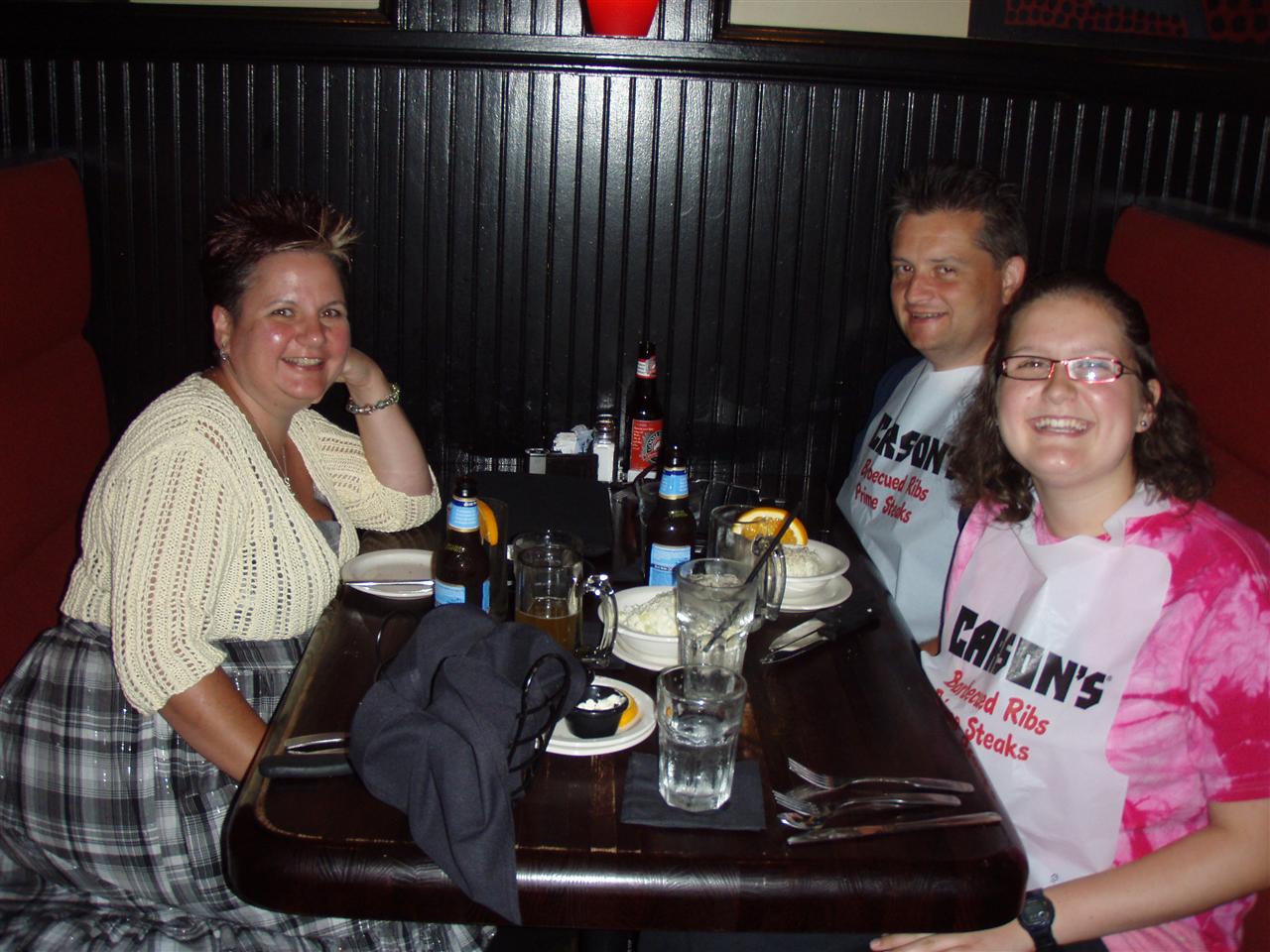 Min finished a massive slab of ribs & Ian ribs & steak..The chomping continues..

Well dear reader, Our adventures will soon come to a close, Hope you have enjoyed reading a few of my ramblings.. Goodnight..Maybe one more beer before Min takes us home : ) xx
---
Day 20 : Goodbye from the windy city..
Even on our very last morning Ian has us up at the crack of stupid O'clock..
Cases packed & stashed, We purchase our tickets to the Skydeck on the Wallis Tower. We had a leasurely walk through this amazing city.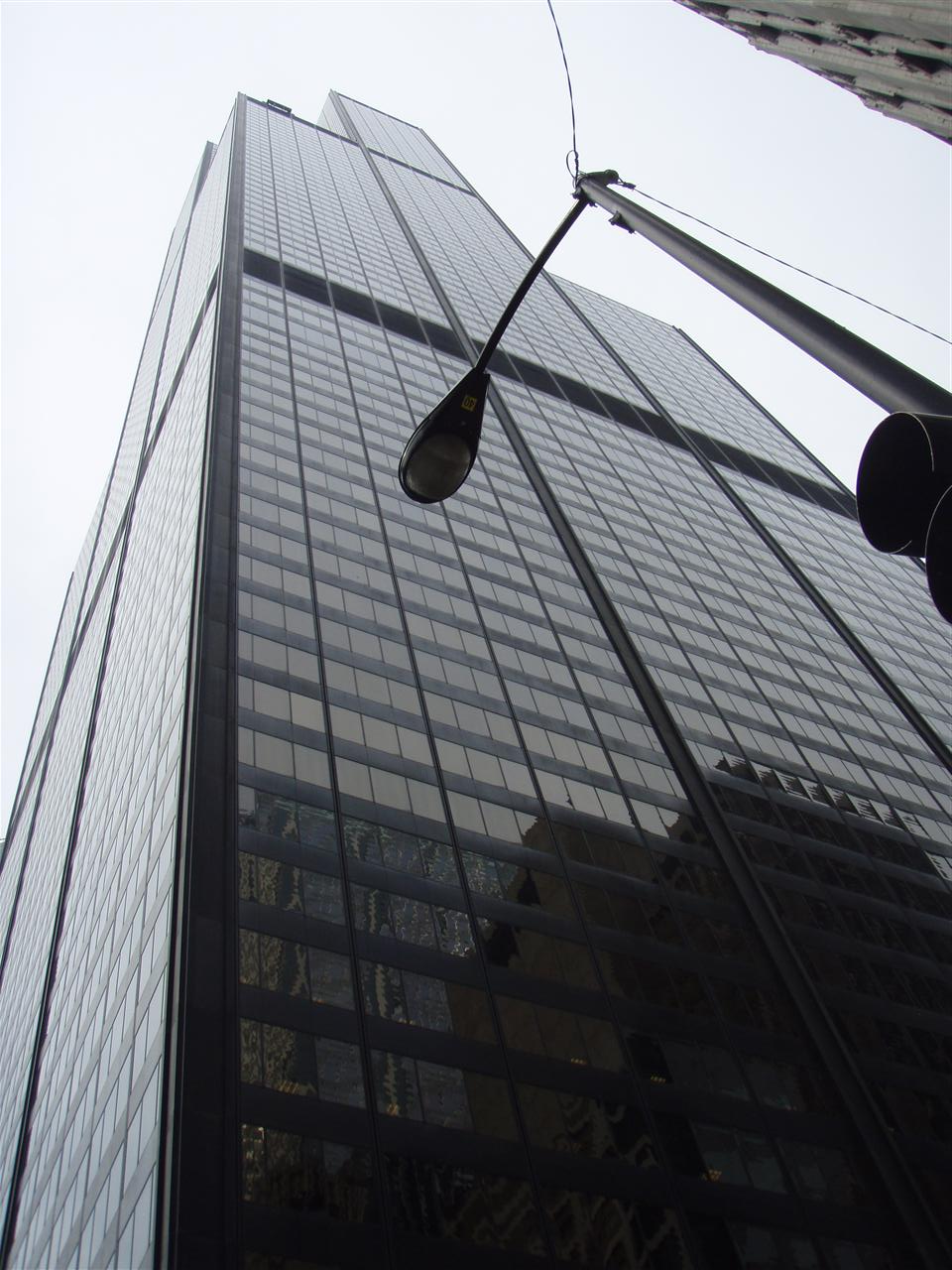 The Lift took us up 103 floors to the magnificent glass skydeck.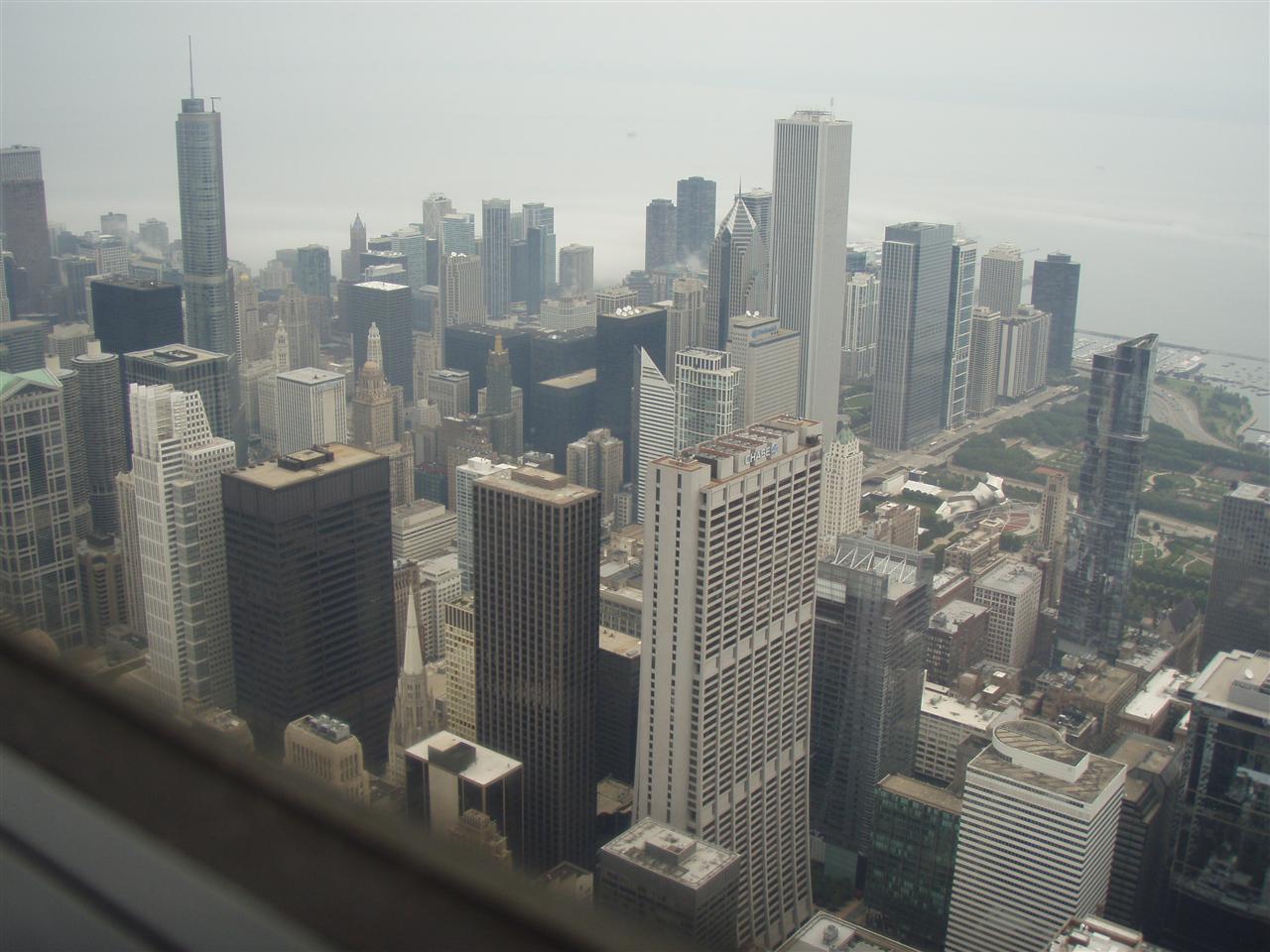 Formerly known as the Sears Roebuck tower, Built in the 60's it held the title of worlds tallest building for 22 yrs til some Taiwanese effort took the crown.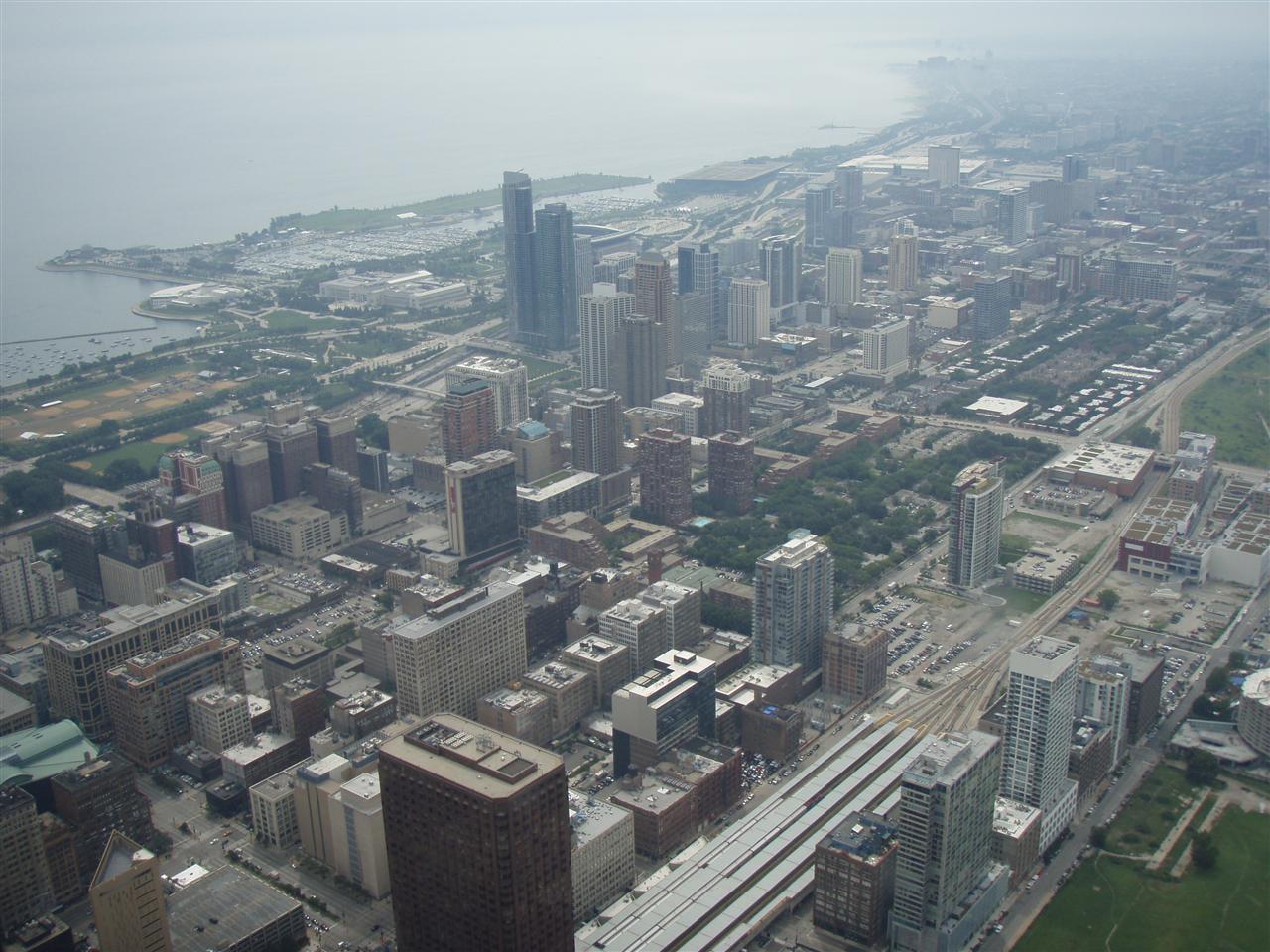 The tower has a couple of telecommunication masts mounted on its top, meaning it still is the worlds tallest structure.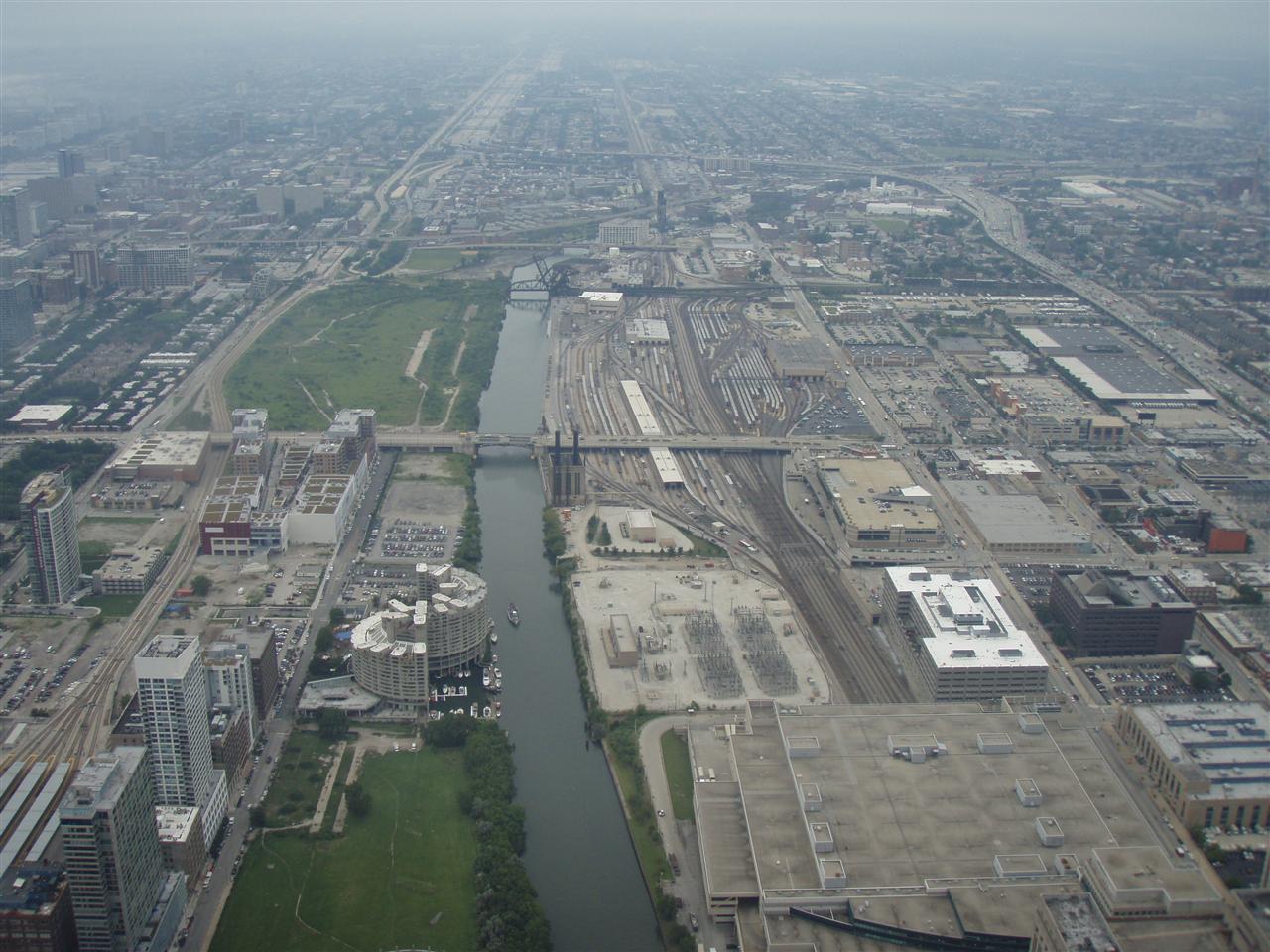 We walked the four sides of the tower & out onto its retractable glass platforms affording us some amazing views of the streets below.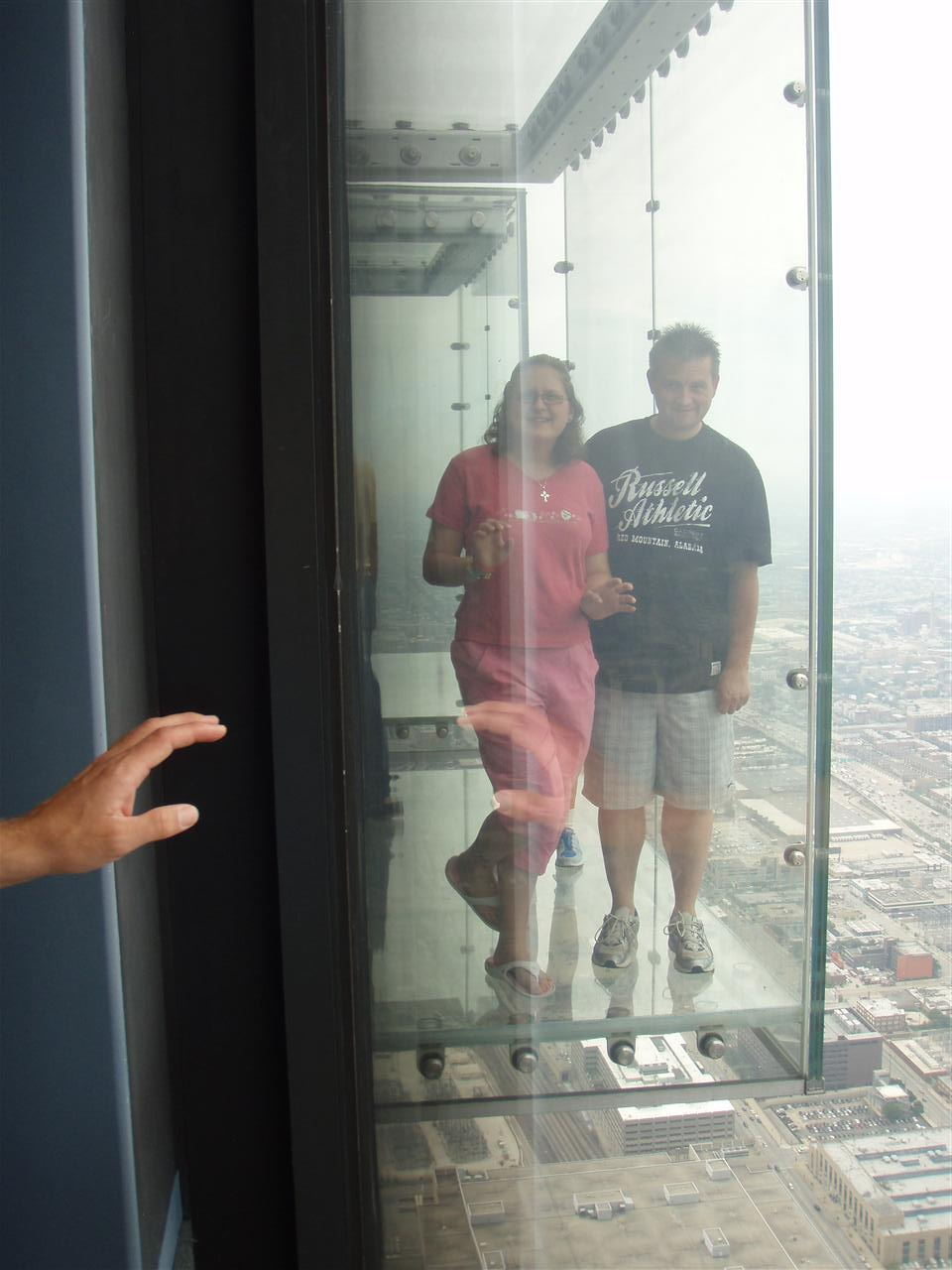 Unfortunately the morning remained misty during our visit, the 50 mile views across 4 states remained hidden from us.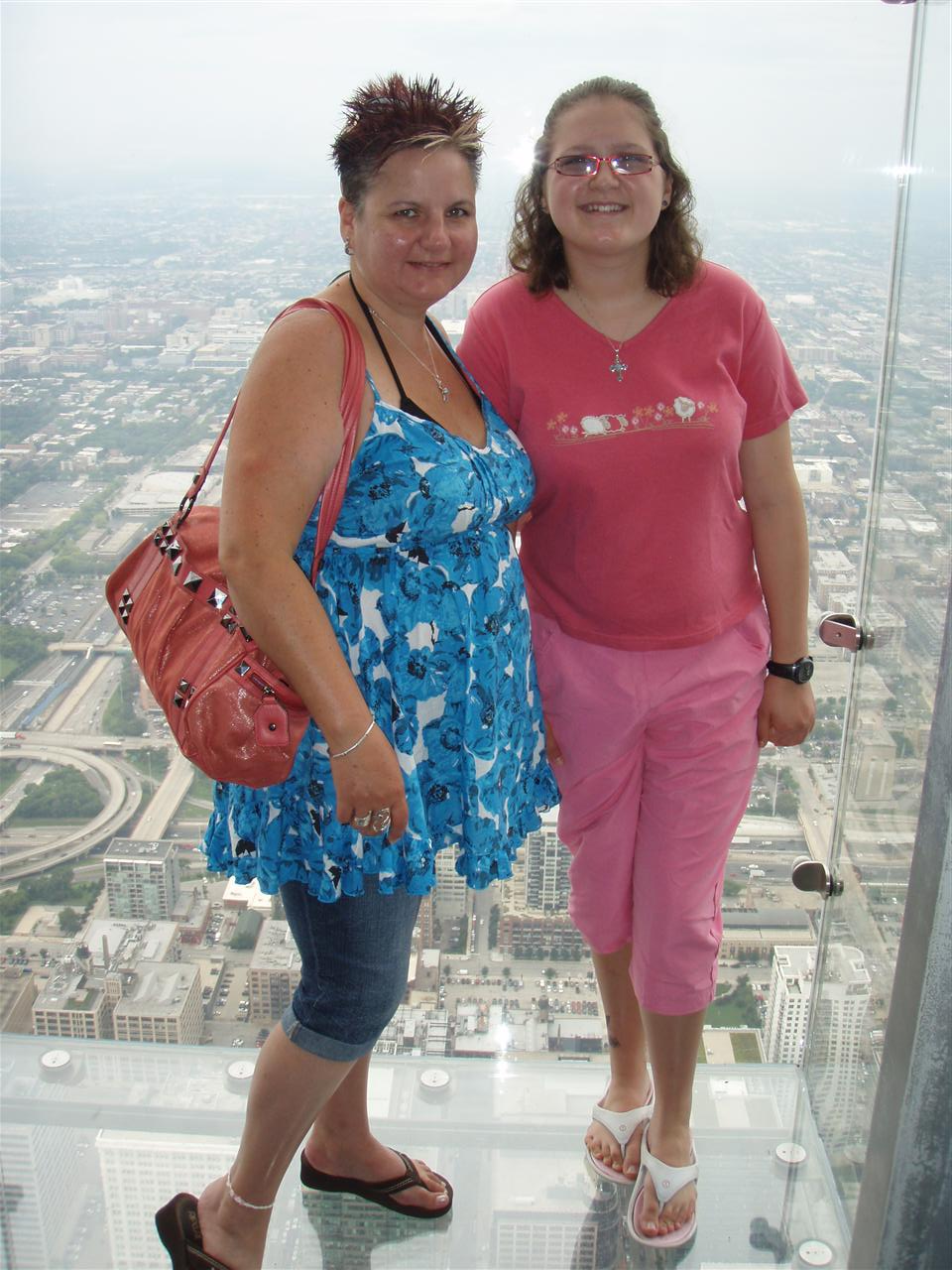 We took a walk thru the magnificent mile, a famous shopping district of Chicago & stopped for lunch at the " Elephant & castle pub"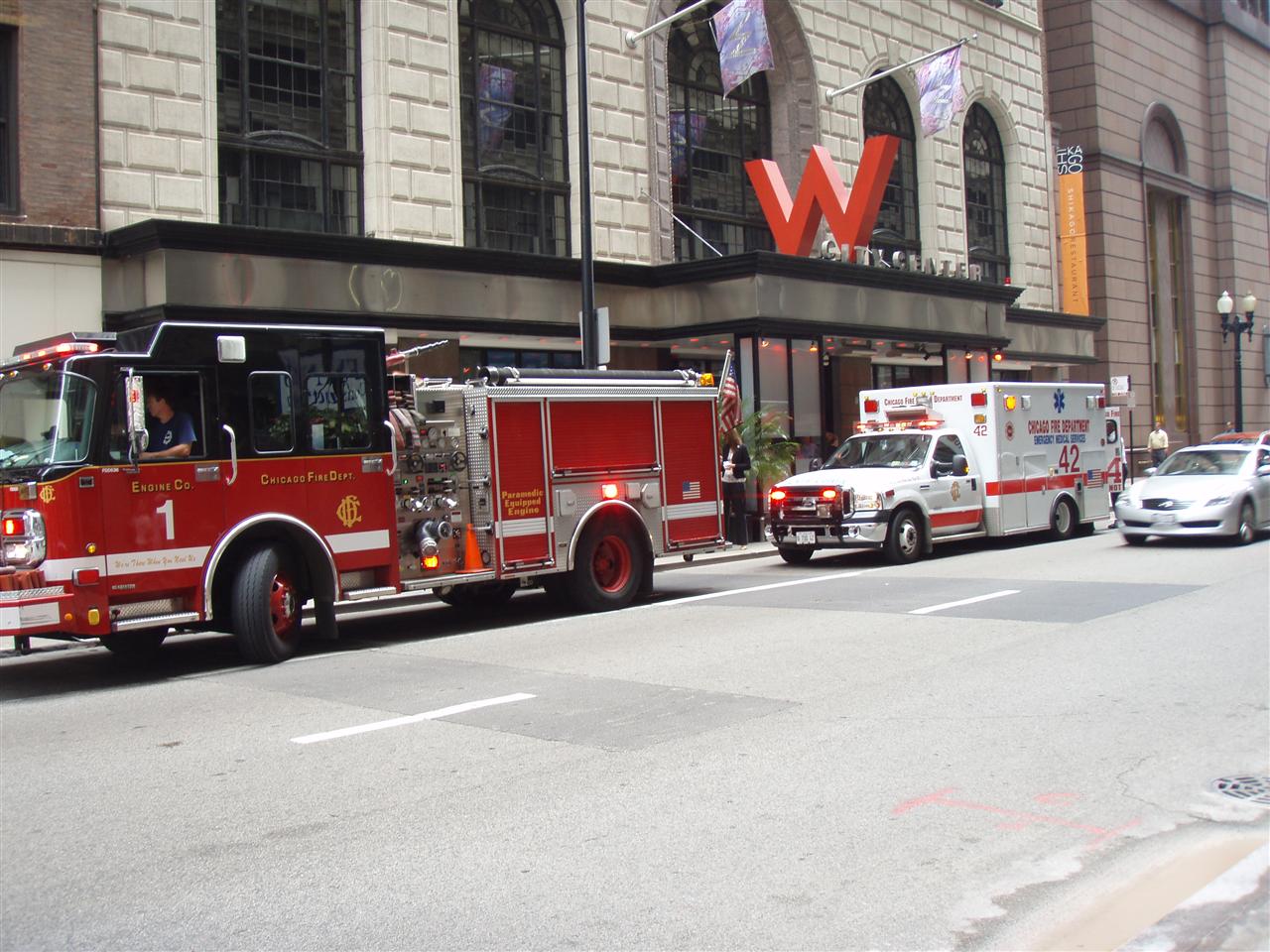 We took a final scenic drive thru some of the poorer districts and along the riverside past the small manmade beach., Then onto the freeway towards O'Hare airport, our carefully managed fuel level dipping dangerously low as the traffic crawled through the permanent Chicago rush hour. Ebeneezer Scrooge steadfastly refusing to fill up before dropping off our rental car.
We are enjoying a farewell beer in the "Parades" Chicago bar before our Journey home..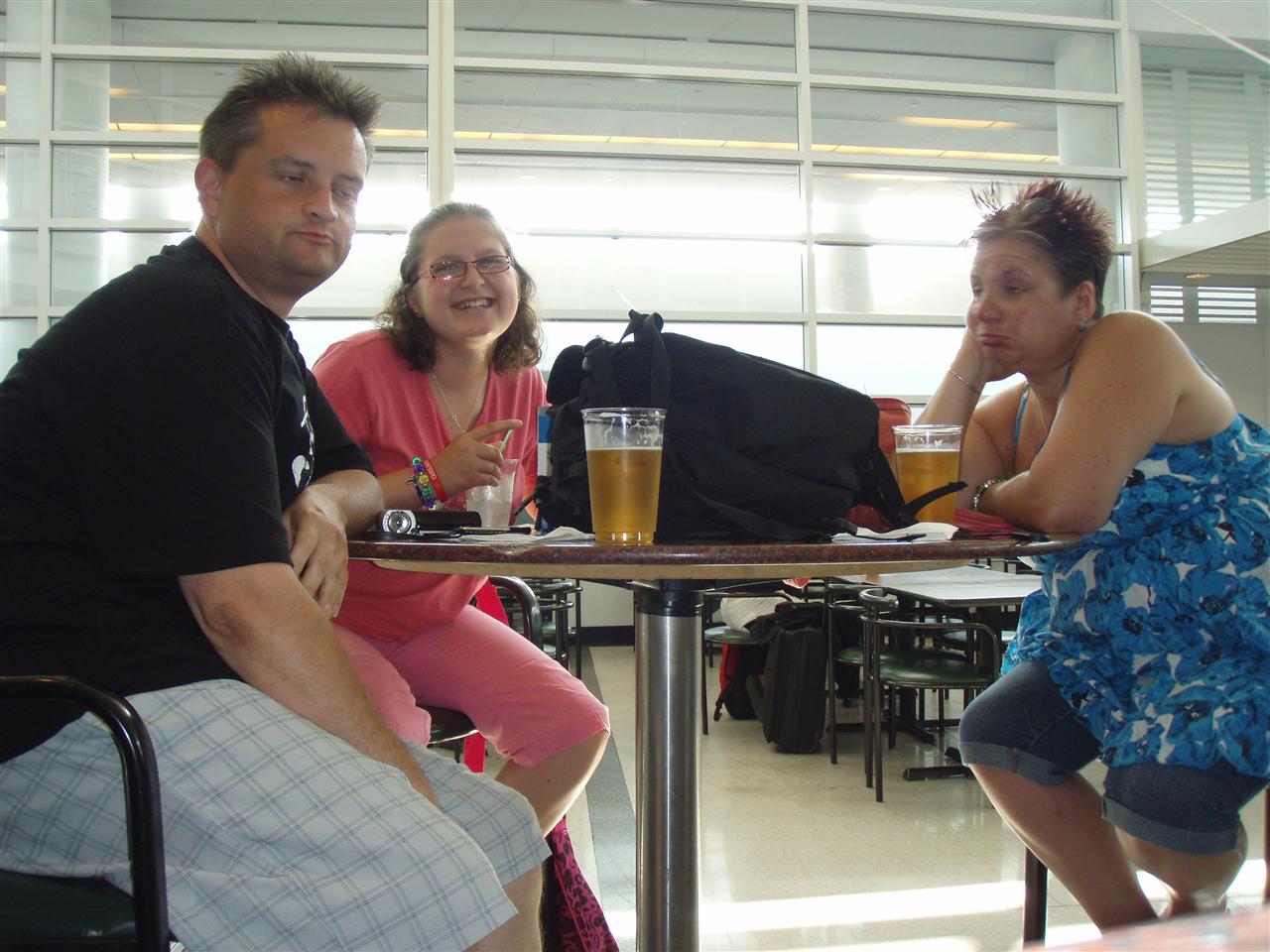 Wish us Bon Voyage dear reader & we will see you all too soon : )

XXXX
---