Holiday USA 2010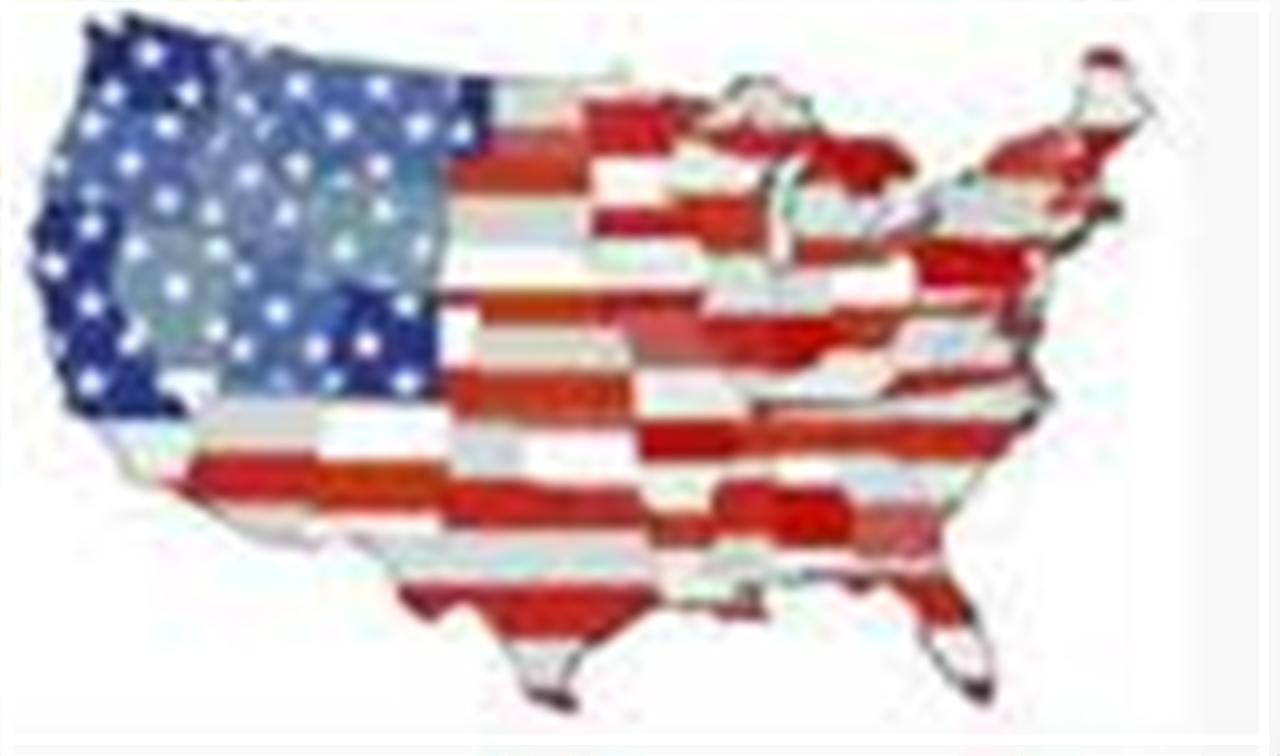 Show all days on one page (a long download!)
Day 1:Houston without a problem (Thursday 22nd July 2010)
Day 2 :The Vecks have landed... (Friday 23rd July 2010 )
Day 3 :Ferry across the watery stuff (Saturday 24th July 2010 )
Day 4 :Cajan Jack's Swamp and beyond.. (Sunday 25th July 2010 )
Day 5 :Po Boy, On Bourbon Street. (Monday 26th July 2010 )

We decided against the hotels meager free breakfast fare & took a walk towards canal street and found an authentic American diner for a breakfast cooked before our very eyes! Eggs Bacon Grits ( Savory porridge ) & hash browns..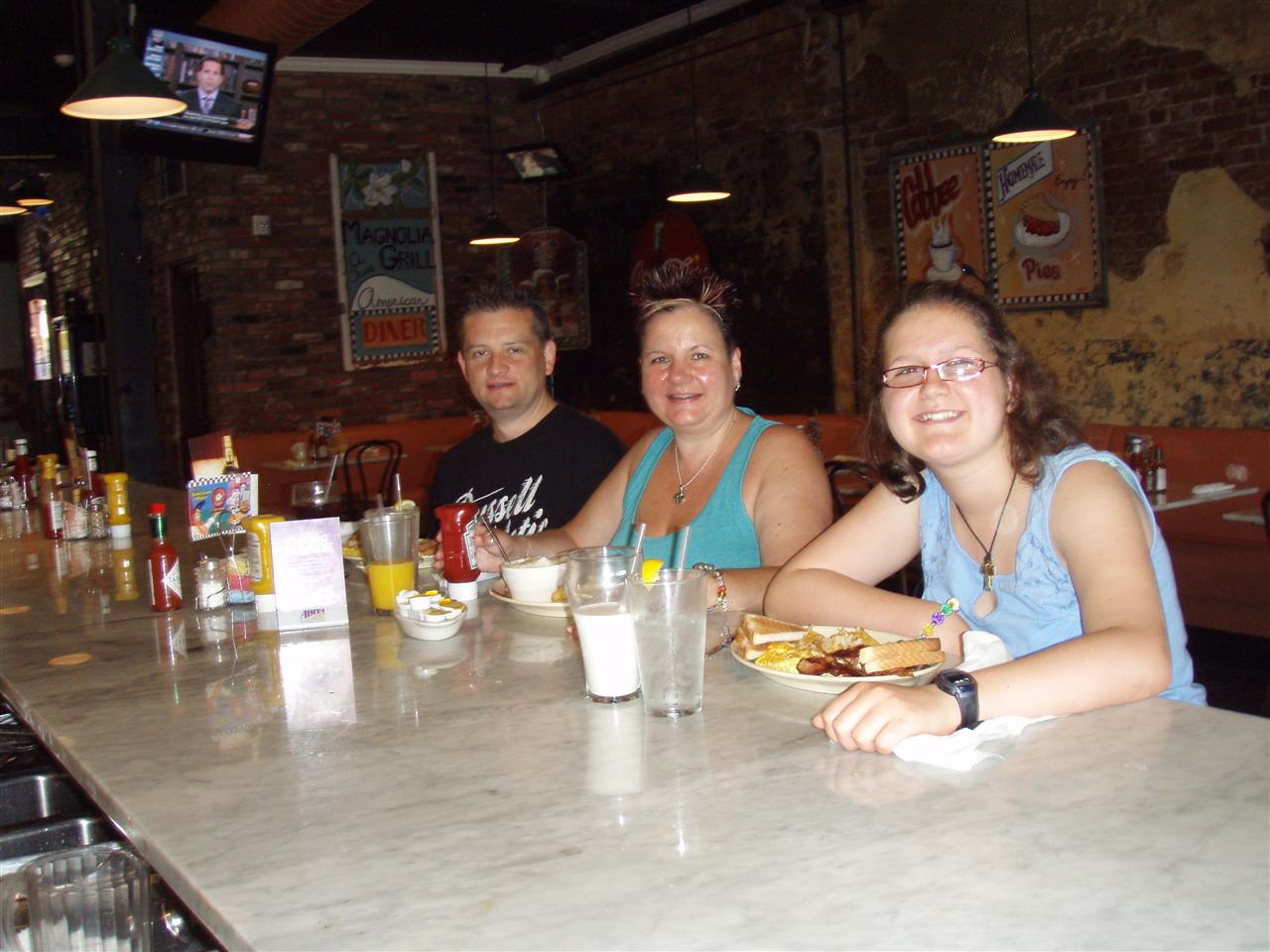 Back to the hotel & the faff of getting our car back from valet parking ..We travelled through oil refinery country, areas which are routinely flooded & the coastal defenses are a work of art..Again The homes ranged from 5+ feet off the ground on stilts to having been built more permanently on grassy mounds. During our ride to the peninsular Ian narrowly missed making road kill of a Raccoon who hadn't learned his green cross code..Fluffy lives to fight another day.
We drove to a point signposted the furthest point in Louisiana, gateway to the Gulf..expecting the harrowing sight of penguins covered in oil, I was relieved to see not a sign of BP's disaster.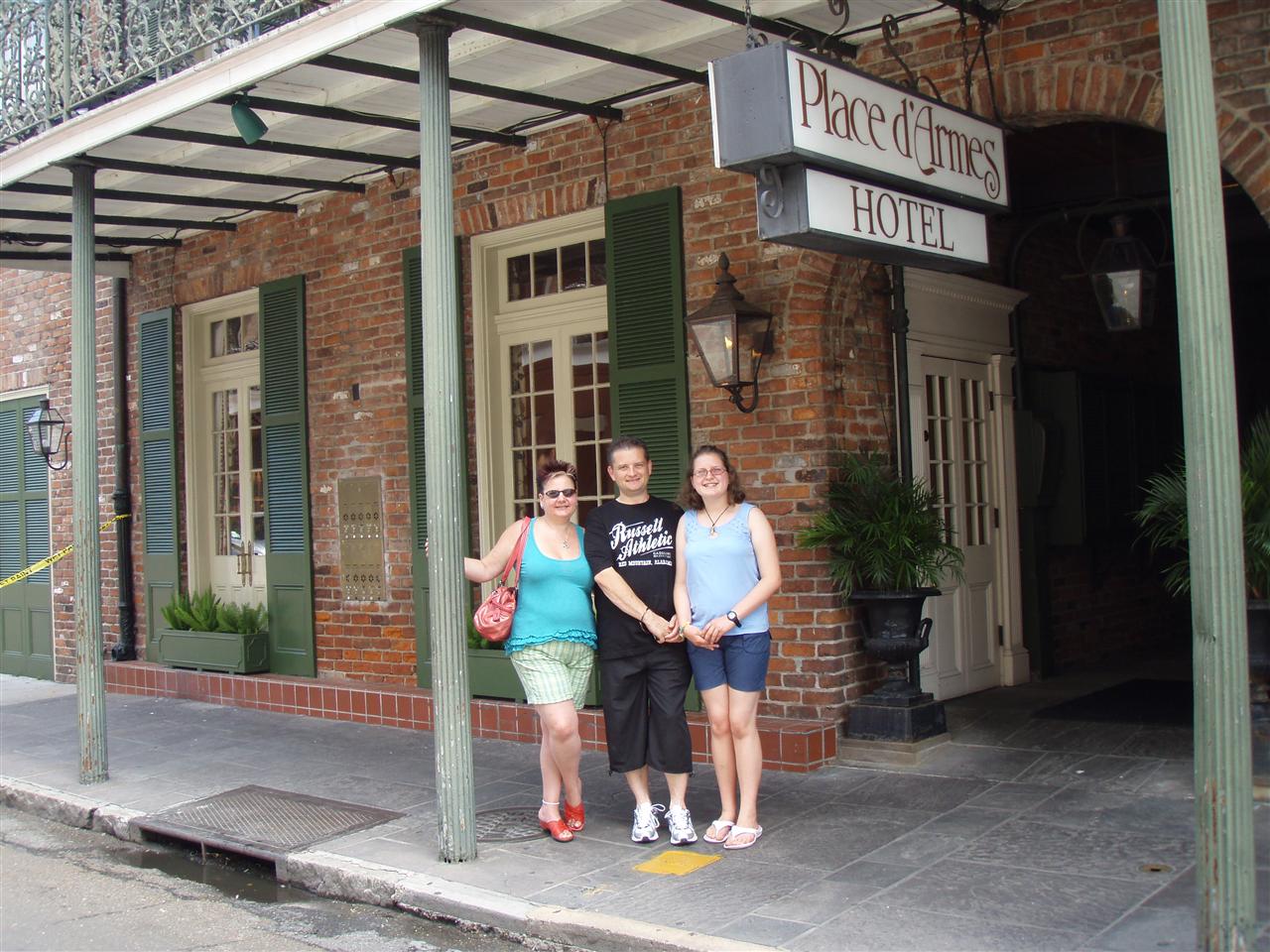 Min makes an impromptu bog stop..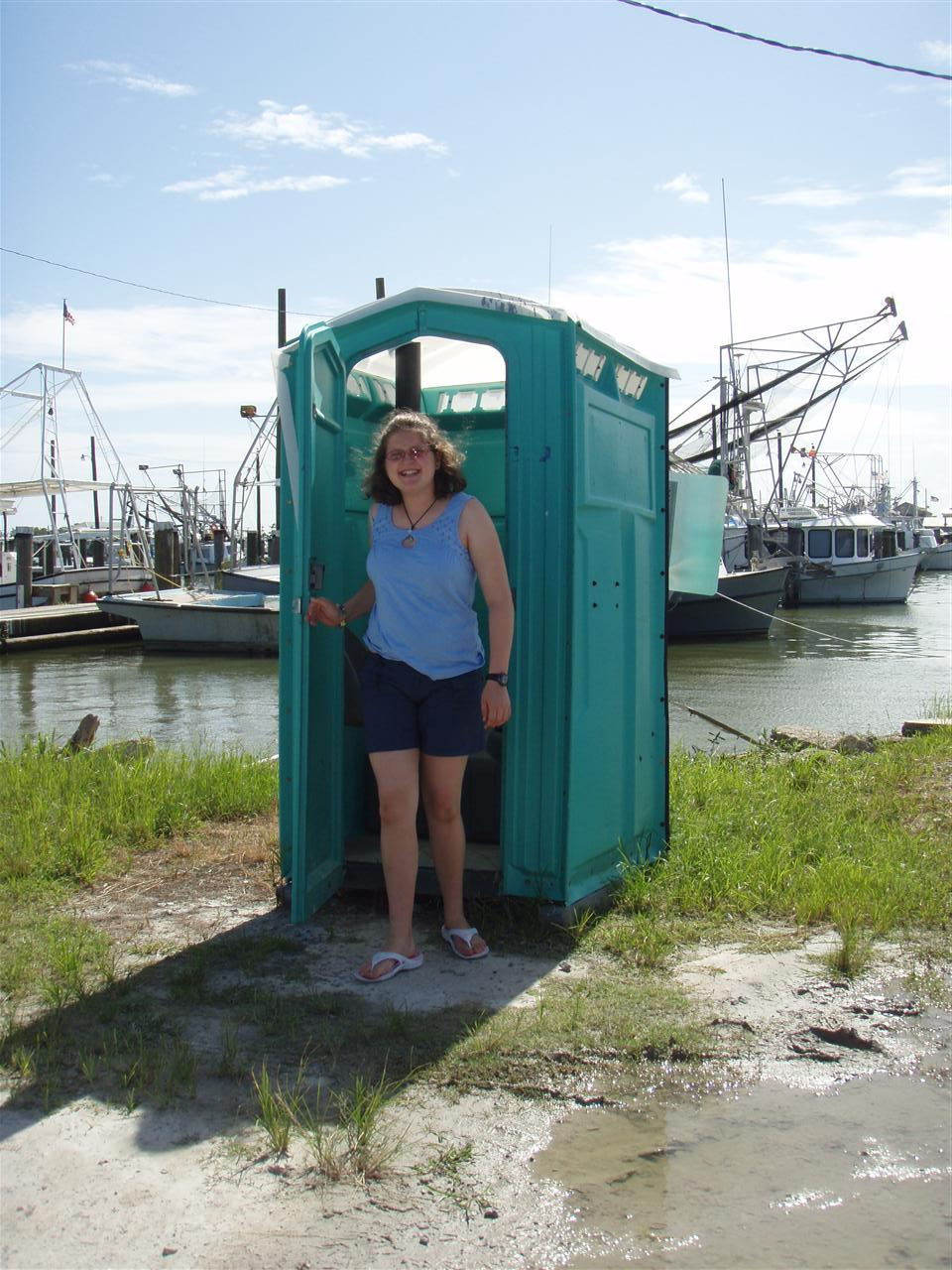 Back at the hotel we deposited the car in valet parking & made ready for our last night of partying in Bourbon street ( Ian has drunk beer 3, YES 3 times this week ), We are settled on a very noisy balcony at the Bourbon Embers steak house , over looking the revellers, drinking a " huge ass" beer each ( Min is on the huge ass Sprite, Thank goodness she knows the way back ! )..We will say goodbye to The Big Easy tomorrow & continue our adventure..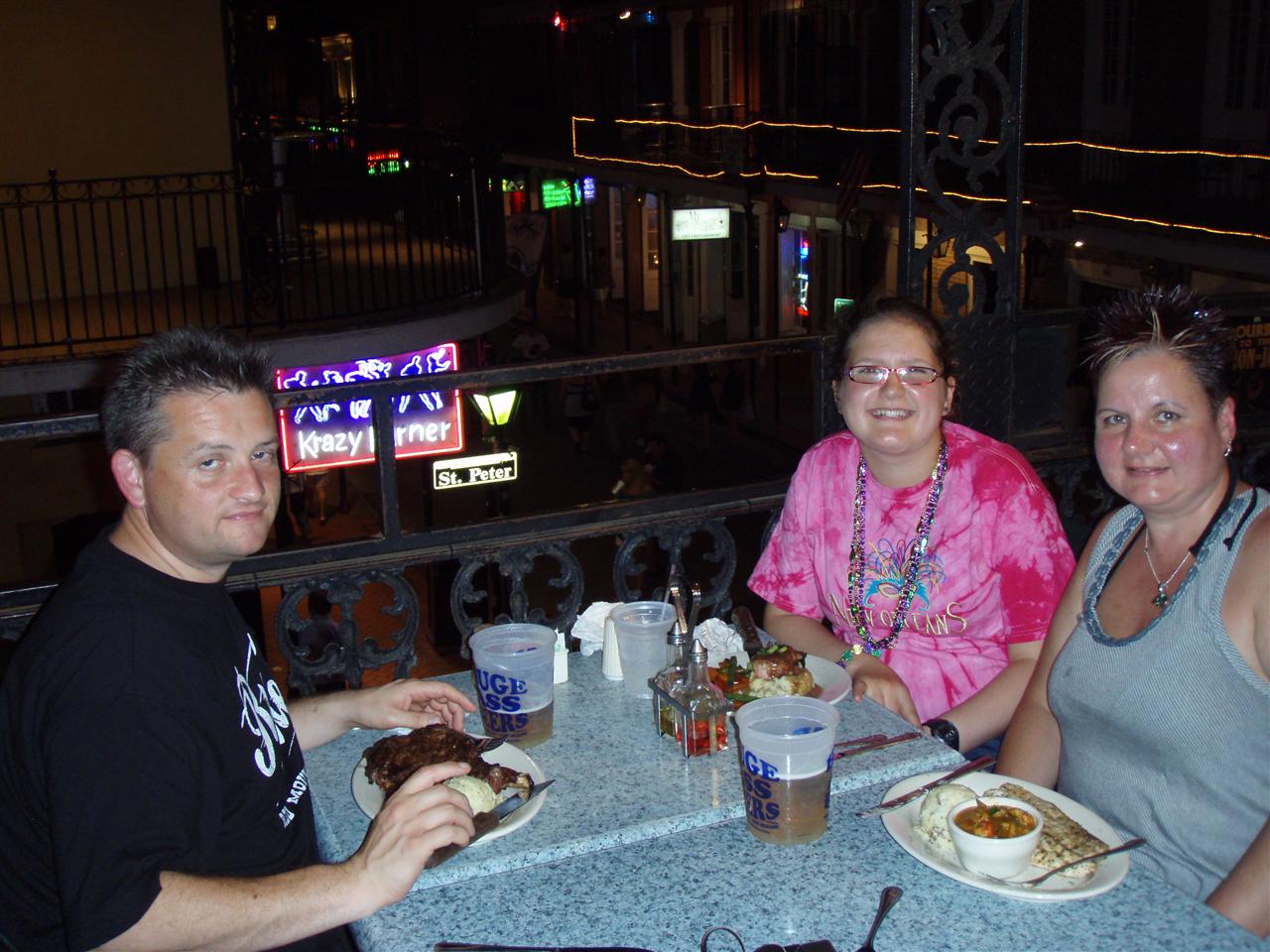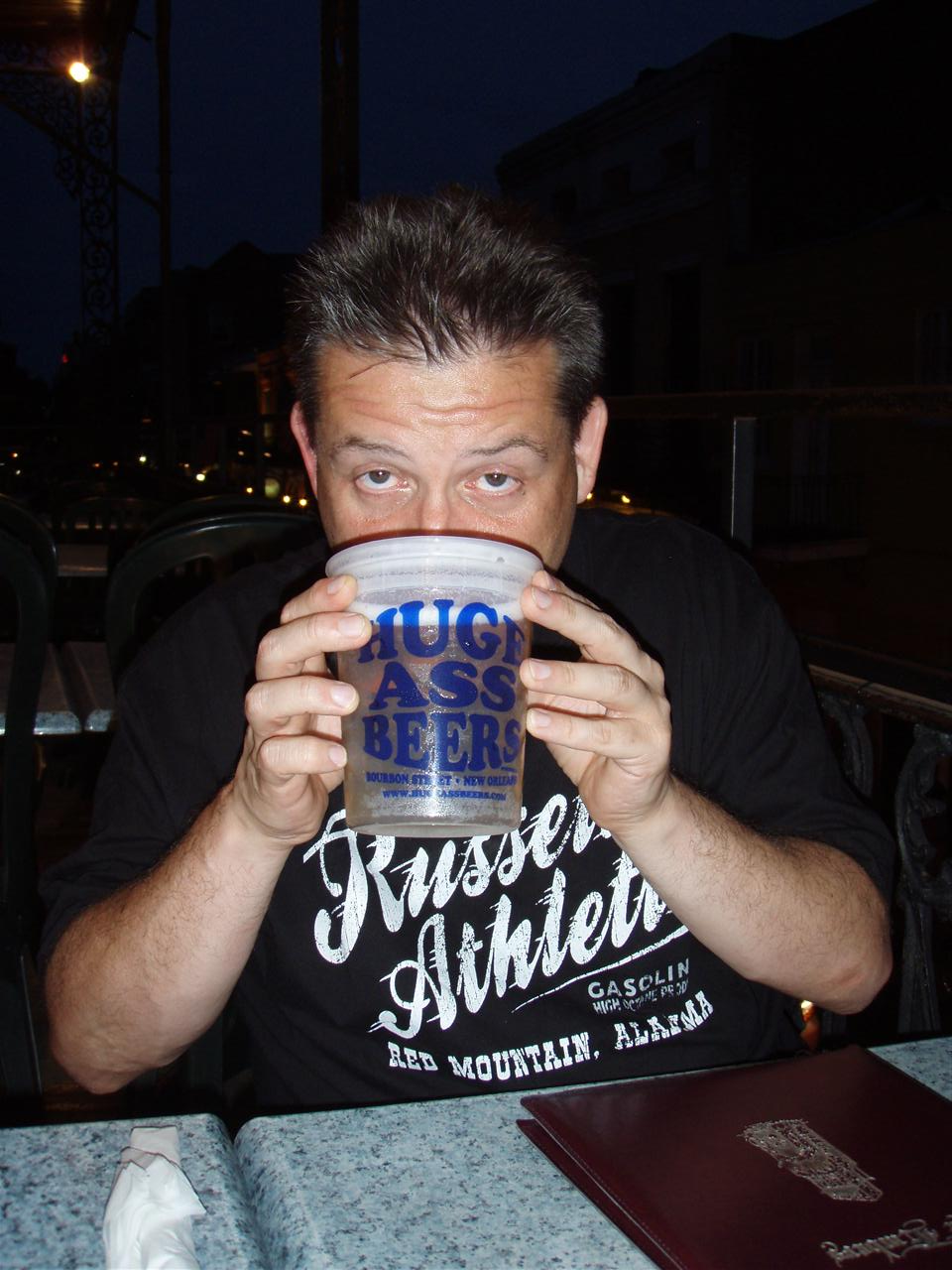 Well dear reader I have sent you a little New Orleans Voodoo....enjoy xxx
---
Day 7 :1 year of wedded bliss, well neither of us has committed murder!.........yet (Wednesday 28th July 2010 )
Day 8 :Magic Macys amazing Breakfast & tour. (Thursday 29th July 2010 )
Day 9 :The Vecks have left the building..Uhh Huu ! (Friday 30th July 2010 )
Day 10 :Ian breaks another car on the way to The Grand Ole Opry! (Saturday 31st July 2010 )
Day 11 :Centre Stage at the Checkout.. (Sunday 1st August 2010 )
Day 12 :Its a country life at Thrifts Ferry. (Monday 2nd August 2010 )
Day 13 :Ian's stairway to Tallulah's Falls. (Tuesday 3rd August 2010 )
Day 14 :DELIVERENCE..Wildwater on the Chattooga. (Wednesday 4th August 2010 )
Day 15 :Up Sh**t Creek, we forgot a paddle. (Thursday 5th August 2010 )
Day 16 :Choo choo, Train & Rail adventure (Friday 6th August 2010 )
Day 17 :Dollywood or bust! (Saturday 7th August 2010 )
Day 18 :Cave bears...Ugg (Sunday 8th August 2010 )
Day 19 :Ribs 'n Bibs (Monday 9th August 2010 )
Day 20 :Goodbye from the windy city.. (Tuesday 10th August 2010 )