Holiday USA 2010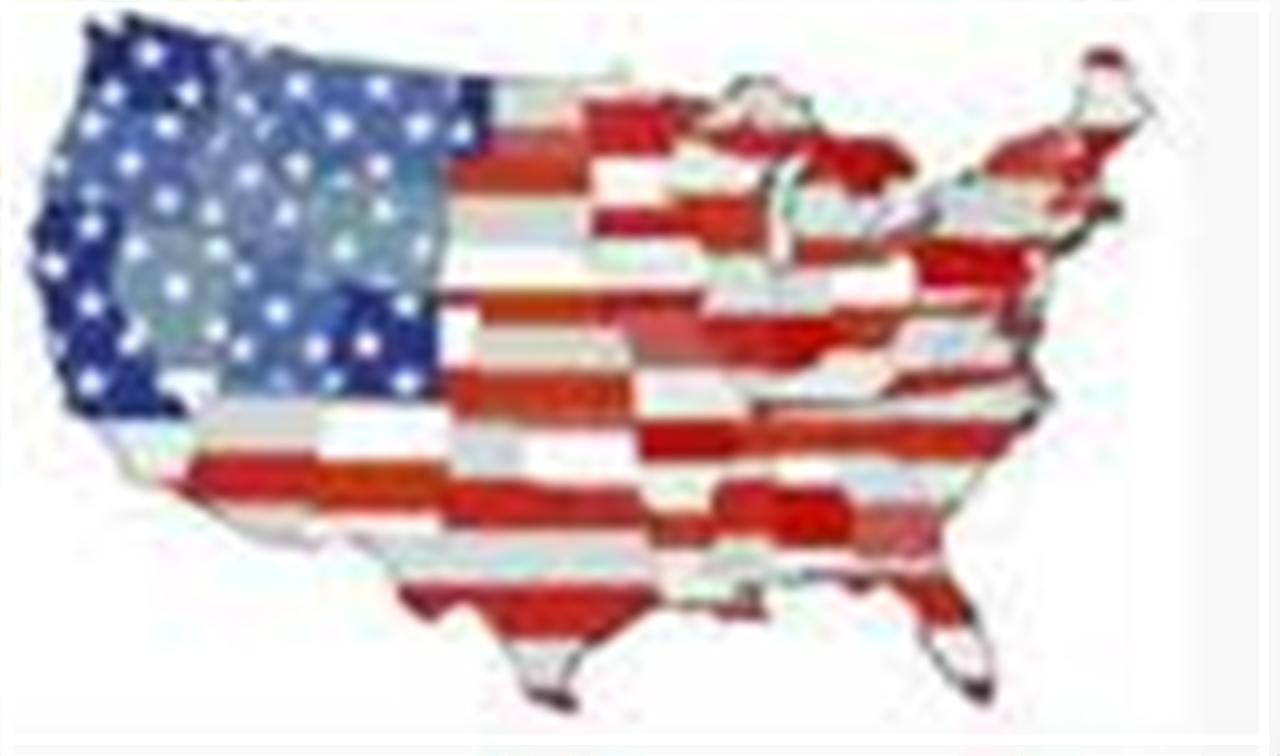 Show all days on one page (a long download!)
Day 1:Houston without a problem (Thursday 22nd July 2010)
Day 2 :The Vecks have landed... (Friday 23rd July 2010 )
Day 3 :Ferry across the watery stuff (Saturday 24th July 2010 )
Day 4 :Cajan Jack's Swamp and beyond.. (Sunday 25th July 2010 )
Day 5 :Po Boy, On Bourbon Street. (Monday 26th July 2010 )
Day 6 :As far south as you can get in Louisiana and no sign of oil! (Tuesday 27th July 2010 )
Day 7 :1 year of wedded bliss, well neither of us has committed murder!.........yet (Wednesday 28th July 2010 )
Day 8 :Magic Macys amazing Breakfast & tour. (Thursday 29th July 2010 )
Day 9 :The Vecks have left the building..Uhh Huu ! (Friday 30th July 2010 )
Day 10 :Ian breaks another car on the way to The Grand Ole Opry! (Saturday 31st July 2010 )
Day 11 :Centre Stage at the Checkout.. (Sunday 1st August 2010 )
Day 12 :Its a country life at Thrifts Ferry. (Monday 2nd August 2010 )
Day 13 :Ian's stairway to Tallulah's Falls. (Tuesday 3rd August 2010 )

Ians alarm had us up at 6.15, a short stroll to the Brown house at the wildwater camp & we met John our trip leader. Our 6 seater boat was filled by us , an American couple Jim & Fran, John the leader & a trainee called Britt..5 boats were out in total.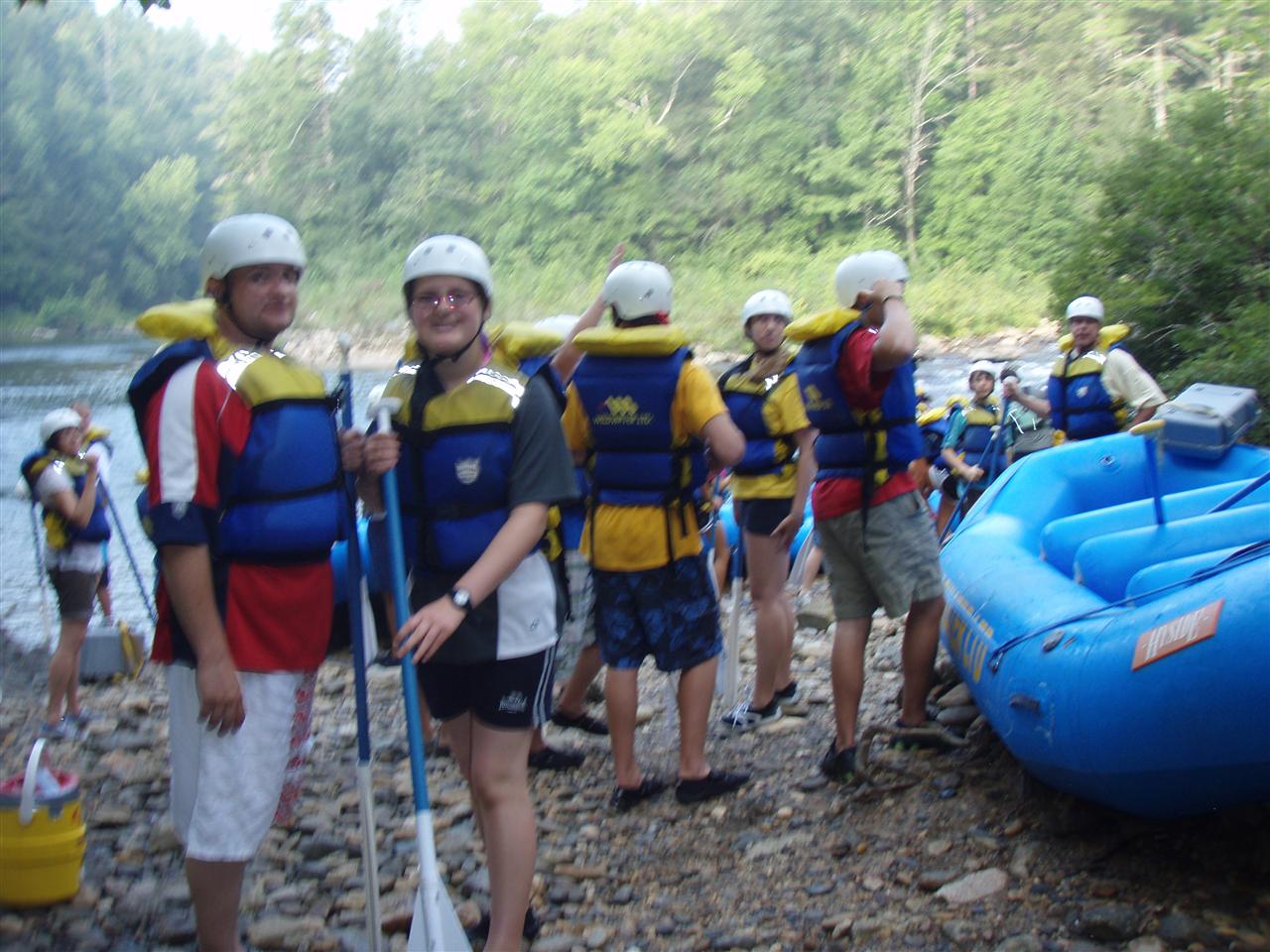 A bus took us 13 minutes away to the put in, The day began hot & misty, but the sun soon burned the mist off.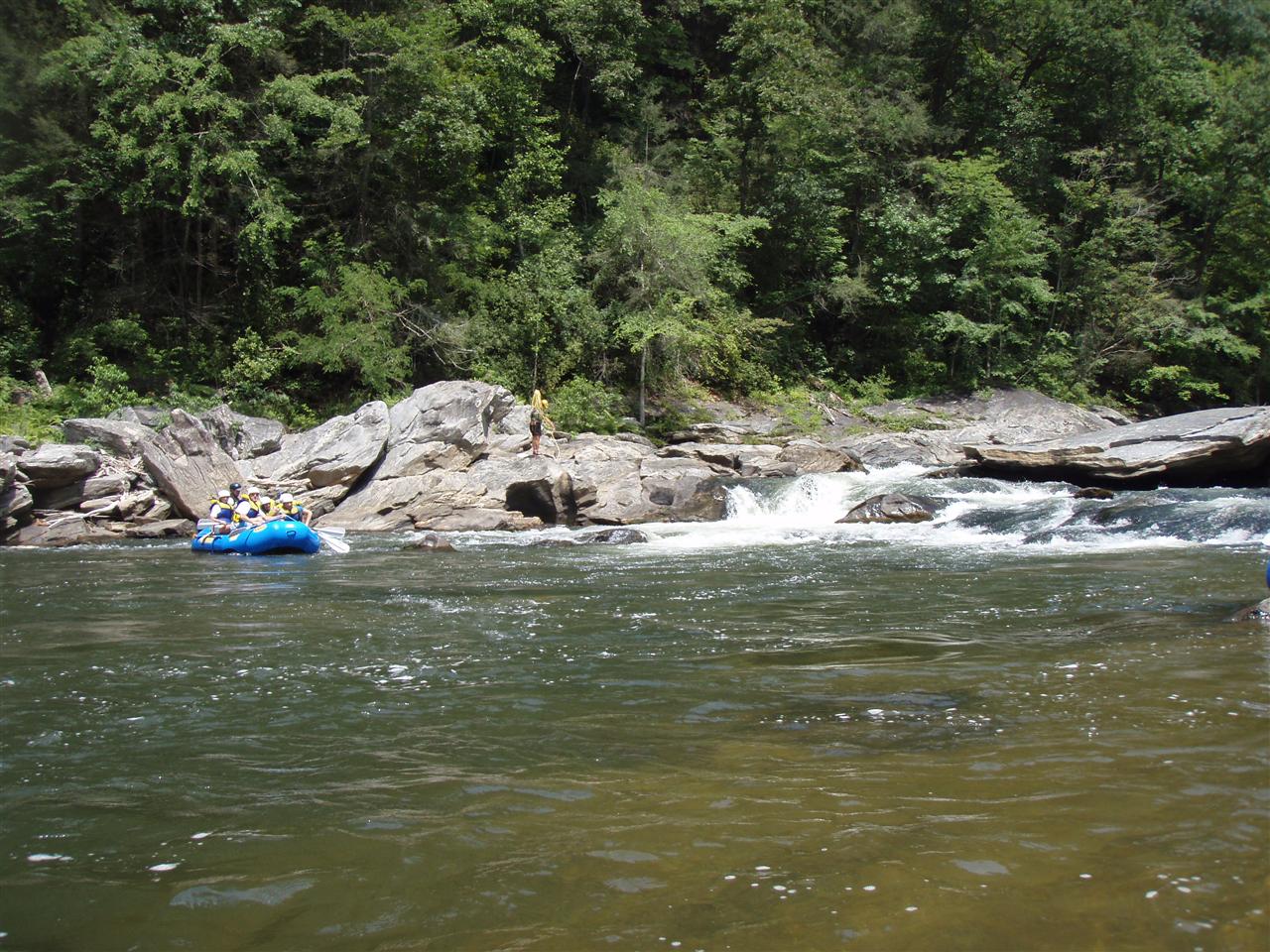 We navigated some pretty heavy rapids from the word go, John & co got us all out of the boats straight after the first hair raising set & offered us a chance to swim part of the rapid.
We were guided up the rocks & one by one we entered a narrow cave, the roof was very low touching our helmets, the guides pushed us out into the current where we were immediately sucked under & catapulted out into the channel where we could clamber back in to the boat.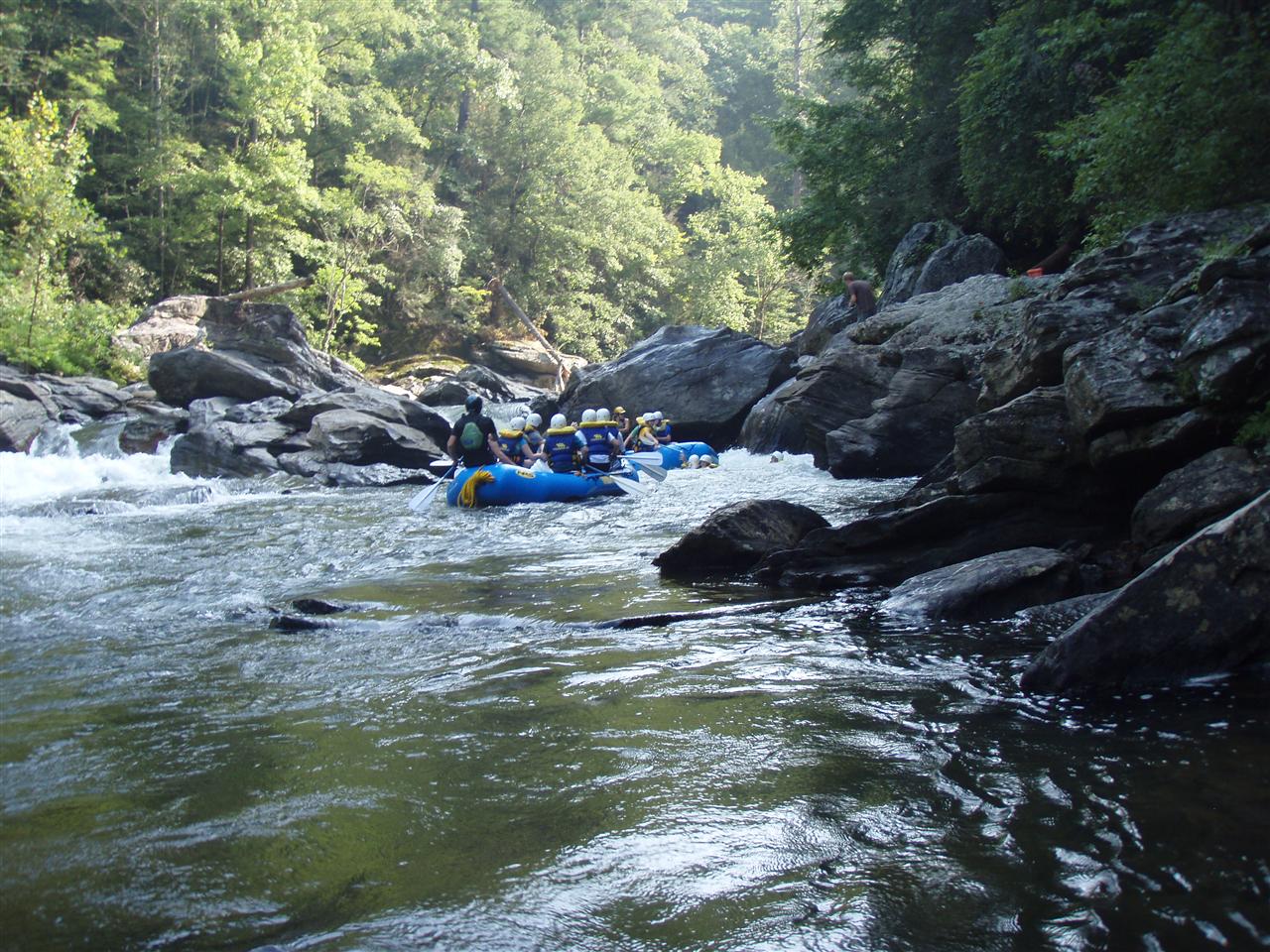 During the next rapids our boat collided with a big rock, the side nearest to me dropped away & before we knew it Fran was gone, Fortunately our safety & recovery lectures, pre trip, had all been worth while.
Jim & I hauled her safely back on board, Ian heroicly held onto the camera while Min held my oar.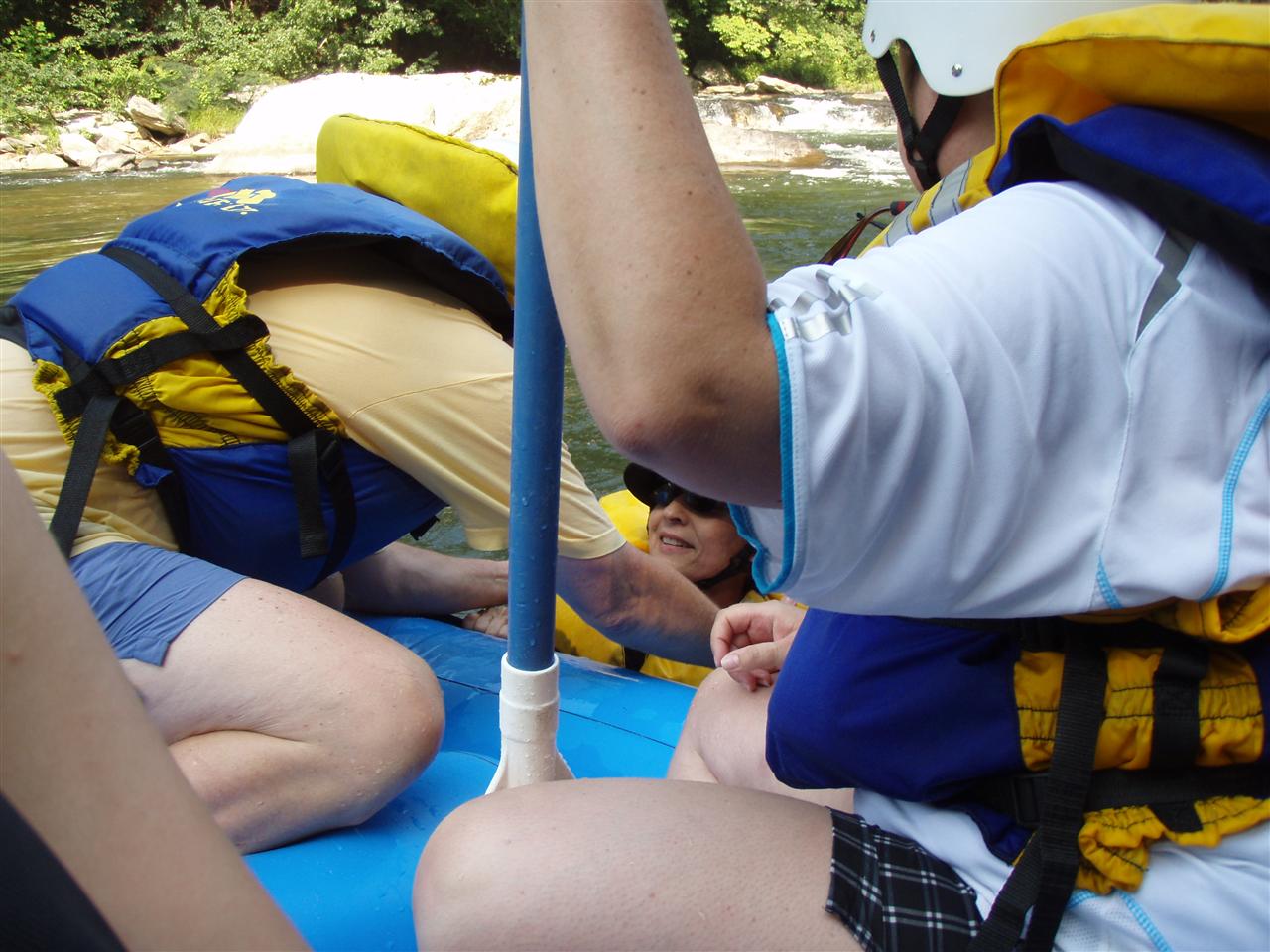 Next stop the waterfalls..again everybody out & short hike to a pretty amazing waterfall. We were led up a slippery rock path & guided through the curtains of water, Back down was recommended to be done on your backside as the rocks were so slick.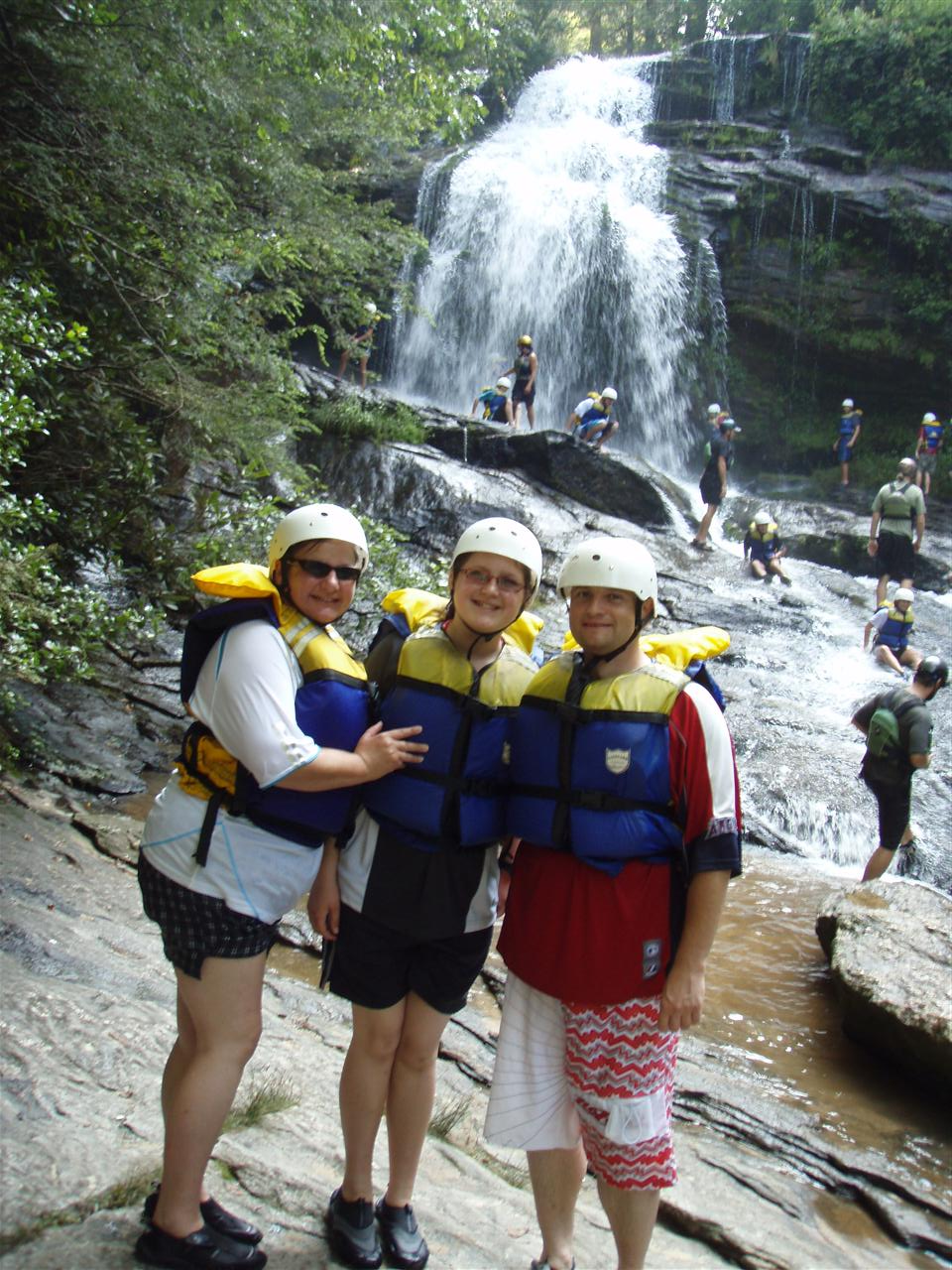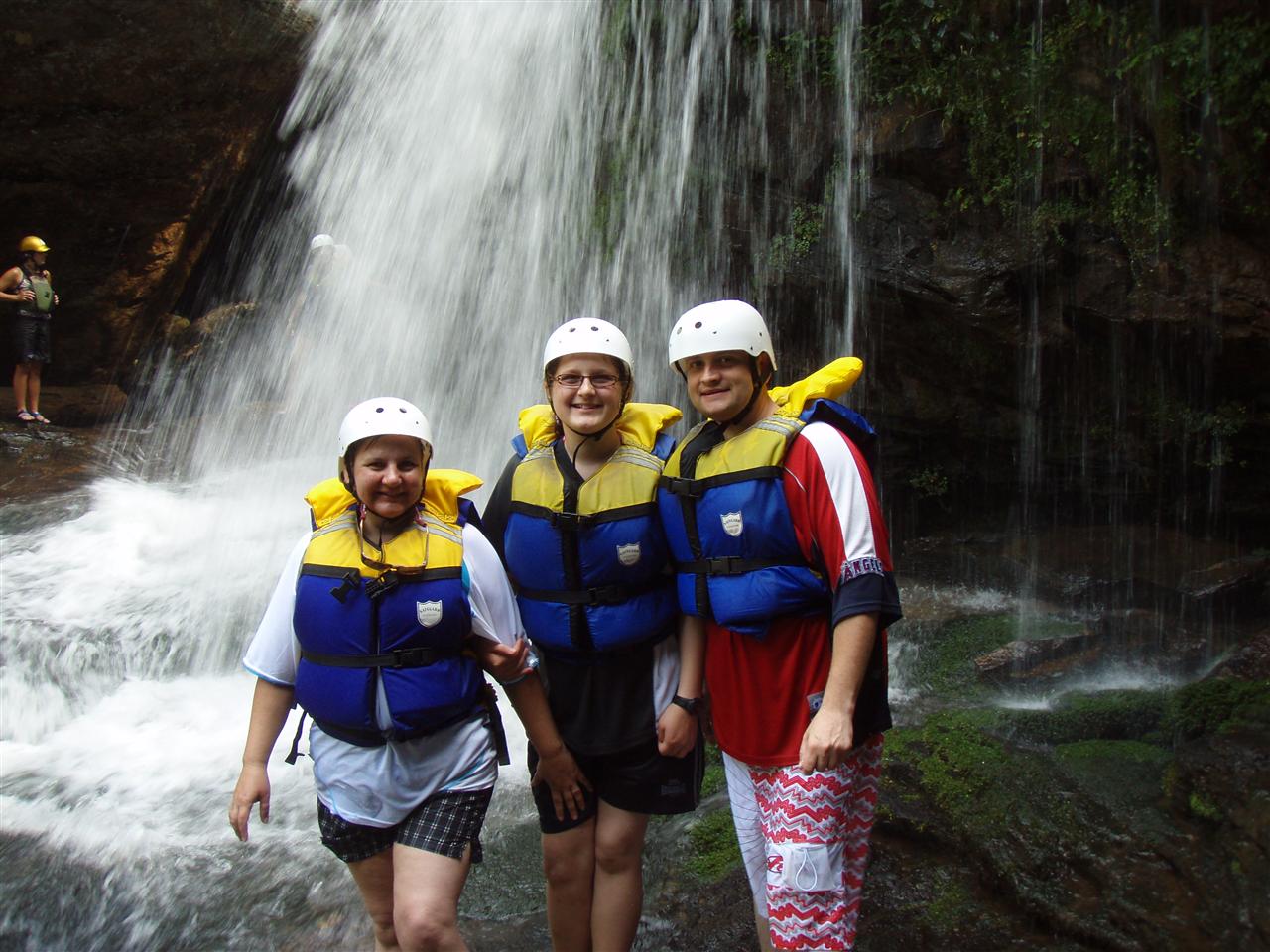 After the next rapids we stopped at a rock tube ,4-5 ft deep each person could drop down the tube dive under & again be catapulted back into the main body of the river , Jumping off the rocks was encouraged!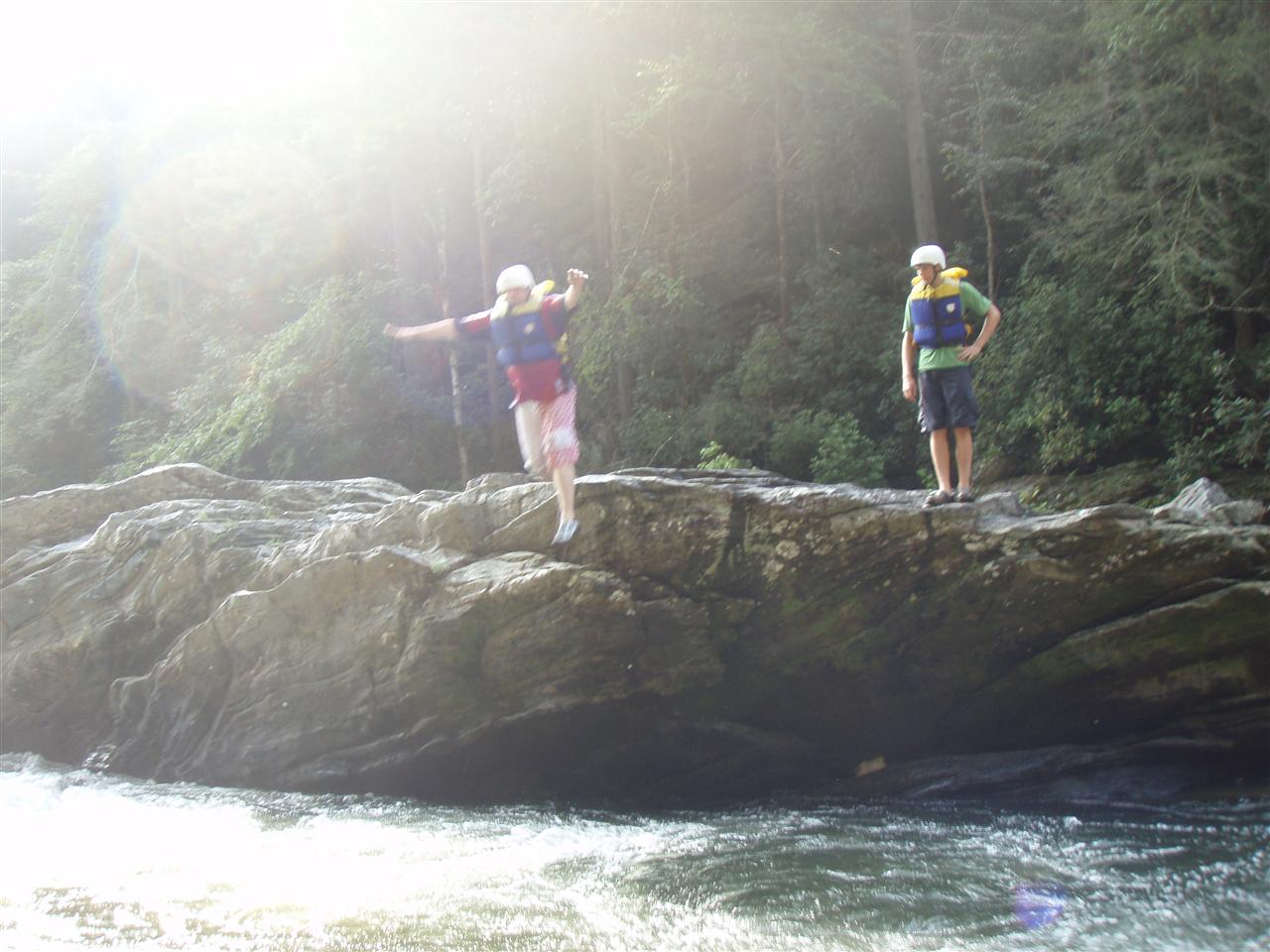 John gave us some info about our route & showed us the camp ground where " the love scene" from the movie Deliverence was filmed & the very rapids where the film crew came unstuck & lost all their gear.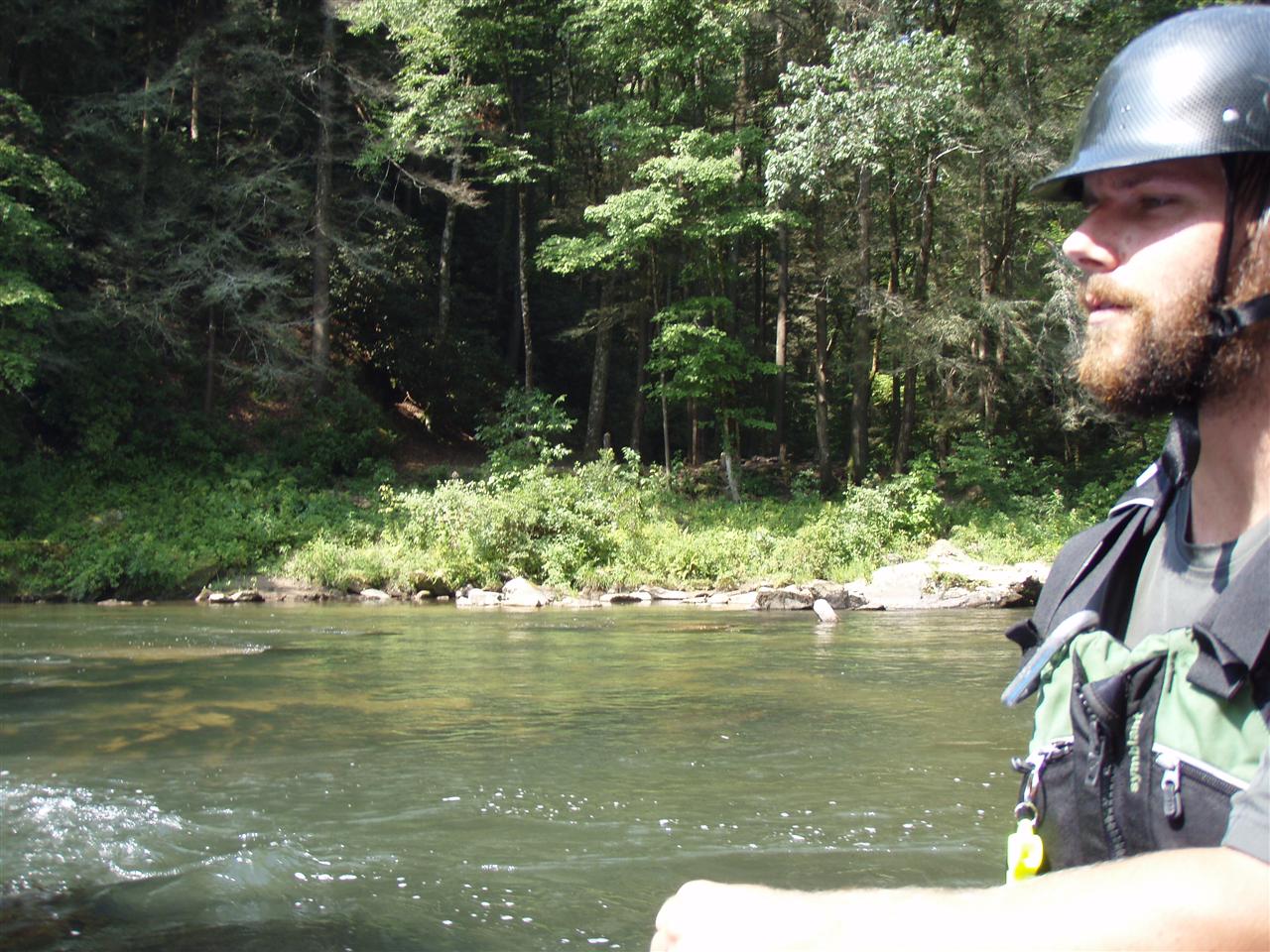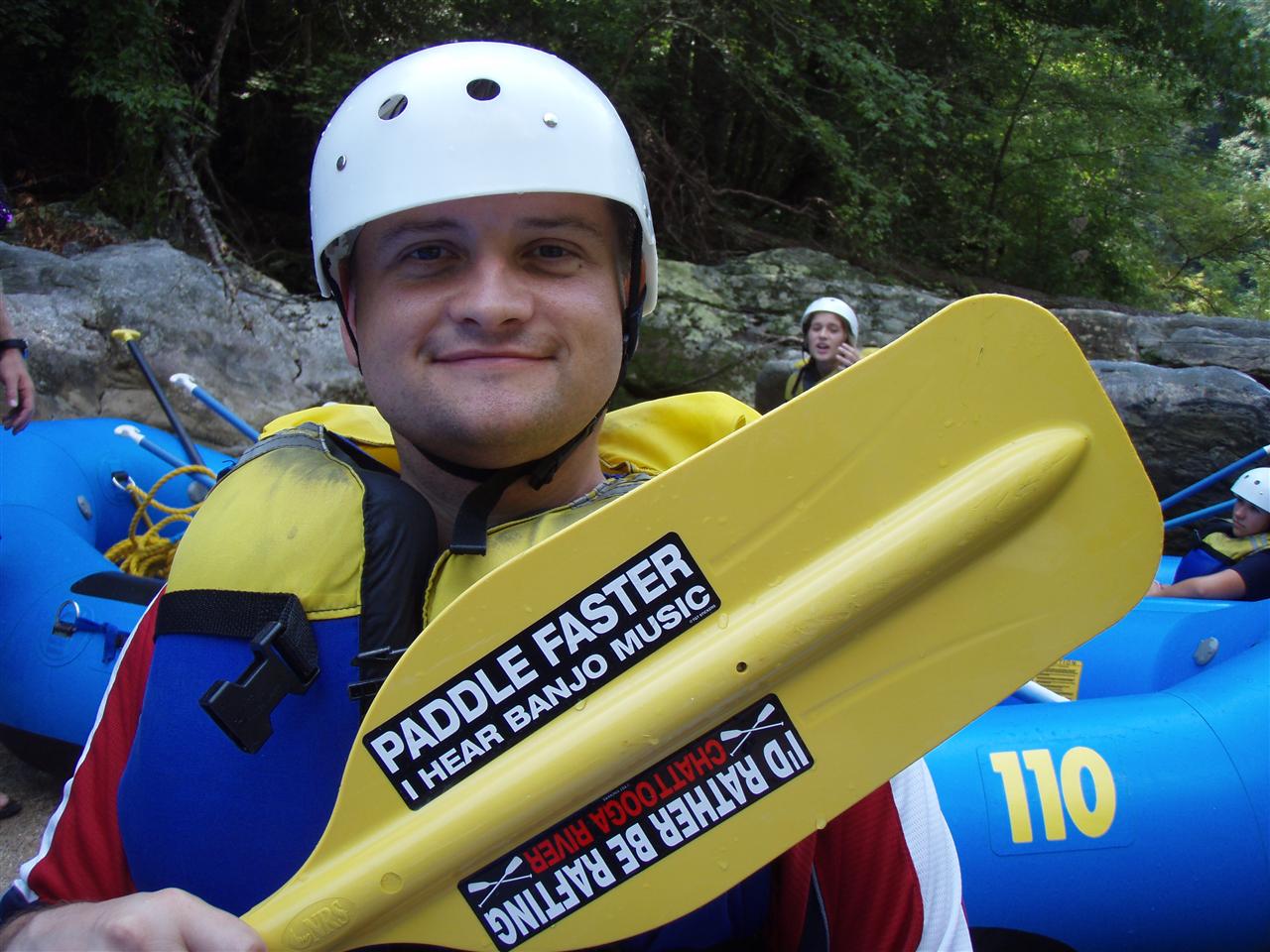 Towards the end we had a set of rapids too narrow to navigate during the lower water we are having now, We walked around whilst the guides manhandled the rafts across the water & through the narrow openings.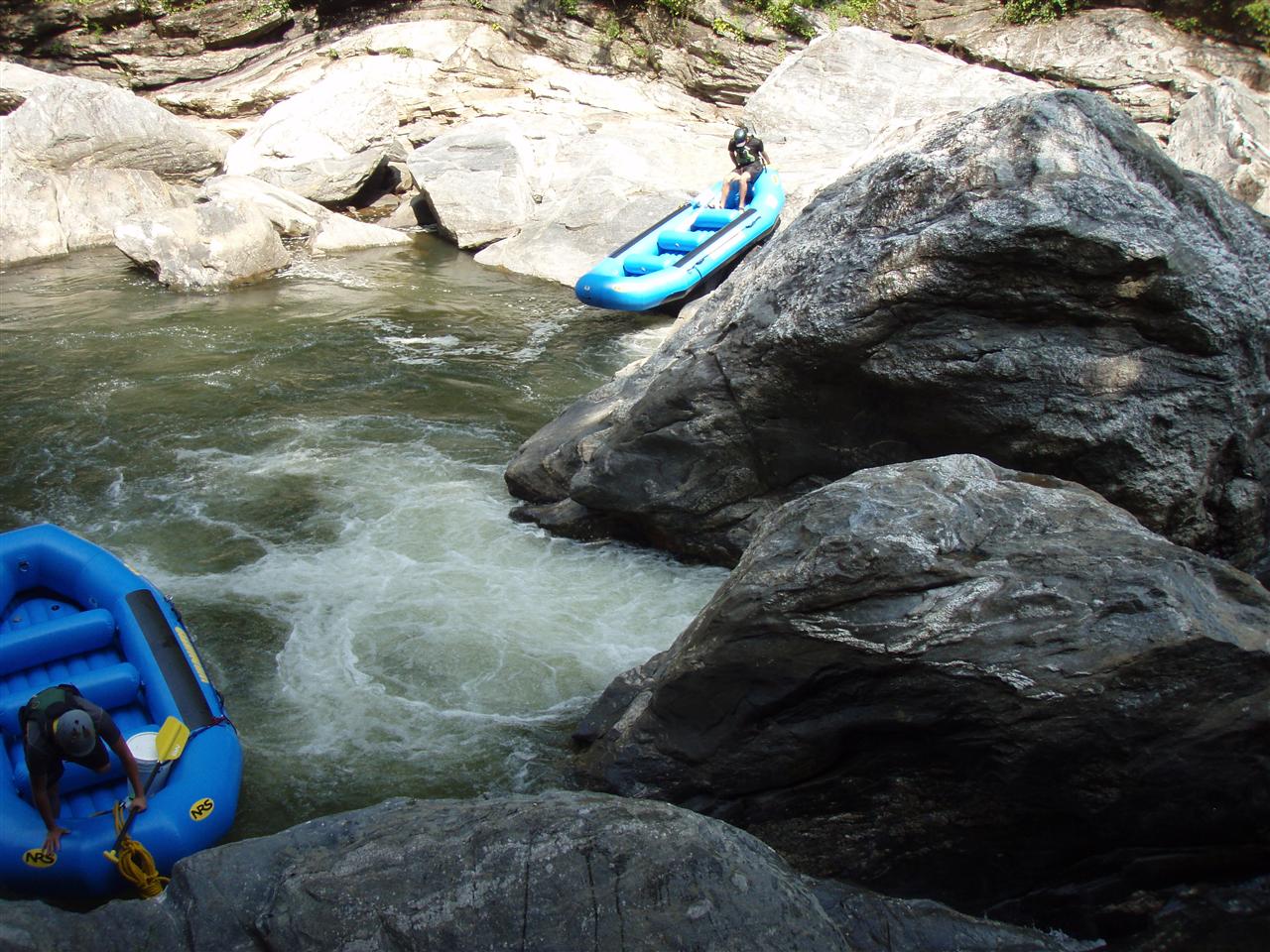 We stopped for lunch, the usual DIY sandwich affair, on a small beach.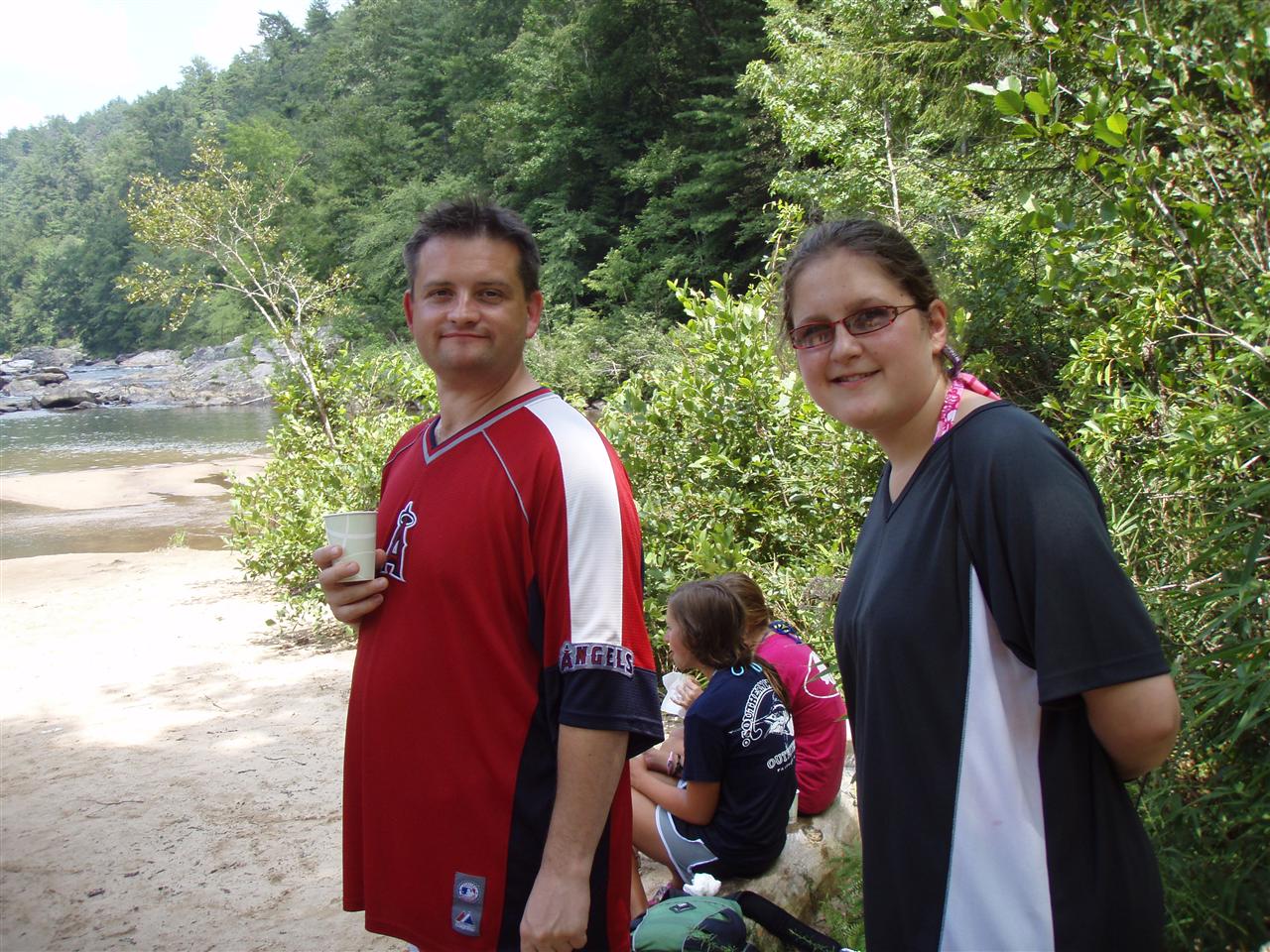 Before we knew it we rounded a corner into the calm of a massive lake.
A motor boat was waiting to push us for a relaxing 25 minute cruise across to the pull out, where our bus sat ready to return us to Long Creek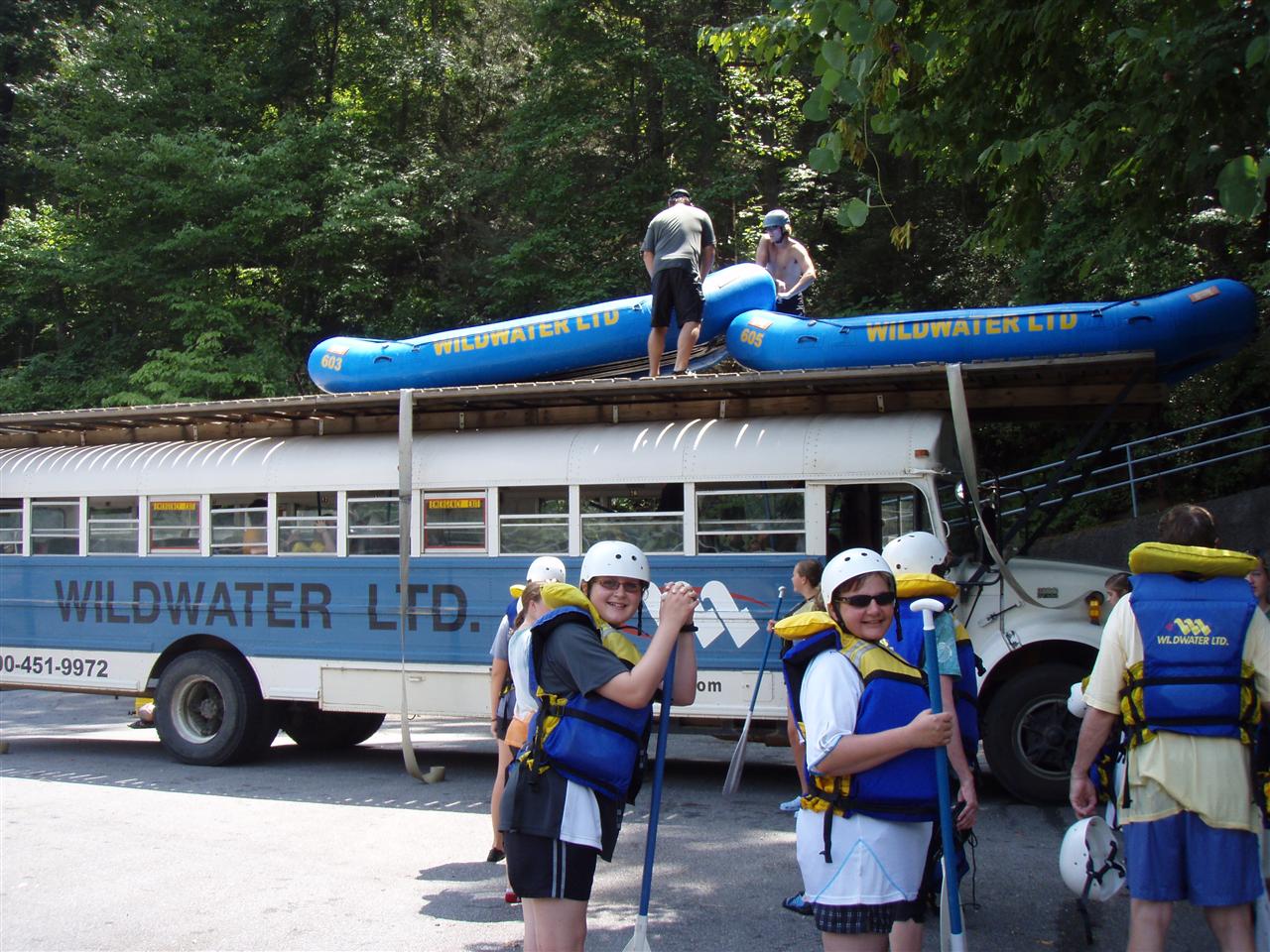 Finally back to our cabin for a much needed shower.
Min & Ian embarked on another pyro technic extravaganza..( mins fire was waaayyyy better than Ians bbq effort ) fortunately good steak can be cooked really slowly : )

Well dear reader, we leave our red neck haven bright & early tomorrow..Sleep well ( do I hear banjo's? ) xx
---
Day 15 :Up Sh**t Creek, we forgot a paddle. (Thursday 5th August 2010 )
Day 16 :Choo choo, Train & Rail adventure (Friday 6th August 2010 )
Day 17 :Dollywood or bust! (Saturday 7th August 2010 )
Day 18 :Cave bears...Ugg (Sunday 8th August 2010 )
Day 19 :Ribs 'n Bibs (Monday 9th August 2010 )
Day 20 :Goodbye from the windy city.. (Tuesday 10th August 2010 )